Classic Meatloaf with Sweet and Tangy Glaze
Published Sep 19, 2019•Updated Oct 18, 2022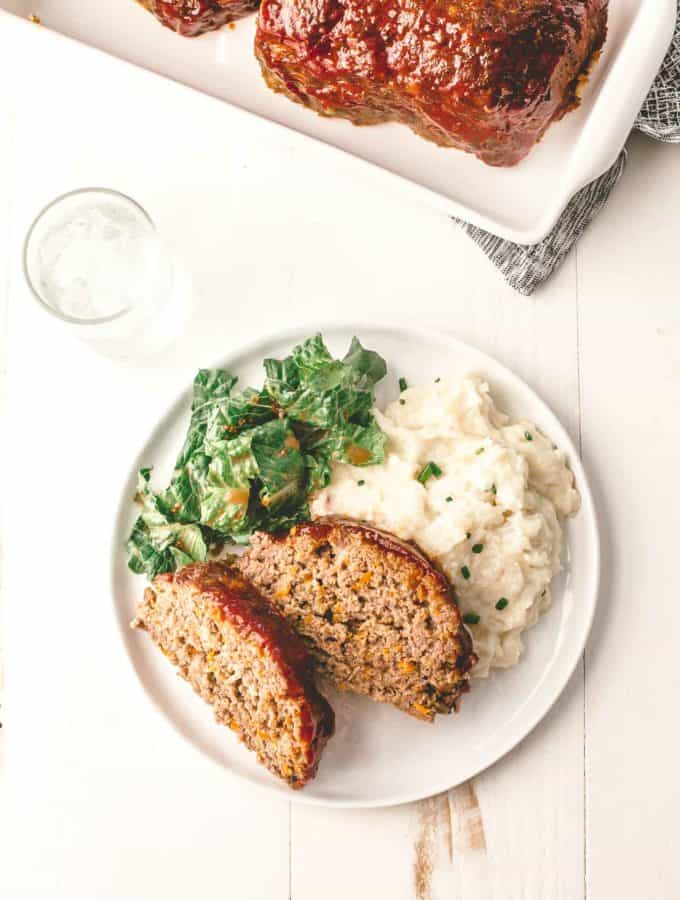 Classic Meatloaf with Sweet and Tangy Glaze is comfort food at its best. Learn how to make this all-American classic that is make-ahead and freezer friendly. Recipe below includes ideas for variations and diet adaptations.
I knew I'd found a winner when my kids started asking if we could have those "meatballs with sweet ketchup" for dinner again only a few days after I last served this with creamy make-ahead mashed potatoes. Meatloaf often gets overlooked in favor of more glamorous grain bowl / sheet pan / Instant Pot meals, but there's a reason that this classic dish has real sticking power. It's too bad that it got stuck with such an unappealing name, but the truth is that classic meatloaf makes a beautiful meal. Serve it over mashed potatoes with a green salad or green beans on the side and everyone is happy – adults and kids alike.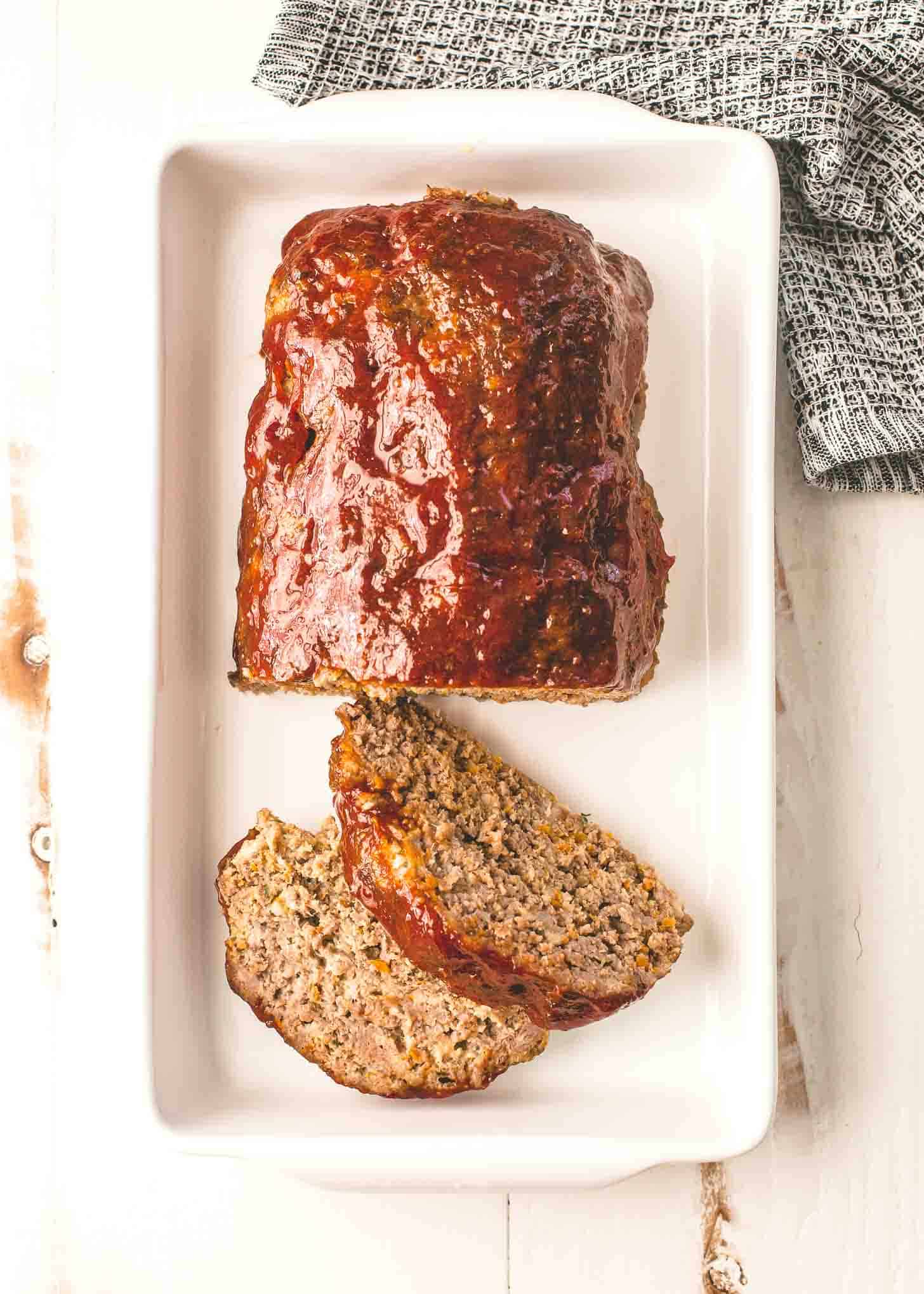 Classic Meatloaf Ingredients
Breadcrumbs

– In this and pretty much all of my recipes, I prefer to use Panko breadcrumbs. These are Japanese breadcrumbs that are available in the international aisle of any grocery store. These breadcrumbs come in large, fluffy pieces that work especially well for soaking up liquid that goes into this recipe. Once you start using Panko, you'll never go back to those other finely ground, powdery breadcrumbs, but any type of breadcrumbs will work fine in this meatloaf.

Milk

– Breadcrumbs and milk work together to retain moisture in the meatloaf, making it tender throughout. Any type of milk will work.

Onion, Carrot, and Garlic

– Finely chopped onion, carrot, and garlic add flavor to the meatloaf, but they also serve another important function. These ingredients will release moisture as the meatloaf cooks, helping it to stay tender. It's important to cook these (saute them in butter) before adding them to the meatloaf mixture so the finished dish doesn't taste like steamed onions or raw carrots.

Ground Beef

– This recipe is made entirely with ground beef to keep things simple (but see below for plenty of variations). In testing, 80% lean ground beef struck the right balance for both free form and loaf pan meatloaf – not too fatty but not too dry.

Egg

– This works as a binder for the ingredients in the meatloaf. If you need to do an egg-free version, feel free to skip it.

Parsley, Worcestershire Sauce, Salt, Black Pepper – These all add flavor to the meatloaf. Even though parsley and Worcestershire sauce are included in small quantities, they help to add a freshness and savory flavor to the dish (respectively). Don't skip salt and pepper!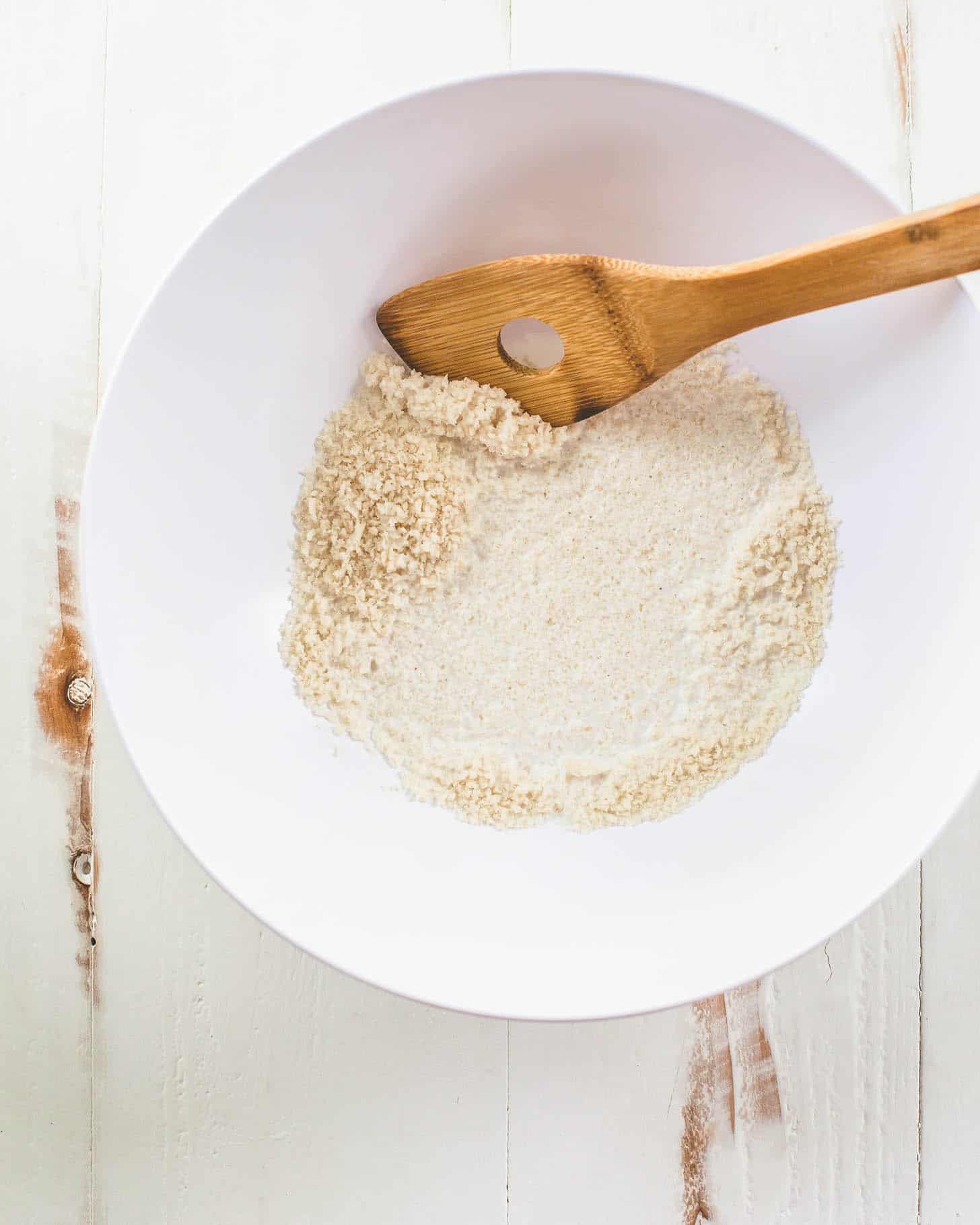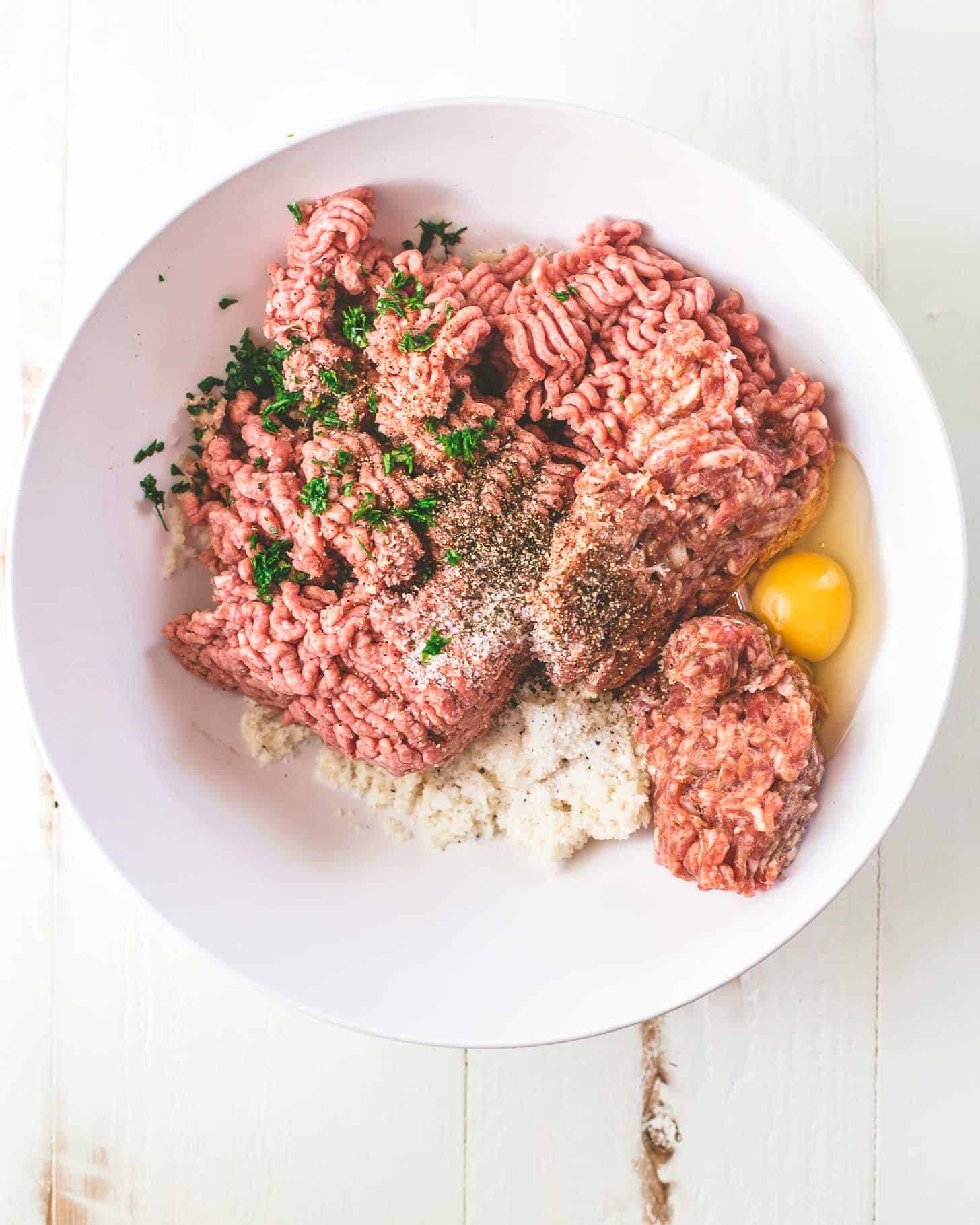 Free Form vs Loaf Pan Meatloaf
Whether you make your meatloaf free form or in a loaf pan is entirely up to you. A free form loaf gives you more firm edges and more surface area for glaze. In a freeform loaf, the juices and fat from the beef will drain off and onto the pan around the meat. In a loaf pan, the juices and fat will stay put and the meatloaf will continue to cook in them. Meatloaf in a loaf pan will look more precise and compact while free form meatloaves have a more rustic feel.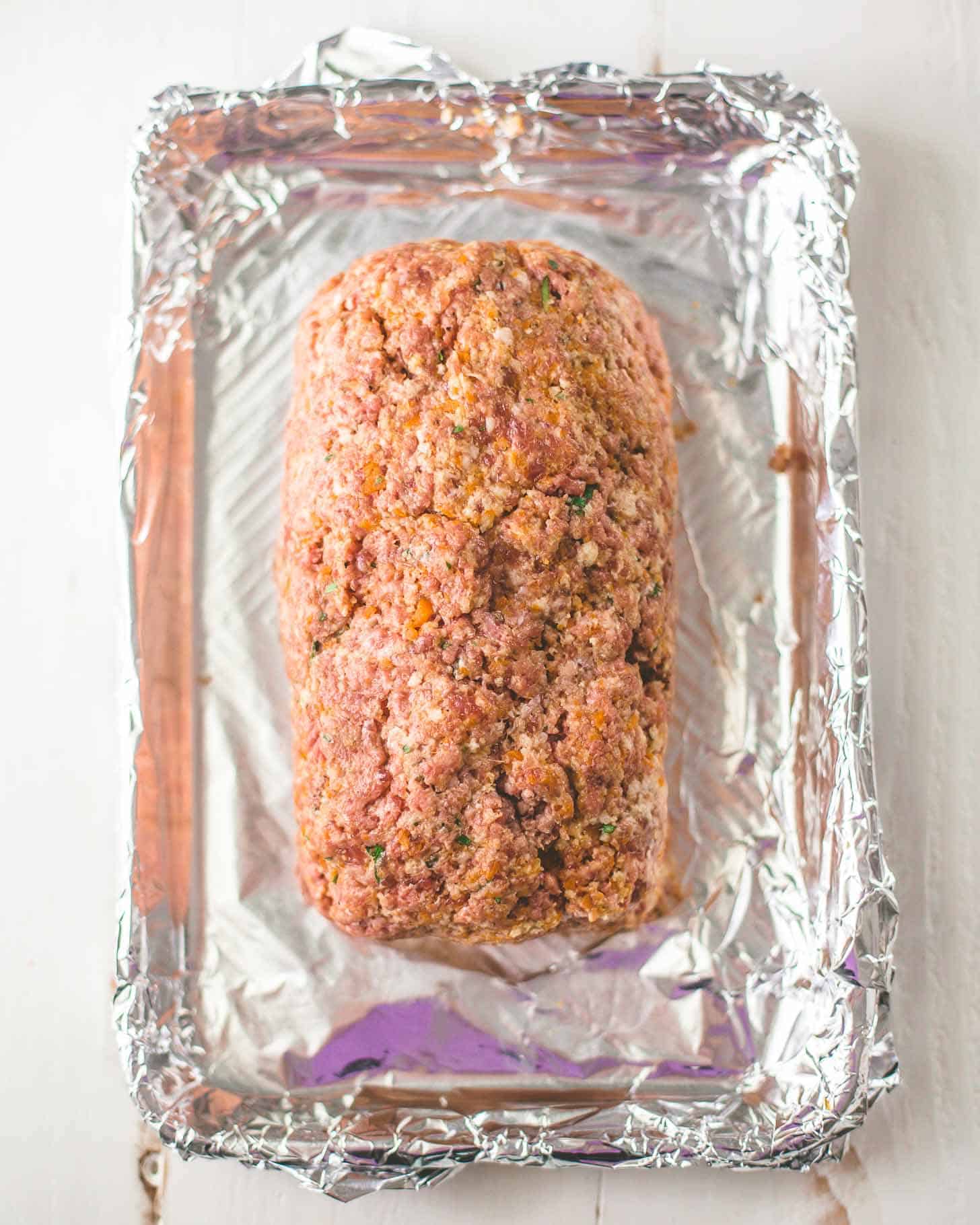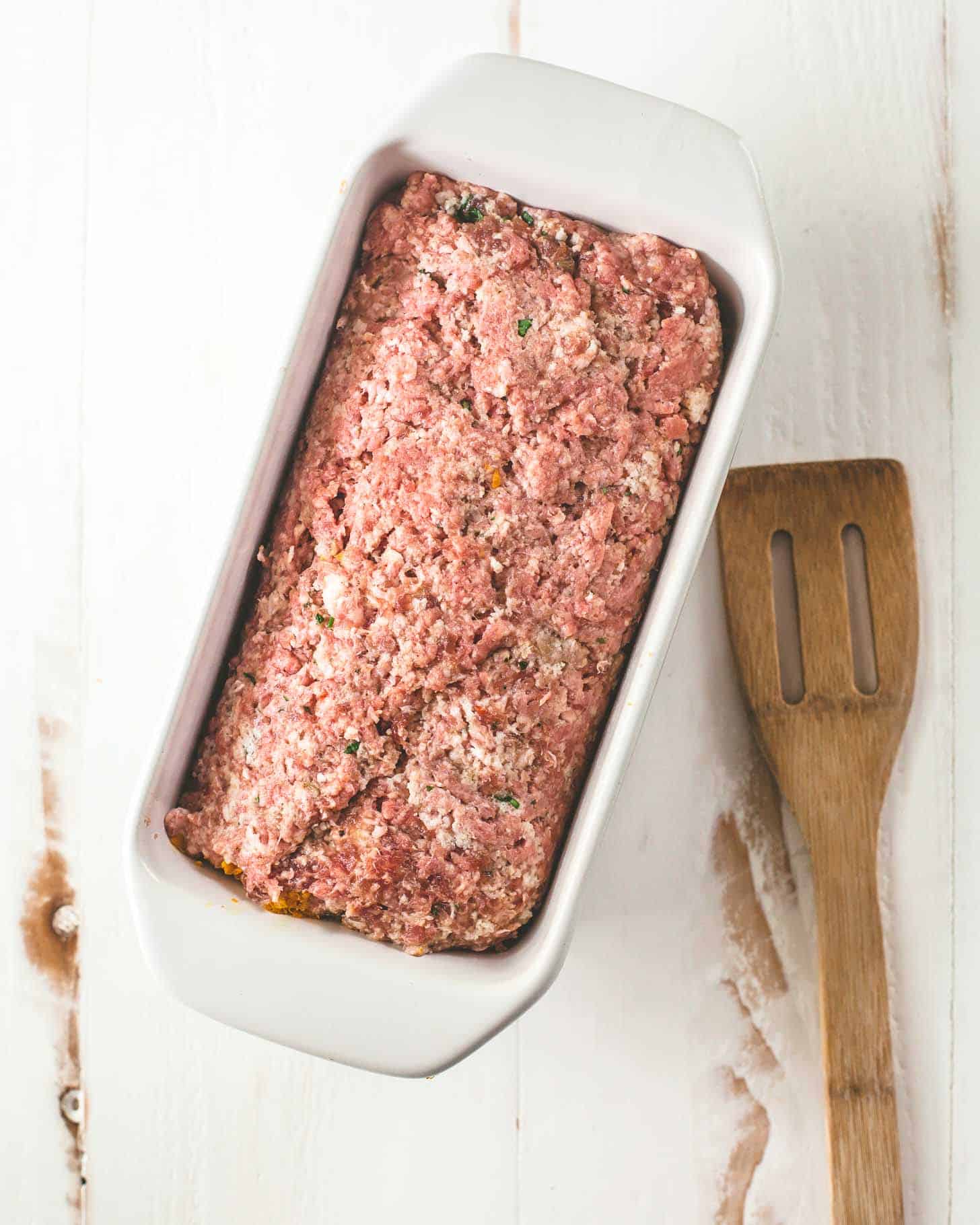 Saute Vegetables or Add them Raw?
There are meatloaf recipes out there that will tell you to add onion and other vegetables / aromatics to the meatloaf raw, but for best results, you must saute them first. It's worth the few extra minutes it takes to do this step. Onions are a particular problem for meatloaf if added raw. Raw onions release a lot of water into the meatloaf as it cooks that will give it a boiled onion flavor and wet texture. The other reason to saute the vegetables / aromatics first is to help them gain flavor. Saute onions, carrots, and garlic in butter with a pinch of salt before adding them to the meatloaf and the result takes on the subtle flavor of roasted vegetables (which is exactly what you want to taste alongside the meat).
Guest-Worthy Meatloaf
This style of making meatloaf comes straight from my mom who made a meatloaf "for guests" that she got from McCall's magazine years ago. What makes it a bit elevated is a ribbon of carrots and onions that twists through the middle of the meatloaf. It looks great and is actually quite easy to do. As a kid, I loved that ribbon of sweet carrots sautéed in butter, and it really did make this humble dish feel like something special.
Here's how to do it:
Use the measurements below. Soak breadcrumbs and milk for 5 minutes. Combine with beef, egg, parsley, Worcestershire sauce, salt, and black pepper. Mix with your hands until just combined.

Increase carrots to 12 oz. Finely chop carrots, onions, and garlic (ideally use a food processor to pulse these into finely chopped pieces or do it by hand). Saute carrots, onions, and garlic in butter over low-medium heat until very tender.

Place ground beef mixture between two pieces of wax paper and roll out into a rectangle that is the same width as a loaf pan and about twice as long.

Spread carrot mixture evenly over beef.



Starting at the edge closest to you, roll the meatloaf up.
Transfer meatloaf to a loaf pan and bake according to directions below.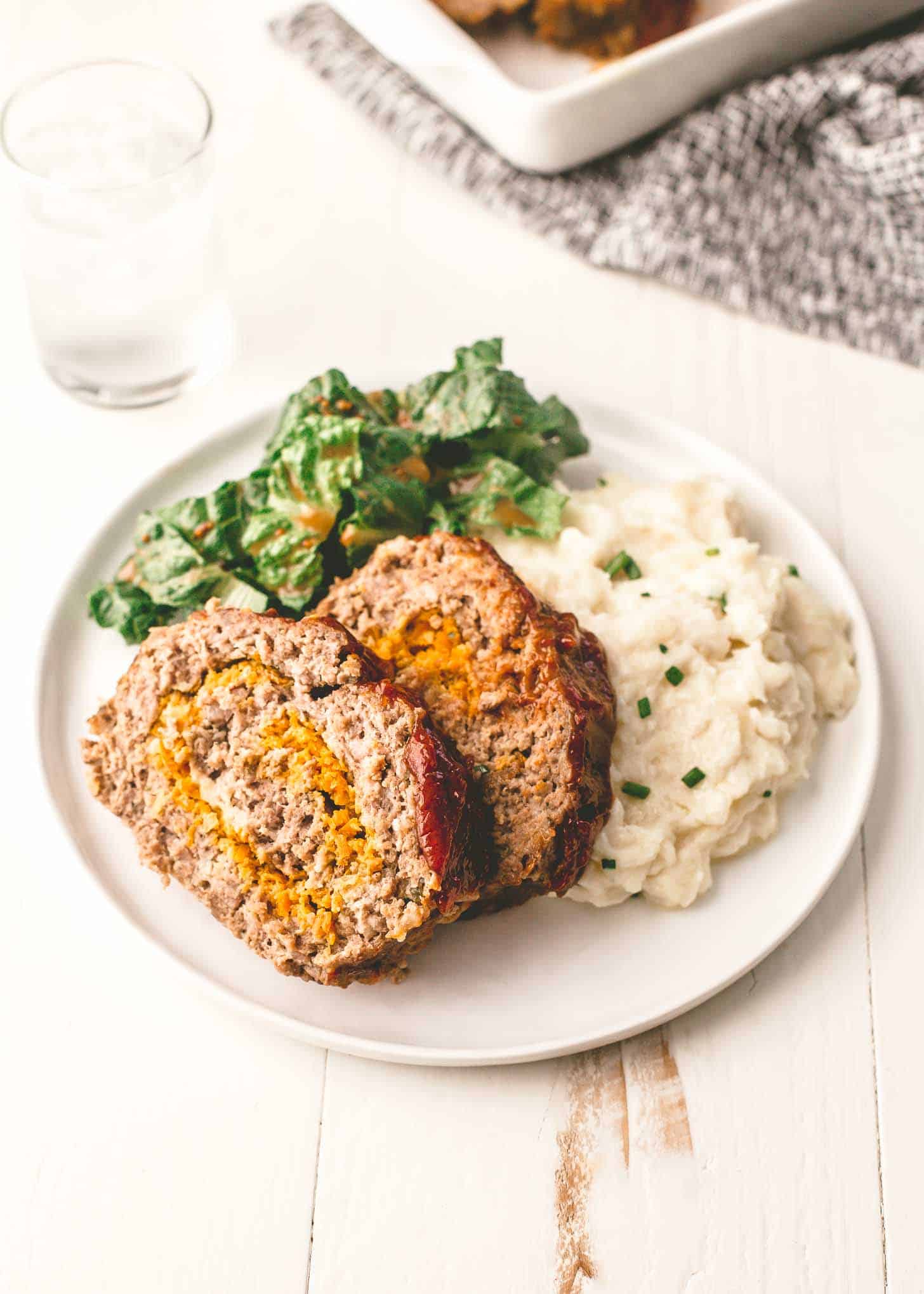 Meatloaf Variations
Change meat – Many meatloaf fans swear by a combination of meats. You'll need a total of 1 1/2 lbs of ground meat for this recipe, so you can absolutely replace any portion of the beef with pork or ground chicken. Italian sausage makes a great addition as well (in testing I liked a version with 1 lb ground beef and ½ lbs mild Italian Sausage)
Gluten-Free / Low Carb / Paleo – This meal can easily be adapted to be gluten-free, low carb, or paleo-friendly. You can skip the breadcrumbs entirely or substitute an appropriate substitute like almond meal. Instead of Worcestershire sauce try Tamari or Bragg's / coconut aminos.
Bake in muffin tins – slice roll and place in a muffin tin. Bake at 350°F for about 20 minutes. (Makes 12 to 14 muffin-size meatloaf. (These are great for freezing and excellent for packing in lunches!)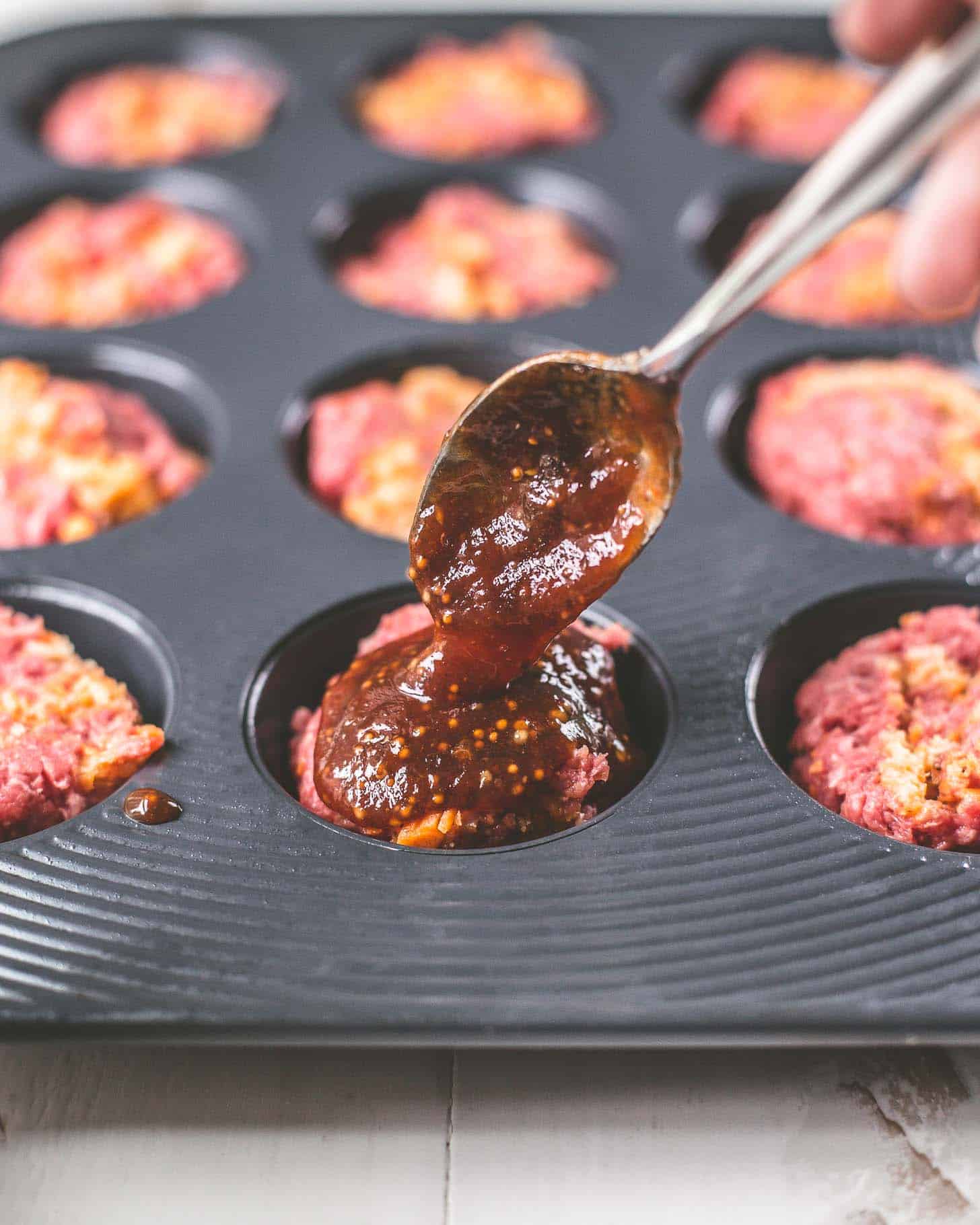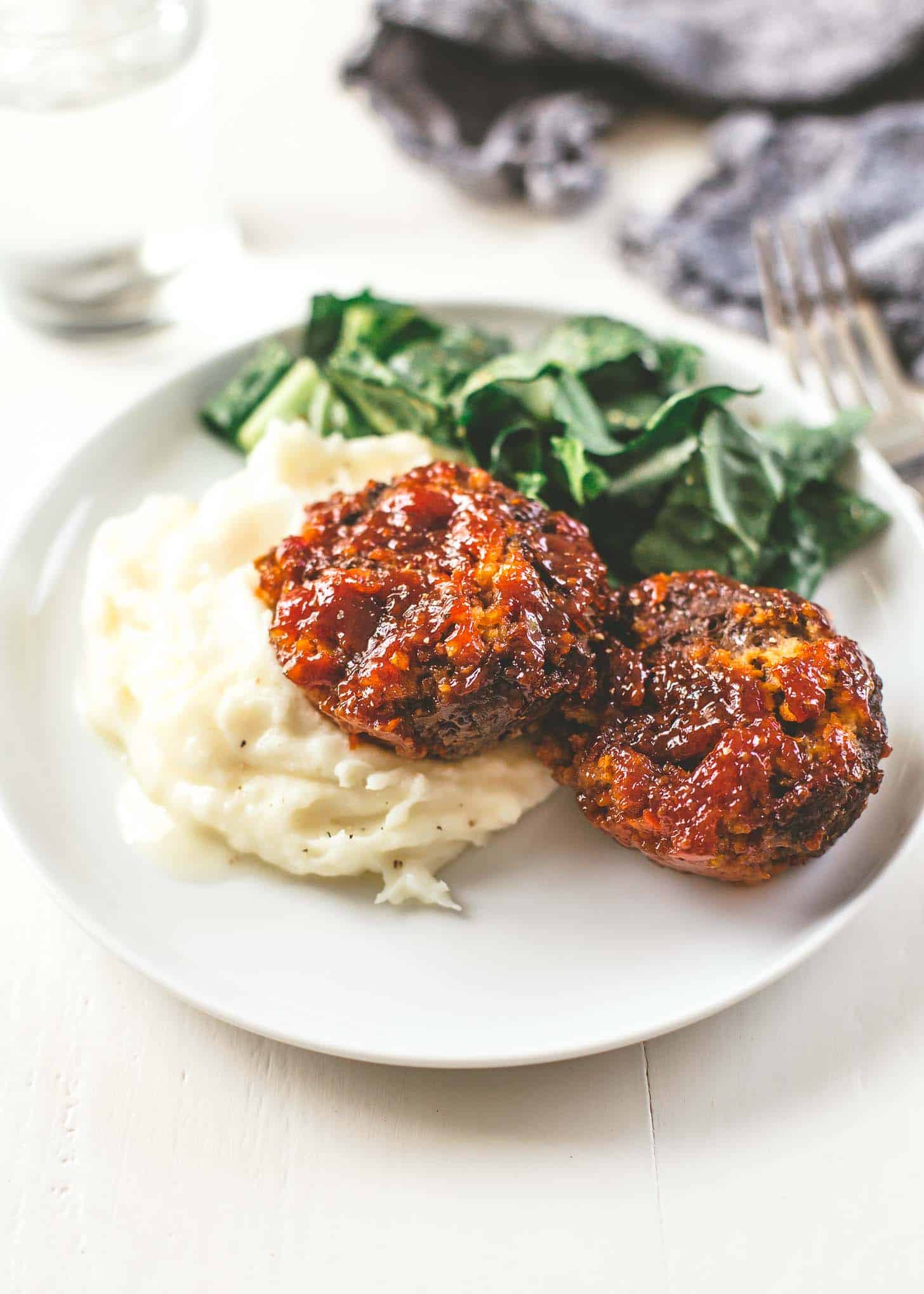 Freeze This Meal
The easiest way to freeze meatloaf is to assemble it in a loaf pan and freeze it inside the loaf pan (before cooking) with the entire pan wrapped tightly in foil. Let it defrost completely in the refrigerator before cooking according to directions. Meatloaf in a loaf pan needs a long time to defrost, so be sure to transfer it to the refrigerator 2 to 3 days before cooking to be sure it is fully defrosted.
Five Toppings for Meatloaf
A flavorful topping can make classic meatloaf extra special, add flavor, and give it a unique twist.
Ketchup

– It's easy and it's a classic.

BBQ –

Use your favorite BBQ sauce for customizable flavor.

Sweet and Tangy

– A twist on the classic is to use a combination of ketchup, brown sugar, and mustard. It gets slightly caramelized as it cooks. (This is the favorite in our house.)

Bacon

– Thinly sliced bacon can be spread in an even layer over the meatloaf before it goes into the oven. This will help to hold moisture in and the bacon will get slightly crisp as it cooks. (This is best for a free form loaf.)

Tomato Glaze (low sugar / low carb)

– Don't want to use ketchup but want the same sweet and tangy flavor? Combine 1/2 cup tomato paste, 1 tsp Worcestershire sauce (or soy sauce), 1 tsp apple cider vinegar, 2 tsp honey, and 2 Tbsp of water (add a splash more water if needed until it reaches a smooth, spreadable consistency).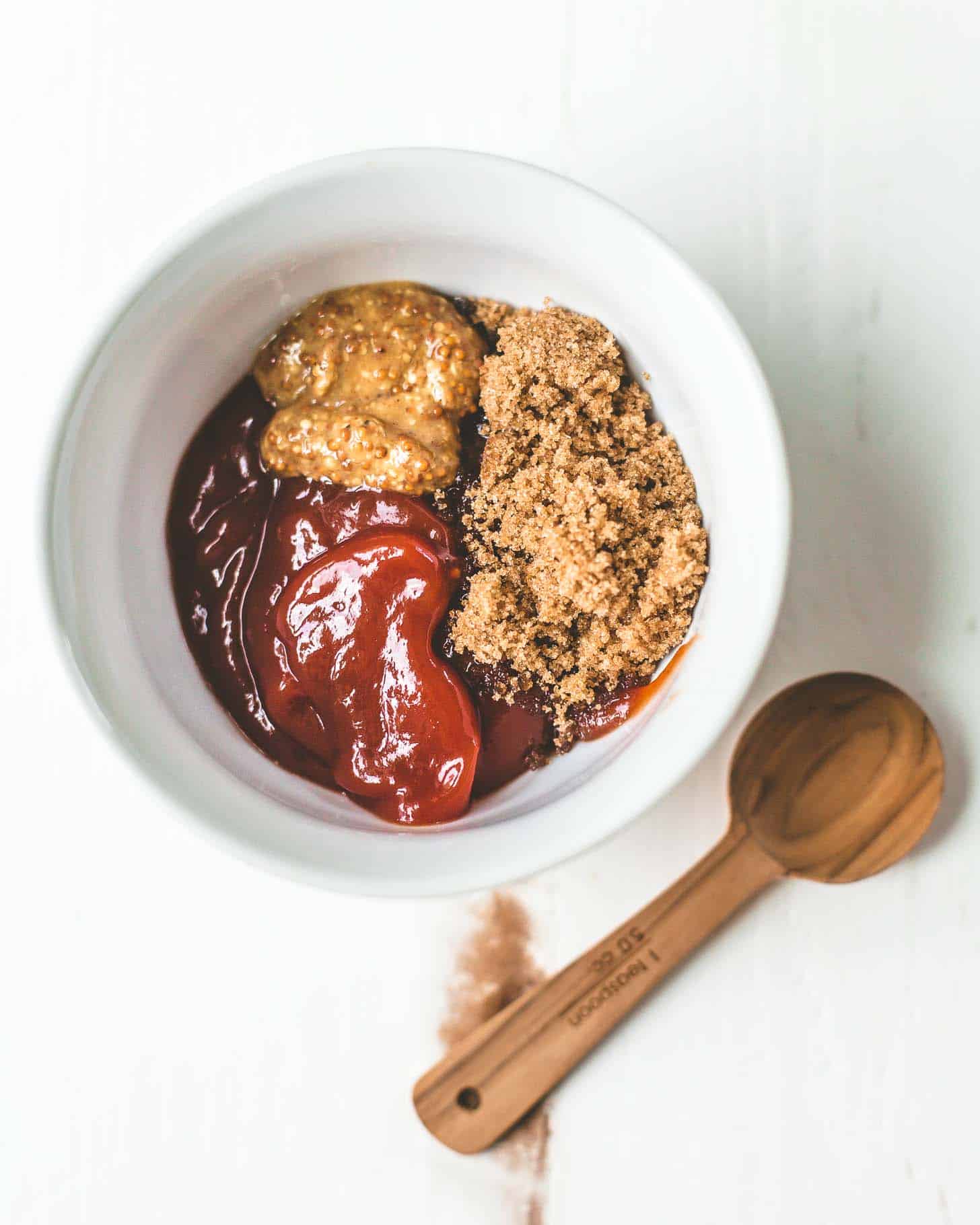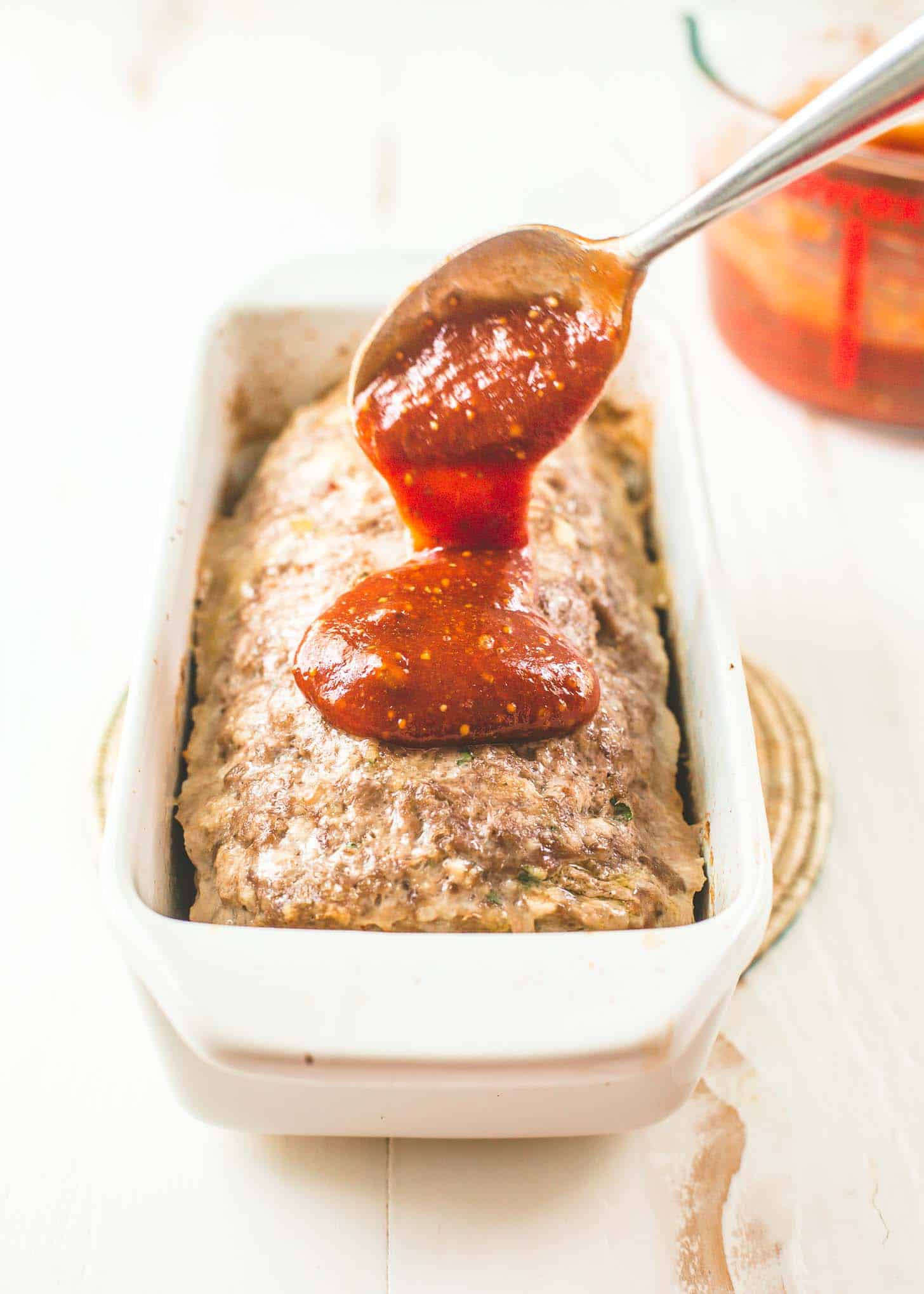 Other Comfort Food Favorites
Favorite Tools
Classic Meatloaf with Sweet and Tangy Glaze
Classic Meatloaf with Sweet and Tangy Glaze is comfort food at its best. Don't overlook this all-American classic that is make-ahead and freezer friendly. Recipe below includes lots of ideas for variations and diet adaptations.
Equipment
Loaf Pan

Half Sheet Pan

Skillet
Ingredients
Classic Meatloaf:
1/2

cup

Panko Breadcrumbs

(may substitute Italian breadcrumbs)

1/2

cup

Milk, any type

1

small

White Onion, quartered

6

ounces

Carrots, chopped into large pieces

2

cloves

Garlic

1

Tablespoon

Butter

1 1/2

pounds

Ground Beef

(80% lean)

1

Egg, whisked

1

Tablespoon

Fresh Parsley, curly or flat-leaf, chopped

(optional)

2

teaspoon

Worcestershire Sauce

(may substitute soy sauce or Tamari)

1

teaspoon

Salt

1/4

teaspoon

Black Pepper
Sweet and Tangy Glaze:
1/2

cup

Ketchup

2

Tablespoon

Dark Brown Sugar

1

teaspoon

Mustard

(I like to use stone ground Dijon Mustard)
Instructions
If using a loaf pan, spray it with nonstick cooking spray. If using a sheet pan, line it with foil.

Combine breadcrumbs and milk in a large bowl and set aside to soak.

Combine onions, carrots, and garlic in the bowl of a food processor and pulse until finely chopped (the largest pieces should be about the size of a pea). (Note: If you prefer, you can also finely chop these by hand.)

Melt butter in a large saute pan over medium heat.

Add onions, carrots, and garlic with a pinch of salt.

Saute until vegetables are soft, about 5 minutes.

Set aside to cool for 5 minutes.

To breadcrumbs and milk, add beef, egg, parsley, Worcestershire sauce, salt, and black pepper.

Top with cooked carrots and onions.

Using your hands, gently mix everything together until just combined. (Try not to over mix or this will make your meatloaf more tough.)

Gently shape the meat mixture into a loaf shape and transfer to loaf pan or sheet pan.

Transfer meatloaf to oven and bake for 55 to 60 minutes (use an instant read thermometer if you have it - the center will register 155°F when the meatloaf is done).

While meatloaf cooks, whisk together ketchup, brown sugar, and mustard.

Remove meatloaf when it has about 20 minutes left to cook and spread glaze over top.

Rest meatloaf for 10 minutes then slice and serve.
Notes
Print and attach the label below so cooking instructions are ready when you are!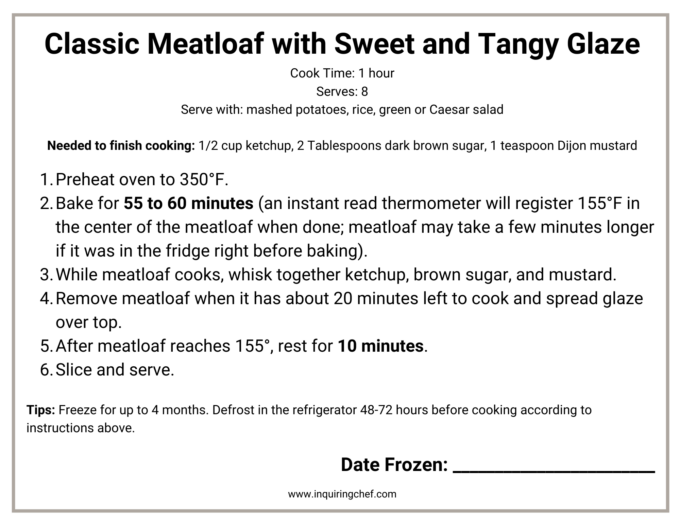 Nutrition
Calories:
271
kcal
|
Carbohydrates:
14
g
|
Protein:
18
g
|
Fat:
16
g
|
Saturated Fat:
6
g
|
Cholesterol:
84
mg
|
Sodium:
575
mg
|
Potassium:
426
mg
|
Fiber:
1
g
|
Sugar:
9
g
|
Vitamin A:
3768
IU
|
Vitamin C:
4
mg
|
Calcium:
57
mg
|
Iron:
2
mg
Nutrition information is automatically calculated, so should only be used as an approximation.
My sweet little sister got married over the weekend! This may be the only photo I have in recent months with all three of my kids looking at the camera – bonus that it's with the bride and groom!