This humble loaf of banana bread is about to get a serious upgrade.
I've always been equal parts intrigued and intimidated by cake pops.  It's not the general concept that throws me (combining cake from a mix and frosting seems do-able), but it's the thought of keeping them on sticks that I'm not so sure about.  I've been eyeing the little treats long enough to have seen some pretty beautiful ones, but I never wanted to throw my hat in the ring.  So when I saw Kristin at
Iowa Girl Eats
write about
a brownie version that she kept in "truffle" form
(read: no sticks involved), I realized it was the perfect way to give something in the cake pop realm a try.
The first year Frank and I started dating, I wanted to bake him his favorite cake.  Mind you, I'm not sure I had ever baked a cake at that point in my life.  Love.  That's what it does to us.  I would have attempted seven layers and six kinds of frosting if that's what he had wanted.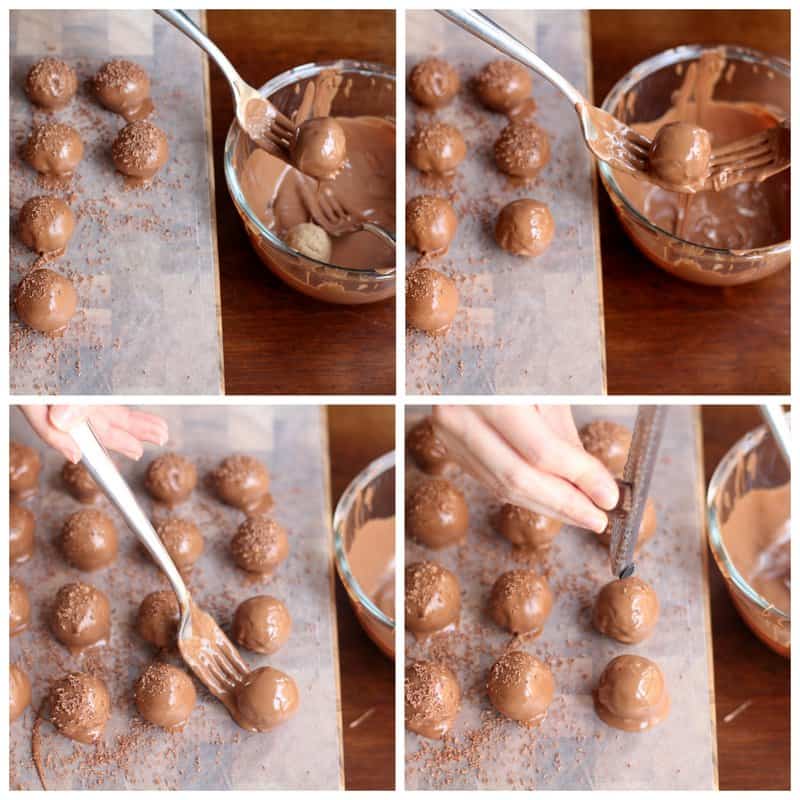 But my husband-to-be did not want a bunch of layers of buttercream or any kind of crazy ganache on that first Valentines Day.  What he wanted was a banana bread cake.  He had tasted a slice from a local bakery, and loved it.  The cake had two layers of banana bread (just regular banana bread, baked in a cake pan), with a layer of cream cheese frosting and a top of chocolate frosting.  I was thrilled – I could handle banana bread.  
On that first Valentine's Day the frosting probably came off the shelf at the store, and I think the finished result lilted fairly far to the right, but it was delicious.  It was a fantastic idea for a cake.
These truffles are that cake, in bite-sized form.  They pack up nicely, and would be great any time of year, but if you have a banana bread lover in your midst, they might be the perfect way to show your love on Valentine's Day.  
I'm glad to have found my way into the cake pop truffle camp. I'm totally hooked.
These are seriously addictive.  Did I sneak a truffle or two (or six) on Monday morning while eating my oatmeal by the refrigerator door?  Yes I did.  Did we snack on them for dessert several nights in a row?  Yes, yes we did.  Did I create an entire board on Pinterest as an ode to my growing love of all things cake truffles?  (Ahem.)
I think your next loaf of banana bread might need an upgrade as well.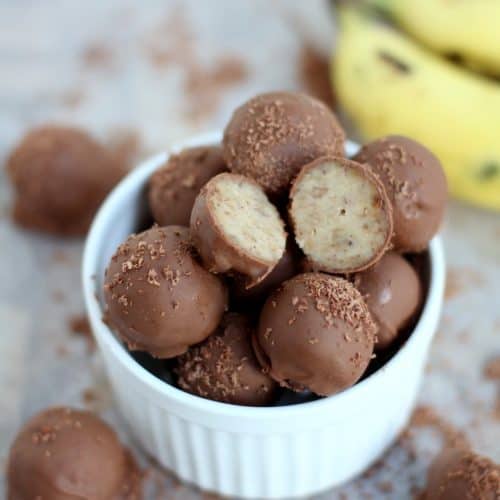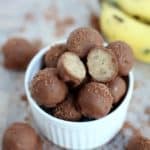 Print Recipe
Chocolate-Dipped Banana Bread Truffles
A sweet and simple recipe for rich truffles made from a loaf of banana bread, cream cheese, and chocolate.
Servings:
60
small truffles
Ingredients
1

loaf banana bread (see note)

6

oz.

cream cheese, softened to room temperature

10

oz

(300g) milk chocolate broken into 1 oz pieces (set aside 1 oz. for topping)
Instructions
Using a bread knife, cut off the outer edges of the banana bread and discard. (Just cut thin slivers off the sides that baked against the loaf pan - the dark crust is difficult to break apart.)

Using your fingers or a fork, crumble the banana bread into very small pieces in a medium mixing bowl. Add cream cheese to the bowl and, using a fork, mash the banana bread crumbs and cream cheese into a creamy, uniform consistency.

Using your hands, roll the banana bread/cream cheese mixture into even balls 1-2 inches in diameter. (This should produce about 60 balls, but there is no need to be precise here - make them larger or smaller if you prefer.) Place the balls on a wax-paper-lined baking sheet and refrigerate for at least 30 minutes, but as long as overnight.

Melt 7 ounces of the chocolate in a double-boiler or in the microwave (stopping every 10 seconds to stir the chocolate so that it does not overheat and dry out). Roughly chop 2 ounces of the remaining chocolate into small pieces. Add the chopped chocolate to the melted chocolate and stir well to combine. The chopped chocolate should melt and it should all become shiny and smooth. (If it doesn't all melt, heat it just a bit longer until it does.)

Dip the chilled banana bread balls in the melted chocolate and gently transfer the balls between two forks to allow excess chocolate to drip back into the bowl. Return the chocolate-dipped balls to the wax paper. Using the 1 oz. of reserved chocolate gently grate a few shavings over each truffle before the chocolate hardens.

Allow the truffles to cool at room temperature until firm. Refrigerate up to 3 days.
Notes
Inspired by these Brownie Mix Truffles. Don't spent too much time fussing over the banana bread you make for this recipe. The simplest version will work just fine since it will eventually be mashed and rolled into balls. I recommend this simple, moist Banana Bread by Martha Stewart without the nuts because it is delicious, but also quick to make.
Fellow cake-pop phobics, fear not, for here are a whole variety of simple "cake" truffles – sticks are optional!