Blender Hollandaise Sauce
Published Apr 15, 2020•Updated Mar 13, 2022
Don't be intimidated to make rich creamy, rich Hollandaise Sauce at home. All you need is a blender, food processor, or handheld immersion blender for a smooth, perfect sauce every time!
It wasn't until I was well into adulthood that I realized Hollandaise was (in its classic form) a complicated sauce to make. My dad made Hollandaise Sauce on the regular, but he had a secret. He never made it in the classic French style with tons of whisking and fear of the sauce separating. He made it in the blender! Just turn on the blender, drizzle hot butter in as it spins and the sauce comes out creamy and dreamy in just a couple of minutes.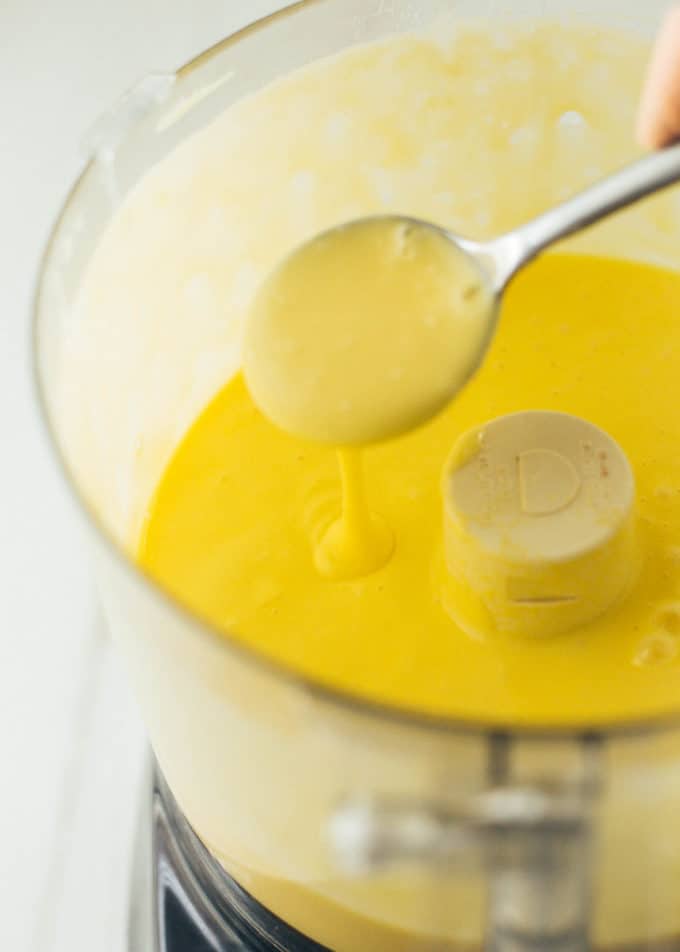 Blender Hollandaise Sauce, served with Steamed Artichokes, make my birthday dinner dreams come true every year. And while many things feel uncertain now in the midst of this health crisis, one thing is certain at our house. In April I will turn 39 and we will be eating artichokes and Hollandaise. At home. By ourselves. Still delicious.
If you're curious about the classic Hollandaise Sauce, Michael Ruhlman has a great article describing how to make this sauce with just a whisk and a bowl. He says that Julia Child was most likely the first to suggest that Hollandaise can be made in the blender. (Why am I not at all surprised that we can credit Julia with this genius method?)
These days, as much as I love a cooking challenge, I would never make Hollandaise Sauce any other way. The blender method is easy and fail-proof. Here's how to do it.
Ingredients for Hollandaise Sauce
Butter

– This sauce is mostly just butter. You need a lot of it. Don't let all that butter deter you – this sauce is worth the occasional indulgence. For best results, use unsalted butter so that you can control the amount of salt and the flavor of the finished sauce.

Egg Yolks –

You just need the yolks for this sauce. Discard the whites or use them to make something else. (You'll have the perfect amount of egg whites to make this

Angel Food Smash Cake

that is as delicious for adults as it is for little ones.)

Lemon Juice

– Be sure to use fresh-squeezed lemon juice here for the best flavor. It's a good idea to grab an extra lemon too, just in case you taste the sauce and want a bit more lemon flavor.

Kosher Salt

– This recipe was tested with kosher salt, but any type of salt will work. Just be sure to taste the sauce and add only as much salt as needed.

Cayenne Pepper – This is totally optional but the tiniest pinch of cayenne pepper adds a hint of spice that is great in the finished sauce.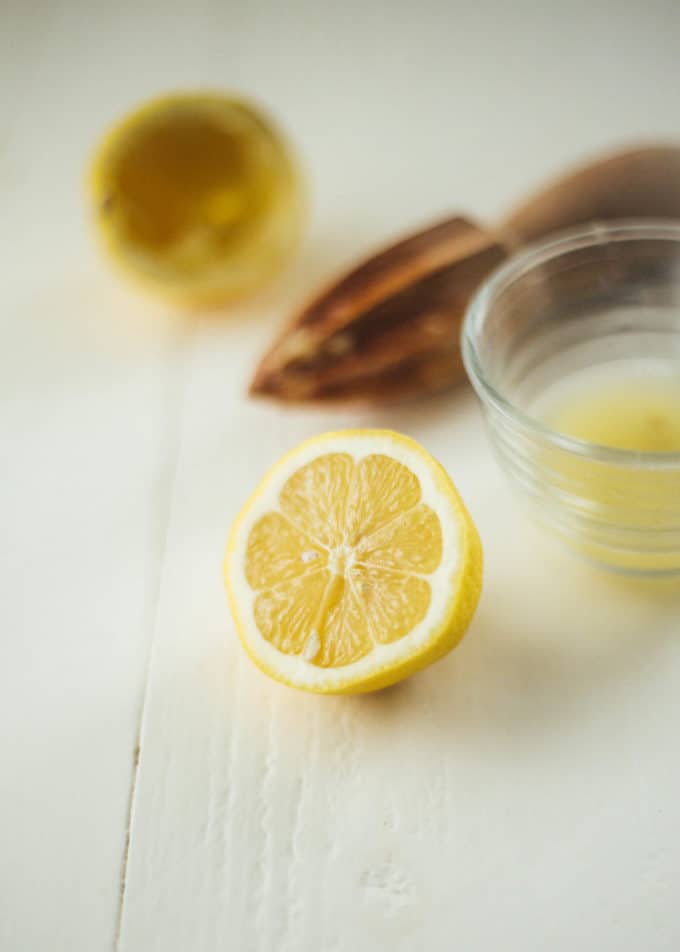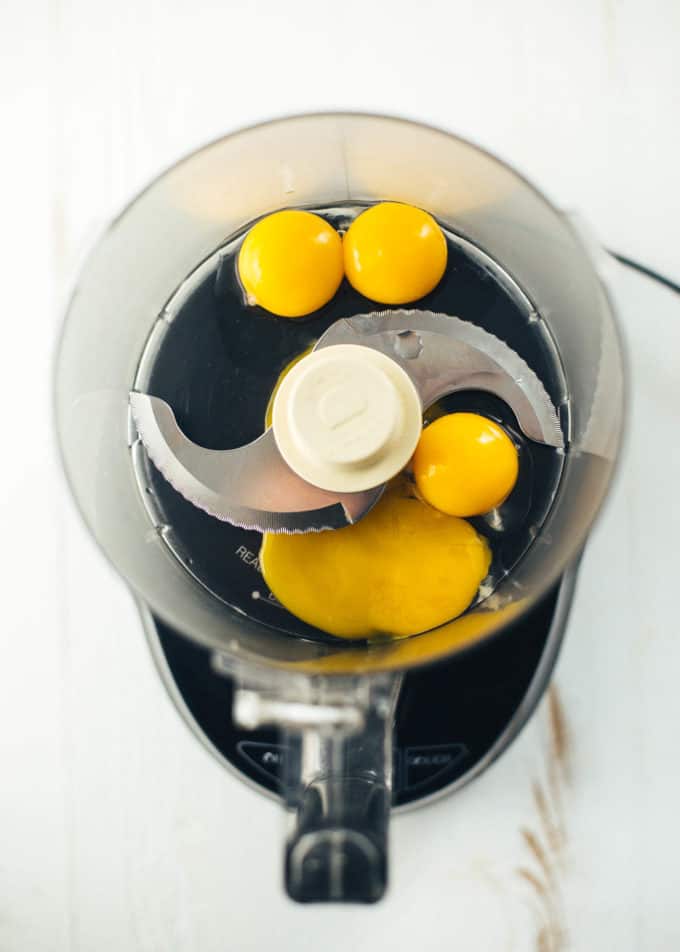 How to make Blender Hollandaise Sauce
Traditional Hollandaise Sauce is made by whisking heated butter into egg yolks until a smooth, golden sauce forms. Smooth sauce created this way is called an emulsion. When making Hollandaise Sauce in the blender, the blender does the "whisking" so the butter just needs to be slowly added to the eggs to ensure that the emulsion sets up properly.
Be sure to check out the recipe notes on the size and shape of your blender. It's important that the ingredients reach the blades of the blender in order for everything to emulsify properly. If you have a blender with blades that sit up fairly high, you may need to double the recipe so that everything blends easily.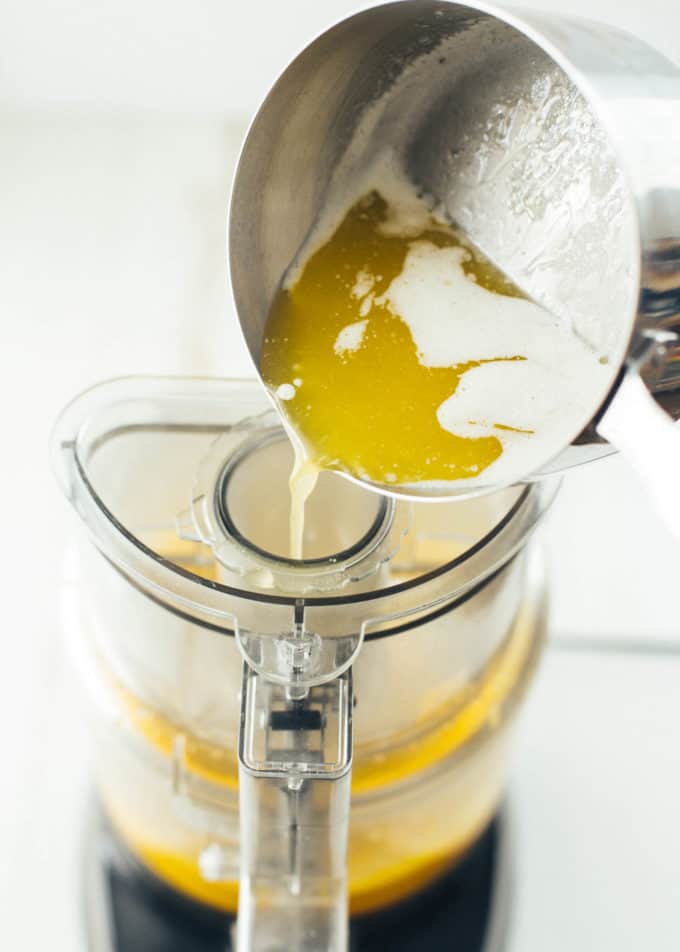 Can You Make Hollandaise Ahead?
Hollandaise Sauce has the best creamy texture and fresh flavor if served right away, but you can make it up to a day ahead of time. If made less an hour or less ahead, just keep it in a warm water bath as shown below. If making it more than an hour ahead, store it in the refrigerator and reheat it by placing it in a saucepan of steaming (but not boiling) pot of water, stirring constantly until warmed all the way through. Add a splash of hot water if the sauce is too thick after it is fully heated.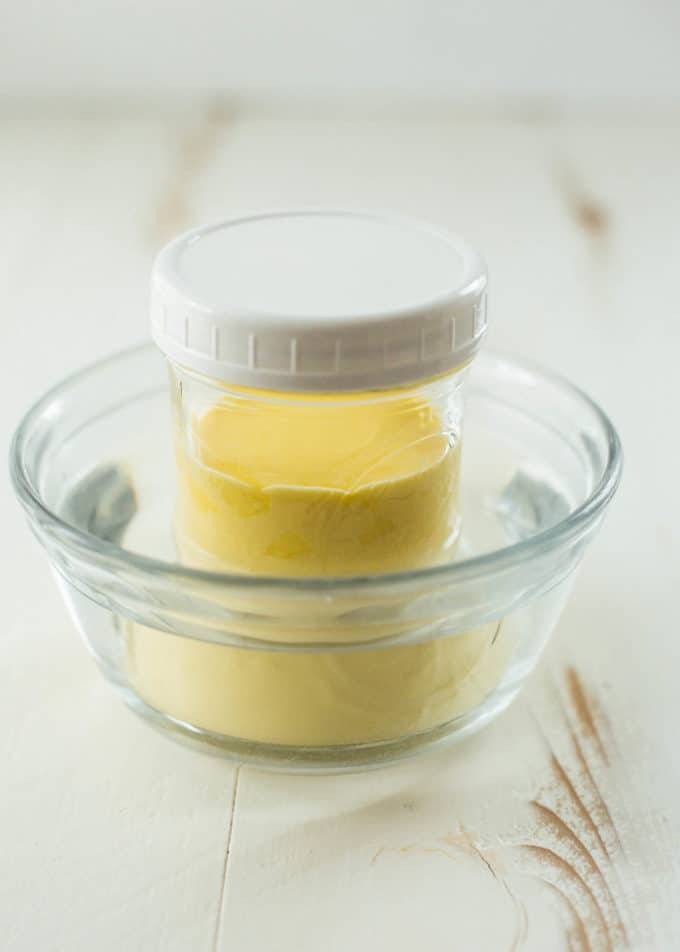 Uses for Hollandaise Sauce
Really, is there anything that isn't made better with a drizzle of Hollandaise Sauce? 😉 But here are a few things that naturally pair well with this creamy sauce:
Eggs Benedict

Asparagus

Broccoli
Tools for Making Blender Hollandaise Sauce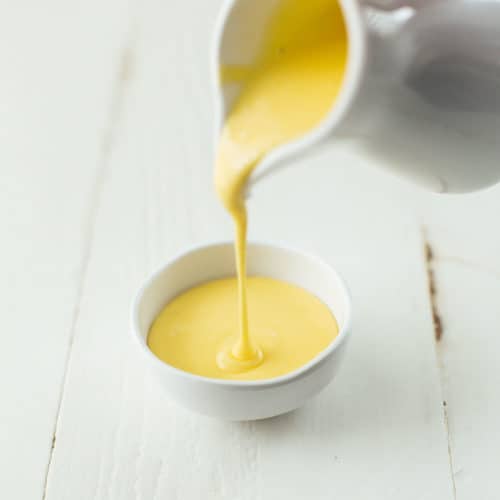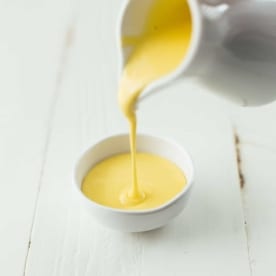 Blender Hollandaise
Don't be intimidated to make rich creamy, rich Hollandaise Sauce at home. All you need is a blender or food processor for a smooth, perfect sauce every time!
Check the recipe notes for tips on alternatively "blenders" that can be used with this method and on scaling the recipe up or down.
This recipe makes about 1 cup of sauce.
Ingredients
1 1/2

sticks

Unsalted Butter, melted

4

Egg Yolks

(you don't need the egg whites for this recipe)

1 1/2

Tbsp

Lemon Juice

1/4

tsp

Kosher Salt

Pinch of Cayenne Pepper

(optional)
Instructions
Place butter in a small saucepan over medium-low heat. Heat, stirring frequently, until the butter is just melted. Reduce the heat if the butter starts to bubble or steam. Maintain the melted butter at this low but warm temperature while you prepare the blender.

In the bowl of a blender (see notes below for tips), combine egg yolks, lemon juice, salt, and cayenne pepper (if using).

Put the lid on the blender and pulse the mixture for a couple seconds until everything is combined.

Using whatever method works best for your blender (this may involve moving the lid so it is slightly ajar or removing part of the lid to create an opening, turn on the blender and slowly pour the butter into the eggs while the blender is running. (Stop just short of adding all of the butter, so that you can discard any solids that separated out of the butter while it was melting.)

After the butter has been added, stop the blender and taste your sauce. Add some more lemon juice or salt, if needed.

If the sauce is thicker than you'd like, add some warm water, 1 teaspoon at a time, and blend until it reaches the thickness you would like.
Notes
A standing blender, food processor, or handheld immersion blender can all be used to make this sauce. The most important thing to look for is that the egg yolk and lemon juice sufficiently fill the bowl to reach the blades of the blender as they spin. This means that with blenders that have elevated blades or with many food processors, you may need to double the recipe. If using an immersion blender, use a narrow bowl or jar and run the immersion blender while pouring the warm butter down the side of the bowl.
Nutrition
Calories:
121
kcal
|
Carbohydrates:
1
g
|
Protein:
1
g
|
Fat:
13
g
|
Saturated Fat:
8
g
|
Cholesterol:
95
mg
|
Sodium:
53
mg
|
Potassium:
10
mg
|
Sugar:
1
g
|
Vitamin A:
440
IU
|
Vitamin C:
1
mg
|
Calcium:
11
mg
|
Iron:
1
mg
Nutrition information is automatically calculated, so should only be used as an approximation.