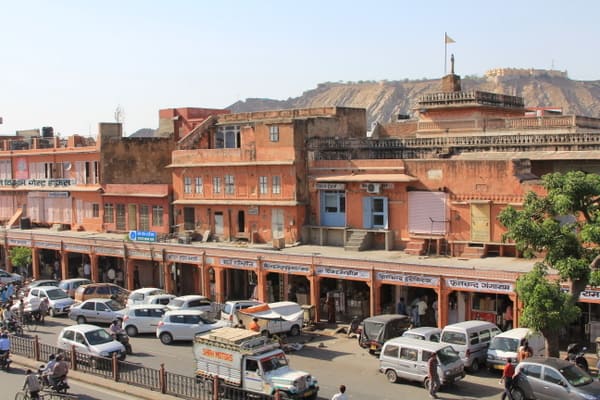 Monday, April 30 - Udaipur/Jaipur
Today we are in transit between two cities in Rajasthan, a large part of which is made up of desert.
The two cities in Rajasthan were high on Frank's list for our visit to India. However, I really only needed to know one thing about Jaipur to be convinced it was worth taking a look. It is the city in pink. I try to lay off the pink here on the blog (attempting to be sophisticated, and all into food and such), but in real life I can't get enough of pink. ( I once ordered a giant bucket of fake-flavor raspberry popcorn in Bangkok just because of the color.)
My sources (Wikipedia) tell me that all of the buildings in Jaipur were painted pink in 1867 to welcome the Prince of Wales (who later became the King of England) to the city. Even today, all the buildings in the old city are required to be painted pink.
We hired a company to help us with transit and lodging in India, since we had a short amount of time and wanted to see as much as possible. I think they were baffled by us because a) we turned down a trip to the Taj Mahal (they tried to "sneak" it into our itinerary at least twice) and b) we were insistent that we could travel to this desert region of India even in the "hot" season. We live in Bangkok – we scoff at 100 degree temperatures!
I'll let you know if I'm still singing that "I don't mind the heat" tune tomorrow after we ride elephants to the top of a fort in the mid-day sun!