Confession: I made this cake because it was the easiest recipe I could find.
Frank's birthday fell right in the middle of an abbreviated, yet very hectic, work week for both of us.  On his big day – Wednesday – a late afternoon earthquake in Indonesia raised fears throughout the region.  People were particularly concerned on the coast of Thailand, remembering the 2004 tsunami all too vividly.   I got out of work late, and was all the more thankful for Frank's relatively easy dinner request of sliders and onion straws.  See last year's post (and identical dinner) for the slider and onion straws recipe.
We both love this dinner.  It's fun, reminds us of home, and feels like a splurge worthy of a birthday dinner.
Although I had everything squared away for dinner, I was still puzzling over dessert on the morning of Frank's birthday.  He didn't have a particular request, but I wanted it to be great.  I also wanted it to be deeply chocolately.  In my harried commute home after work one day this week, the dessert I should to make came to me right out of the blue.  I had come across it months before, described as world's easiest moist, chocolate cake.  Friends – this did not disappoint. I mixed it in the stand mixer and had it in pans in less than 10 minutes.  And although I nearly burned the cakes, distracted as I was with cooking mini-burgers, the cake was totally forgiving – stayed nice and moist, and embraced that buttery cocoa frosting like it was born for it.  This cake was amazing.
This was not all that I had in store for this husband of mine.  I really wanted to celebrate Frank's birthday in a big way this year.  There's no reason in particular, except that I've been feeling so darn proud of the guy and all that he's accomplished this year.  He's humble and already commented that my blog is getting "more personal" (not that that's a bad thing, he was quick to point out), so I'll leave it there.  But, nevertheless, I really wanted to celebrate him this week.
So at the end of the very short (yet very tiring week), I decided to go all-out and take him out for a swanky birthday dinner at D'Sens.  On the 22nd floor, the view, the wine list, and the food did not disappoint.  I wanted Frank to have the option of a great steak (I was assured that the steak at D'Sens would not disappoint), but sneaky Frank didn't end up wanting it.  We went with the tasting menu instead.
Sometimes I think my palette has been permanently altered by the abundance of intensely flavored Thai food I now eat on a daily basis.  Not that that's a bad thing.  As a result, I was beyond thrilled with the different flavors we got out of this French meal.  A few of my favorites elements were the fresh bread with creamy butter, and a combination of roasted tomato puree and pesto to slather on the top.
My favorite course was this simple sweet pea soup.  On top are a small dollop of goat cheese and a crisp piece of bacon.
The meat course was this perfectly cooked lamb with roasted tomatoes and a sweet, savory sauce.
And a cheese course, with a bowl of greens.  I adore a cheese course…
But here's where it really got out of control.  Dessert.
After that cheese course, out came a delightful bowl of dessert.  Local sweet strawberries, sorbet, and fresh cream, topped with tiny little meringues that added crunch.  It was delicious, and a restrained ending to a big meal.
It was around that time that I saw the cake.
I had mentioned Frank's birthday when making the reservation, primarily just to get a table with a view. We got the table…and we also got a cake.  With "Happy Birthday" sprawled in chocolate across the top.  It was amazing.  A neapolitan cake with vanilla and strawberry mouse on top and tiny macaron halves decorating the edges.  (Fortunately they let us box it up and take it home.)
But get this – that's not the end.  Out came a selection of teas and a plate for each of us of mini desserts.  Had these not been so intriguing, I could never have eaten them.  But who can resist adorable mini desserts?  From left to right they were a rich ganache rope, a lavender-scented marshmallow, a buttery madeline, strawberry meringues, a tiny churro (fried dough), and a pistachio macaron.
It was over-the-top.  We loved every minute of it.
Today I felt it wise to have oatmeal for breakfast.  But to be honest, the chocolate cake chilling in the fridge has been calling my name all morning.  And let me tell assure you of one thing – not only was this chocolate cake amazing the first time around, but it passed my test of chocolate cake perfection.  It's even better eaten cold, straight out of the fridge.
We are in dessert overload around here.  Not that that's a bad thing.  

_____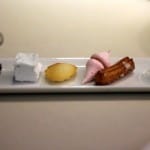 Print Recipe
Weeknight Chocolate Cake
Ingredients
For the Cake:
2

cups

granulated white sugar

1 3/4

cups

all purpose flour

3/4

cup

unsweetened cocoa powder

1 1/2

tsp

baking powder

1 1/2

tsp

baking soda

1

teaspoon

salt

2

large eggs

1

cup

buttermilk

1/2

cup

butter, melted

1

tbsp

vanilla extract

1

cup

freshly brewed hot coffee (or 2 tsp instant coffee in 1 cup boiling water, or simply 1 cup boiling water)
For the Icing:
1/2

cup

(1 stick) unsalted butter, softened to room temperature

2/3

cup

unsweetened cocoa

1.5

cups

powdered sugar, more to taste

1

teaspoon

vanilla extract

splash of milk
Instructions
Preheat oven to 350 degrees. Grease and flour two 9-inch baking pans (or line with parchment paper circles) and set aside.

In the bowl of a standing mixer, stir together sugar, flour, cocoa, baking powder, baking soda, and salt. Add eggs, buttermilk, melted butter and vanilla extract and beat for 2 minutes on medium speed. Stir in hot coffee.

Pour batter evenly between the two pans and bake on middle rack of oven for 30 to 35 minutes (mine were done a bit before the 30-minute mark), until toothpick inserted in centre comes out clean. Allow to cool 5 minutes in pans. Run a butter knife around the edges of each cake. Place a wire cooling rack over top of each pan. Wearing oven mitts, use both hands to hold the racks in place while flipping the cakes over onto the racks. Set the racks down and thump on the bottom of the pans until the cakes release. Cool completely before frosting.

To make the frosting, beat butter, cocoa, sugar, and vanilla together with an electric mixer on high until smooth and creamy, 3-4 minutes. Taste and add additional powdered sugar, if desired. If the icing is too thick to spread, add a splash of milk and beat again to incorporate.
Notes
Cake recipe from Foodess.com (definitely worth a visit, as there are hundreds of other tempting recipes on her site).