The Ultimate Guide to Thai Curries
Published Feb 27, 2020•Updated Mar 24, 2022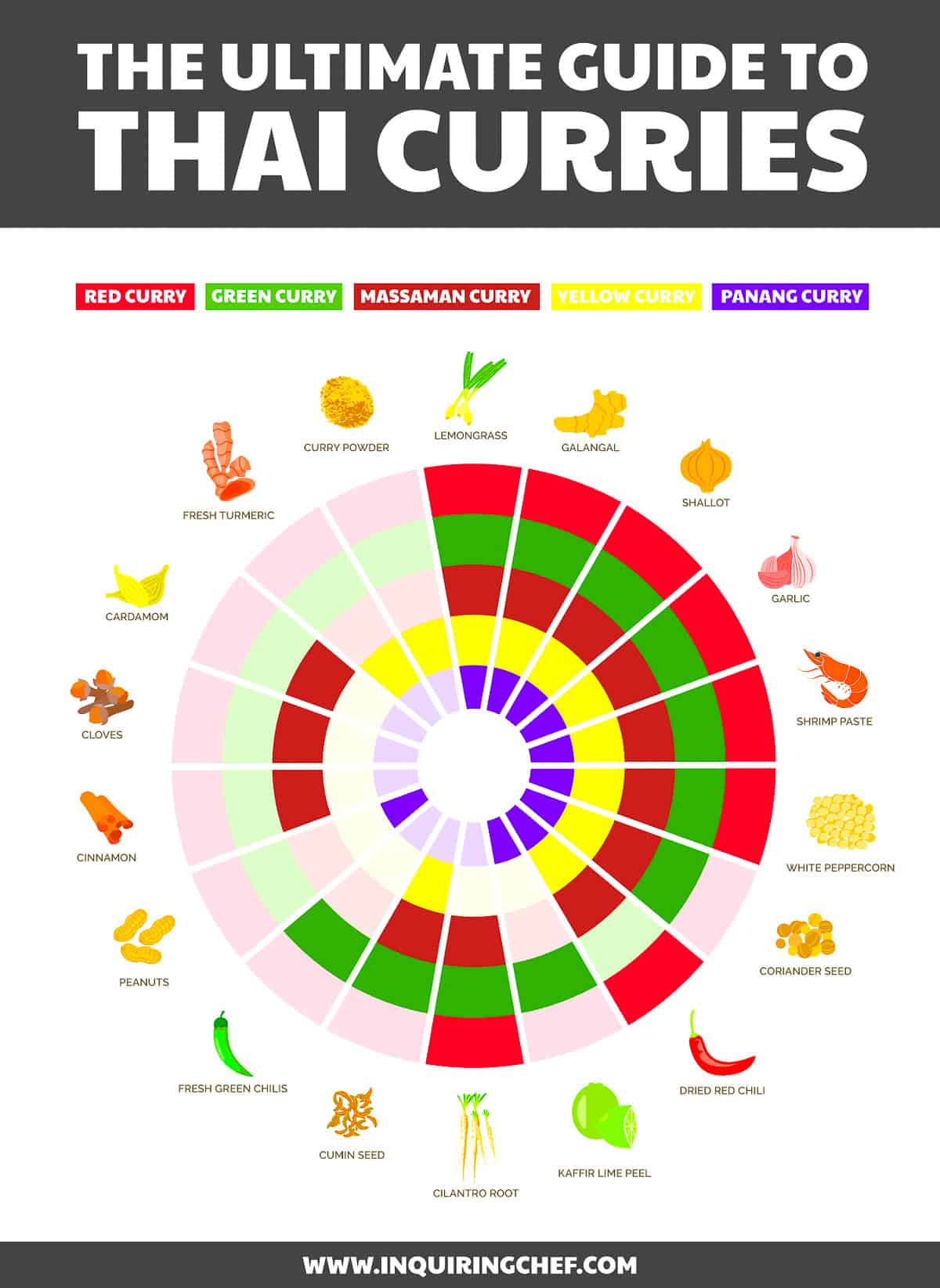 Ever wondered what the difference is between Thai curries – Green, Red, Yellow, Panang, and Massaman? The Ultimate Guide to Thai Curries is for you!
It's been a week filled with Thai Curries here (Green Curry, Red Curry, and Massaman Curry all made an appearance), but we're rounding out the week with an overview of this delicious category of Thai cuisine.
And while I'm calling this the "ultimate" guide to Thai curries, it's really a guide to the most well-known Thai curries. There are as many types of Thai curry, and variations on those types as there are palm trees in Thailand. Curry is a rich and diverse food and this really only begins to scratch the surface. Every family has their own unique twist, but the basics are pretty consistent. And if you're wanting to learn more, this is a great place to start!
So let's jump right in and talk curry!
What are the flavors of Thai curry?
As you can see in the image above, most Thai curries start out with a similar flavor base consisting of lemongrass, galangal, shrimp paste, and other aromatics pounded into a smooth paste. Layered on top of those ingredients are the flavors that make each curry unique.
Red Curry is bright and heavily spiced with dried red chilis.
Green Curry uses fresh green chilis and is bright and herby from fresh cilantro root and makrut lime leaves.
Massaman Curry is mild in heat and loaded with spices found in Indian cuisine like cinnamon and cardamom.
Yellow Curry draws on turmeric and dried curry for a rich, savory flavor and yellow color.
Panang Curry has the nutty, mellow flavor and texture of roasted peanuts ground right into the curry paste.
How to Make Thai Curry Paste
The steps for making Thai Curry Paste are:
Soak dried red chili peppers (if using)
Roast Shrimp Paste
Toast dry spices in a skillet or wok
Grind dry spices in a mortar and pestle
Grind all ingredients together until a smooth paste forms
Mortar and Pestle, Food Processor, or Blender
If you've decided to make homemade Thai curry paste, you've already decided to take on a bit of a project by tracking down and preparing your ingredients, so don't stress over the method you use to make it. The traditional method for making Thai curry paste is to pound everything together using a mortar and pestle, but more modern tools can certainly be used to make a very good version.
A food processor will finely chop the ingredients, leaving the paste with some texture. A high powered blender will usually result in a much more smooth paste than a food processor. Either way, it's a good idea to first grind the dried spices with a spice grinder so that they can easily incorporate with the rest of the ingredients. The other difference if using a food processor or blender is that you often need to add liquid to the machine so that the ingredients reach the blades. If needed, add water a bit at a time to help the paste form. (The water will cook off during cooking, leaving just the paste behind.)
(The batches of curry paste shown below were made in the food processor with 2-3 Tablespoons of water added to each batch.)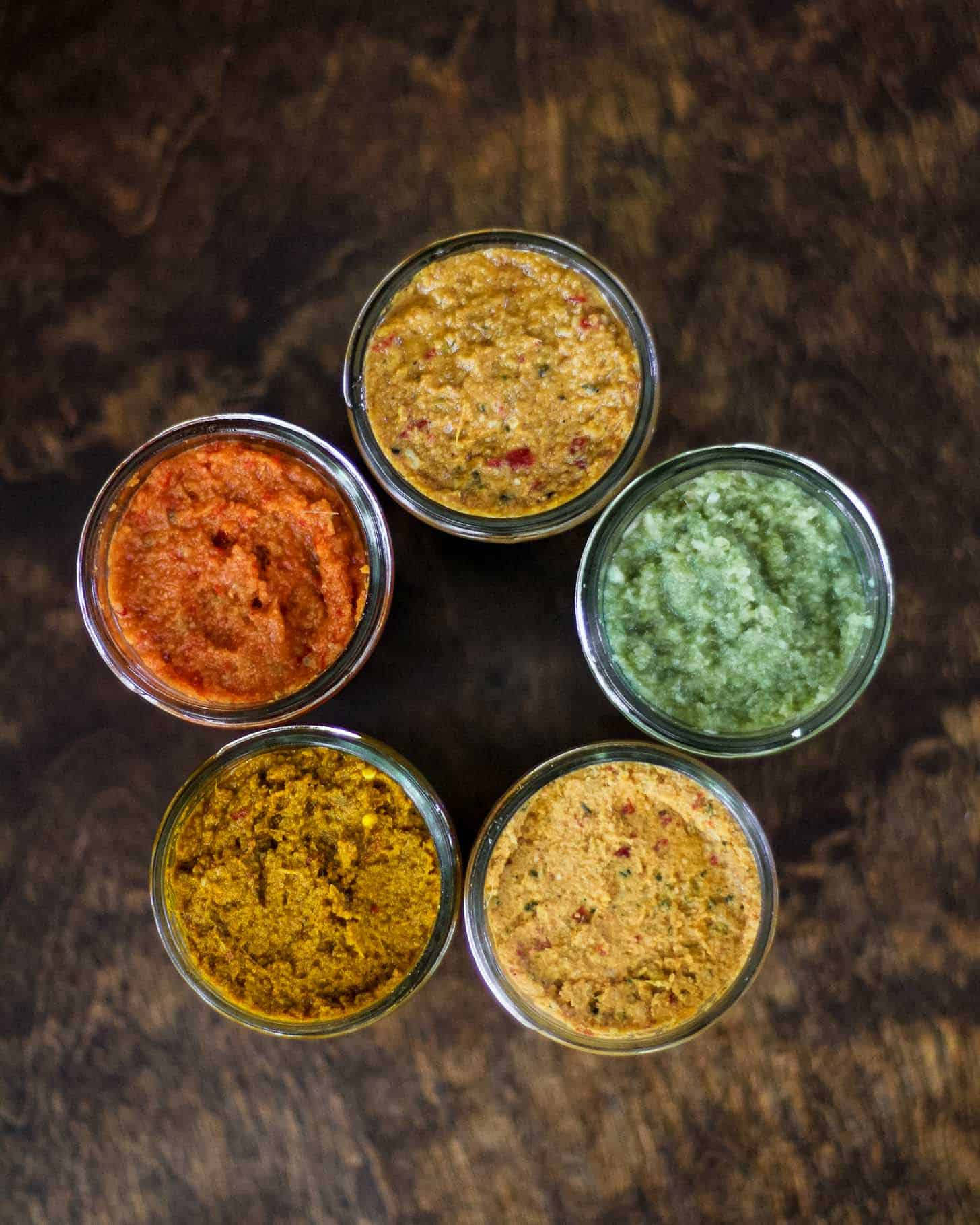 How to Store Curry Paste
The storage time for curry paste varies slightly depending on the ingredients. Green curry, for example, uses fresh green chilis and will start to discolor and lose some flavor as it sits in the fridge. However, most homemade curries can be stored in the refrigerator for at least a week and in the freezer for 6 months to a year. I like to store mine in 8-oz jars with tight-fitting lits.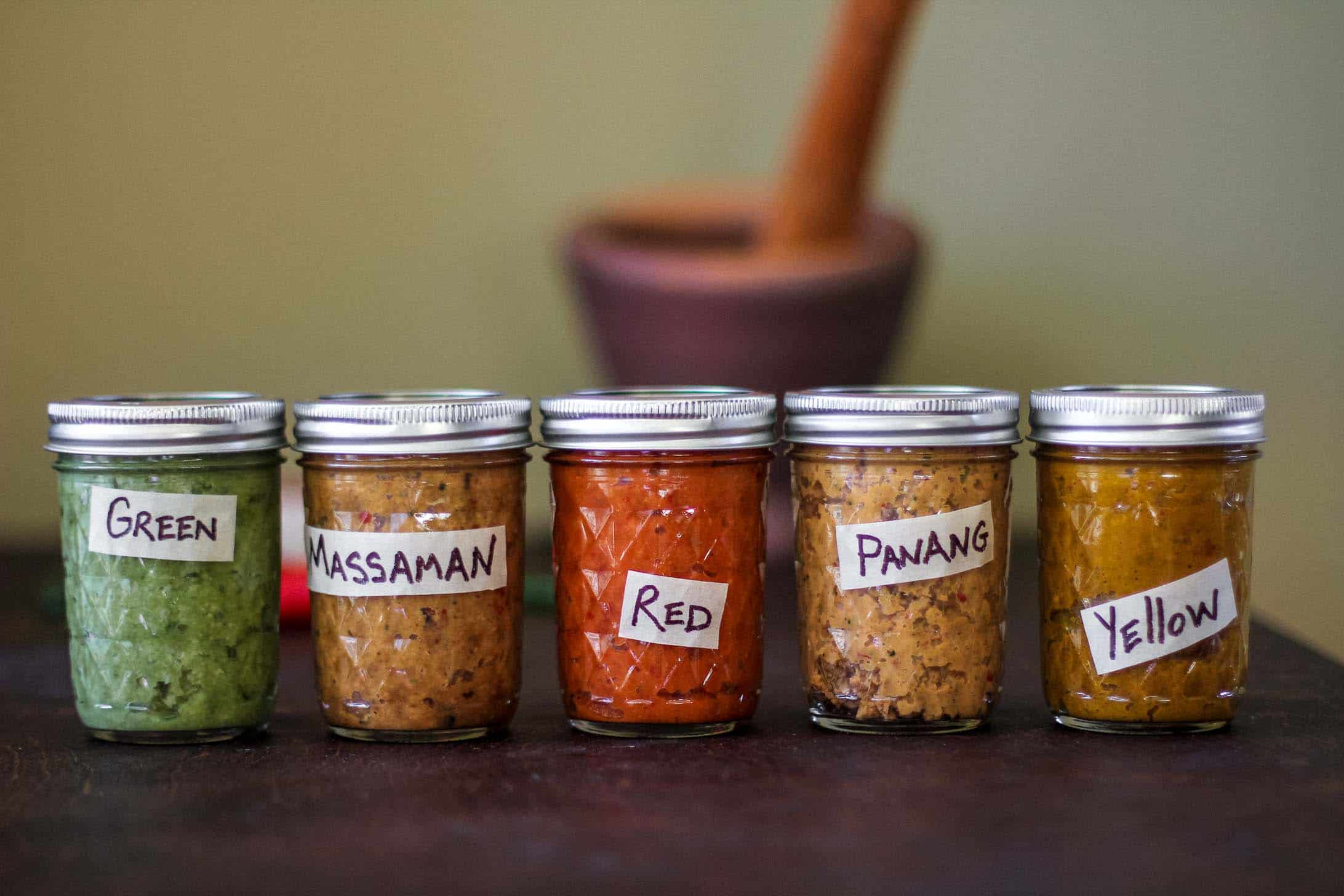 Shrimp Paste in Thai Curry
Shrimp paste gives Thai curry pastes a distinctive, authentically Thai flavor. It's also a source of "umami" that adds depth to the curries the paste is used in. It should always be roasted for a few minutes before being added to the curry paste. The easiest way to roast the shrimp paste is to wrap it in foil and fully enclose it. Then place the packet of shrimp paste on a hot skillet and cook on both sides until fragrant, 2 to 3 minutes on each side. This helps to release the flavors.
Vegetarian / Vegan Thai Curry
If you want to make a vegetarian or vegan curry paste, all you have to do is skip the shrimp paste. You can always add other sources of umami flavor to the curry later – some soy sauce is a good option. (Don't add soy sauce to the curry paste itself.)
What Can I Make with Thai Curry Paste?
I'm so glad you asked! 😉 If you haven't already, be sure to hop on over and check out the full recipes for the Thai curry paste and the curries that go along with them: