There are few things as satisfying as hitting snooze on a Monday morning. Except, perhaps, hitting snooze on a Monday morning during a raucous thunderstorm.
And then hitting it a few times after that.
And thus began my week. How is yours going so far?
I'm going to make this short and sweet tonight because things like going for a swim and eating dinner with my fun husband and catching an episode of Mad Men (which has become quite cerebral, has it not?) are calling me away.
Despite a serious case of the Mondays, and the temptation of other distractions, I cannot get these meatballs out of my head. I have half a recipe in my freezer, but it was only by sheer force that I put them away and didn't eat them one-by-one straight out of the fridge in a matter of days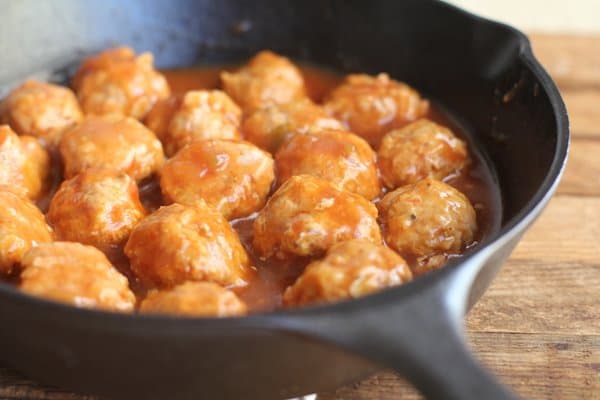 I found the recipe by some strange twist of internet fate on Stephanie's sweet blog Fresh Tart (the full recipe is posted in Minnesota Monthly). I was intrigued because it uses tortilla chips in the meatballs. Turns out that tortilla chips make the meatballs not only gluten-free, but crazy delicious.  I've adapted the recipe to serve four and to be baked in the oven for simplicity's sake, but these also freeze incredibly well. After baking, they are simmered in a flavorful, slightly spicy, adobo sauce for just a few minutes, resulting in what may be the most tender meatball I've ever had.
Spooned with some extra sauce over rice with avocado, meatballs make for better Mondays.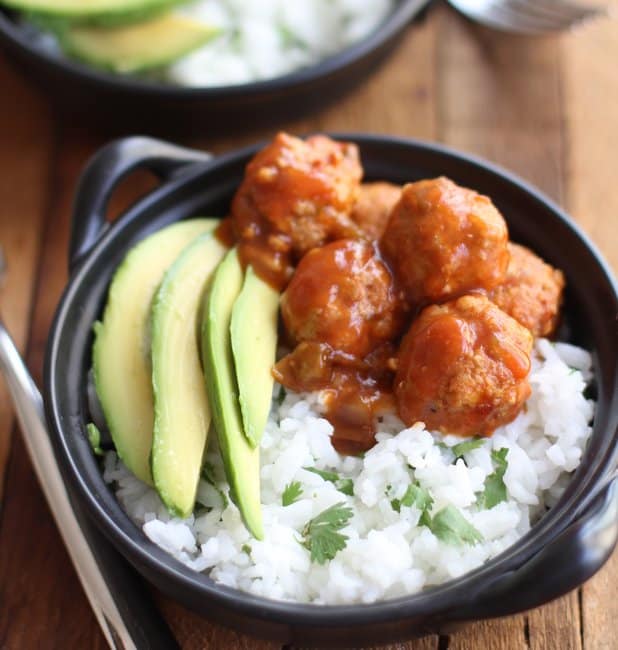 So does the snooze button.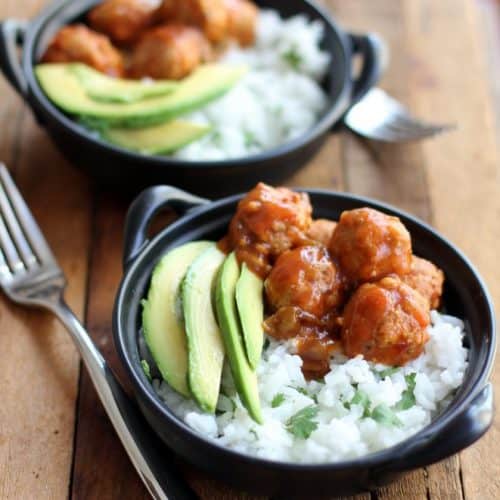 Print Recipe
Southwestern Meatballs in Easy Adobo Sauce
These tender meatballs are made with tortilla chips that not only make them gluten-free and extra flavorful. While they bake in the oven, make an easy adobo sauce and serve with sliced avocados.
Ingredients
Meatballs:
1/2

white onion

1

clove

garlic

3

cups

whole tortilla chips

1

teaspoon

kosher salt

1/2

teaspoon

dried Mexican oregano

3/4

teaspoon

ground black pepper

2

Tablespoons

tomato paste

1/2

pound

lean ground beef

1/2

pound

lean ground pork

1

large egg
Sauce:
2

teaspoons

olive oil

1

onion, minced

½

a green bell pepper, minced

1

clove

garlic, minced

2

teaspoons

minced chipotle peppers in adobo sauce (from a small can of Chipotle Peppers in Adobo)

1

(15-oz) can tomato sauce

2

teaspoons

apple cider vinegar

1

teaspoon

chili powder

1

teaspoon

cumin

1/2

teaspoon

sugar

salt, to taste
To serve:
Cilantro Lime Rice (recipe below)

Sliced avocado
Instructions
Preheat the oven to 350 degrees F. To make the meatballs, in a food processor pulse the onion and garlic until finely chopped. Add the tortilla chips and pulse until the entire mixture is finely ground.

Transfer the mixture to a large mixing bowl and add the remaining meatball ingredients (through the egg). Mash with a fork or your hands until evenly combined. Form mixture into 1.5-inch balls, placing them in a 9x13 inch glass baking dish as you go. Bake until cooked through, 15-20 minutes.

While the meatballs bake, make the sauce. Heat the olive oil in a large saucepan over medium-high heat. (Make sure the saucepan is fairly large, as you'll add the meatballs directly to the pan.) Add the onion and green pepper to the pan and cook, stirring frequently until they begin to soften, about 3 minutes. Add the garlic and chilis in adobo and sauté, stirring frequently, until the chilis begin to sizzle, about 2 minutes. Add all of the remaining ingredients and bring to a simmer. Reduce heat so that the mixture maintains a very low simmer until the meatballs come out of the oven. Add the cooked meatballs to the sauce and stir to coat. Remove from heat.

Serve immediately over cilantro-lime rice (recipe below) with avocado slices.
Nutrition
Calories:
393
kcal
|
Carbohydrates:
26
g
|
Protein:
29
g
|
Fat:
19
g
|
Cholesterol:
90
mg
|
Sodium:
1420
mg
|
Fiber:
5
g
|
Sugar:
8
g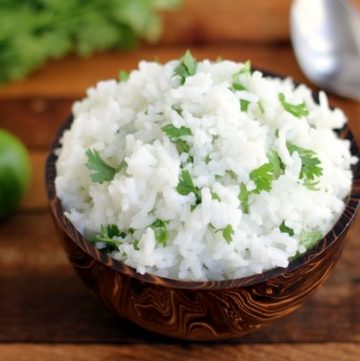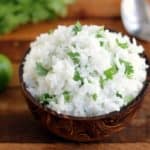 Print Recipe
Cilantro-Lime Rice
Rice tossed with cilantro and lime - a great addition to mexican or southwestern dishes.
Ingredients
1

teaspoon

salt

2

cups

water

1

cup

medium-grain white rice, rinsed

¼

cup

fresh cilantro, finely chopped

juice squeezed from 1 large lime
Instructions
In a medium pan with a tight-fitting lid, bring combine the salt and water. Bring the water to a boil. Add the rice and bring to a gentle simmer. Put the lid on the pan, reduce the heat to low, and allow the rice to cook for 18 minutes. Remove the lid and check to see if the water has evaporated. If not, continue cooking the rice, covered, for a few minutes more. When all of the water has evaporated, remove the pan from the heat and let rest, covered, until ready to serve. Just before serving, add the cilantro and lime juice and fluff with a fork until evenly combined.