Semolina Cake
Published Jan 30, 2023•Updated Jun 23, 2023
If you've been looking for a simple, one-bowl dessert recipe, then this Semolina Cake is for you. Pouring lemon-infused simple syrup over the golden-yellow top keeps this cake moist for days after baking.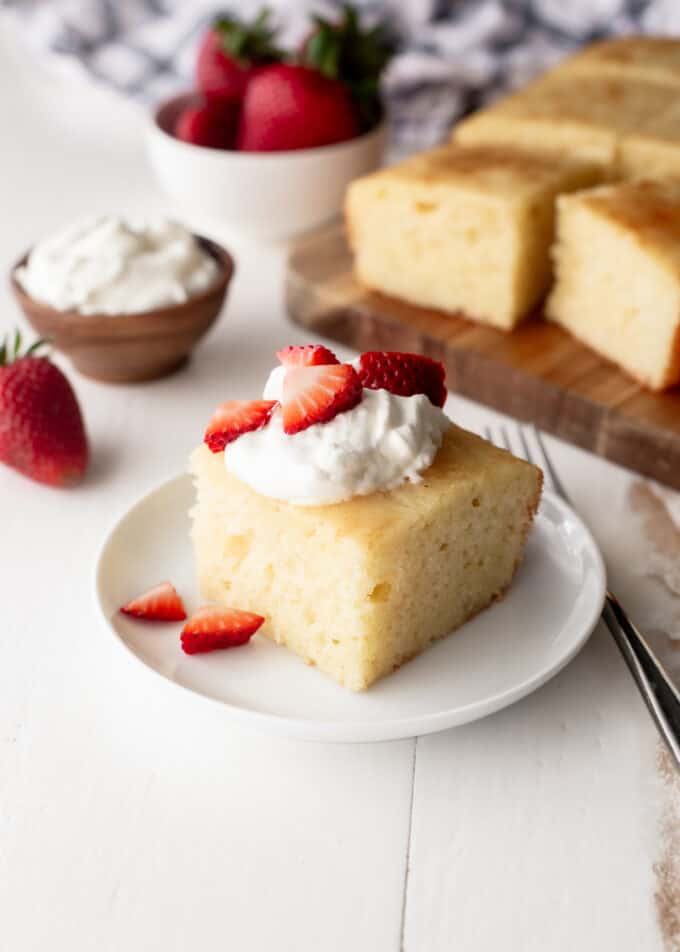 Who would have thought that a flour used mostly for pasta would make such a magical cake, but that's exactly what durum flour does in this easy dessert recipe. This semolina cake has tons of fans thanks to its sweet and sticky bottom, moist middle, and cakey texture. It's also universally loved because it's just such a breeze to make.
Making the simple syrup a week or two in advance means all you need to do is mix your ingredients in a single bowl, bake the cake, and pour the sweetened syrup over the top before serving. The lemon in this cake gives it tons of spring and summer vibes, but adding a few warming spices instantly turns it into a cozy fall treat.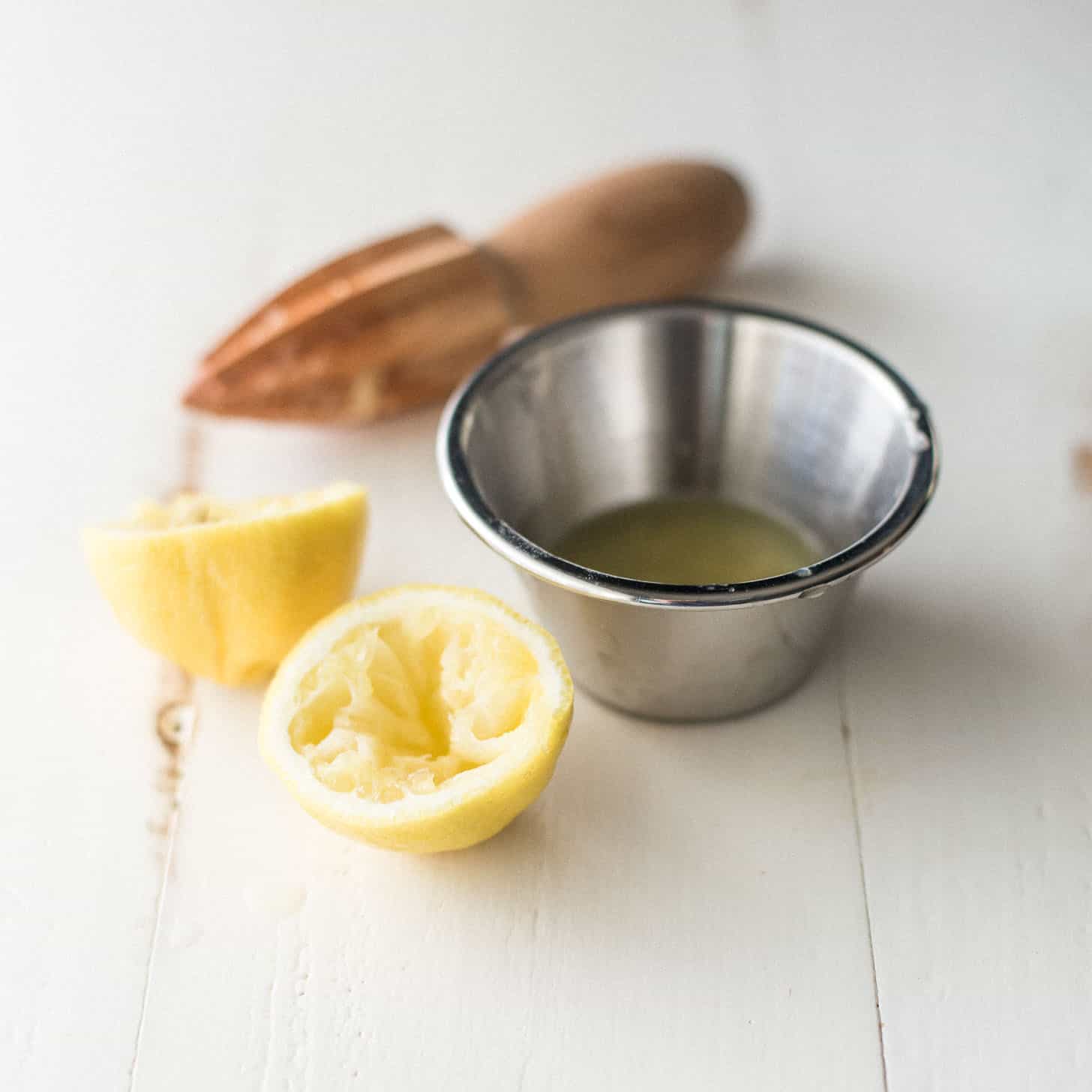 How to Make It
Make syrup: Bring water and ¾ cup sugar to a boil, and boil for 1 minute. Remove from heat and stir in lemon juice. Allow to cool.
Make the cake: Whisk together eggs and remaining sugar until combined. Add yogurt and vegetable oil and whisk again until evenly combined. Add semolina, all-purpose flour, vanilla extract, baking powder, baking soda, and salt. Gently fold ingredients together until just combined.
Bake: Bake for 30-34 minutes. When the cake is done, the edges will be golden brown, and the texture will be firm but have a little spring.
Add syrup: Pour the syrup evenly over the cake, and allow it to absorb the sticky sweetness.
Let the cake cool, and then serve.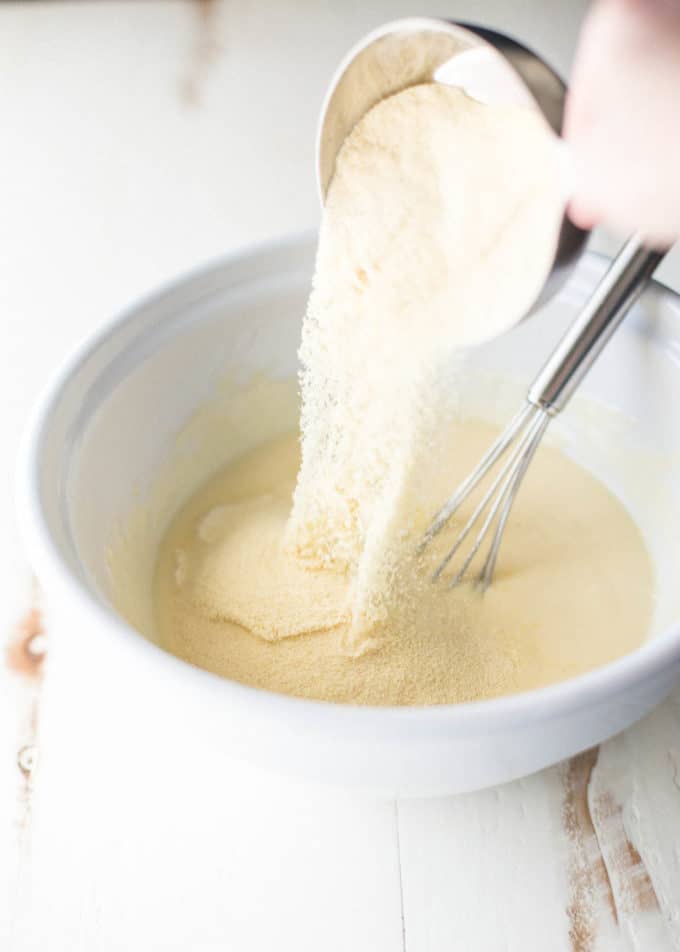 What is semolina flour?
Semolina flour is a hearty variety of yellow flour made from durum wheat. While semolina is most often used to make pasta – its super high protein content is great for helping pasta keep its shape after being cooked in boiling water, it also makes terrifically crumbly and textured baked treats. Because semolina naturally has a gorgeous yellow color, cakes and pastries made with semolina have the most beautiful color when you pull them from the oven.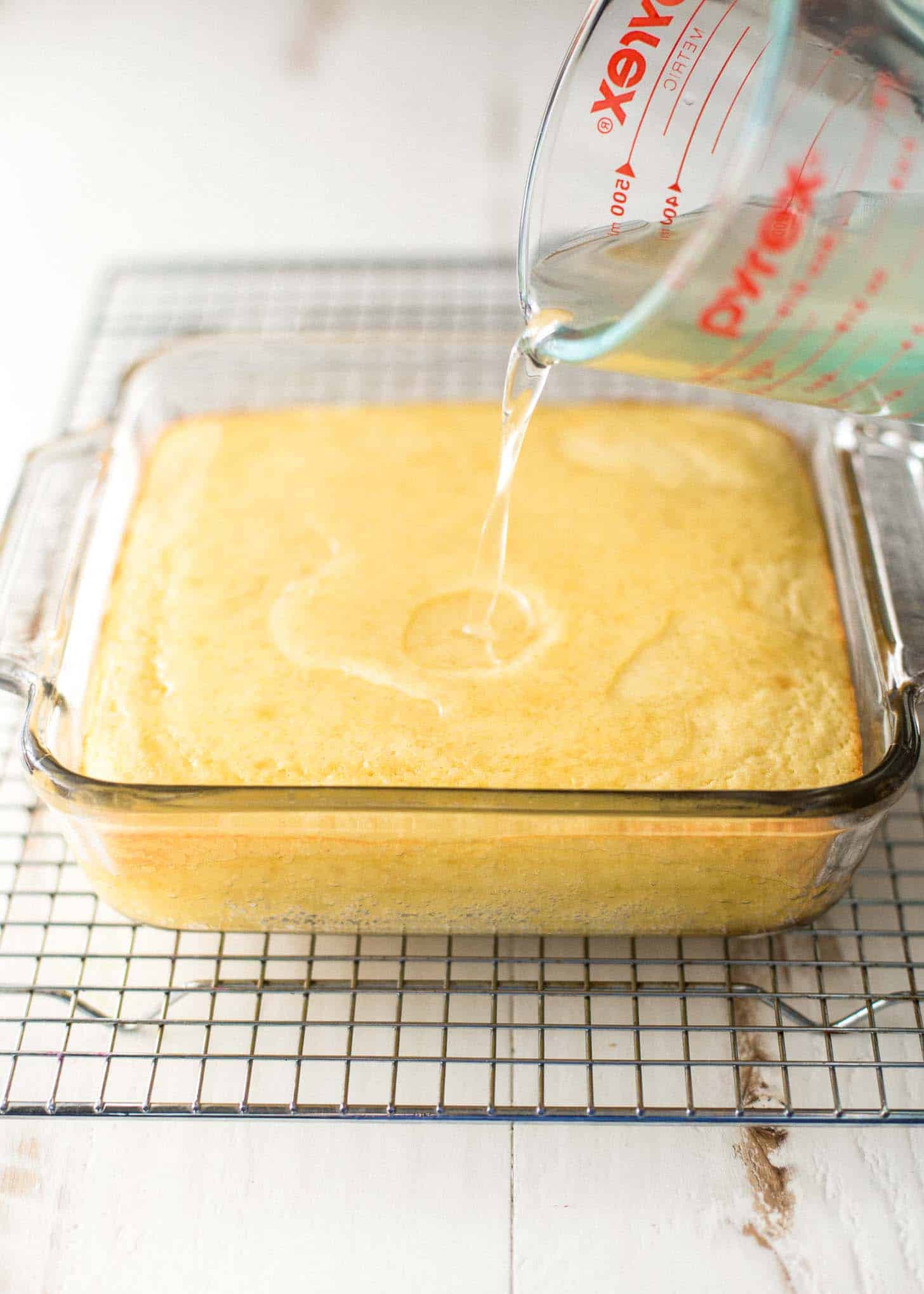 What is simple syrup and how to make it
Simple syrup has tons of uses in the kitchen, and it can be made ahead and stored for up to a month in the refrigerator. Besides being an easy way to add some sweetness to baked goods, it's also used in cocktails. If you love mojitos, mint juleps, gimlets, and old fashioneds, it doesn't hurt to have some simple syrup on hand.
Making simple syrup is easy. Combine one part water and one part sugar in a saucepan, stirring occasionally until all of the sugar dissolves. Remove from the heat and let the mixture cool before storing.
If you're not a fan of sugar, you can also use a 1:1 ratio of honey and water.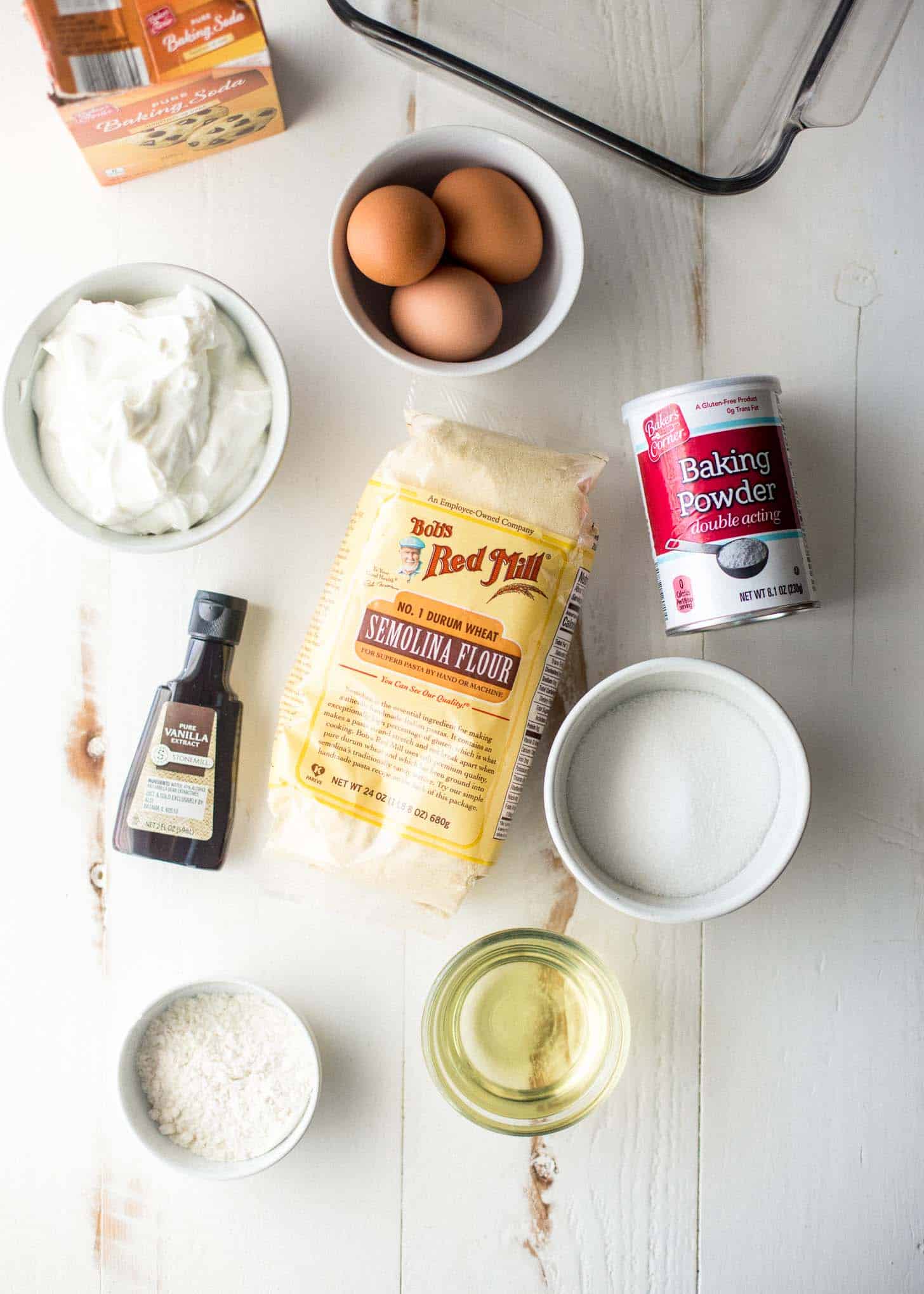 Ingredients
For the cake:
Semolina – Semolina flour gives baked goods the most wonderful golden-yellow color, and dense, teacake-like texture.
Plain Yogurt – Plain yogurt has a tangy neutral flavor that allows the other flavors to shine. If you don't have plain yogurt, non-fat Greek yogurt would also work. Using a berry flavored yogurt is also a popular choice if you're layering in different fruit flavors.
All-Purpose Flour – Semolina is our main flour ingredient, but we still need a few tablespoons of all purpose to hold the cake together.
Vegetable Oil – Vegetable oil is a good go-to baking oil for its neutral flavor. You could also try grapeseed, olive oil, coconut oil, or saffron oil.
Eggs, White Sugar, Pure Vanilla Extract, Baking Powder, Baking Soda, Salt – Basic kitchen baking ingredients to add lift, bind the things together, and add a subtle sweet vanilla flavor.
Simple Syrup – The secret ingredient to a moist, sweet semolina cake is simple syrup.
Variations
This semolina cake makes it so easy to add your own personal touches. There is no limit to the fun variations you can create using this cake as your base.
Add chopped pecans, almonds, or walnuts for a sweet, nutty flavor.
Substitute orange water or rosewater for the lemon.
Add dried fruits like chopped dates or apricots.
Lean into those spring and summer flavors by adding fresh strawberries, blueberries, or raspberries.
Including some shredded coconut to this semolina cake will add a little more sweetness and a fun crunch to each bite.
Craving some warm seasonal spices? Cardamon, nutmeg, and cinnamon would be divine in this recipe.
Tip
For an extra sweet and syrupy cake texture, pour the simple syrup over the cake and then let it rest overnight. Giving a few extra hours for the cake to absorb the syrup creates the most amazingly sweet bottom layer.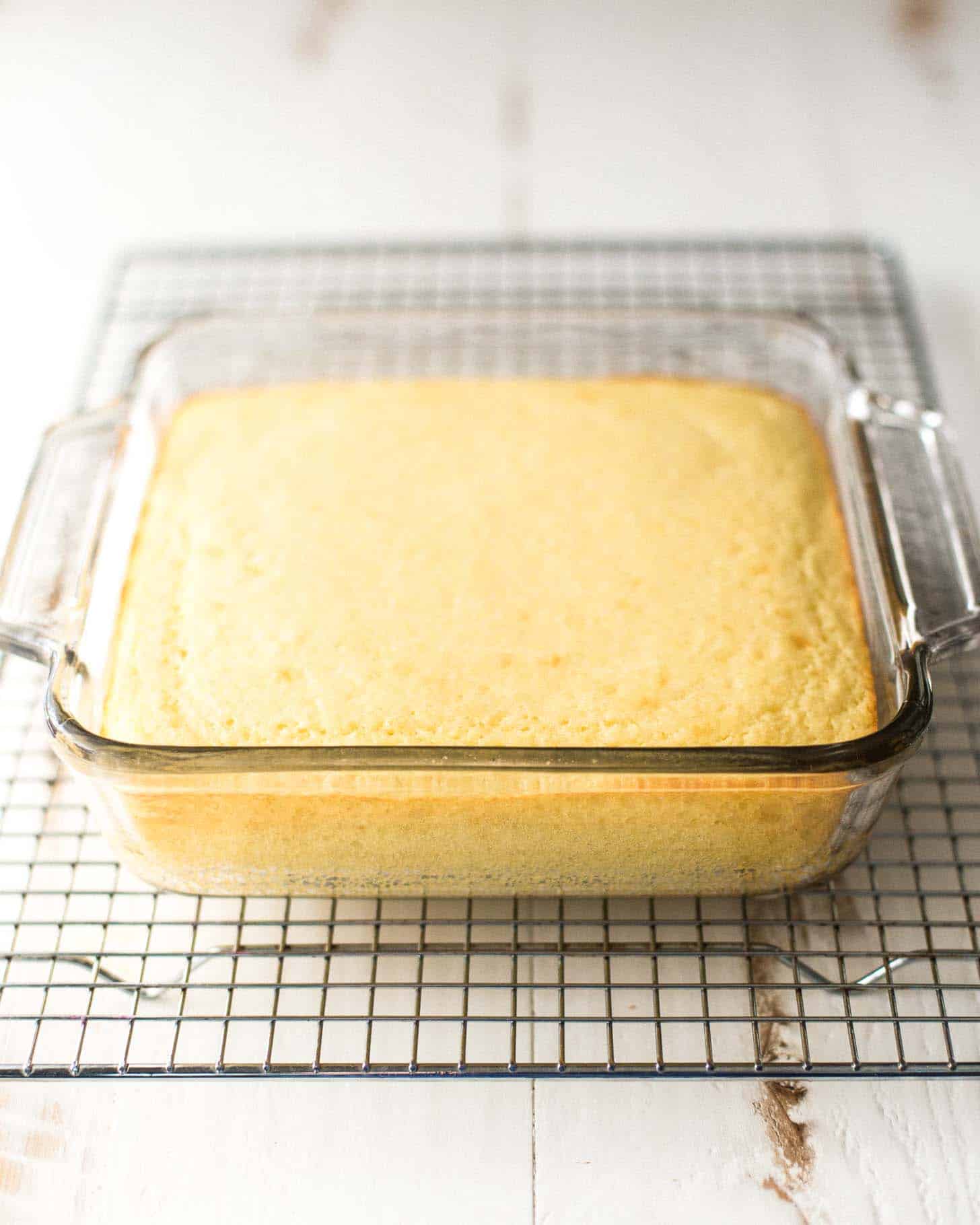 Is semolina flour gluten-free?
Semolina is very high in gluten. If you have a gluten sensitivity, you could swap the semolina for a gluten-free flour like almond, coconut, or oat, but the finer texture of these flours will change the density of this cake.
Can I freeze it?
If you want to freeze this cake and serve it at a later date, allow the cake to cool completely and skip adding the simple syrup. Wrap the cake tightly in plastic wrap to preserve the freshness, and store in a sealed container. When you're ready to serve, bring the cake to room temperature, and pour the simple syrup over the top. Slice, serve, and watch it disappear.
How do you store semolina cake?

Semolina cake is one of those cakes that is great at room temperature, or with a little chill on it. You can store this cake by letting it cool, and tightly covering the cake pan with plastic wrap. Store for up to 3 days.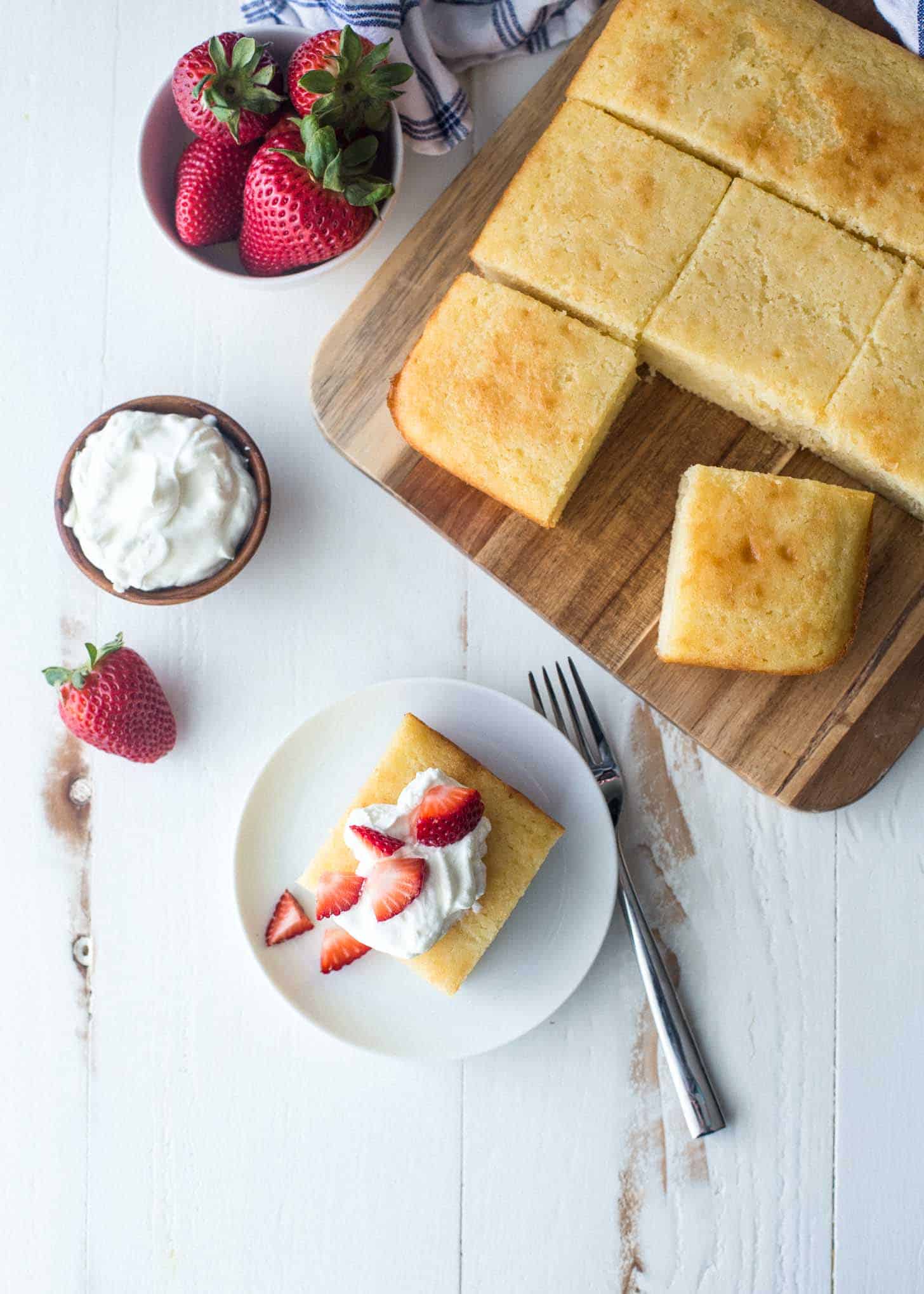 More Simple 8×8 Cakes
Favorite Tools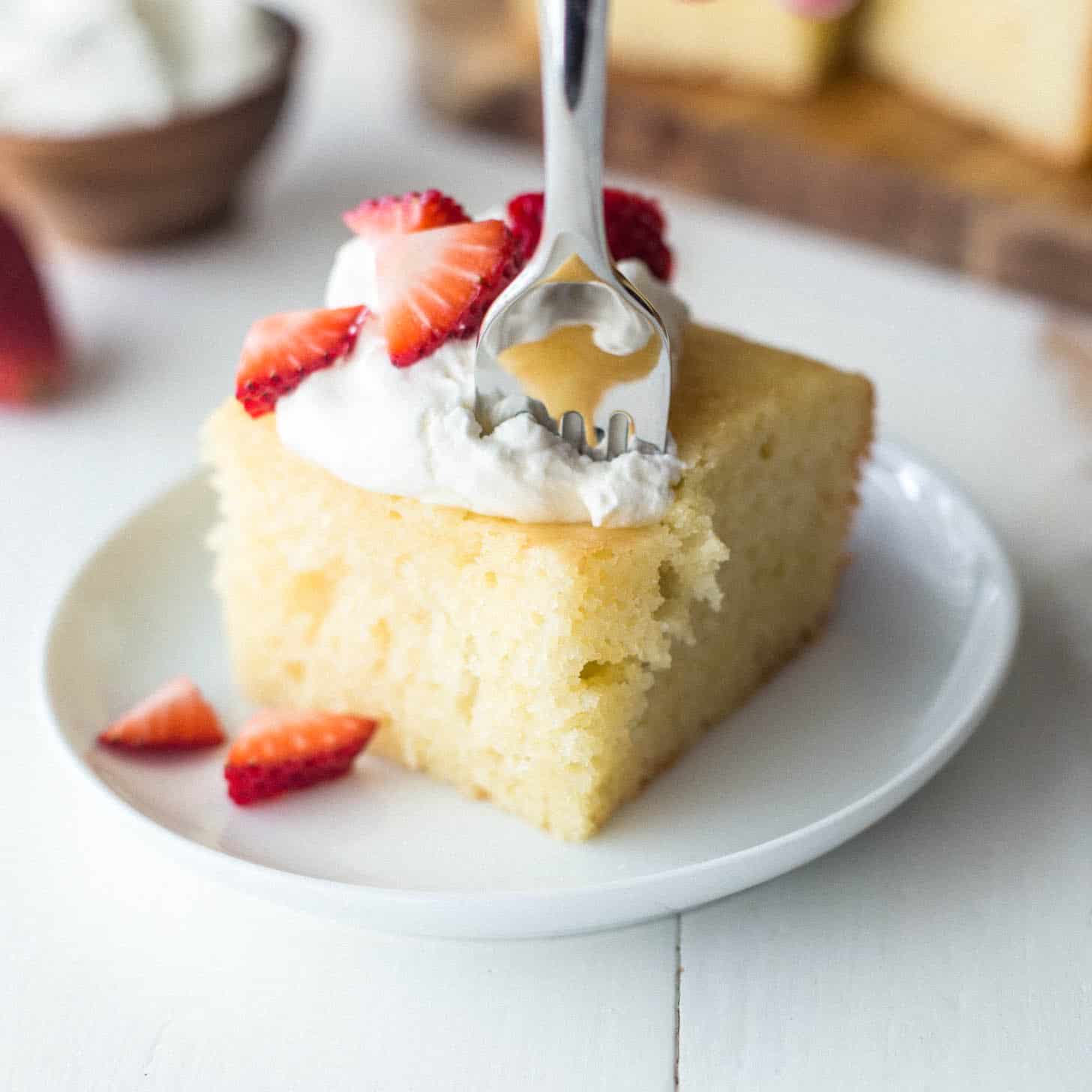 Semolina Cake Recipe
Made with yogurt and semolina flour, Semolina Cake is a one-bowl dessert or snack that doesn't require a mixer and comes out moist, tangy, and delicious.
Equipment
Mixing Bowls

Square Baking Dish

Saucepan

Whisk
Ingredients
For the syrup:
3/4

cup

water

3/4

cup

white sugar

1 1/2

tablespoons

lemon juice

(optional)
For the cake:
3

large

eggs

1/2

cup

white sugar

1 1/2

cups

plain yogurt

(see note)

1/2

cup

vegetable oil

1

cup

semolina

(see note)

3

tablespoons

all-purpose flour

1

teaspoon

pure vanilla extract

1

teaspoon

baking powder

1/2

teaspoon

baking soda

1/4

teaspoon

salt
Instructions
Preheat the oven to 350°F / 177°C

Lightly grease an 8"x8" (20 cm x 20 cm) baking dish with cooking spray or lightly rub it with cooking oil.

Make syrup: Combine water and 3/4 cup sugar in a small saucepan. Bring to a boil over medium-high heat and boil for 1 minute to fully dissolve the sugar. Remove from heat and stir in lemon juice (if using). Set aside to cool completely.

Make the cake: In a large mixing bowl, whisk together eggs and 1/2 cup sugar until sugar dissolves. Add yogurt and vegetable oil and whisk again until evenly combined. Add semolina, all-purpose flour, vanilla extract, baking powder, baking soda, and salt. Stir just until everything is combined (do not overmix). Pour batter into prepared pan.

Bake: Bake until the center of the cake is set and the edges are golden brown and start to pull away from the sides, 30 to 34 minutes. (Note: Gently press on the cake in the center to be sure that it has cooked all the way through – it should have a springy but firm texture.)

Add syrup: Remove the cake from the oven and slowly pour the syrup over top, making sure to pour syrup evenly over the entire surface. (Note: much of the syrup will drip down the sides which is fine. The cake will absorb the syrup from the bottom as it sits.)

Let the cake cool completely before slicing and serving. (The cake is also great served chilled. If not serving immediately, store it in the refrigerator for up to 3 days.)
Notes
Semolina – Semolina is flour made from durum wheat. It's most commonly used in making pasta, but lends a nice crumb and slightly nutty flavor to this cake. Yogurt – Plain yogurt works best in this recipe. I have made it with nonfat Greek yogurt as well and had good results. Do not use a full fat Greek yogurt – it is too thick for a properly baked cake. I've never tried it with flavored yogurt, but I'm sure it would be great that way! Syrup – Pouring the sweetened syrup over the finished cake makes the resulting cake super moist. Many reviewers have made this cake without the syrup (or have reduced the syrup), and loved the result. If you're looking for a lighter, less-sweet cake, feel free to adjust the amount of syrup you use. If you're planning to stir in mix-ins or just want to skip the lemon flavor, feel free to leave out the lemon juice.
Nutrition
Serving:
1
slice
|
Calories:
314
kcal
|
Carbohydrates:
45
g
|
Protein:
4
g
|
Fat:
14
g
|
Saturated Fat:
11
g
|
Cholesterol:
5
mg
|
Sodium:
220
mg
|
Potassium:
143
mg
|
Fiber:
1
g
|
Sugar:
30
g
|
Vitamin A:
40
IU
|
Vitamin C:
1
mg
|
Calcium:
72
mg
|
Iron:
1
mg
Nutrition information is automatically calculated, so should only be used as an approximation.