Asian Roasted Broccoli with Cashews
Published Feb 28, 2011•Updated May 10, 2022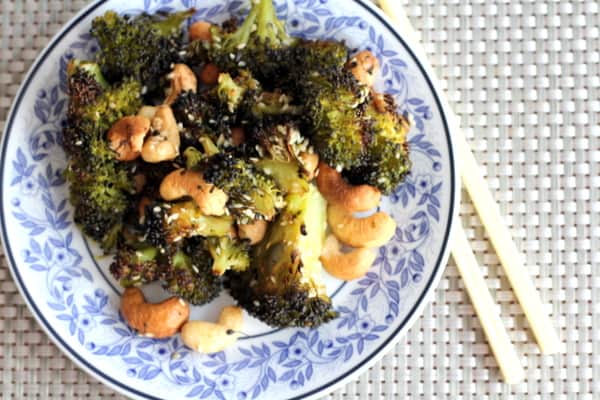 Roasted broccoli is a staple in my house. I mention it frequently, because when cooked well, I find it to be so good. It is easy, quick, healthy and goes with practically everything. It tastes great in lunch the next day (although, be warned, your cubicle neighbors may not appreciate the stinkiness when it's re-heated in an office microwave). If you need more convincing to try roasting your broccoli, get this. A couple years ago I made this roasted broccoli and my sister and I ate it with our fingers straight off of the baking sheet. Did I mention that my sister was 13 at the time (we were watching the latest episode of Glee and eating a batch of these)? If a 13-year-old eating broccoli straight out of the oven doesn't sell you, I don't know what will.
Inspiration for Roasted Broccoli
Over the years I have abused that original roasted broccoli recipe that I found via The Amateur Gourmet. Frequently I don't have all the ingredients…or I forget to add them. I never remember the oven temperature or how long it needs to cook, so my husband gets exasperated with me when he is called upon to throw it together or put it in the oven for me – "I don't know – try 375? We'll check it in 30 minutes or so."
But that truly is the sign of a great recipe. That and the fact that now, since I am at home during the day, I sometimes just whip myself up a batch of roasted broccoli for lunch. Strange but true.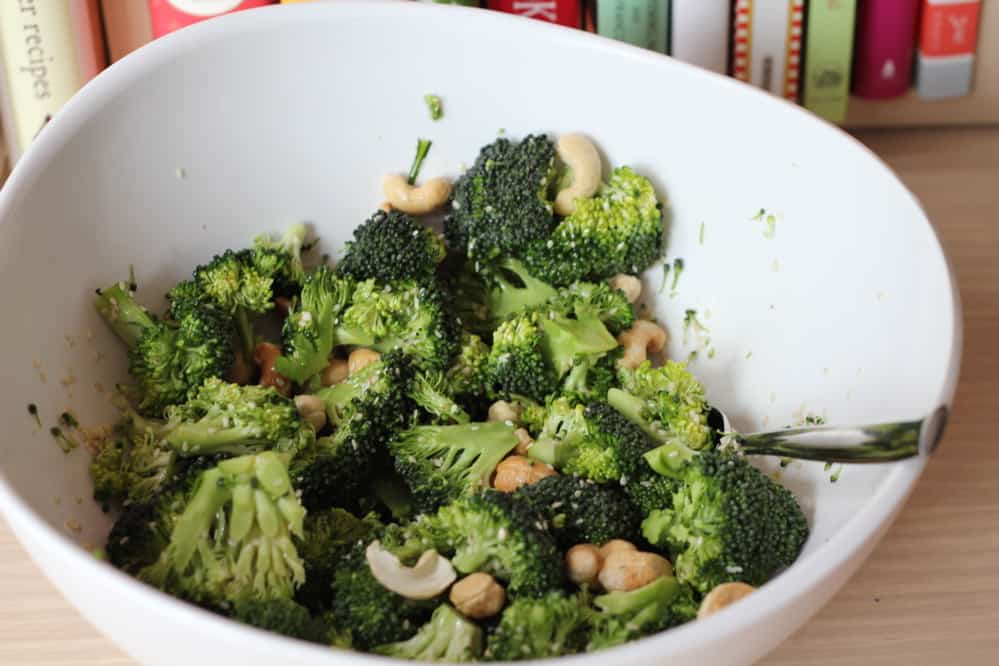 The only problem is that the original recipe uses parmesan and lemons and has an all-around sort of Mediterranean feel that is oh-so-lovely if you live somewhere where these ingredients are readily available. However, in this house, you will not be surprised to find out that we eat a lot of food with more of an Asian feel. Pasta, cheese, bread – I hate to say it, but they're kind of going out of style around here. (We do keep them safely tucked away in our recipe files and pull them out on special occasions.) Stir-fries and egg noodles and things with fabulous sweet and sour dipping sauces – now these are all the rage in our house, and I needed a modified roasted broccoli recipe that would compliment them.
And so this Asian Roasted Broccoli with Cashews was born. It's nearly as good as the original and infinitely better than any soggy vegetable side dish you'll get with your next order of take-out Chinese. You might even risk stinking up the office to have it for lunch…if any makes it to the next day.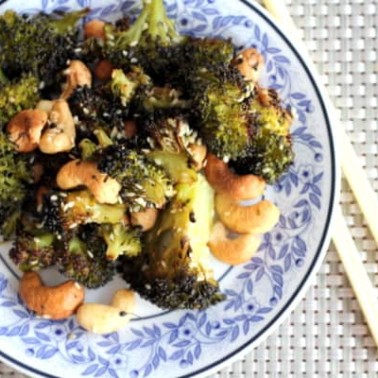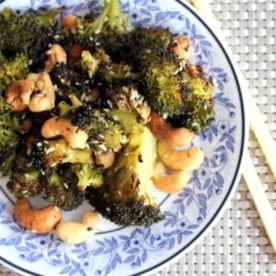 Asian Roasted Broccoli with Cashews Recipe
Ingredients
2

large heads broccoli

2

Tbsp.

olive oil

1/2

tsp.

dark sesame oil

1

tsp

salt (more if needed, to taste)

1/2

tsp.

white pepper

2

tsp.

white sesame seeds

3

garlic cloves, thinly sliced

1/2

cup

raw, unsalted cashews
Instructions
Preheat oven to 400. Wash and thoroughly dry broccoli (the broccoli must be VERY dry before roasting so that it doesn't steam and become soggy). Cut broccoli into florets and set aside. Combine olive oil, sesame oil, salt, pepper and sesame seeds in a small bowl and whisk to combine. Toss broccoli, garlic, cashews and liquid together to combine. Spread broccoli out on a large baking sheet. Bake, turning broccoli over with a spatula once or twice, until broccoli is dark brown in spots and becomes crisp, about 35 minutes. Serve immediately.
Nutrition information is automatically calculated, so should only be used as an approximation.