My teeth hurt. Why is that as an adult there is always one day in October when I find myself eating one too many fistfuls of candy corn with the same abandon I did when I was a kid? In memory, candy corn was a perfectly formed sweet with a tender bite and a flavor that somehow embodied fall. In reality it is food coloring and sugar-laced, and, I'm quite certain, contains some sort of addictive substance.
If you are feeling adventurous, I just discovered that it's possible to steer clear of the storebought candy corn and make your own. In Bangkok, a kitchen project so all-American and blatantly fallish is tempting, but since my kitchen (and sugar supply) is still recovering from the homemade gumdrops, I think I'll sit this one out. If you attempt to make your own candy corn this year, I applaud you. And I'm dying to hear about it – please share!
As for me, I'm all about convenience this week and sticking with savory flavors that can be packed up (and be photographed) for lunch early in the morning. We're right in the middle of a busy week, and expecting a visitor from home by way of Indonesia!
This twist on the traditional chicken salad is more interesting and even more protein-packed than the original. Although Dijon mustard is definitively not Asian, it has a great punch that seems to be made for the zingy combination of rice vinegar, lime juice, and honey. I made a double batch of this salad and loved on its own or tossed in a wok with cooked noodles and soy sauce for an easy dinner.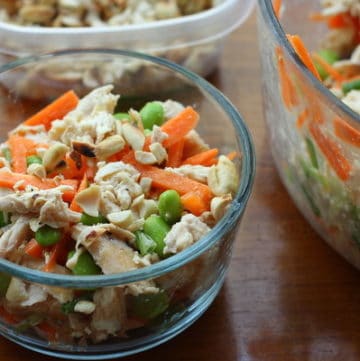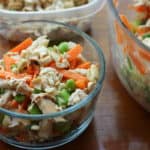 Print Recipe
Asian Chicken Salad with Edamame
Ingredients
For the Dressing:
1

Tbsp.

fresh lime juice

3

Tbsp.

rice vinegar

1

teaspoon

honey

3

teaspoon

Dijon mustard

salt, to taste
For the Salad:
1

Tbsp.

olive oil

1

pound

skinless, boneless chicken breast

¼

teaspoon

black pepper

1 ½

cups

chopped green onion

1

medium carrot, cut into matchsticks

2

cups

frozen shelled edamame, thawed

1

cup

crushed, roasted peanuts
Instructions
Make the dressing. Whisk together all of the dressing ingredients in a small bowl. Set aside

Cook the chicken. Heat the olive oil in a skillet over medium-high heat. Sprinkle chicken with black pepper. Add chicken to pan; cook approximately 4 minutes on each side, until cooked through. Cut chicken into ½-inch-thick pieces.

Toss the salad. Combine chicken, green onion, carrot, and edamame in a large bowl. Drizzle vinaigrette over salad; toss gently to coat. Just before serving, sprinkle peanuts over the salad. Serve immediately or store in the refrigerator.
Notes
This time around I used leftover roasted chicken instead of the boneless skinless chicken breast listed below. I packed several servings up for lunch, but also tossed a couple servings into a hot wok with about 6 ounces of cooked rice stick noodles and a healthy splash of soy sauce which made for a great dinner.