Let me tell you - things are really looking up around here. First, we're both feeling better after a week of under-the-weatherness. Plus, I made gyoza. The smell of these little guys cooking is so delightful, it's hard to believe that they are so easy to make. Gyoza, like dumplings, fall into that favorite category of mine - bite-sized treats that are brought to perfection by a little dipping sauce.
In truth, I worked on this recipe, made gyoza and even took gyoza pictures over a week ago, before our weekend trip to Chiang Rai. But, some malady seems to have overtaken the computers in this house along with the people in it, and my computer deleted a whole mess of pictures, including the lovely gyoza. This was only upsetting until I realized that it meant an excuse to make them again.
Making Gyoza 1: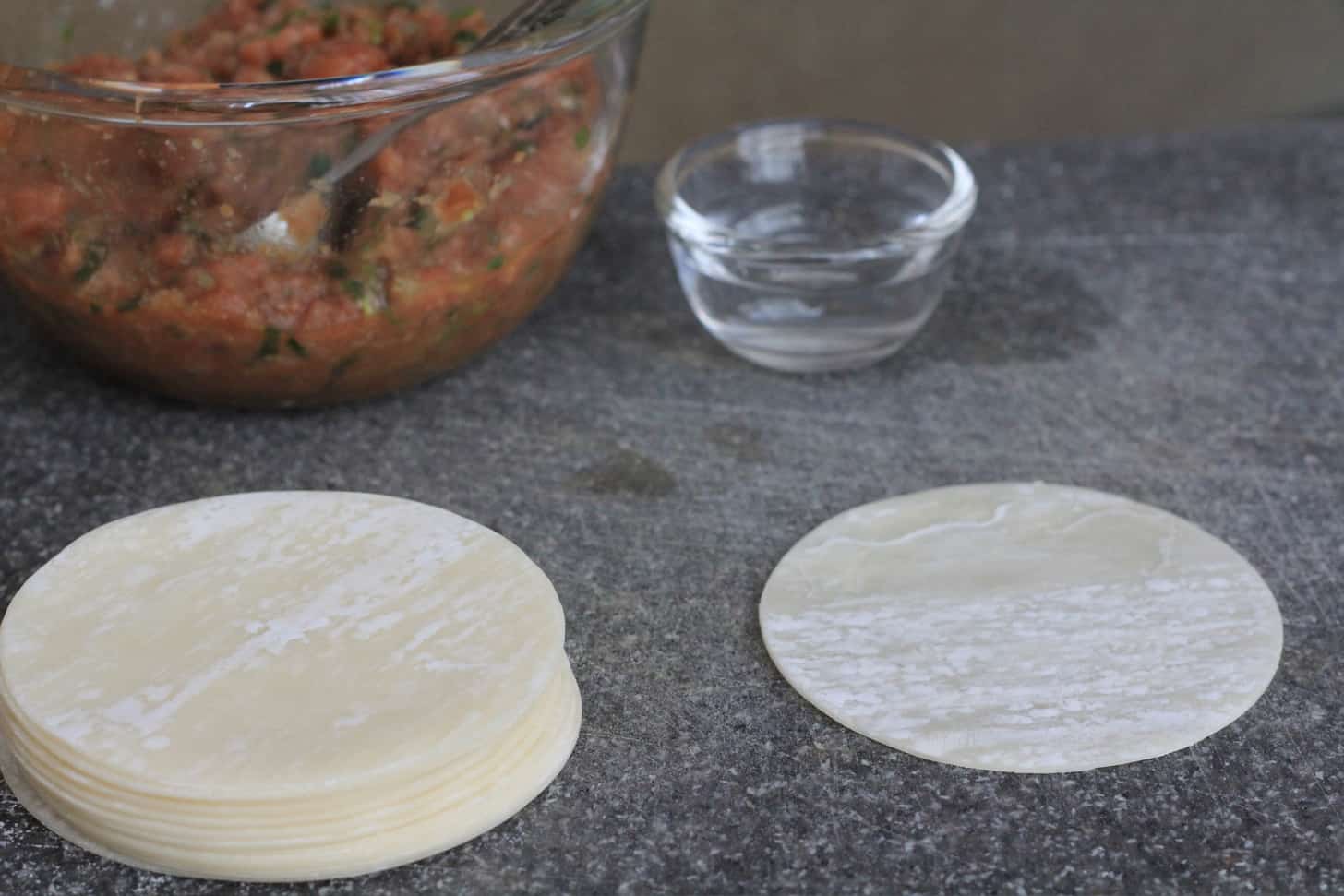 Making Gyoza 2: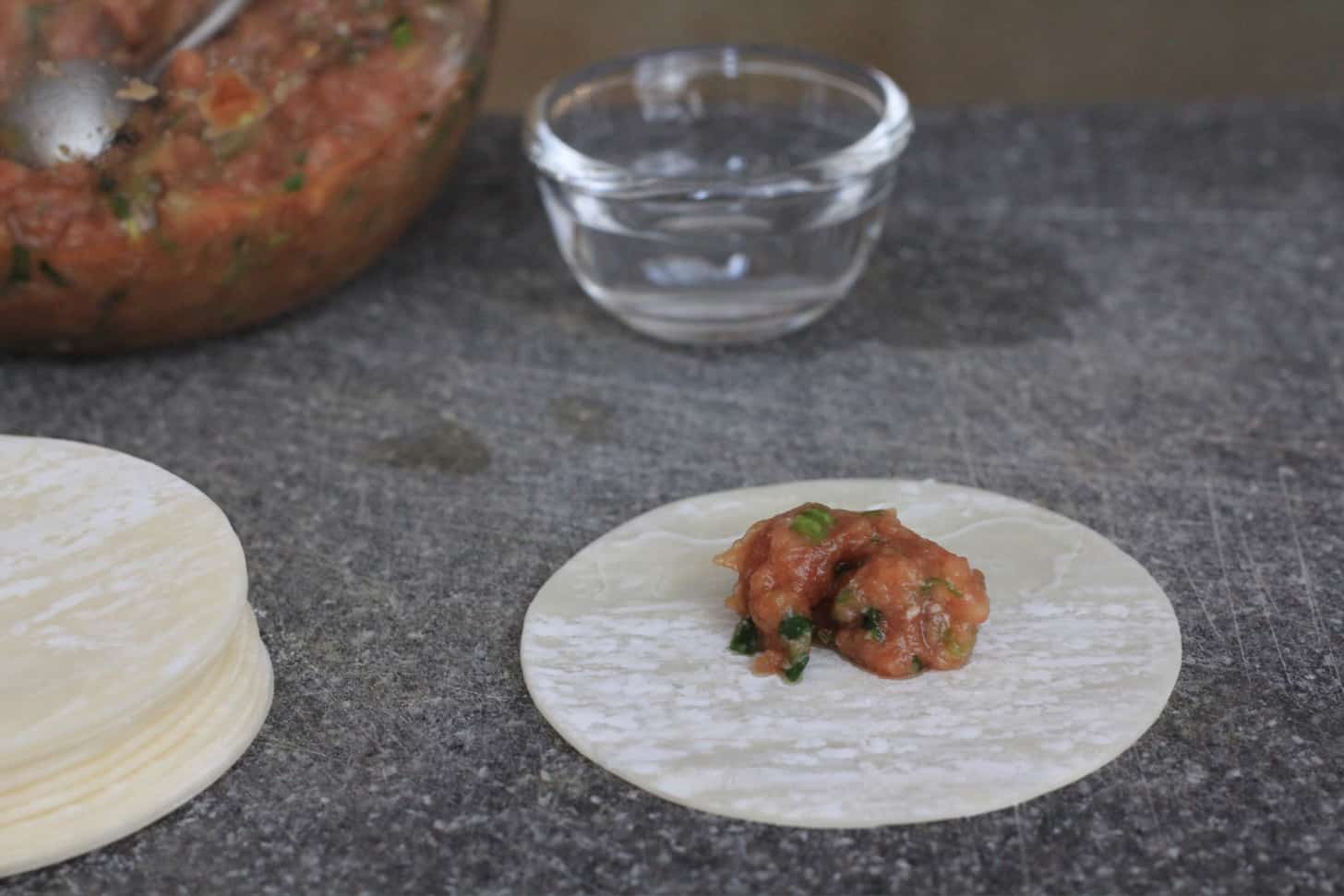 Making Gyoza 3: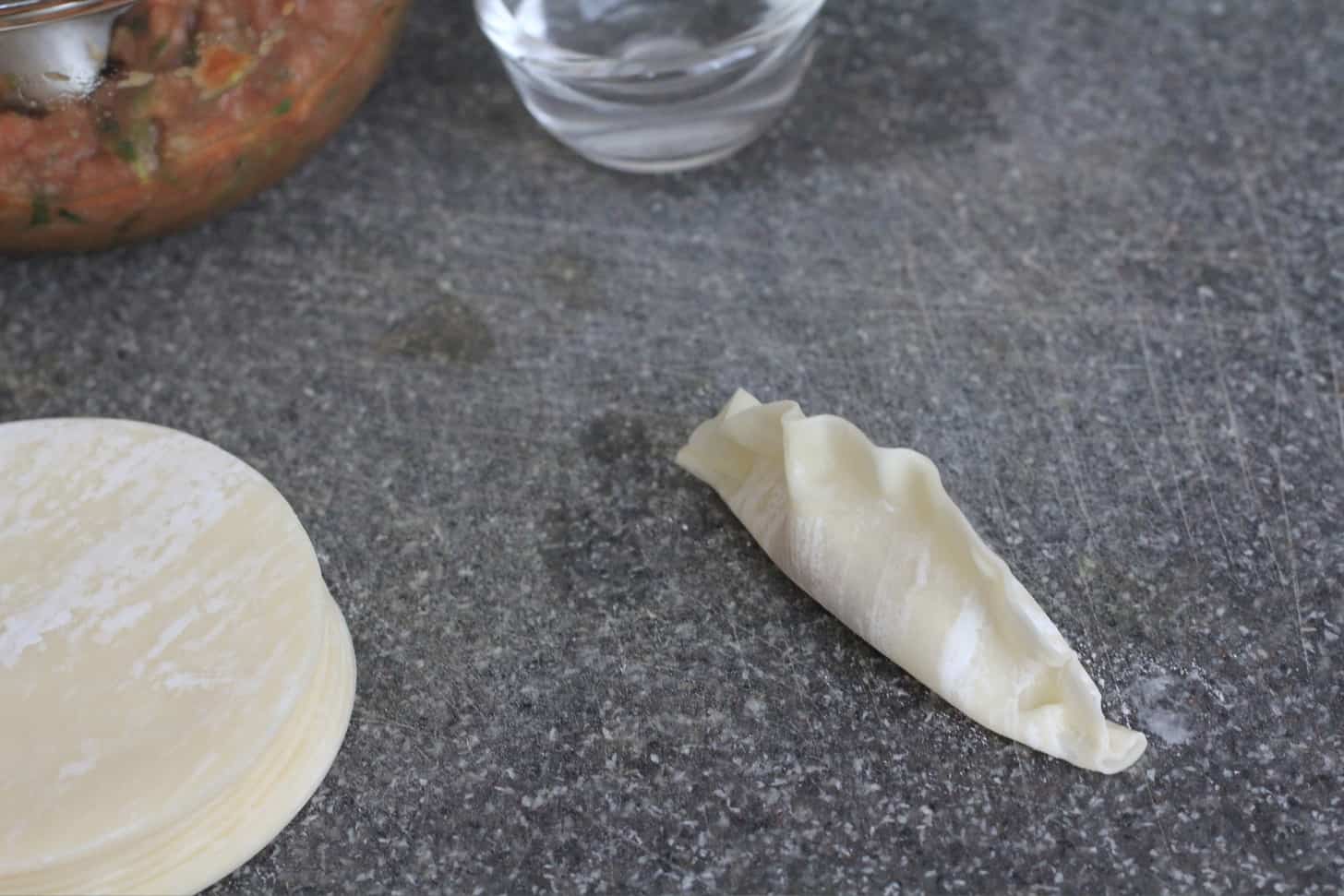 My energy is back and I was quite content to be playing around in the kitchen this afternoon while Frank strummed away on our new ukulele. Look out world - I believe that the next big thing to hit the ukulele scene is emerging from this very apartment.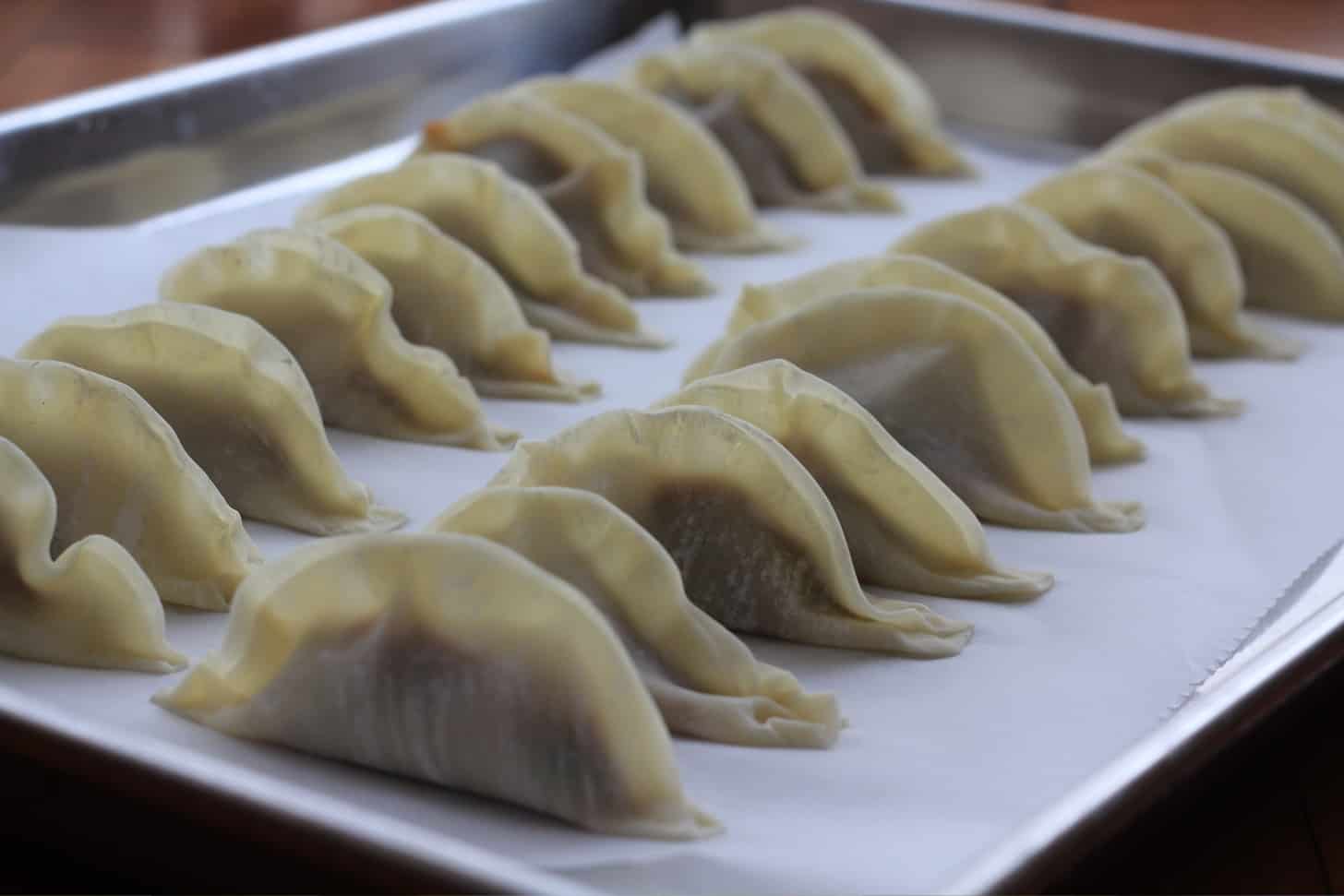 Not only did I make enough gyoza to pop a bunch in the freezer for a lazy weeknight, but I made a sweet treat that is in the refrigerator chilling until tomorrow - that one is on its way!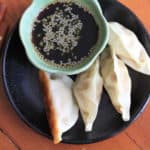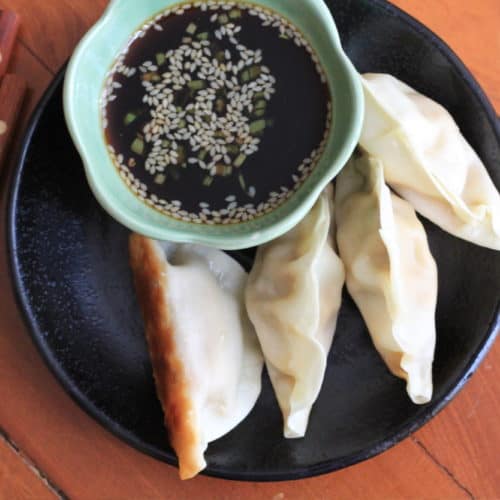 Print Recipe
Pork Gyoza with Honey-Soy Dipping Sauce
Ingredients
½

pound

ground pork

4

Tbsp.

green onions (green and white parts), very thinly sliced

3

tsp.

soy sauce

½

teaspoon

ground pepper

1

egg

1

package gyoza wrappers (containing at least 24 wrappers)

1

Tbsp.

vegetable oil

Honey-Soy Dipping Sauce, for serving
Instructions
Combine pork, green onions, soy sauce, pepper and egg in a mixing bowl and stir to combine. Place 1 heaping teaspoon of the pork mixture into the center of each gyoza wrapper. Dip your fingers in a small bowl of water and then run them along the outer edges of the wrapper to dampen. Pull the sides of the wrapper together, forming a half moon shape and pinch the edges together to fully enclose the pork. Gently press down to flatten the filled bottom of the filled gyoza so that it stands upright. As you finish the gyoza, place them on a parchment paper-lined baking sheet so that they are close together but not touching. (Note: At this point the gyoza can be frozen or refrigerated until cooking. If you refrigerate them, gently cover them with slightly dampened paper towels to prevent them from drying out.)

To cook the gyoza, heat vegetable oil over medium-high heat in a pan that has a tight-fitting lid. When the oil is hot, place the gyoza in the pan so that they are close together but not quite touching. (You can make these in two batches if all gyoza will not fit in one pan.) Cook the gyoza, uncovered until the bottoms begin to turn brown and crisp, about 4 minutes. Reduce the heat to medium and gently pour ⅓ cup water into the pan. Be cautious, as it may splatter as it hits the oil. Put the lid on the pan and allow the gyoza to steam until the pork is cooked through, 7-10 minutes.

Serve warm with honey-soy dipping sauce on the side.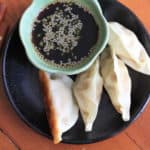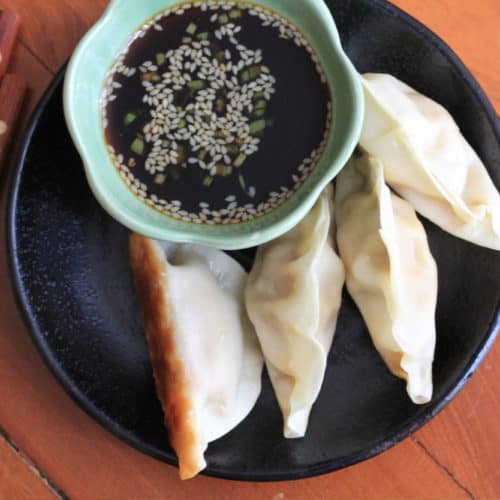 Print Recipe
Honey-Soy Dipping Sauce
Ingredients
1

clove

garlic, crushed

½

cup

soy sauce

2

tsp.

honey

½

tsp.

sesame seeds

2

green onions (green parts only), thinly sliced
Instructions
Make the Honey-Soy Dipping Sauce. Combine the garlic, soy sauce, honey, sesame seeds, and green onions in a small glass container fitted with a lid and shake vigorously to combine.

Serve immediately or store for up to a week. (Remove the garlic clove if the sauce is not served within 24 hours to prevent the sauce from becoming overly garlicky.)