Pork Gyoza
Published Jan 23, 2011•Updated May 09, 2023
Flavorful pork gyoza dumplings are bite-sized, super savory, and stuffed with a juicy and aromatic pork and chive filling. These tender, freezer-friendly snacks are perfect for entertaining, or can be enjoyed as part of an easy weeknight meal.
Pork gyoza are one of the most popular appetizers at Japanese restaurants, and a well–loved takeout item. Who doesn't love their bite-sized shape, the warm filling, and the mouthwatering taste of a juicy dumpling?
Making this gyoza recipe is easier than it looks, and there's no need to be intimidated by the dough wrapper. This recipe uses a convenient store-bought gyoza wrapper, so you just need to make the pork filling (it takes just a few minutes), seal the mixture in the wrapper, and cook the dumplings on the stove.
The gyoza come out of the pan with a lightly crispy bottom, and a soft, tender top that is just waiting to be dunked in your favorite gyoza sauce.
What is gyoza?
Gyoza is a Japanese dumpling that can either be filled with a seasoned ground protein like pork or chicken, or a mixture of minced vegetables. The dumpling is then wrapped in a thin dough wrapper and formed into a crescent-like shape. There are a few different types of gyoza, including yaki gyoza, which are the popular pan-fried version, sui gyoza, which are steamed, and age gyoza, which are deep-fried.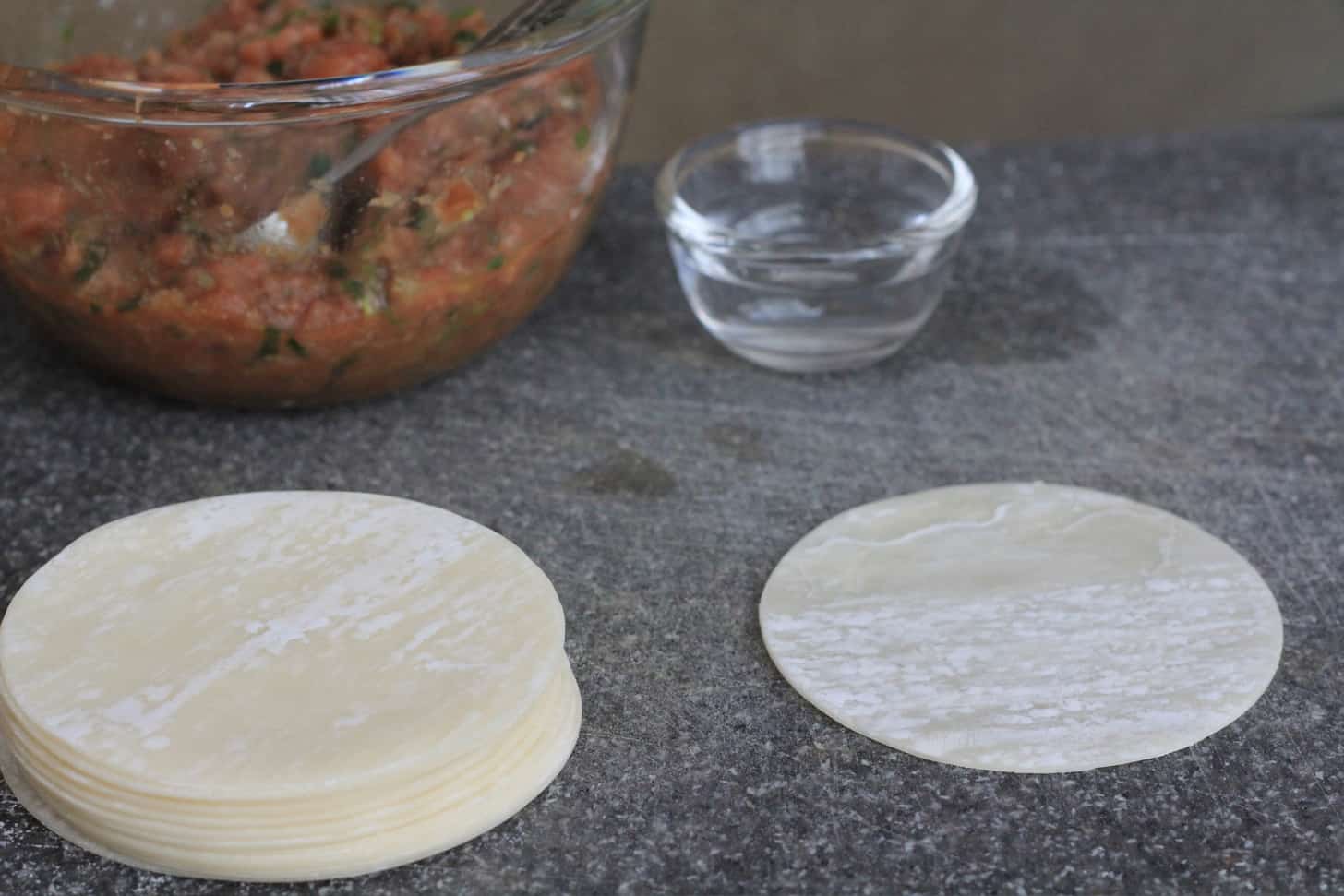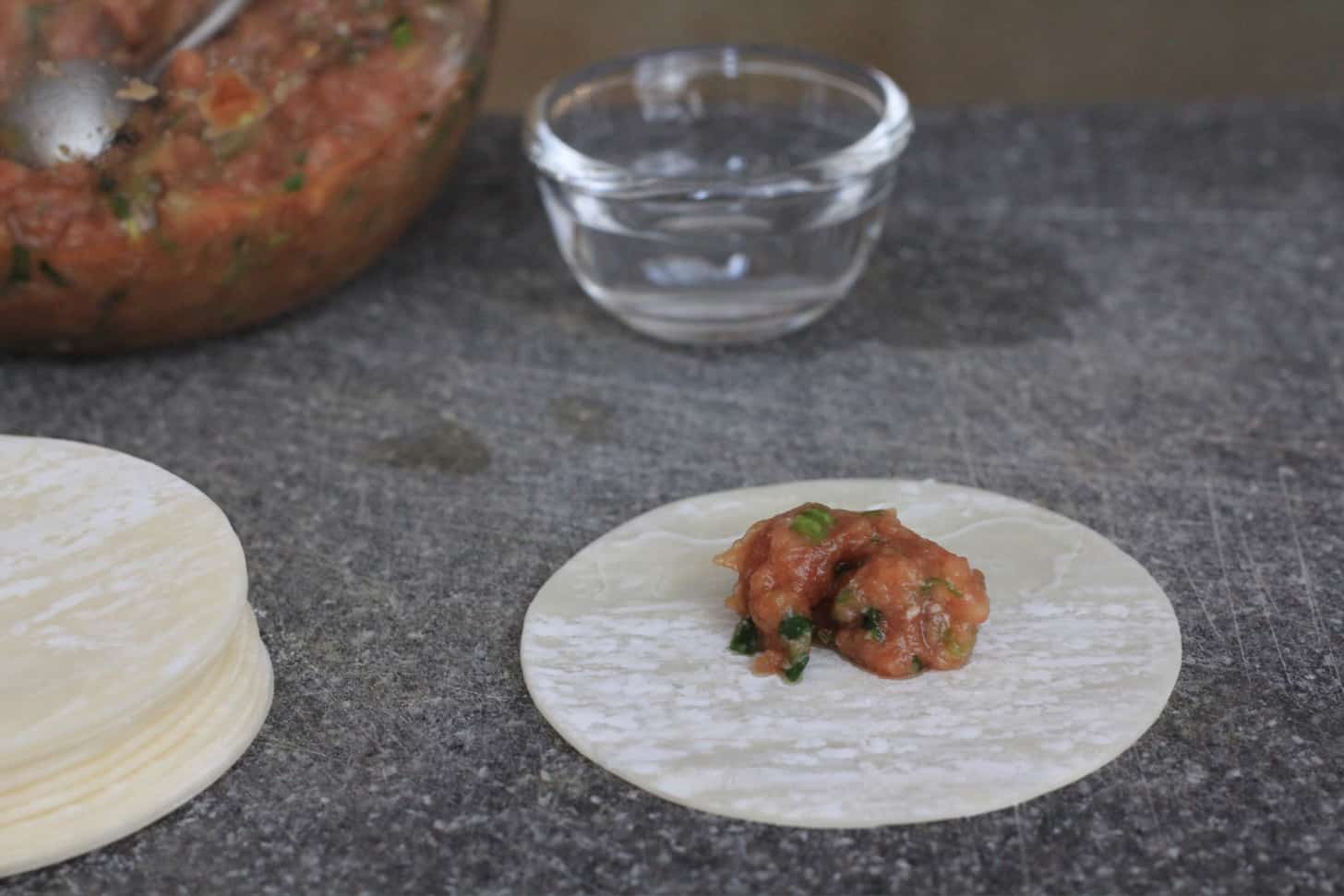 How to Make It
Make the filling. Combine the pork, chives, sesame oil, salt, and pepper.
Assemble. Fill each wrapper with the pork mixture, then seal the dumplings by pinching them tightly closed. Press out any air pockets.
Brown. Heat gyoza over medium heat in an oiled pan. Cook without moving until the dumplings are golden brown, about 3 minutes.
Steam. Add water to the pan, cover, and cook for 2 to 4 minutes. Remove the lid, and continue cooking until the water evaporates.
Serve and enjoy! Serve warm with your favorite dipping sauce.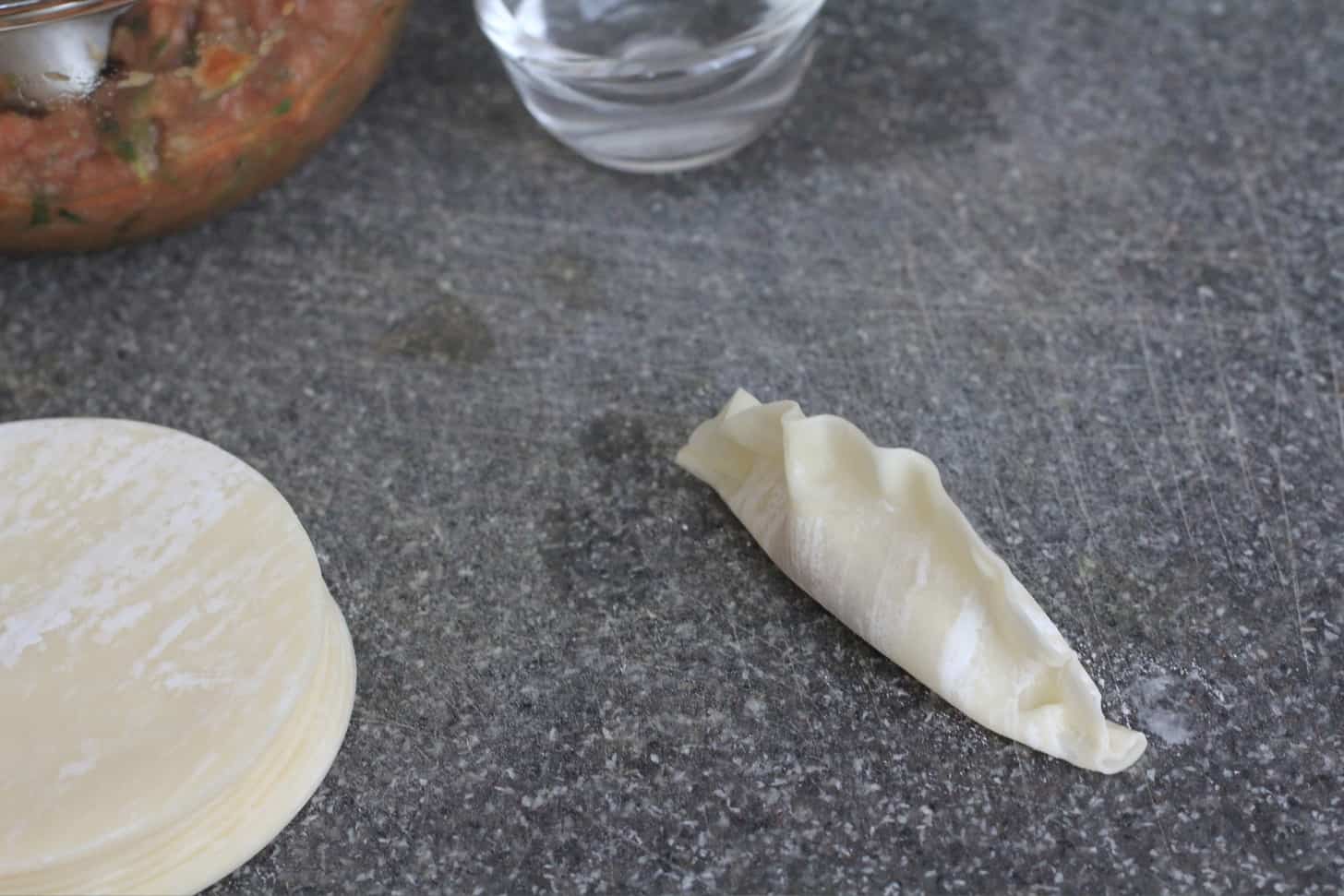 Ingredients
Ground Pork – The savoriness of ground pork creates a mouthwatering dumpling filling.
Chives – Chopped chives infuse the pork with a pleasant, mild oniony taste.
Toasted Sesame Oil – Toasted sesame oil adds the most wonderful umami flavor to the dumplings.
Kosher Salt, Ground White or Black Pepper – Basic seasoning. White pepper has a slight earthiness, and black pepper is on the spicy side.
Round Gyoza or Dumpling Wrappers – You should be able to find the round dumpling wrappers used for these dumplings in the freezer section of most grocery stores. You can also purchase them from an Asian market.
Cooking Oil – A neutral high-heat oil like vegetable oil, avocado oil, or grapeseed works best in this recipe. These oils will prevent the gyoza from smoking in the pan while you brown them.
Water – Use the water to seal the gyoza wrappers, and to steam the pork dumplings.
Dipping Sauce – A good dipping sauce takes pork gyoza from really good to really great. My Dumpling and Potsticker Dipping Sauce or Peanut Sauce are perfect for serving.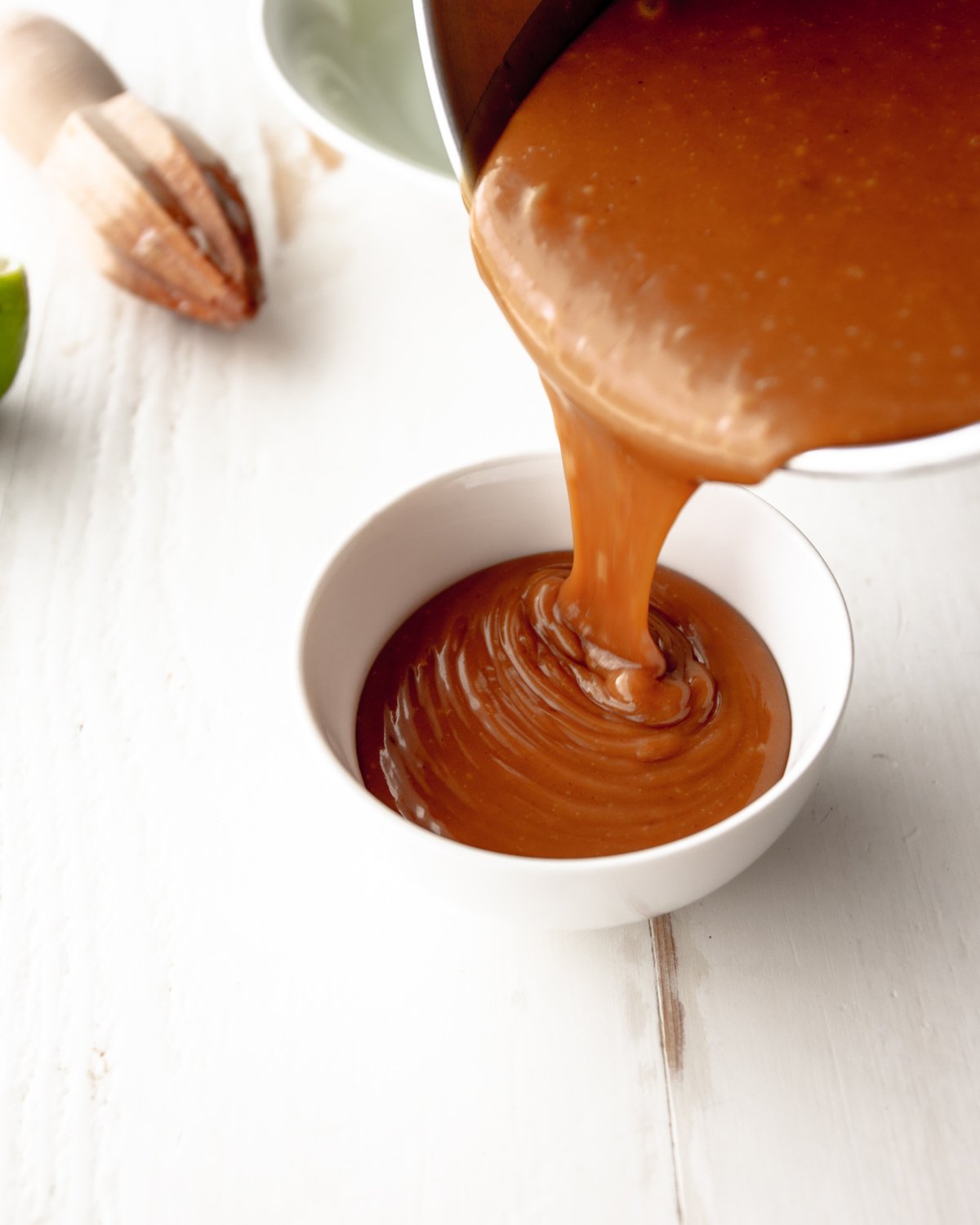 How to Store
Making a large batch of gyoza and storing them to enjoy at a later date is a convenient way to have a delicious appetizer ready when you're craving something savory, or entertaining. To freeze gyoza, assemble the dumplings, then spread them in a single layer on a sheet pan lined with parchment or wax paper. Place in the pan in the freezer, uncovered and freeze for 3 to 4 hours, or until solid. Transfer the frozen gyoza to a freezer-safe bag for up to 3 months.
Tips
When filling the dumpling, spread the pork mixture in a slightly oblong shape, rather than a ball. This will help keep the filling within the wrapper as it cooks.
Using your hands to mix the pork filling not only evenly combines all of the ingredients together, it also breaks up the fat in the pork to release more flavor, while giving structure to the filling.
Variations
Try a different protein – Ground chicken, turkey, or minced shrimp are also popular gyoza fillings.
Make it vegetarian – Veggies like mushrooms, Napa cabbage, carrots, and leeks create a savory, plant-based gyoza filling. Minced tofu can be added as well.
Add spice – If you like a little heat in your pork gyoza, add some red pepper flakes to the pork and chive mixture.
FAQs
What is the difference between gyoza and Chinese pot stickers?
Japanese gyoza and Chinese pot stickers have a lot of similarities; after all, Japanese chefs were heavily influenced by their Chinese counterparts when these tasty dumplings were created. The differences between the two are seen in the size of the dumplings and the sturdiness of the wrapper. Gyoza tend to be just a bit smaller, and the gyoza wrapper is thinner and more delicate than a pot sticker wrapper.
What to serve with gyoza?
Serve gyoza with a warm bowl of ramen, Udon noodle soup, or chilled soba noodles. You could also enjoy them alongside vegetarian or traditional sushi, or chicken banh mi.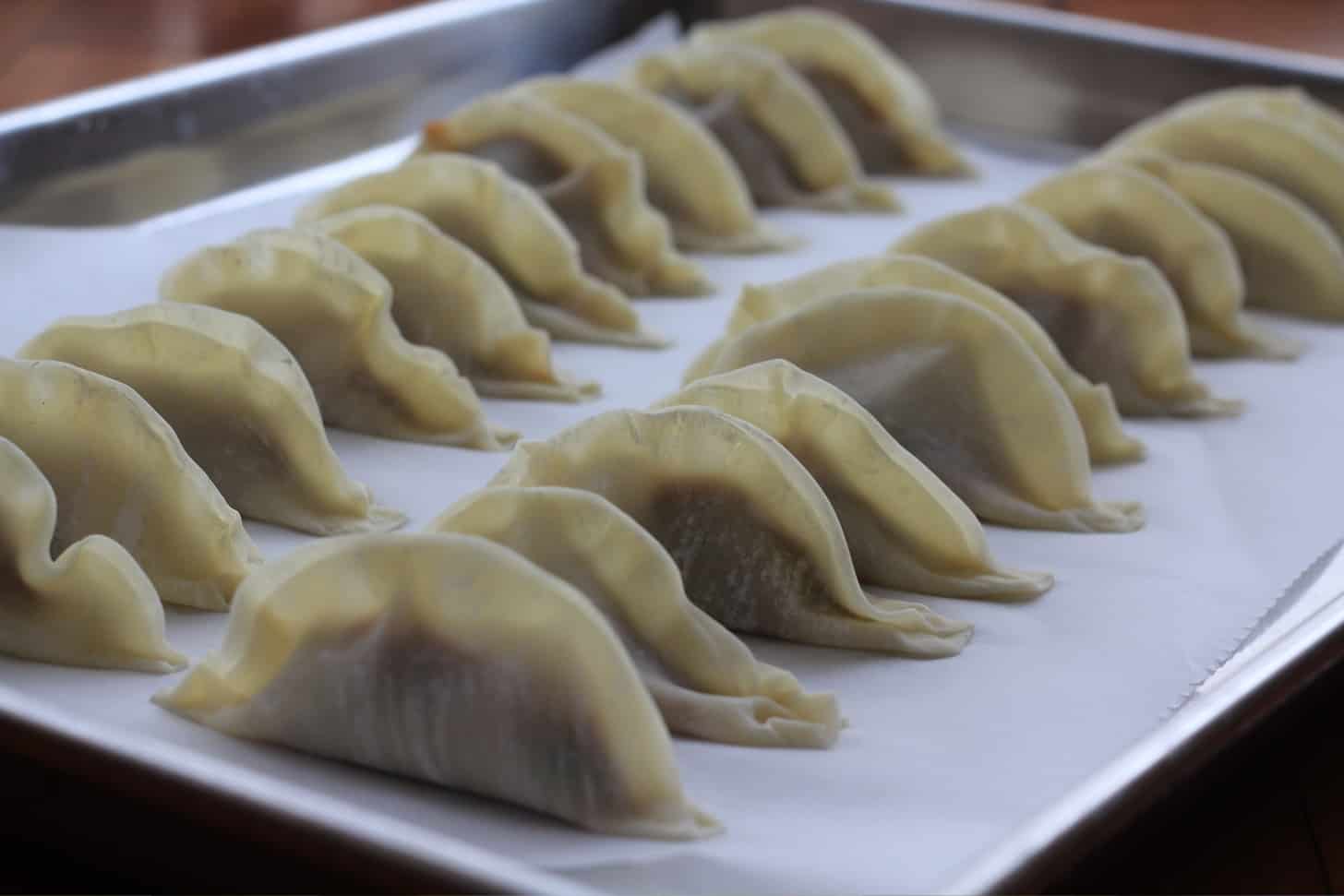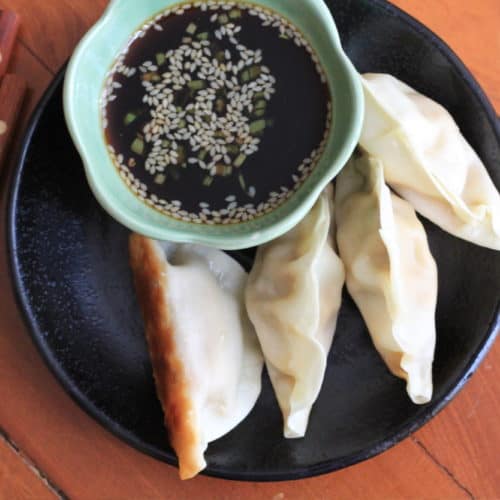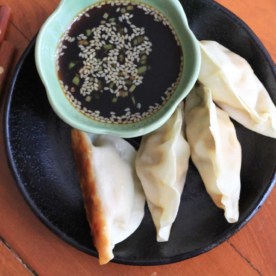 Pork Gyoza Recipe
Pan-seared pork gyoza are easy to make at home, take minutes to cook, and are stuffed with a juicy, aromatic filling that's bursting with flavor. It's easier than ever to make your favorite takeout dish at home.
Equipment
Mixing Bowls

Parchment Paper

Half Sheet Pan

Nonstick Pan with lid
Ingredients
1/2

pound

ground pork

1

tablespoon

finely chopped chives

1

teaspoon

toasted sesame oil

1/2

teaspoon

kosher salt

1/4

teaspoon

ground white or black pepper

24

round gyoza or dumpling wrappers

2

tablespoons

cooking oil

(see note)

2

tablespoons

water

dipping sauce, for serving

(see note)
Instructions
Combine the pork, chives, sesame oil, salt, and pepper in a mixing bowl and stir to combine (or mix with your hands).

Assemble gyoza: Set out 4 to 6 wrappers on a flat surface (keep the other wrappers covered loosely with a damp paper towel while you work so that they don't dry out. Fill each wrapper with about 1 ½ teaspoons of the pork. Set a small bowl of water near the wontons and dip your fingers in water, running them around the outsides of each wrapper (this will help them to seal). Pinch the wrappers closed tightly, pressing out any air. Set the finished potstickers on a parchment-lined plate or sheet pan. Repeat until all of the gyoza have been shaped.

Heat a large nonstick pan over medium heat. Add 2 Tablespoons of cooking oil. When the oil begins to shimmer, add the gyoza in a single layer and cook without moving until the bottoms are golden brown, about 3 minutes. (Note: Cook these in batches if needed.)

Add water to the pan and cover with a tight-fitting lid. Cook, covered, for 2 to 4 minutes to let the gyoza cook through. (You can remove one and slice it open to see if it is cooked through.) Remove the lid, and continue cooking until all of the water evaporates.

Serve warm with dipping sauce.
Notes
Cooking Oil
– Use any high-heat cooking oil with a neutral flavor. My favorites are avocado, grapeseed, or vegetable oil.
Dipping Sauces
– These are delicious with my simple classic
Dumpling and Potsticker Dipping Sauce
or
Peanut Sauce
.
Freeze
– To freeze, assemble as directed. Spread the gyoza out in a single layer on a parchment or wax paper-lined sheet pan. Transfer to the freezer, uncovered and freeze until solid, 3 to 4 hours. Store frozen gyoza in a freezer-safe bag for up to 3 months.
Nutrition
Calories:
289
kcal
|
Carbohydrates:
26
g
|
Protein:
14
g
|
Fat:
14
g
|
Saturated Fat:
5
g
|
Polyunsaturated Fat:
2
g
|
Monounsaturated Fat:
6
g
|
Cholesterol:
45
mg
|
Sodium:
580
mg
|
Potassium:
204
mg
|
Fiber:
1
g
|
Sugar:
0.01
g
|
Vitamin A:
44
IU
|
Vitamin C:
1
mg
|
Calcium:
31
mg
|
Iron:
2
mg
Nutrition information is automatically calculated, so should only be used as an approximation.