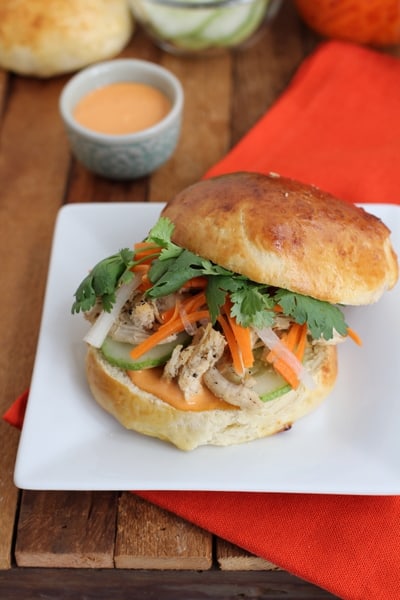 I didn't freeze all of those sandwich rolls I made over the weekend. A few were destined for this very delicious purpose.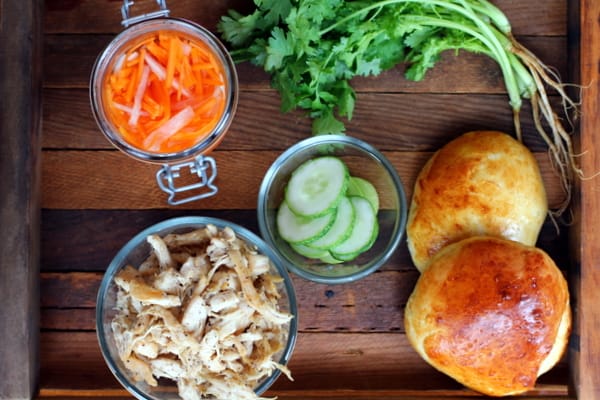 A few weeks ago, Frank made his own version of Banh Mi sandwiches, and I knew right away that they were something that had to be shared.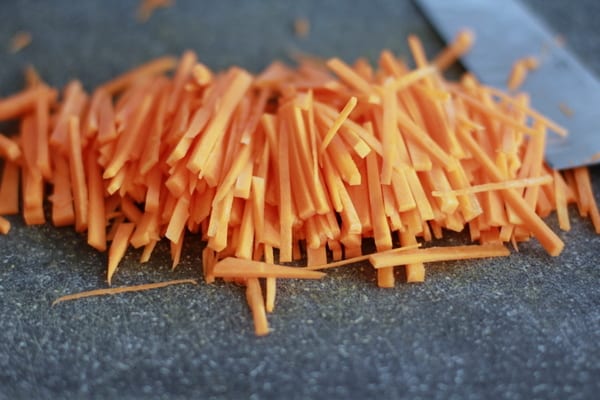 Though ours do not include the traditional pâté topping, which is the way they are served in Vietnam, they have another topping that, I must say, is really out of this world. Sriracha Mayo.
Frank originated the Sriracha Mayo trend in our house, and this stuff is so good that I am tempted to "sample" it by the spoonful. He reports that he was inspired by the Sriracha May served at Good Stuff Eatery in DC (where we used to dunk fries heavily seasoned with rosemary and salt into it). It's as simple as 1 part Sriracha to 1 part Mayonnaise. What results is rich, creamy, spicy, flavorful, and addictive.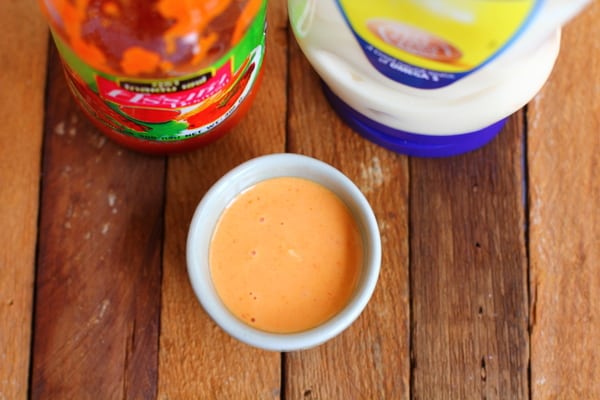 The Sriracha Mayo would be great on a lot of things, but a great start is these Banh Mi style sandwiches. The only other element that takes any time to make is this quick batch of pickles. Daikon radish and carrot are tossed in a mixture of sugar, water, and rice vinegar. That daikon radish has been patiently waiting to be pickled since it came in my CSA delivery last week.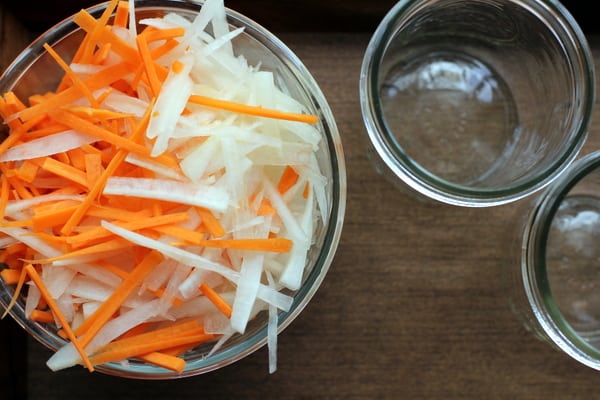 And although these easy pickles can be used within an hour of making them, they just get better the longer they sit in the fridge.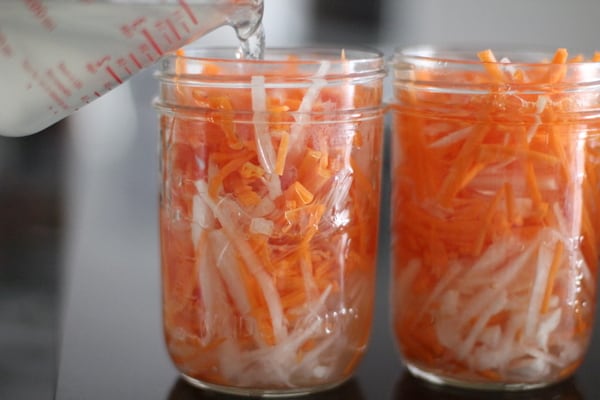 The recipe below produced these three jars. We only needed the small one for Banh Mi sandwiches this weekend (I pile mine high with pickles).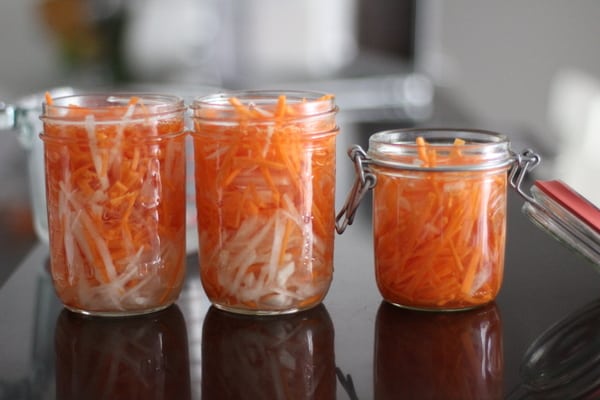 The sandwiches are a piece of cake after that. This one below became lunch 5 seconds after this picture was taken.
Although, I might have drizzled it with another round of that mayo.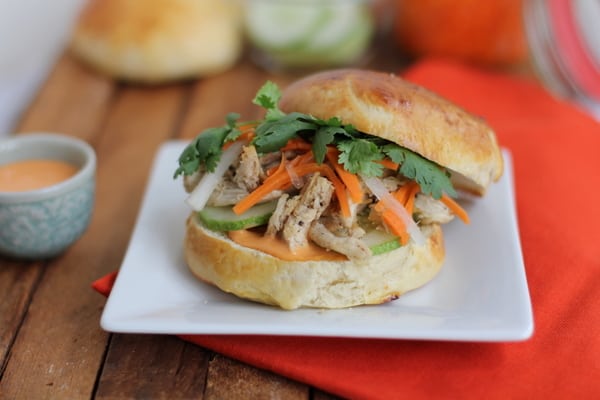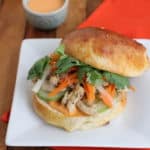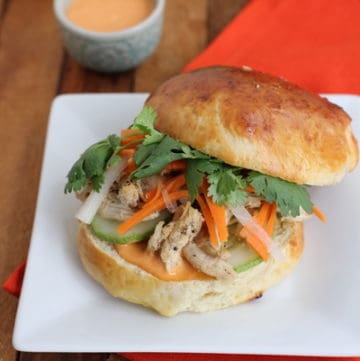 Print Recipe
Chicken Banh Mi Sandwich with Sriracha Mayonnaise
Ingredients
3

cups

warm water

3

Tbsp.

sugar

2

Tbsp.

salt

4

Tbsp.

rice vinegar

1

daikon radish, peeled and cut into matchsticks

1

carrot, peeled and cut into matchsticks

¼

cup

mayonnaise

¼

cup

Sriracha

4

sandwich rolls (or 1 baguette, cut into 4 even pieces)

1

cucumber, sliced

2

cups

shredded chicken (from a rotisserie chicken or from 2 cooked boneless, skinless chicken breasts)

1

big bunch fresh cilantro
Instructions
In a small bowl, whisk together the water, sugar, salt, and rice vinegar until the sugar and salt dissolve. Layer the daikon and carrots into jars, packing them tightly. Pour the liquids over daikon and carrots to cover. Put the lids on the jars and refrigerate for at least an hour before assembling the sandwiches. Store the pickles in the fridge for up to a month.

Turn the oven on to 350°F.

In a small bowl combine the mayonnaise and Sriracha. Stir until evenly combined.

Slice the sandwich rolls or baguette and arrange them, cut side up, on a baking sheet. Toast the bread in the oven until crisp, about 5 minutes.

Spread each toasted sandwich roll with siracha mayonnaise and top with cucumber slices, ½ cup shredded chicken, carrot and daikon radish pickles, and sprigs of cilantro.
Notes
Sriracha is a Thai-style hot sauce made from chili peppers, vinegar, garlic, sugar and salt. It can often be found in a plastic jar with a green squirt top at most Asian markets or in the international aisle at many regular grocery stores (it is becoming increasingly widely available).