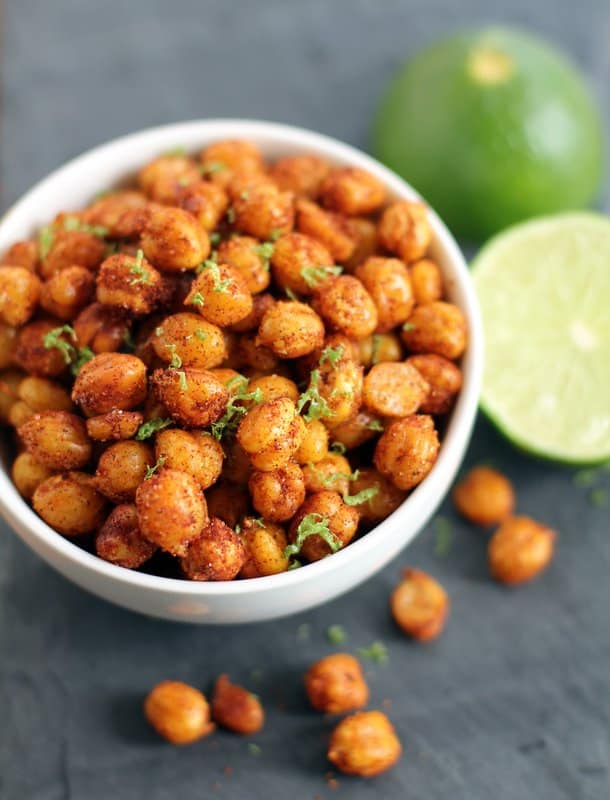 Pan-fried chickpeas that are crisp on the outside and creamy inside are great on their own as a snack, or topped with yogurt as a vegetarian side dish.
I'd read a number of blog posts by professional bloggers that made a case for peeling chickpeas. I was sold on the benefits, but still I wrote peeling chickpeas off as an activity reserved for people for whom blogging is a full-time job.
But then my friend Katie, who juggles grad school and work, wrote about what she calls game-changing hummus. The secret to super creamy hummus, as you may already know, is peeled chickpeas. I decided right then and there that if Katie can find time to peel chickpeas, I can too.
You probably won't be surprised to hear me now proclaim my love for peeled chickpeas, just like Katie and all those other bloggers before me. They're absolutely right – peeling chickpeas is worth the trouble. If you can carve out 10 or 15 minutes to do it, peeled chickpeas make extra creamy hummus, and in the case of this recipe, extra crispy pan-fried chickpeas.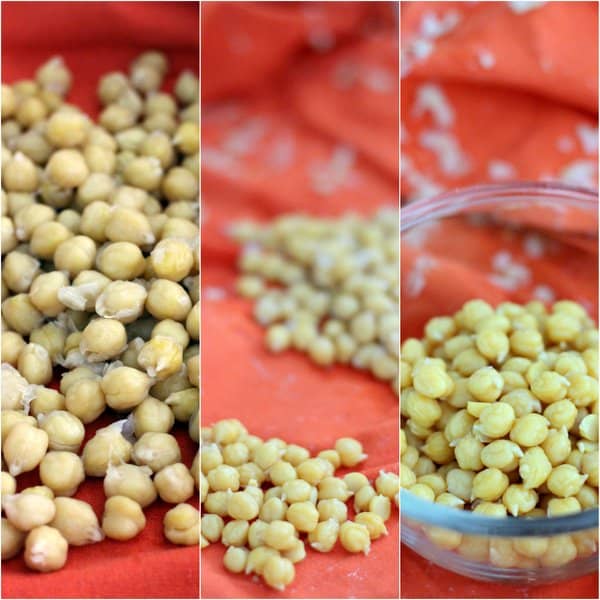 I've now been a chickpea-peeling convert for some time, and this technique seems to make quick work of it.
1) Spread the chickpeas out on half a dish towel. Fold the remaining half of the dish towel over the top of the chickpeas and gently rub the dish towel over the surface of the chickpeas. I do this for about a minute and it loosens the peels.
2) Pluck the chickpeas off the towel one-by-one, tossing the peel aside as you go.
3) Transfer the peeled chickpeas to a bowl.
Once they are peeled, when the chickpeas meet hot oil in a pan, the outsides turn deep golden brown and so crisp that they are one of my favorite crunchy snacks.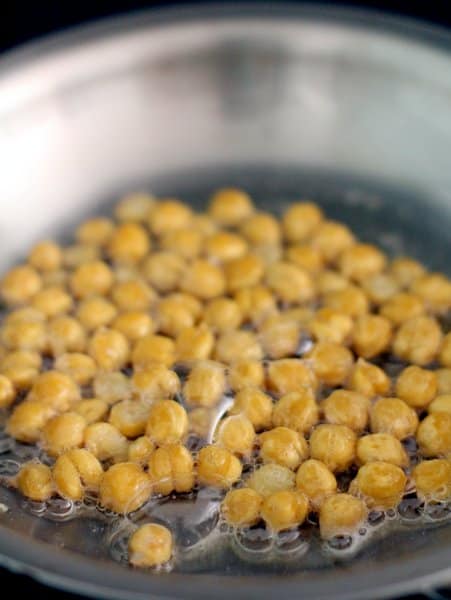 I tossed my chickpeas in a spice mixture that is sweet, salty, and a bit smoky – it's similar to the spice mixture I use when I roast chickpeas, but I took a great cue from Bon Appétit and finished them with fresh lime. We always end up eating these straight from the bowl – it's hard to resist them for much longer.
However, if you can save some, I have a really delicious way to use them as a topping for this gazpacho.
More Snack Ideas
Favorite Tools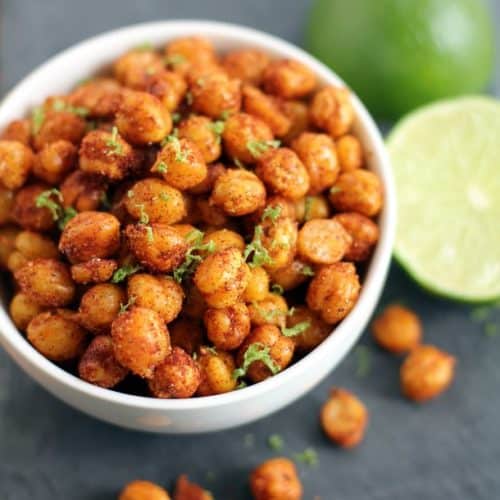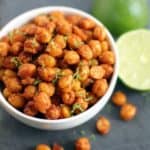 Print Recipe
Pan-Fried Crispy Chickpeas with Lime
Pan-fried chickpeas that are crisp on the outside and creamy inside are great on their own as a snack, or topped with yogurt as a vegetarian side dish.
Equipment
Mixing Bowl

Saute Pan

Slotted Spoon
Ingredients
2

tsp

Smoked Paprika

2

tsp

Chili Powder

½

tsp

Granulated Sugar

½

tsp

Salt

½

tsp

fresh-cracked Black Pepper

Vegetable Oil

2

cups

Chickpeas

(from a can or dried chickpeas that have been cooked and cooled) (see note)

Zest and Juice from ½ Lime
Instructions
In a medium mixing bowl, combine the paprika, chili powder, sugar, salt, and pepper.

Pour enough vegetable oil into a medium saute pan to coat the bottom. Heat over medium-high heat until the oil begins to shimmer. Carefully add the chickpeas to the oil and sauté until golden brown, about 5 minutes. Remove chickpeas from the oil with a slotted and transfer to a plate covered with a paper towel. Allow to cool for a minute and, while still hot, transfer the chickpeas to the bowl with the spice mixture. Toss to coat. Squeeze lime juice and zest over the chickpeas and serve immediately.
Notes
For the chickpeas: Although not at all necessary for this recipe (even unpeeled chickpeas will work great), it is worth the extra time it takes to peel the chickpeas before using them. The best way I've found to do this is to rub them gently with a dishtowel until the peels begin to fall off the chickpeas. Then the chickpeas can be fairly easily plucked out and transferred to a bowl. If you don't have time to peel the chickpeas, it's no problem - just proceed with the recipe. In either case, it is very important to rub them dry with paper or cloth towels before pan frying them so that they quickly get crisp on the outside. This recipe was adapted from Bon Appetit's Fried Chickpeas.
Nutrition
Serving:
1
g
|
Calories:
215
kcal
|
Carbohydrates:
41
g
|
Protein:
10
g
|
Fat:
6
g
|
Saturated Fat:
12
g
|
Sodium:
328
mg
|
Fiber:
9
g
|
Sugar:
10
g
*This post contains affiliate links*