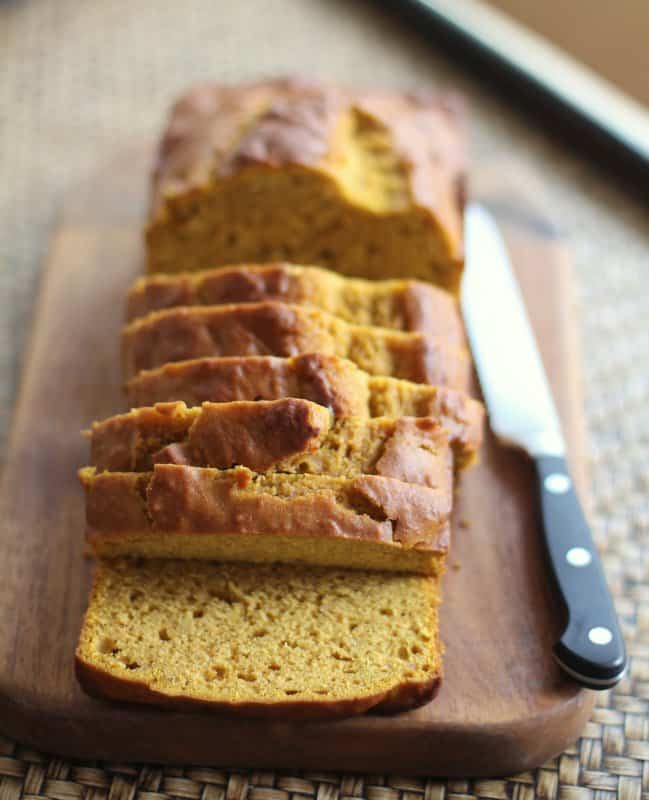 One Bowl Pumpkin Cider Bread is a simple, slightly sweet and soft pumpkin spice bread that includes apple cider and comes together in one bowl.
I was traveling for work most of last week, so it's taken a few days (plus a really relaxing weekend) to feel like I'm caught back up on life. After five days crossing Thailand from East-to-West, I had my fill of amazing Thai food. I met a water buffalo in Sukothai, saw a sunset over Myanmar, and realized just how beautiful and diverse this country is.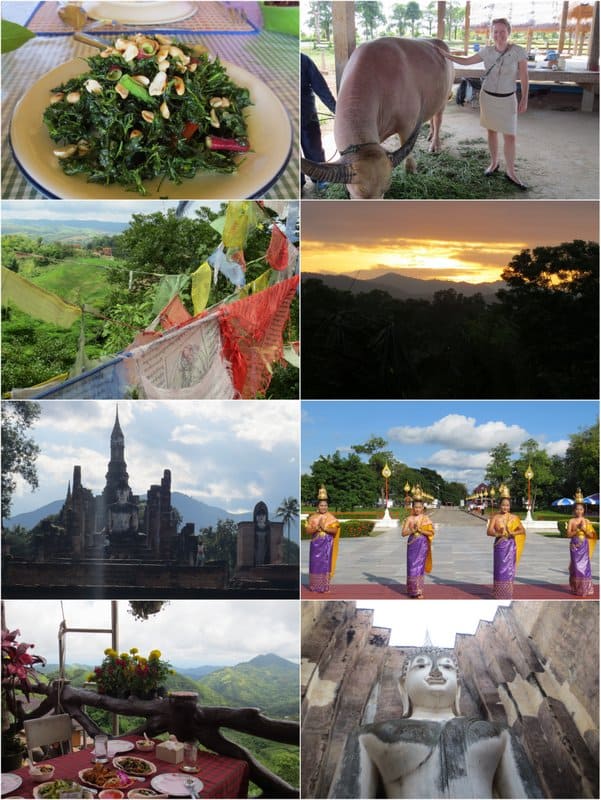 I came home wanting homemade baked goods. Homemade baked goods with pumpkin - to be more precise. A few weeks ago I found this Pumpkin Cider Bread that was originally published in Gourmet magazine in 1991, and bookmarked it for the season's first can of pumpkin. The recipe was only a paragraph long - came together in one bowl and, according to reviewers, stayed moist and soft for days after baking. Sounded pretty perfect.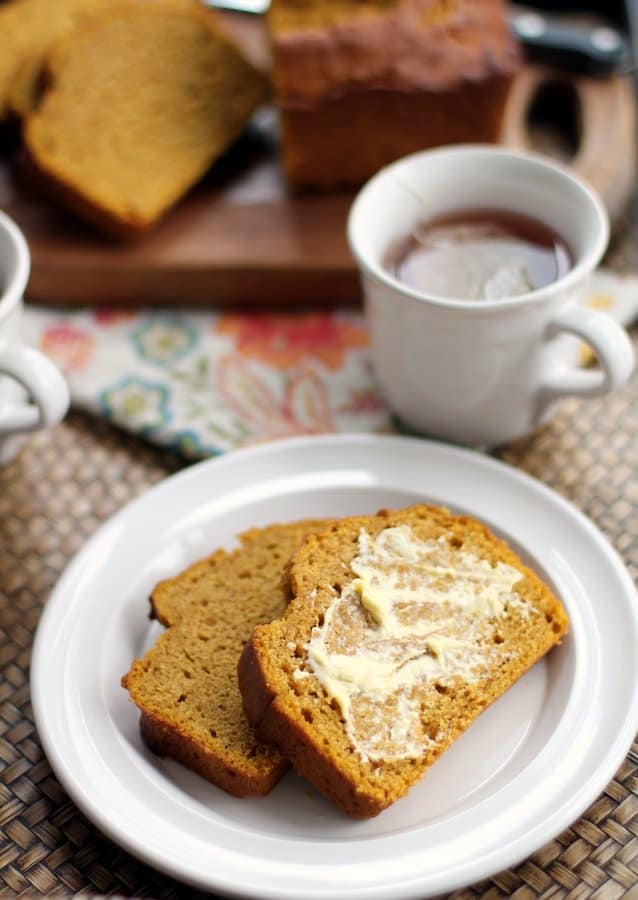 And it was. I think that this may be the best pumpkin bread I've ever had.
I only ran into one issue when I bought something called "apple cider" at my local grocery store...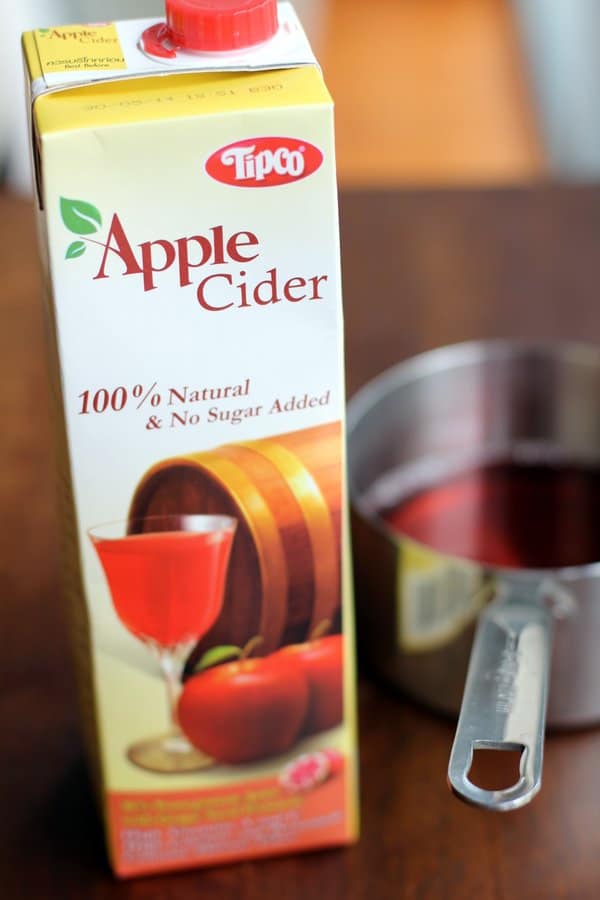 ...only to get home and discover that it was just apple juice mixed with pomegranate juice.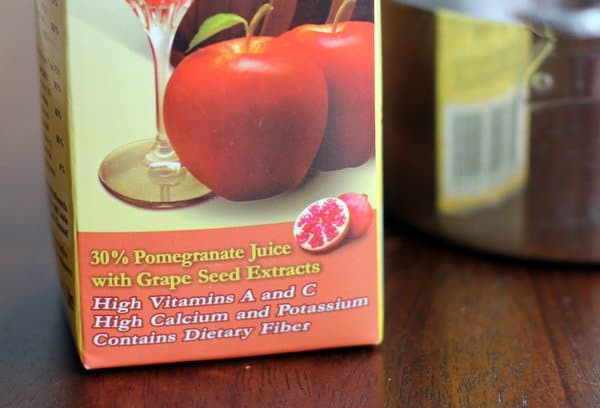 I scrapped the apple cider altogether and used plain apple juice with great results. The only time-consuming aspect of the recipe calls for you to reduce the apple cider (or juice, if you live in Thailand) on the stovetop, but it's worth taking that extra step. It concentrates the flavor down and is a sweet, fruity complement to the pumpkin.
More Pumpkin Recipes
Favorite Tools
📖 Recipe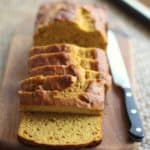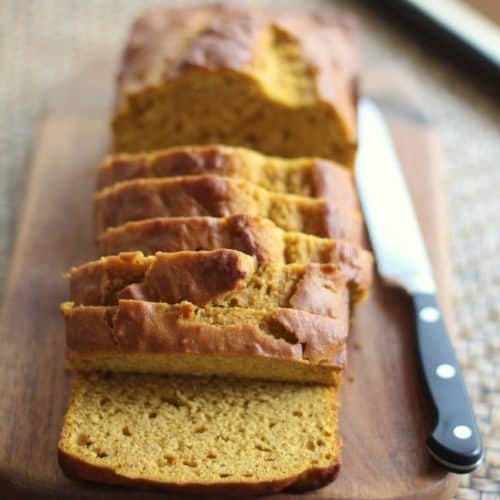 Print Recipe
One-Bowl Pumpkin Cider Bread
A simple, slightly sweet, one-bowl bread made with pumpkin puree and apple cider.
Equipment
Loaf Pan

Saucepan

Mixing Bowl
Ingredients
1

cup

Apple Cider

1

cup

Canned Pumpkin Puree

2

Large Eggs

¼

cup

Vegetable Oil

¾

cup

firmly packed Light Brown Sugar

2

tablespoon

freshly grated Orange Zest

2

cups

All-Purpose Flour

2

teaspoon

Baking Powder

½

teaspoon

Salt

¼

teaspoon

Baking Soda

¼

teaspoon

Ground Mace

¼

teaspoon

Cinnamon

⅛

teaspoon

Ground Cloves
Instructions
Preheat the oven to 350°F. Generously grease an 8 ½-by 4 ½-inch loaf pan with butter.

In a saucepan boil the cider until it is reduced to about ¼ cup and let it cool. In a bowl whisk together well the pumpkin purée, the eggs, the oil, the brown sugar, the zest, and the reduced cider. Into the bowl sift together the flour, the baking powder, the salt, the baking soda, the mace, the cinnamon, and the cloves, and stir the batter until it is just combined. Transfer the batter to the prepared loaf pan and bake for 45-60 minutes, or until a tester comes out clean. (Note: Check the bread at about 35 minutes and cover with foil for the remainder of baking time if the surface has begun to brown.) Let the bread cool in the pan before serving.
*This post contains affiliate links*