Of Coconuts and Curries
Published Jun 30, 2011•Updated Nov 08, 2023
Despite my profound linguistic limitations, there are many things I have become pretty comfortable with doing in Bangkok. I'll jump into a cab and muddle through with directions. I'll even go most cafes feeling certain that, at the least, I'll be able to order fried rice and a glass of water.
Most of the time, if I'm feeling brave, I'll walk up to a vendor on the street and use what vocabulary I can, pull out some vigorous hand gestures and a big smile, and manage to get what I need. There has been one exception that I have, for some reason, avoided until today.
A few months ago I took a cooking class where we went to a beautiful market to buy fresh produce. We bought one ingredient from a vendor in that market that I have thought about since – fresh coconut milk.
Now, it's not impossible to find fresh coconut milk in other places…this is Thailand, after all. But this coconut milk was the best I've ever tasted. The women who made it put whole coconuts into a shiny metal machine that grounded them into a pulp. The pulp came out one side and was then pressed, on the spot, into the most rich, sweet, fresh coconut milk I've had.
Today I went back to the market to get some of that delicious milk for dinner.
It was a disaster….
I think I have it made when I see bags of the milk already in a row on the counter. I point to a bag, ask for one of "those", and figure I'm all set. Not so. Out comes a series of lengthy questions from the vendor. (I'm in trouble.) I give her a puzzled look, smile, point to the bags, and again say "I'll have one of those". She holds up two sizes of bags, and asks another question. (I am panicking at this point, thus forgetting what little Thai I know). I point to the smaller one. She puts them both on a scale, and asks me another question. I point to the small bag again. Big smile. She asks if I speak Thai. (I debate turning and running home.) "I'm studying the Thai language," I manage to say. She appears confused, but holds up the small bag. I nod effusively and hold out 100 Baht. This seems to seal the transaction. She gives me change and hands me the bag. (I breath a sigh of relief and contemplate using canned coconut milk from this point forward.)
Gathering this key ingredient for tonight's dinner could probably only have felt more daunting if I had shimmied up a tree and knocked down the coconuts myself.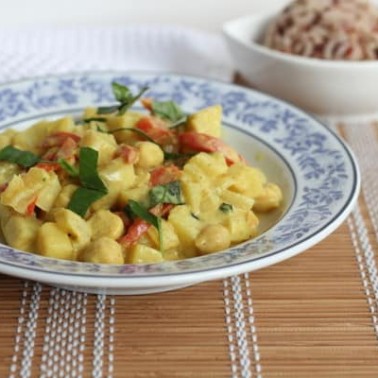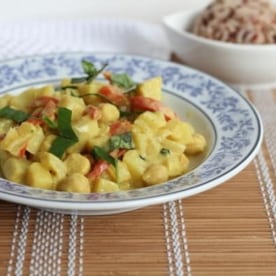 Potato Curry with Mango and Basil
Spicy and sweet, this simple potato curry gets loads of flavor from mango and basil. I love it over quinoa or brown rice for a quick, unique dinner.
Ingredients
1

Tbsp.

vegetable oil

2

tbsp

curry powder

1

large baking potato, peeled and chopped into ½-inch cubes

1/2

cup

finely chopped onion

2

cups

light coconut milk

1

red bell pepper, cored, seeded and cut into thin strips

2

cups

chickpeas

1

mango, peeled and cut into thin strips

2

Ttbsp. fish sauce (or soy sauce, for a vegan version)

1

tsp.

sriracha

1

tsp

sugar

1/3

cup

chopped fresh basil

steamed rice, for serving
Instructions
Heat oil and curry powder in a large skillet over medium heat. Add potato and onion and cook until onions become soft, 3 to 4 minutes. Add coconut milk and reduce heat to a low simmer. Simmer until potatoes become tender, about 5 minutes. (Add a bit of water if the coconut milk reduces down and is no longer covering the potatoes.)

Add bell pepper, chickpeas, mango, fish sauce, siracha, and sugar, stirring to combine. Simmer for 2 minutes longer. Remove from heat and stir in fresh basil. Serve immediately.
Nutrition information is automatically calculated, so should only be used as an approximation.