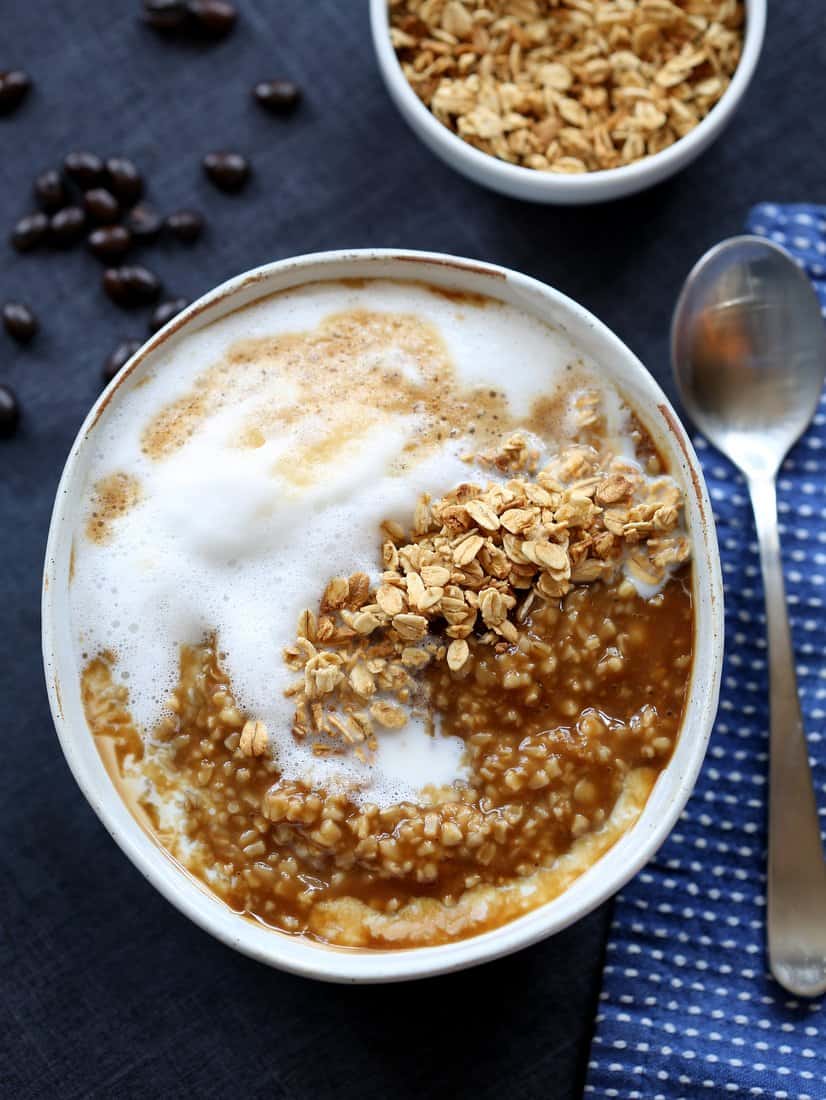 There is something great about chilly mornings that start with the meeting of warm steel cut oats, frothy milk, hot coffee and brown sugar.  An oatmeal latte combines all these morning favorites into one irresistible bowl.
Our Thanksgiving vacation in Virginia included some pretty epic breakfasts, but I'm still a coffee and oatmeal girl at heart.
Which is why, when we were in Breckenridge, Colorado over the summer, the Oatmeal Latte at Cuppa Joe drew me right in.  It's so good that it inspired people on the internet to call it "the BOMB!!"
(All caps, two exclamation marks.)

The recipe is incredibly simple, and can be replicated without an espresso machine or milk frother.
All you do is make a batch of steel cut oats. Brew a shot of espresso or a small cup of strong coffee and stir it into the oats along with brown sugar.  Heat milk on the stovetop (whisking to build up foam as it heats) or with a frother and gently fold that in.  Top with chopped nuts, dried fruit or granola.
This is an idea worth bringing into your kitchen.  It's a welcome bowl of goodness on cold winter mornings.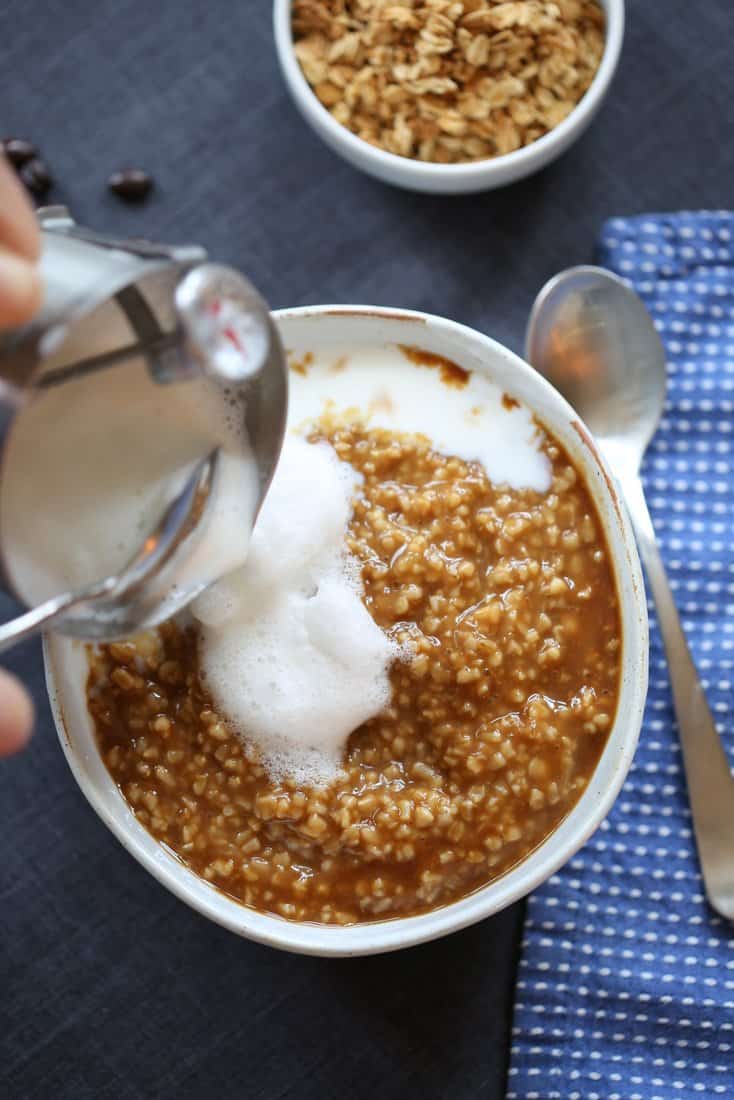 And my mornings are coming extra early these days since my girls decided that Thanksgiving was a good time to change their leisurely 7:30 wake-up to a 6am rise-and-shine.
Thank goodness for coffee.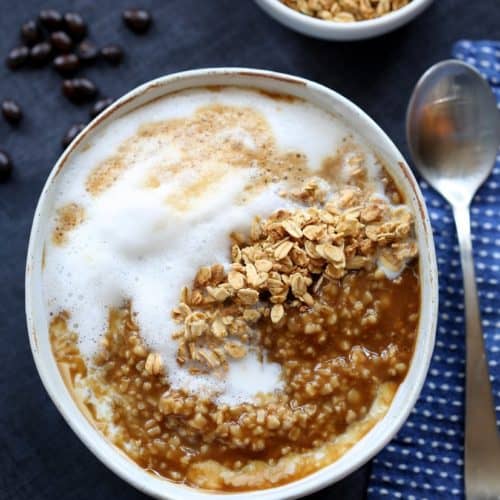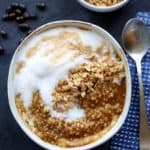 Print Recipe
Oatmeal Latte
Inspired by Cuppa Joe in Breckenridge, Colorado, this meeting of steel cut oats, hot coffee, steamed milk and brown sugar in one hearty, warm bowl is just as great for providing energy for a day on the ski slopes as for chasing after energetic kids.
Ingredients
1

cup

uncooked Steel Cut Oats (use gluten-free if appropriate)

1

shot Espresso (or 1/3 cup strong brewed coffee)

1

cup

Milk

1/4

cup

packed Brown Sugar

Toppings of choice (nuts, dried fruit, or granola)
Instructions
Cook oats according to package directions. While the oats cook, prepare espresso or coffee. Froth milk or heat it slowly on the stovetop, whisking frequently to incorporate air into the milk (this will give it a slightly frothy texture).

When the oats are cooked, stir in the coffee and brown sugar. Add the milk and gently fold into the oats, leaving some of the foam on top. Spoon into serving bowls and add toppings.
Nutrition
Serving:
3
g
|
Calories:
211
kcal
|
Carbohydrates:
36
g
|
Protein:
7
g
|
Fat:
3
g
|
Cholesterol:
5
mg
|
Sodium:
32
mg
|
Fiber:
4
g
|
Sugar:
16
g
More about our Thanksgiving vacation in Virginia coming soon, but here's a sneak peak.  Tree decorating was a big hit.  Hope you had a great holiday!