Meal Prep Mondays – Going Green
Published Mar 27, 2017•Updated Jan 05, 2021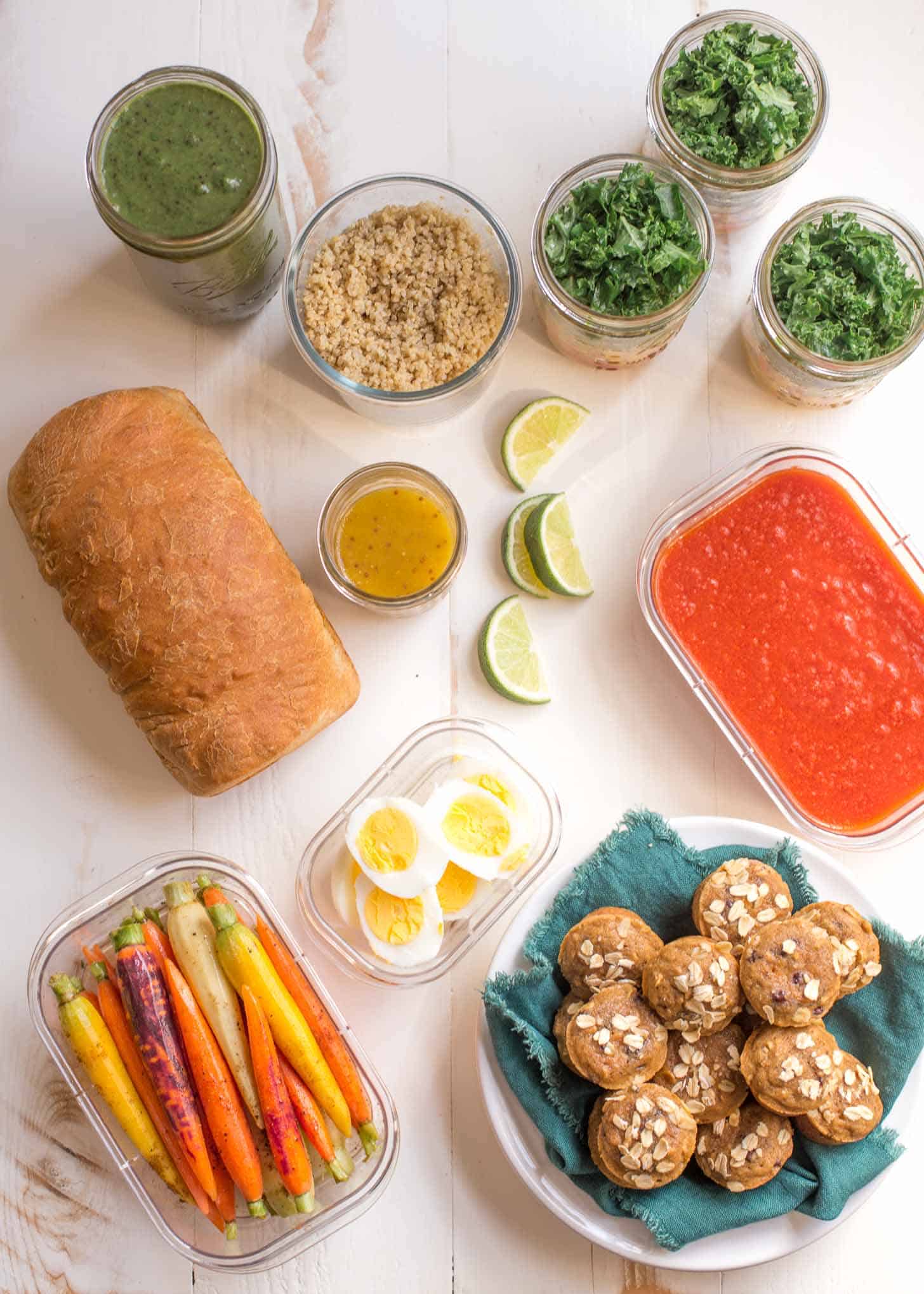 Meal prep this week is packed with greens and whole grains. With warmer weather, sundresses and swimsuits are on the horizon, and so are many green smoothies!
I heard from so many of you after my last meal plan / meal prep post that I thought I'd check in again with a few more ideas for ready-to-eat meals and snacks.
Starting the week off with fast options for breakfast, lunch and dinner means we are SO much less likely to order out, grab unhealthy snacks, or skip meals altogether (<-I am terrible about this on days when I'm photographing meals for the blog or Cook Smarts).
Meal Prep Mondays mean I look in my fridge Monday morning and this is what I see!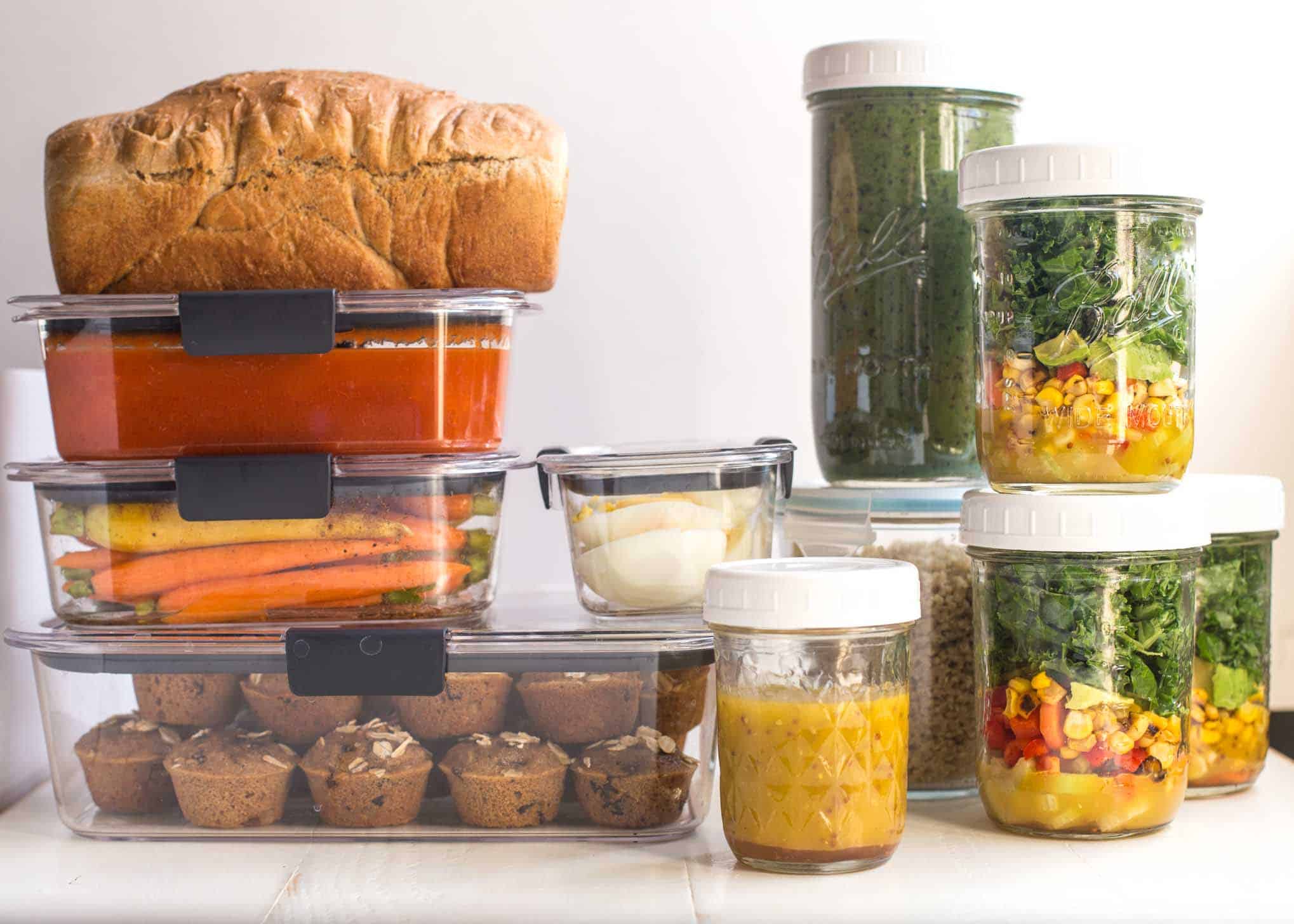 We definitely don't prep meals every week, but if we have a quiet Sunday afternoon, I try to spend an hour or two getting a few things ready. I turn on Netflix or a podcast and buzz around the kitchen. Those couple hours of work pay off all week long.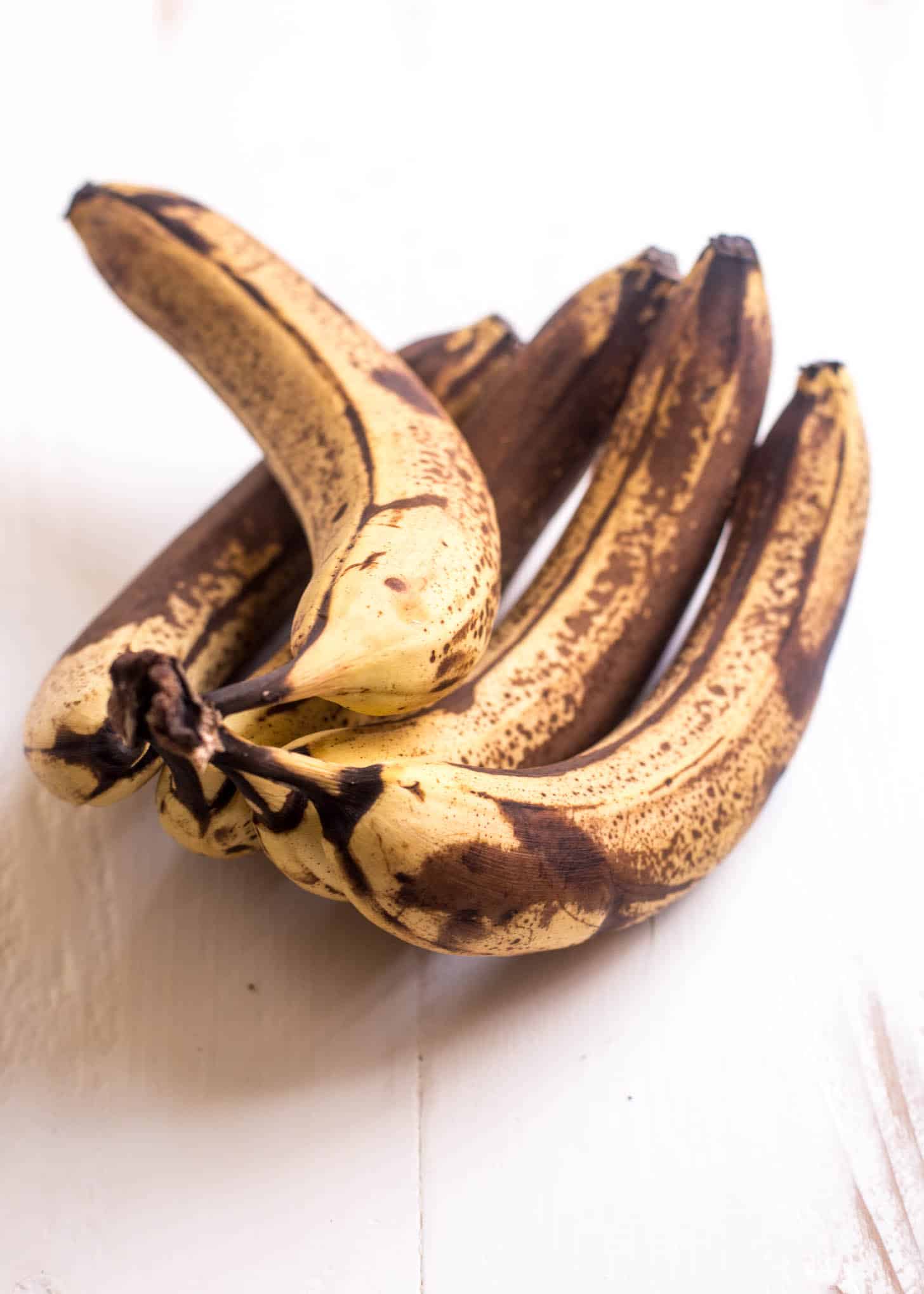 Meal Prep Success
Keep it simple. (Especially if short on time.) Chop some veggies, bake a few muffins (a boxed mix is a great short cut!), make a vinaigrette.
Prep familiar things. Make / prep items that you know will get eaten. Bonus if you can make them without a recipe.
Make things that last. Focus on items that will stay fresh in the fridge for 3-4 days. Even better if they can be frozen after that.
Tomato soup is a favorite and meets all these criteria. I make it without a recipe, but this is one of my favorites.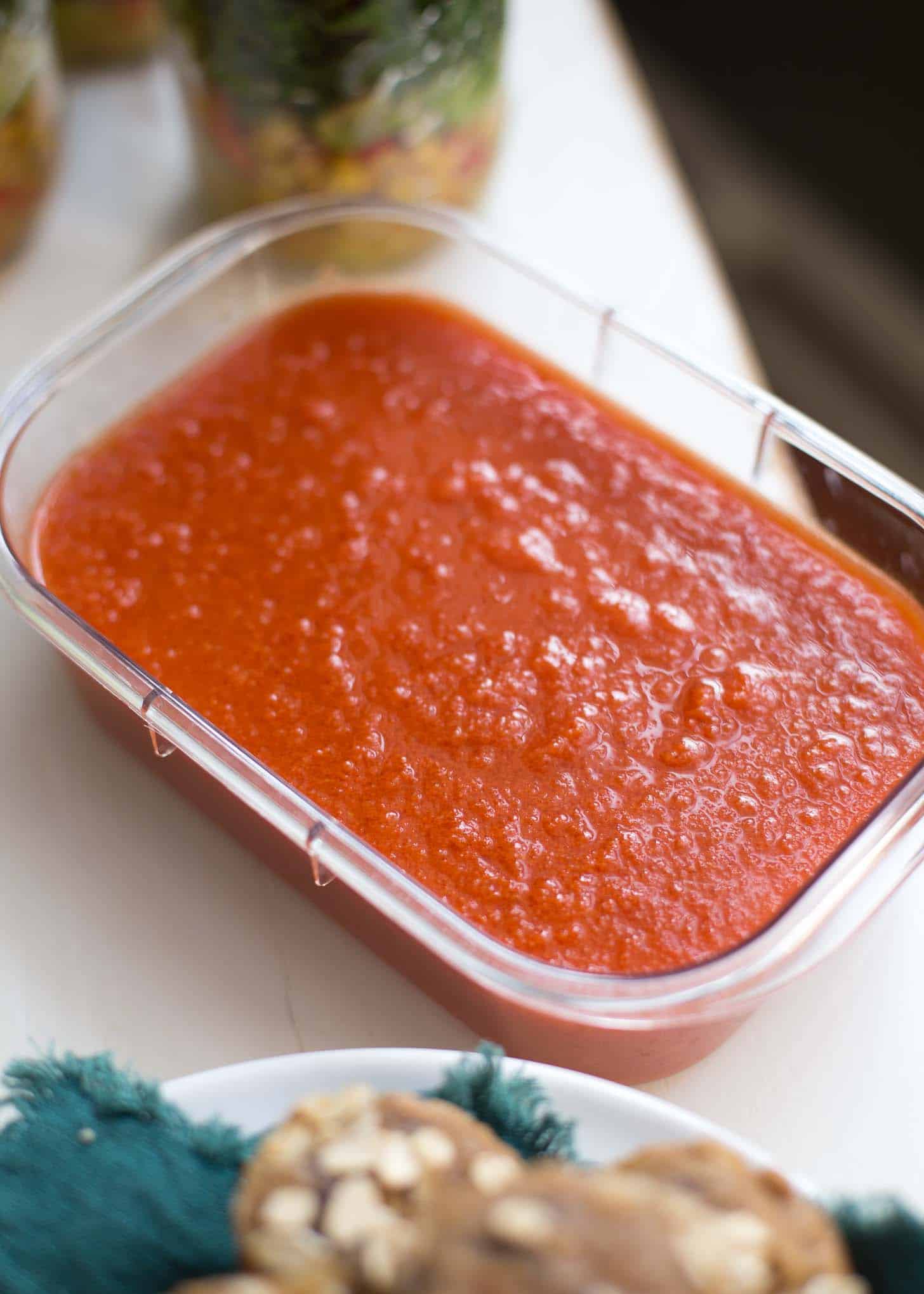 Eat the Rainbow
Have you heard that you should "eat the rainbow" to make sure your meals have a variety of nutritious things? More than anything I do for myself and my kids, this has proven to be the most useful. When I make lunches for the girls or think about our family dinners, I go for color.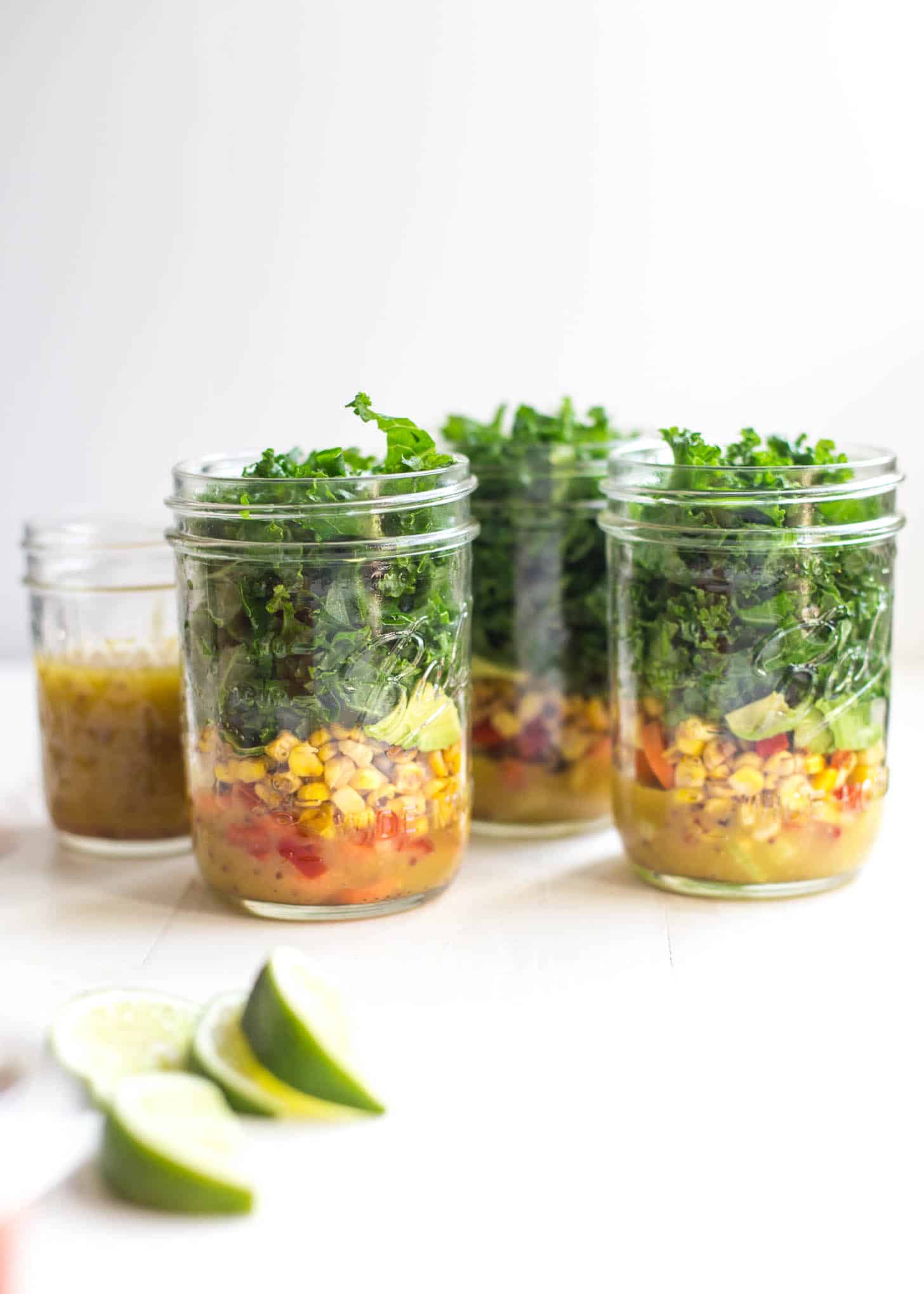 This is a particularly easy thing to remember as a food blogger. I'm always thinking about how to add a rainbow of color to foods that I photograph for this site!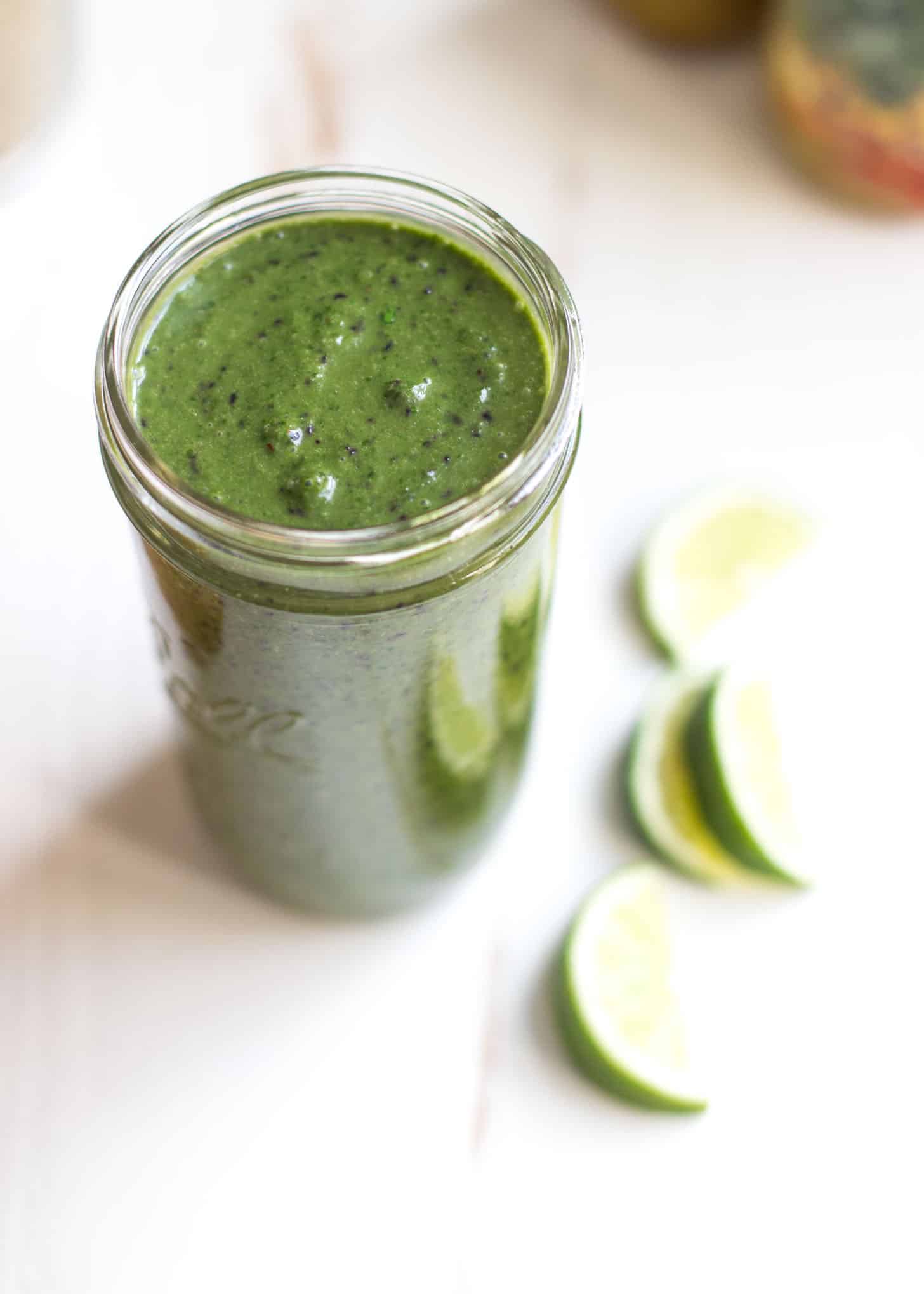 To that end, I packed this week's meals full of brightly colored vegetables.
Green Smoothie. These are blueberries + spinach + fresh ginger + orange juice + lime juice. A squeeze of lime juice is key. It keeps the greens looking bright and the flavors tasting fresh well into the week. Just shake it up before serving.
Mason Jar Salads. Layered with vinaigrette + frozen corn + carrots + bell peppers + avocado + feta + kale. (Most people don't put avocado in their make-ahead salads, but I never mind if they turn a tiny bit brown before I eat them.)
Carrots. I've been buying these rainbow colored carrots from Trader Joe's. They roast evenly and look so nice on the plate. To get a head start on Monday night's dinner (salmon + quinoa + roasted carrots), I already tossed these in olive oil, salt and garam masala spice mix. On Monday, I'll just pour them onto a baking sheet and slide them in the oven.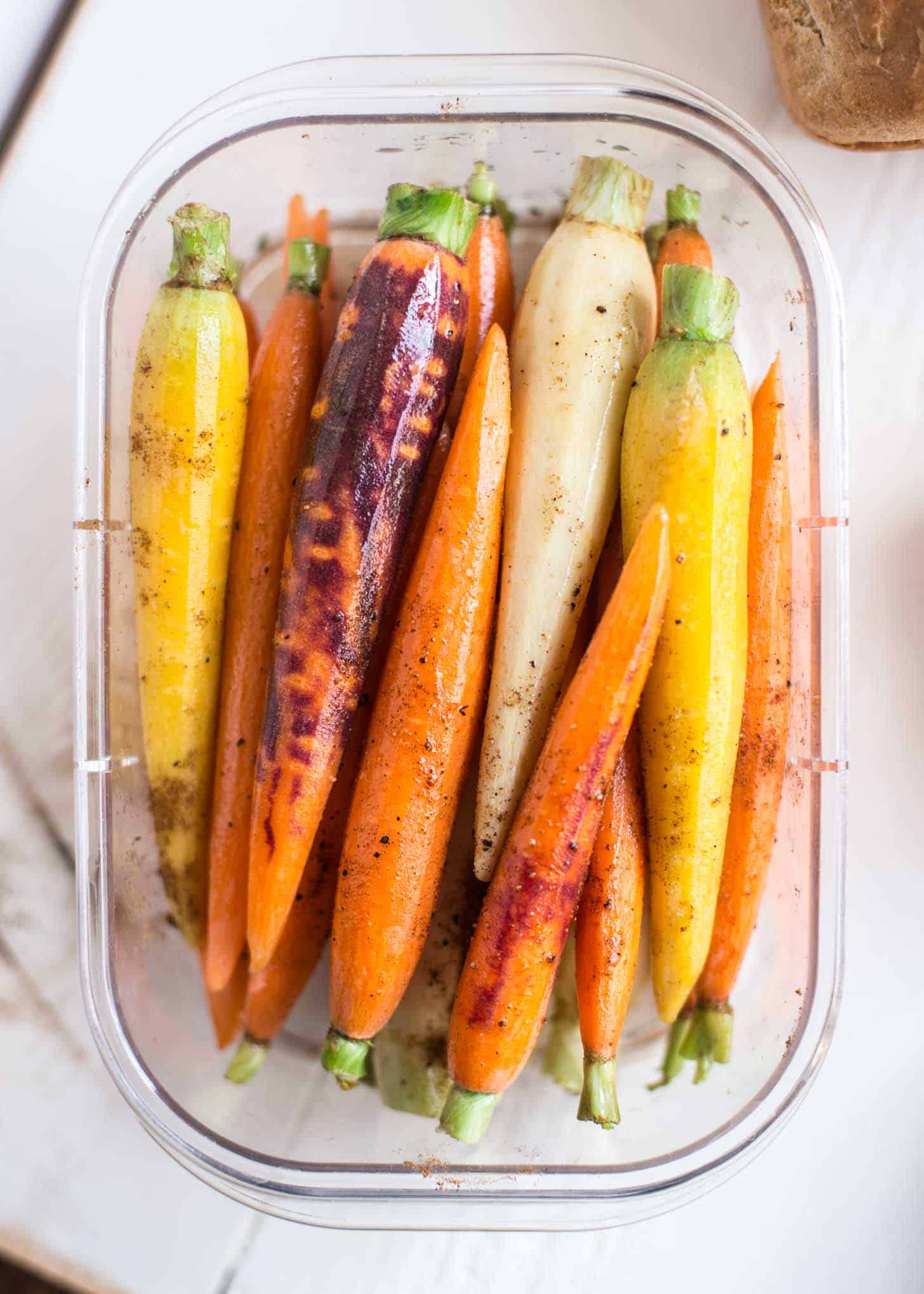 Whole Grain Goodness
This week I spent a little extra time making Whole Wheat Sandwich Bread (I'm loving this recipe that ages in the fridge for a day or two before baking) and Maple Sweetened Banana Muffins (love these – they store well for 2 to 3 days at room temp and freeze great). I added chocolate chips to the recipe this week which made me Mom of the Year in Molly and Clara's eyes.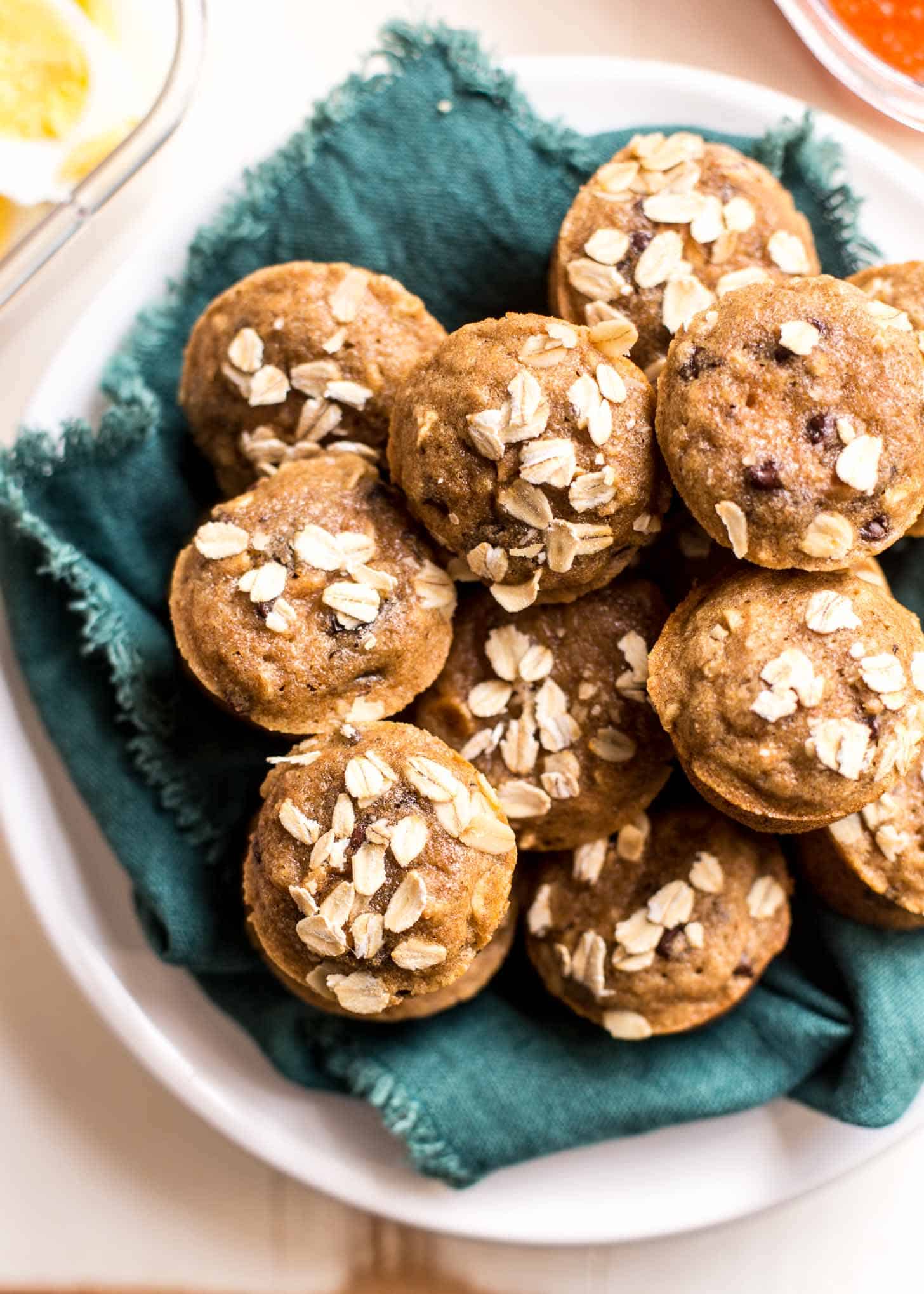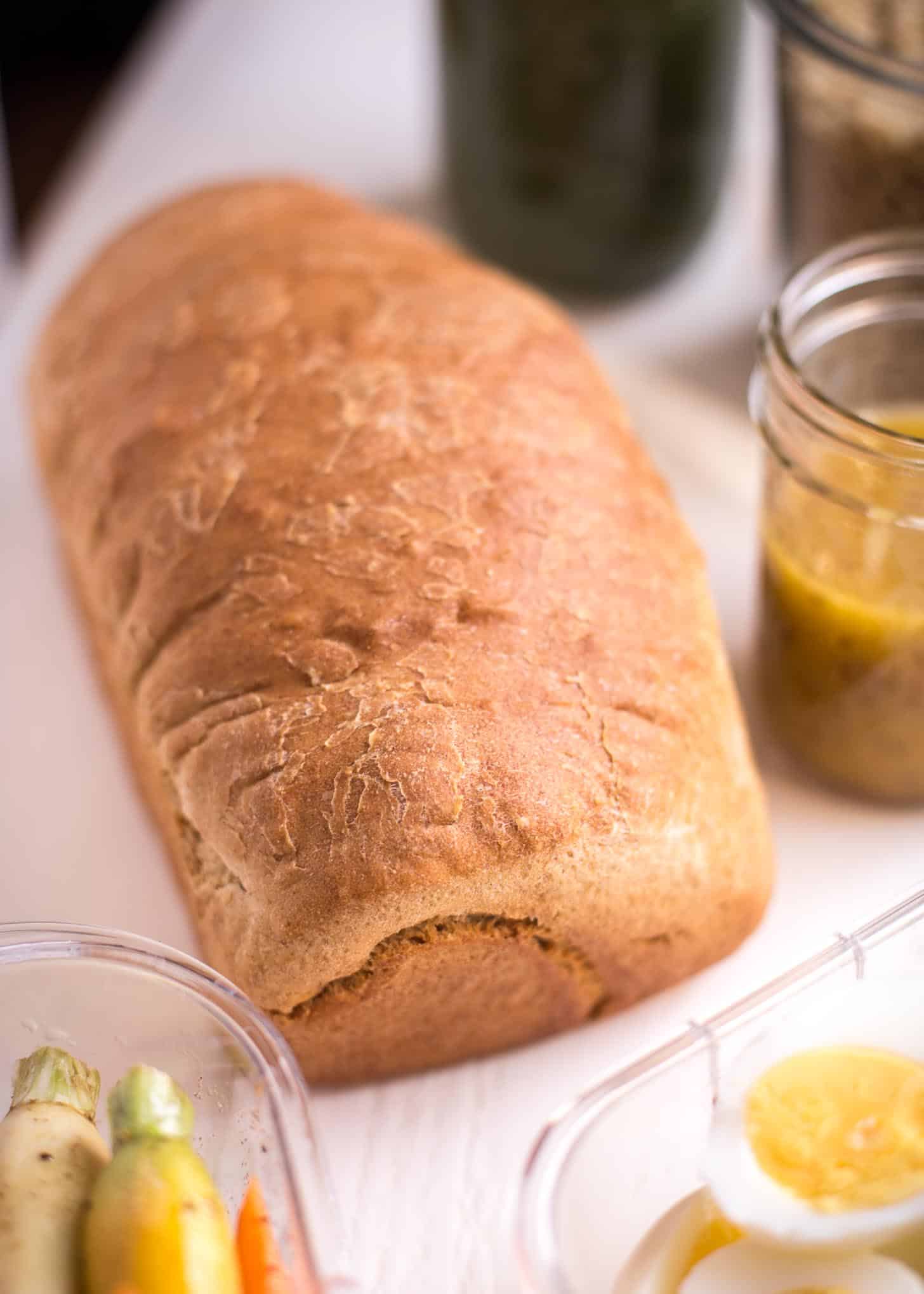 Easy, Fast Proteins
The best way to ward off that hangry feeling is with a quick, healthy protein. Hard boiled eggs are my fave to grab between meals or add to salads.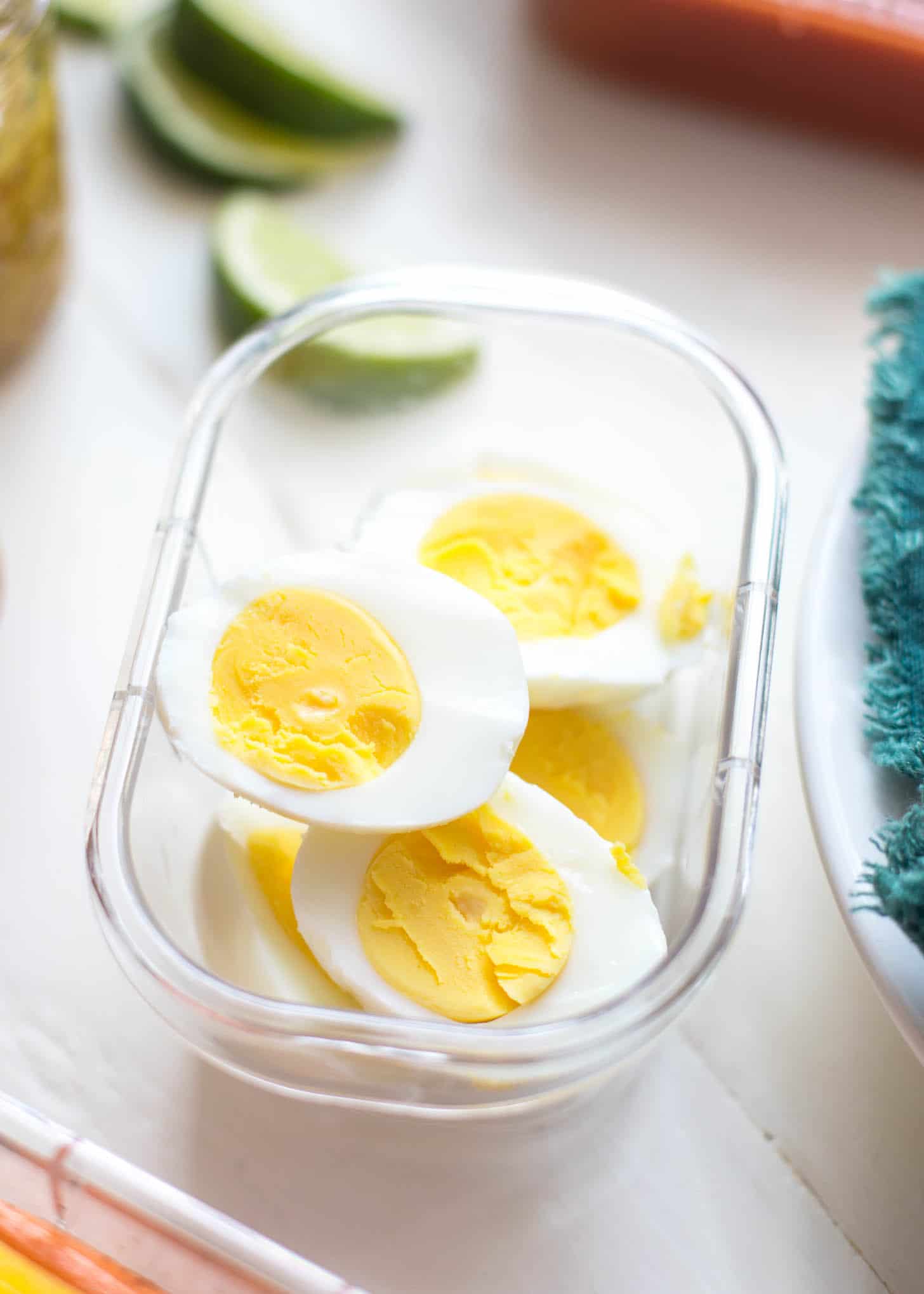 This week I made quinoa as well, because making a fresh batch always feels like an added complication to a busy weeknight. We use quinoa as a side dish at dinner or I'll turn it into lunch fried "rice" with veggies and tofu, cashews or chicken.
And those eggs up top are only scratching the surface of what we've had in our fridge the past few weeks. I've made so many hard boiled eggs lately thanks to a fun side project I just completed for Hallmark that I'm so excited to share with you!
Check it out here! A hint about what you'll find = deviled eggs and fried chicken!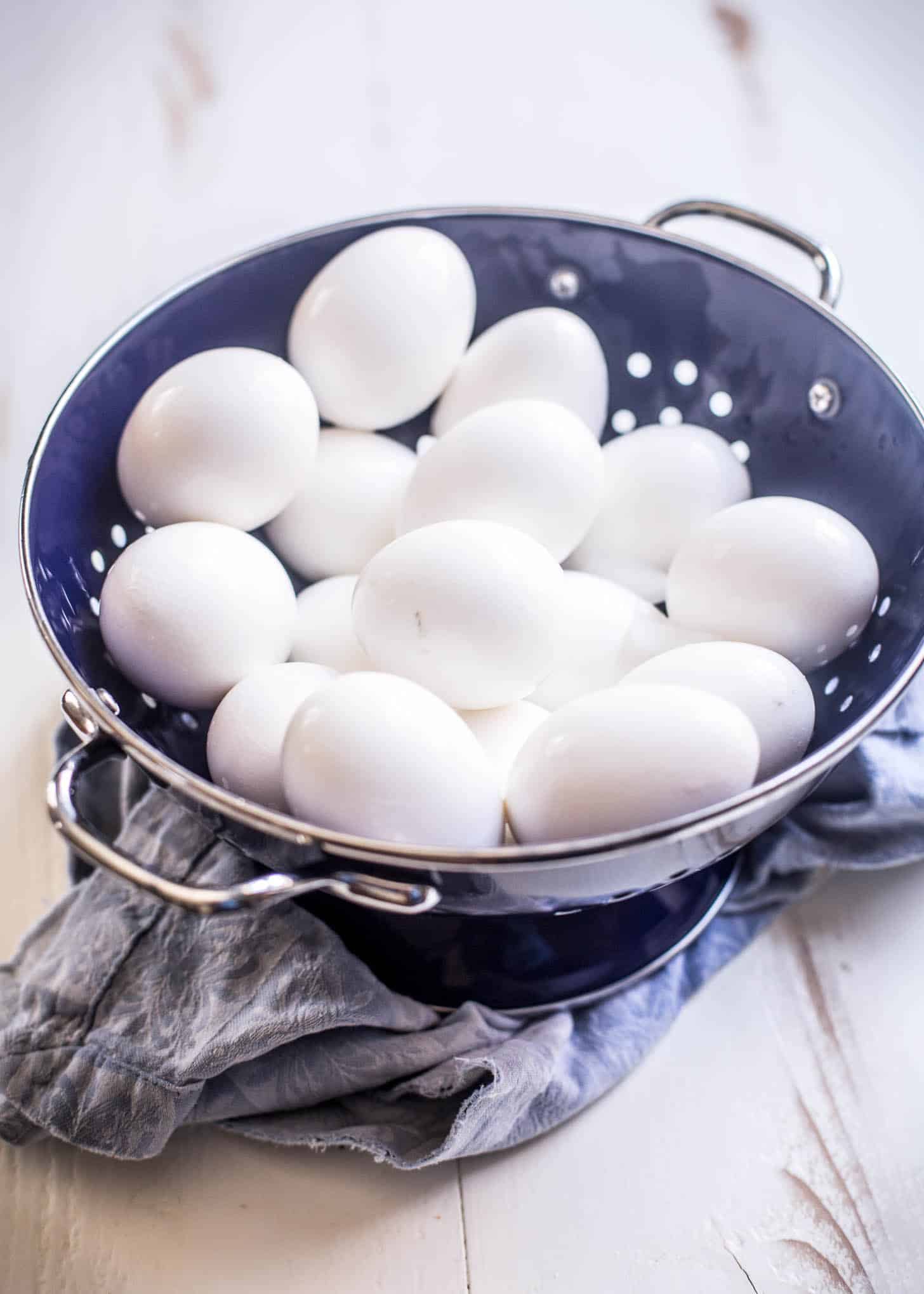 What is your favorite thing to prep ahead? Any smoothie combinations we should add to the rotation??
More Meal Prep Ideas
Favorite Tools
*This post contains affiliate links*