How to Prep a Week of Dinners
Published Mar 19, 2019•Updated Mar 24, 2023
Once meal planning is in the bag, the next step to making dinnertime a breeze is to meal prep. We're in the midst of Spring Cleaning week here on the blog and adding meal prep to your routine is definitely a next-level kitchen accomplishment! And don't forget to check out my guide to Kitchen Organization, as an organized kitchen will just make meal planning and prep that much easier.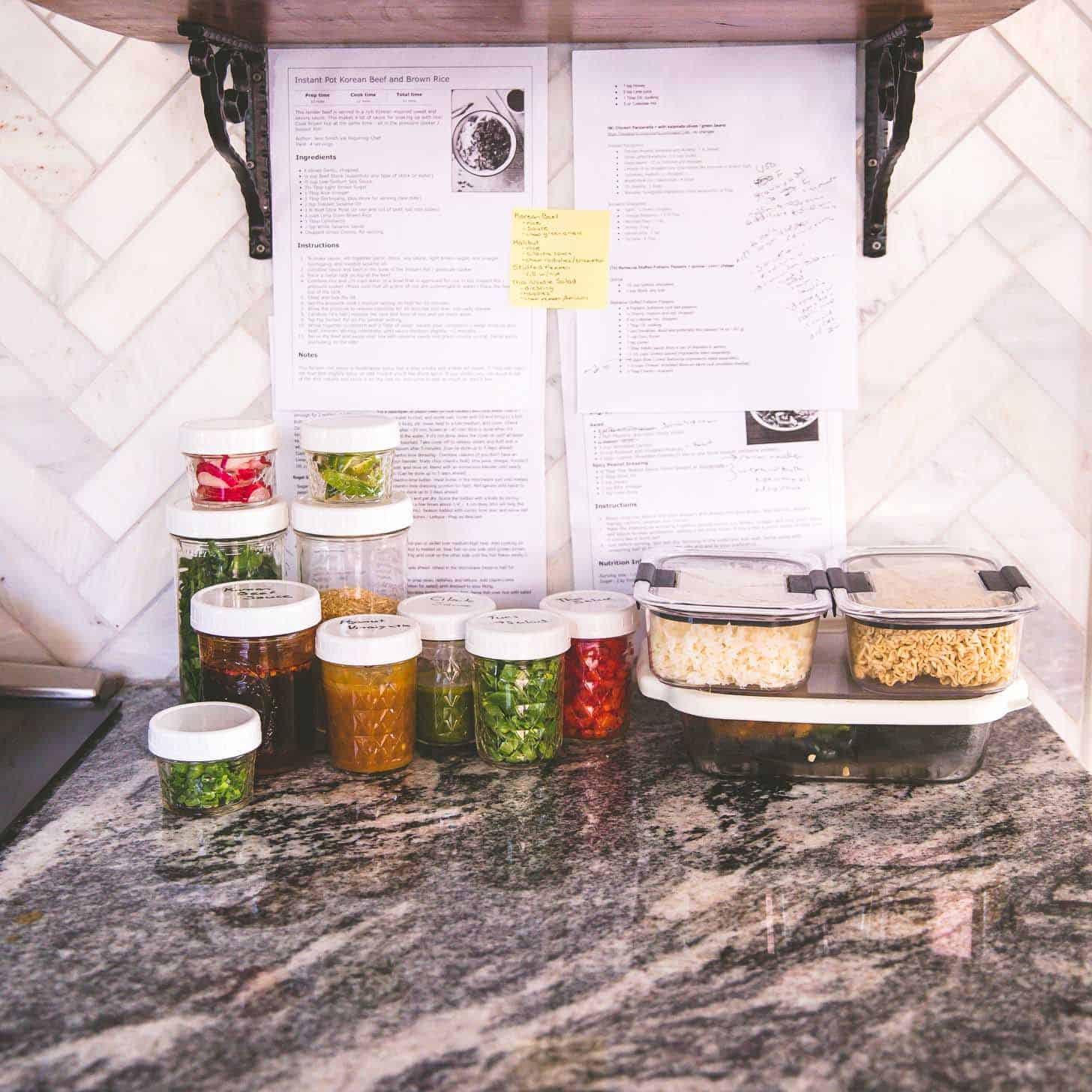 When you prep your meals ahead, it increases the fun of making dinner by 100%. Having everything prepped and ready to go before you cook makes you feel like a star of your own cooking show. I love that it means I can throw dinner together with a baby on my hip. Frank's favorite thing is to cook a pre-prepped meal. He says it transforms cooking dinner from chore to fun. I totally agree.
Benefits of Meal Prep
Saves Time – Instead of multi-tasking, prep means you focus just on measuring, chopping, marinating, and making sauces. At dinnertime, just enjoying cooking!
Reduces Dishes – You'll use all of your basic kitchen tools (knife, cutting board, measuring spoons) at the same time and wash them once instead of pulling them out every night and washing them again.
Saves Money – With a meal prepped ahead and in the fridge, it's much less tempting to turn to take-out or order pizza.
Makes Cooking Fun – Even with kids underfoot, I can toss together a pre-prepped meal in a few minutes and enjoy it! No need to keep checking a recipe and running back and forth to grab and measure ingredients.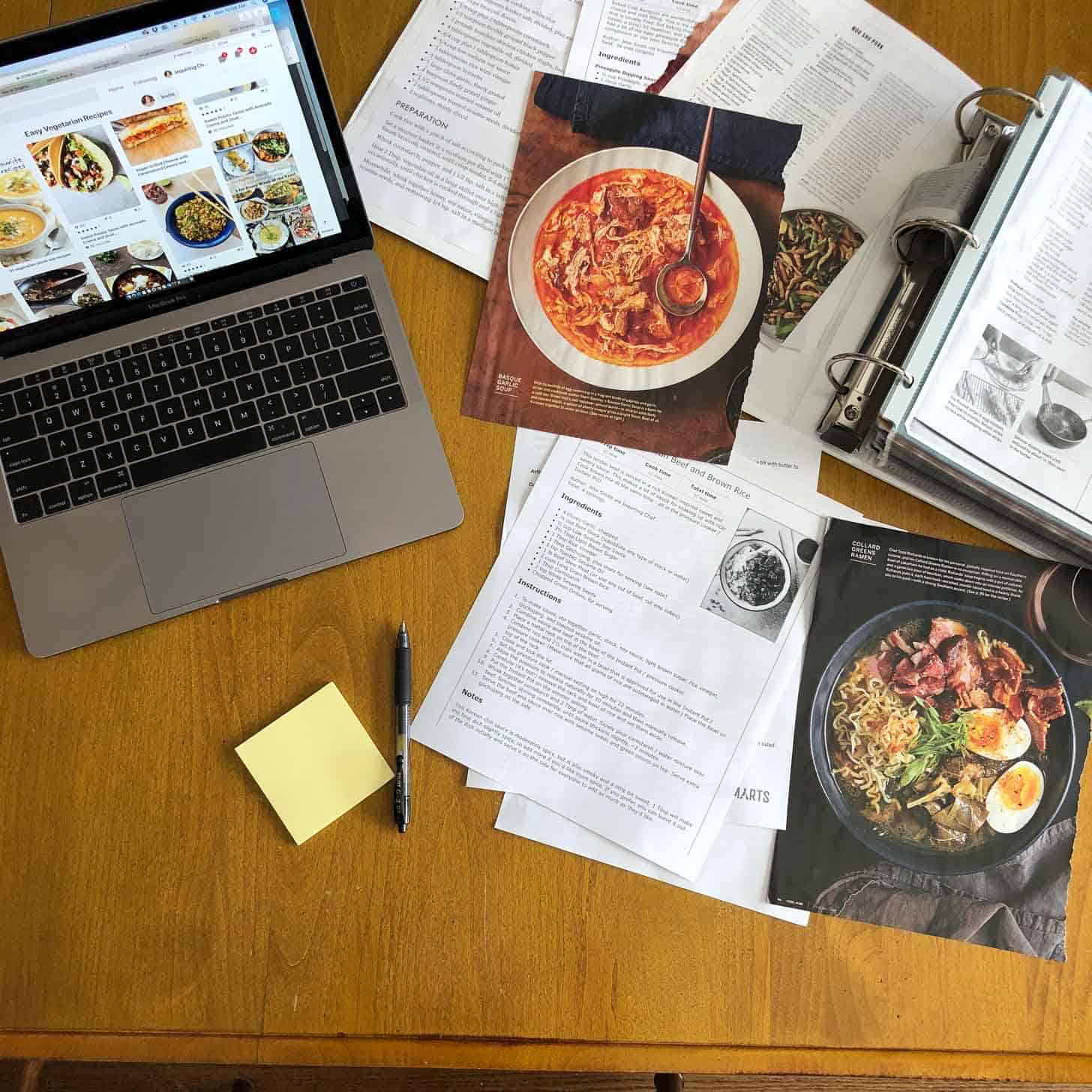 Step 1: Make a Prep List
With a meal plan in hand, it should take 5 minutes or less to write out a prep list. Look at the meals for the week and write out anything that can be done ahead and stored in the fridge. Many things can be made a day, two, or three ahead. Here are some easy things to put on the list
Cook Rice, Quinoa, or other grains
Make Sauce
Make Vinaigrette (make one batch to use on any salads or vegetables throughout the week)
Combine Ingredients for Slow Cooker / Instant Pot
Cook noodles / pasta
Chop Vegetables
Chop or Slice Meat
Marinate Meat
Measure Spices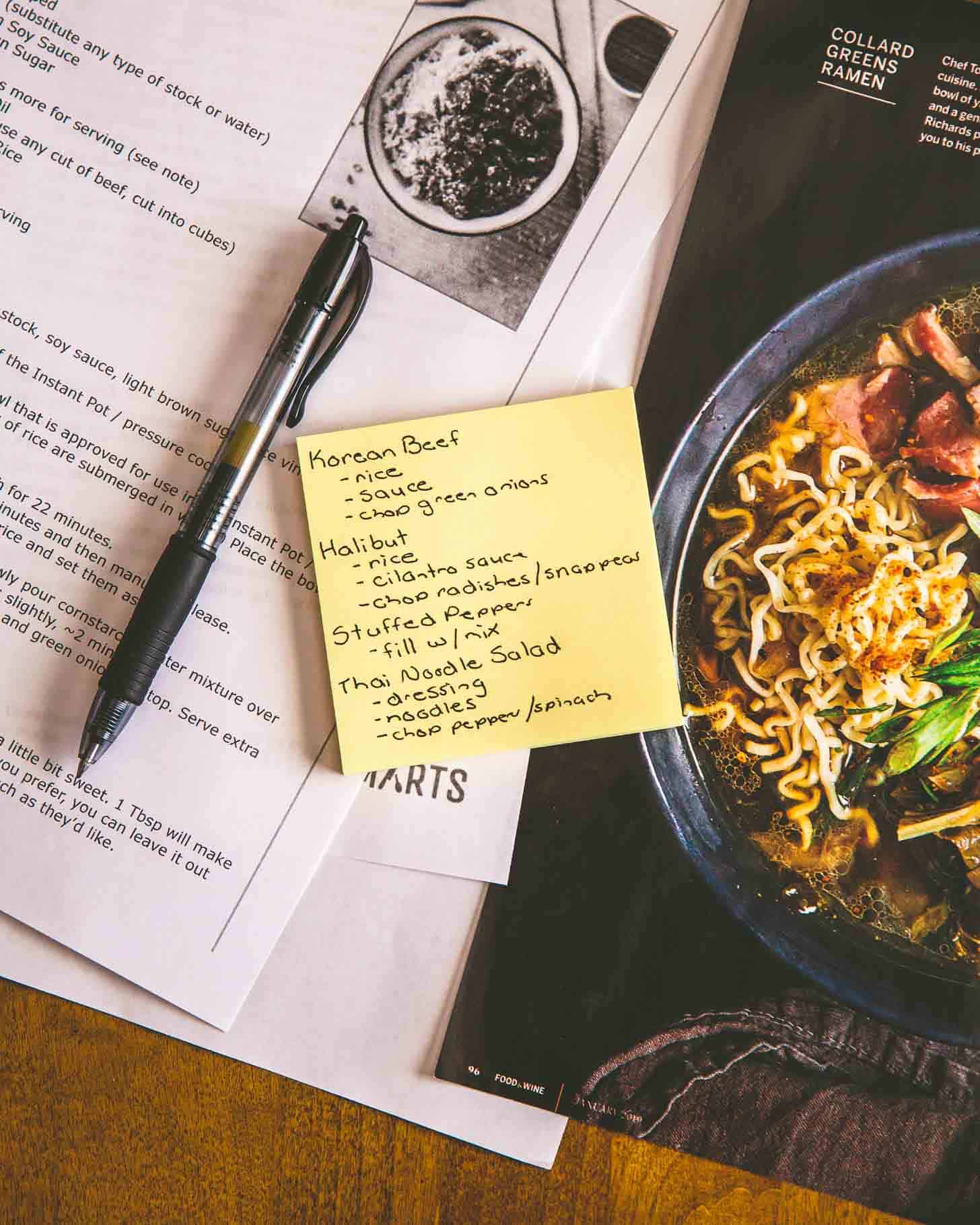 Step 2: Set up a Prep Station
As we discussed earlier this week, my kitchen is small, so I do all of my prep at one small counter. I lay out all of the recipes I'll be cooking (actually, my counter is so small that I tape them to the wall above the station). I pull out a few Mason jars of different sizes to put all of my ingredients in. A cutting board, knife, and measuring spoons all get set out in front. And finally, because I compost, I add a large bowl off to the side for tossing all of the food scraps. (You can also collect these and turn them into vegetable stock!)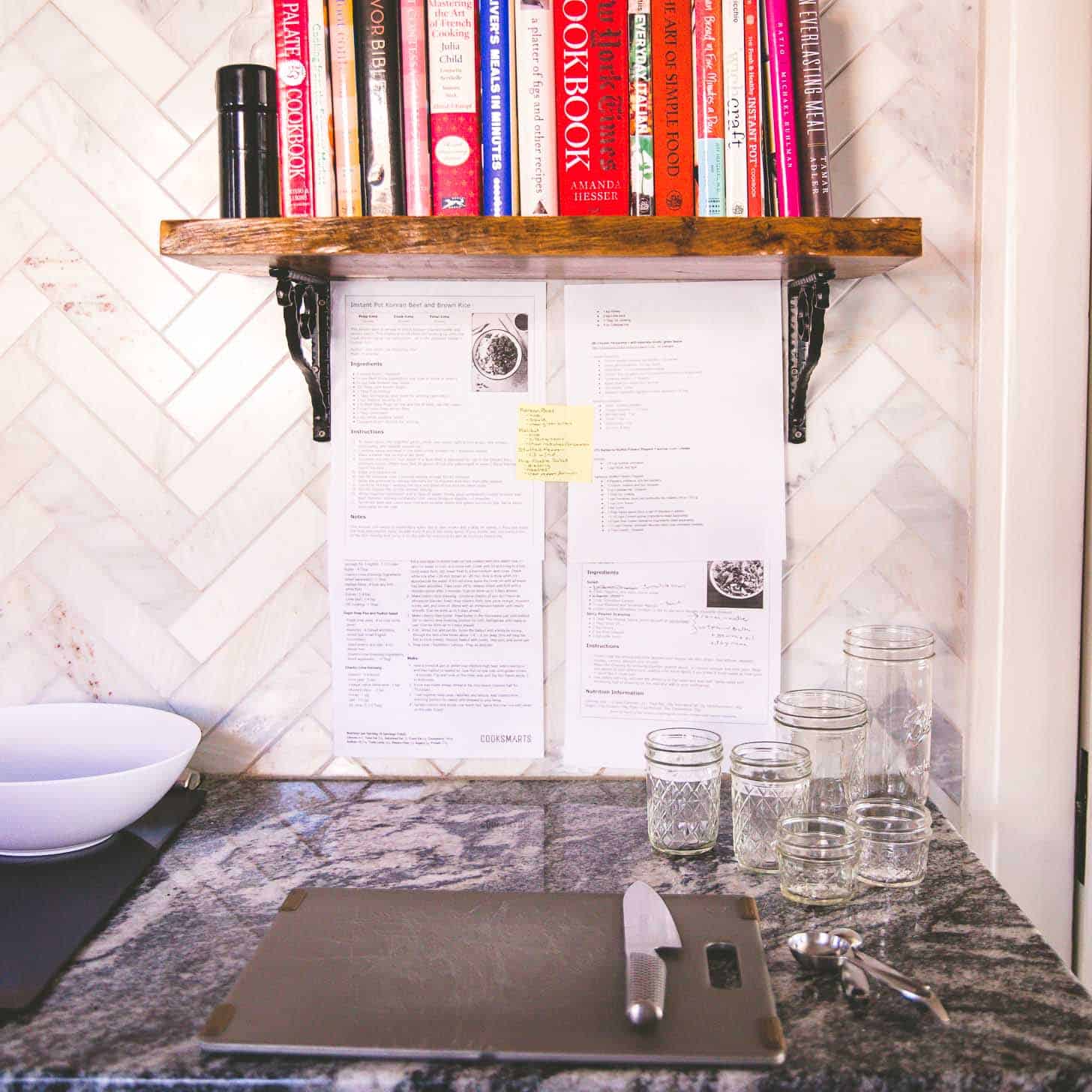 Step 3: Prep and Label
Do all of your prep and store in containers.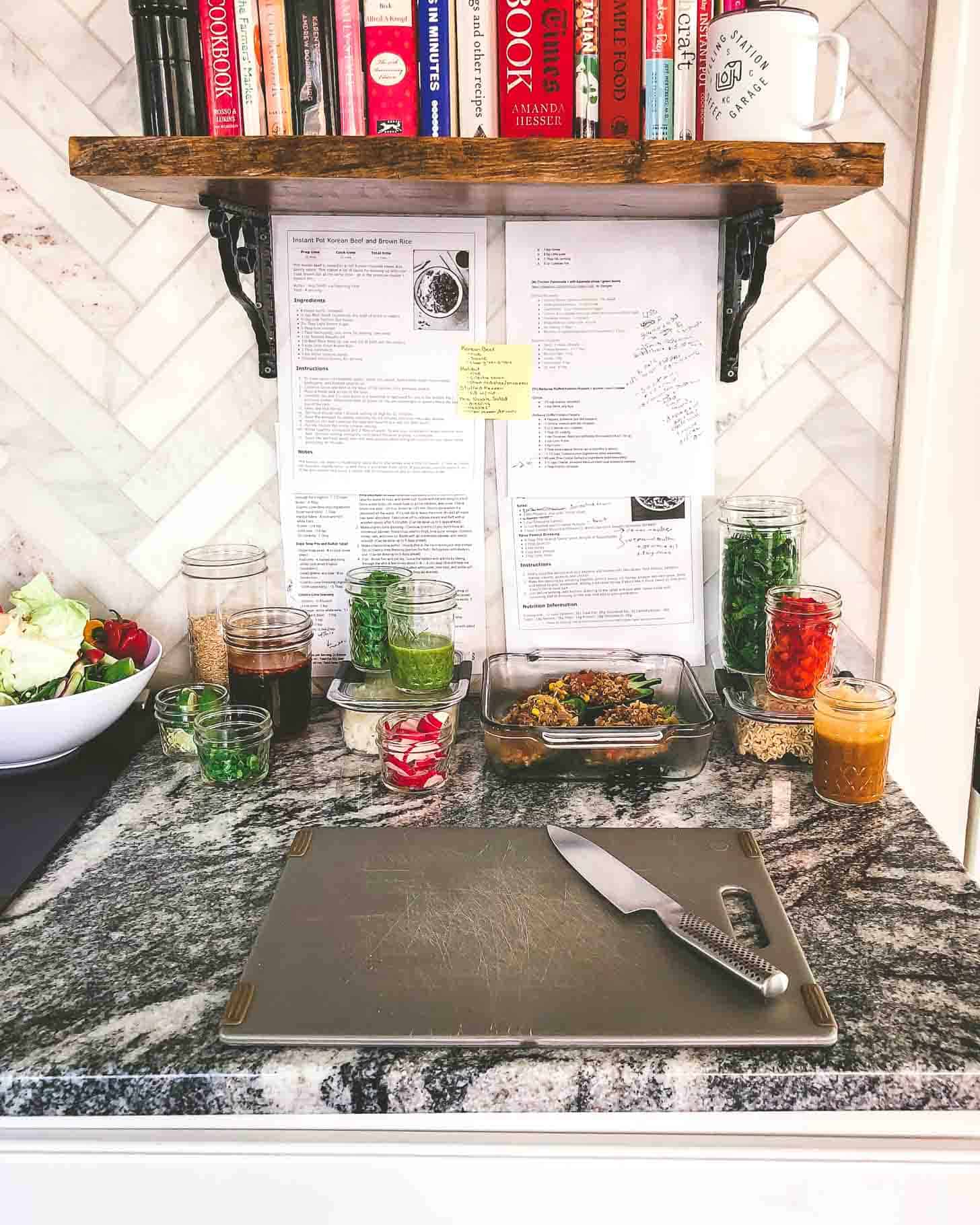 If you're prepping for several meals, it's a great idea to label what is in each container – just write something short like the name of the recipe or the night you plan to cook it.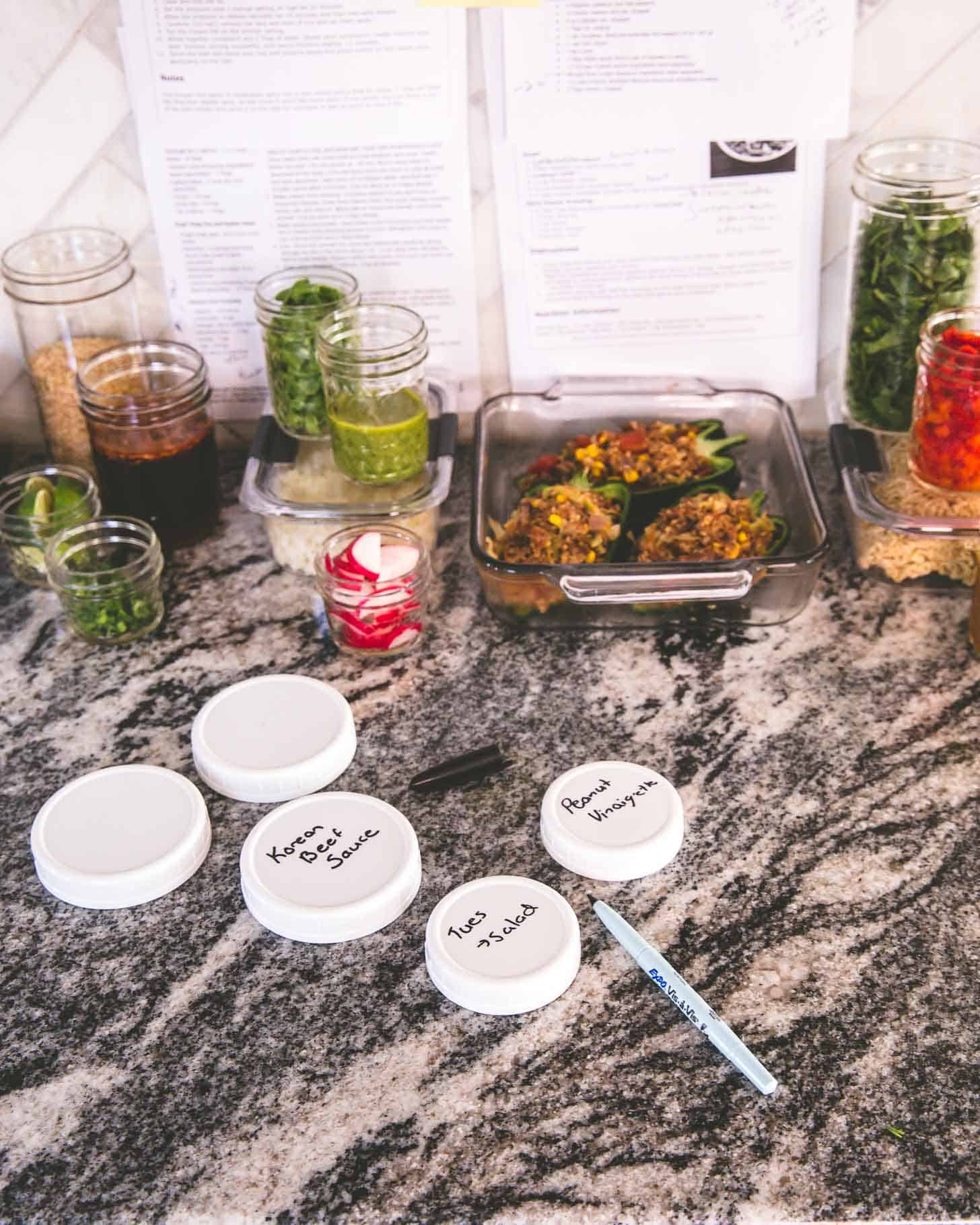 Make sure to chop any extra items so they're ready for the week – slice vegetables to use for snacks or salads, or chop extra meat and freeze it for later.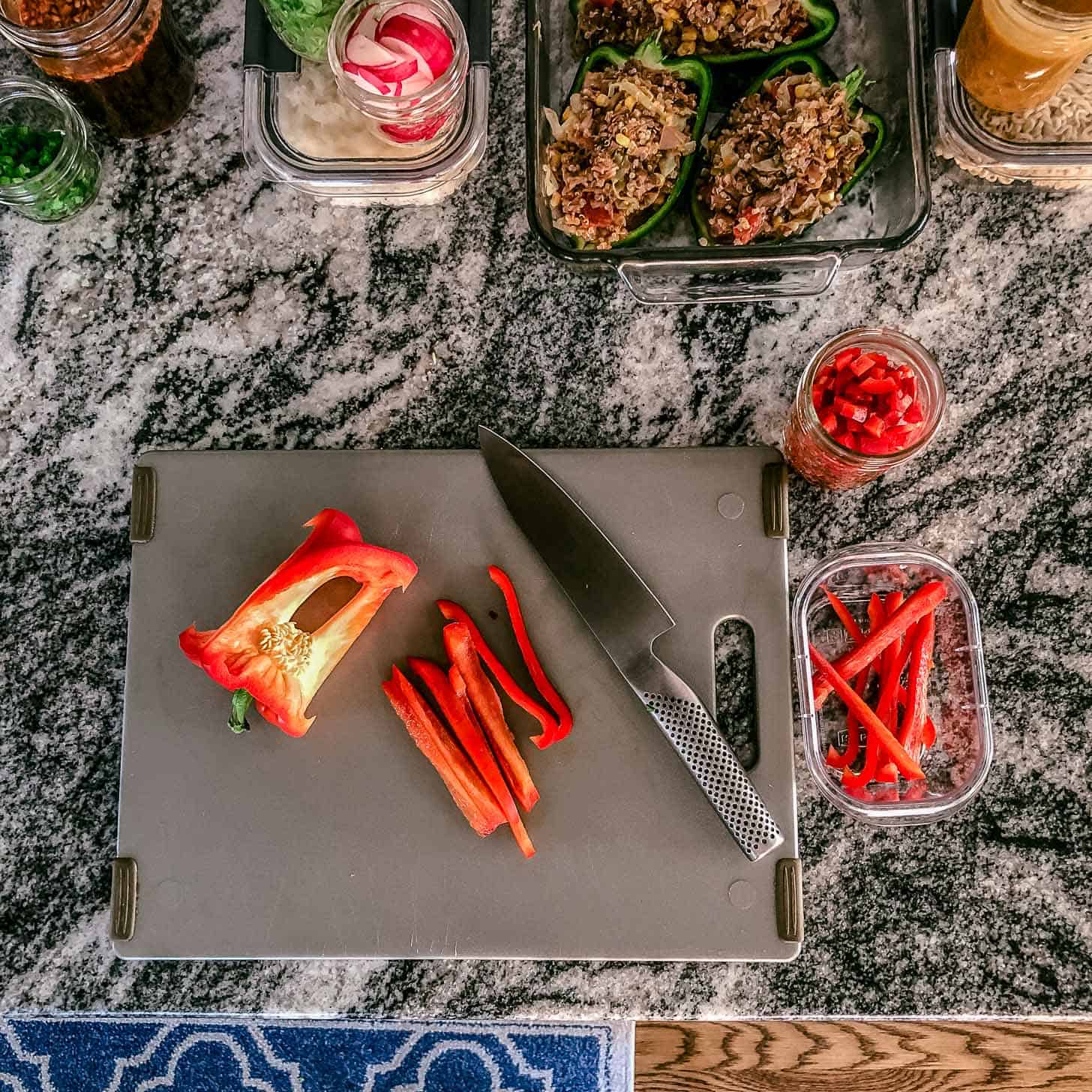 Step 4: Cook!
With the prep all ready to go, just pull out the recipe and prepped ingredients when it's time to cook!
How Far Ahead Should I Prep Meals?
My favorite thing about meal prep is that it is super flexible. If I'm feeling really organized or headed into a busy week, I like to prep on Sundays to feel like I've got dinners in the bag. When that doesn't happen (let's be real…it often doesn't), I like to prep at night for the next day or when the kids are napping for the dinner that night. Even if it's only an hour or two before dinner, it's worth it to measure out and chop a few things.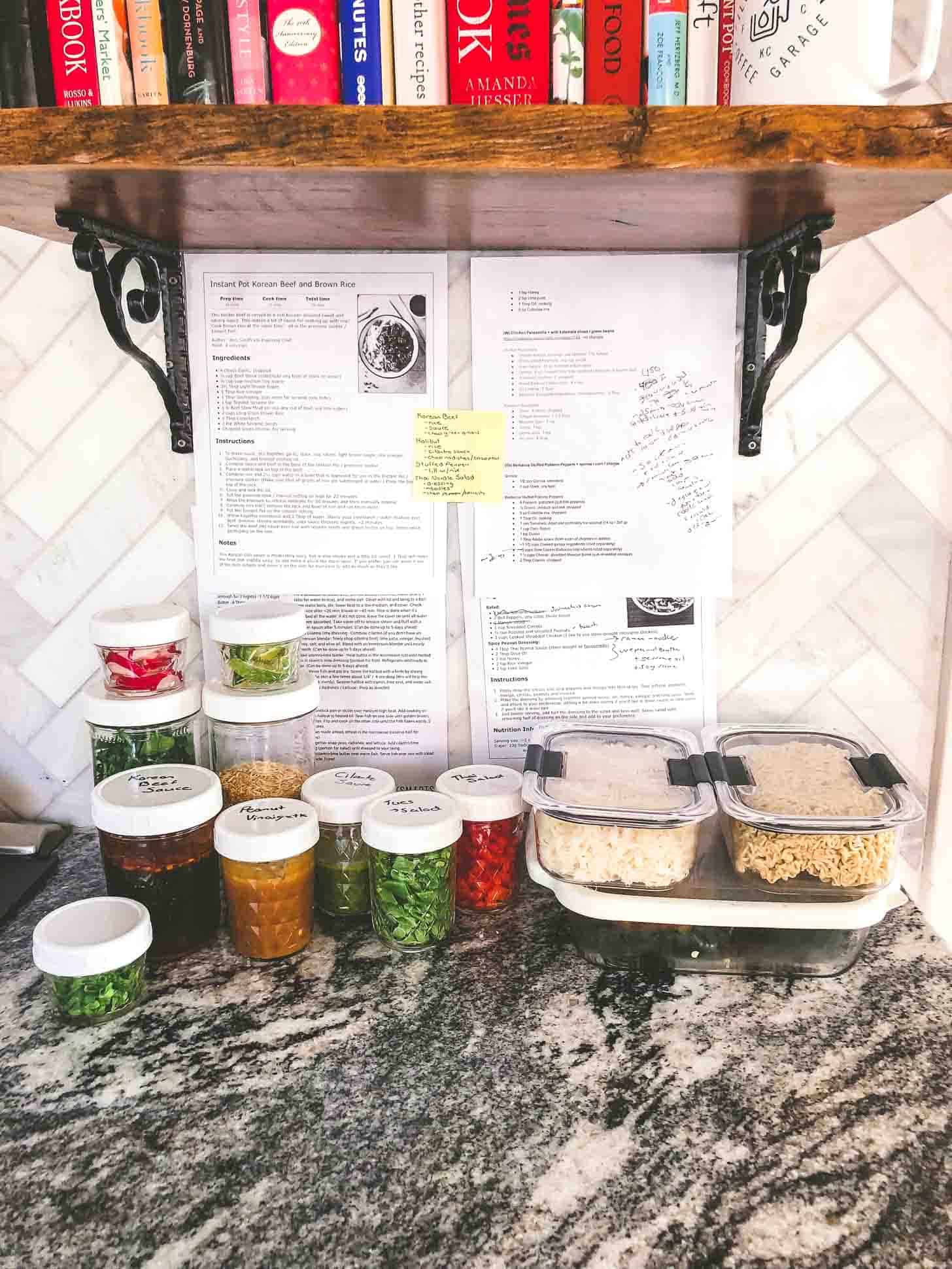 There are a few ingredients that don't hold up in the fridge for 3-4 days, but most things hold up just fine for this amount of time. Over at Cook Smarts (full disclosure – I work for Cook Smarts, but think it's the absolute best resource when it comes to meal planning and prep) we have helpful resources that can help you to plan for eating seasonal produce and figuring out how long its shelf life is.
Please share here in the comments or join the conversation on Instagram! What is your go-to meal that can be prepped in a matter of minutes?
*This post contains affiliate links*