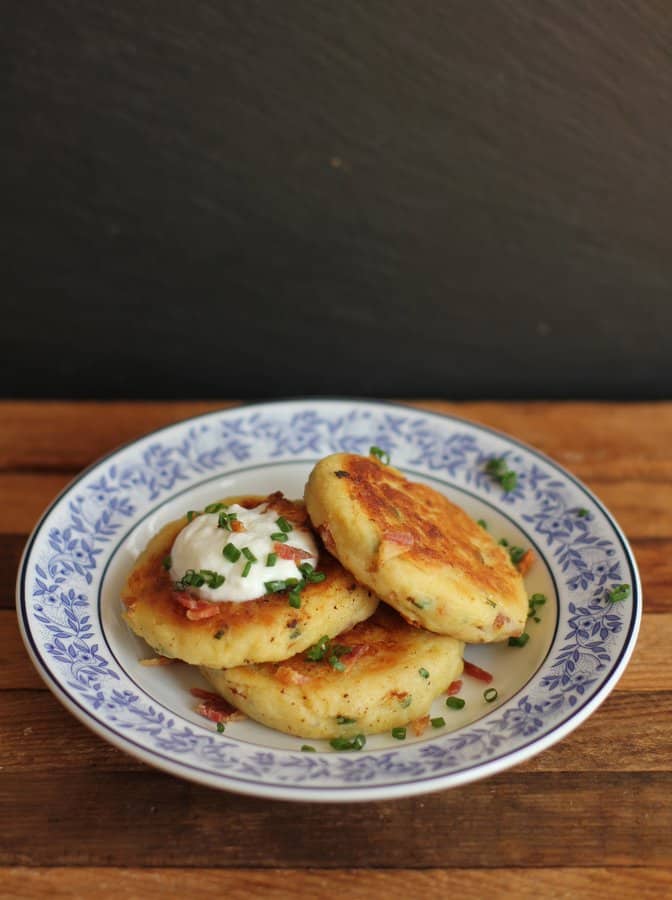 These loaded potato pancakes are good.  Really good.
But first, a word on Bangkok.  I never know how much of this news filters through around the world, but Bangkok has been in quite a strange state lately.  Without going into the details, we're now in day 12 of anti-government protests that have blocked traffic at seven big intersections in the center of the city and have disrupted all sorts of other activities around town.  The protests have been peaceful, and I pray that they stay that way.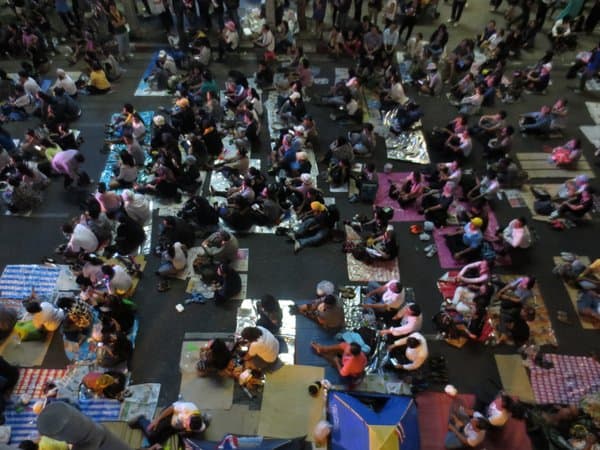 Thanks to public transportation, it's been mostly business as usual for me and all is well (unless you count this whole 24 weeks pregnant and living within audible distance of one late-night protest site thing…but that's what we get for living downtown).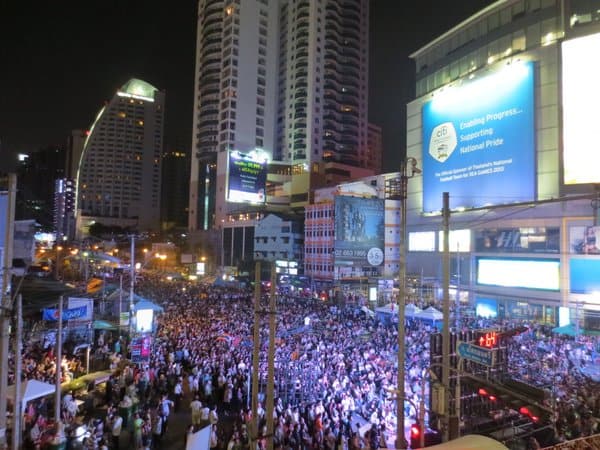 Now about the pancakes…
Potato pancakes are a Frank favorite.  And his mom makes the best, super crispy, soft on the inside version after most holidays that neither Frank or I can ever accurately recreate ourselves.  So rather than trying to recreate with the perfection of the original, I tried a new take that was inspired by the now out-of-print Paradise Cafe Cookbook (with recipes from the now-closed Paradise Cafe in Lawrence, Kansas).  It's worth nothing, that the cookbook was also the original source for this little blog's most popular recipe of 2013 – Light and Fluffy Whole Wheat Pancakes.
Baked potatoes were one of the only food I wanted in the first weeks of my pregnancy, and, after a long break, I was so happy to be mashing some up for this recipe.  The name says it all – these pancakes have all the classic fixins' of bacon, cheese, butter, and scallions (or chives) folded right inside.  Topped with a dollop of sour cream, they're easy and fun – a tasty twist on a classic.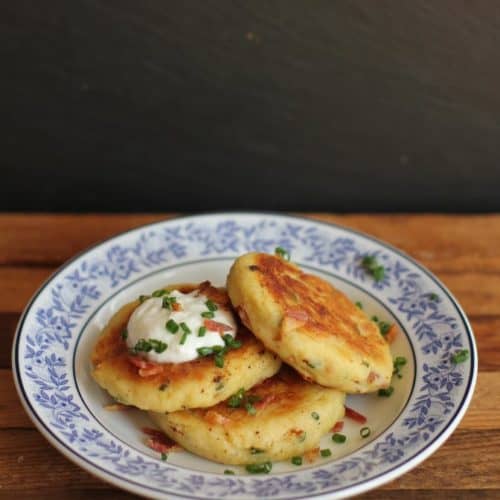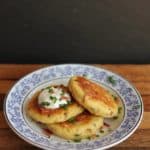 Print Recipe
Loaded Potato Pancakes
We love using leftover mashed potatoes to make potato pancakes.
Ingredients
2

pounds

russet potatoes, boiled until very soft

2

Tablespoons

salted butter, softened

salt and pepper, to taste

1

egg yolk

1/4

cup

green onions, thinly sliced

6

strips cooked crispy bacon, roughly chopped

3

ounces

sharp cheddar cheese, grated

2-3

Tablespoons

vegetable oil

For topping:

sour cream

extra green onions and bacon
Instructions
Mash the potatoes (skin on or off - your choice) with the butter, salt and pepper. Allow to cool before adding other ingredients. When cool, stir in egg yolk, green onions, bacon, and cheese. The mixture can be refrigerated for up to 3 days at this point.

Heat a skillet over medium heat. Add oil and heat until shimmering. Using about 1/4 cup of the potato mixture for each pancake, shape into a patty and fry, turning once until golden brown on both sides. (Note: if the pancakes won't stay together while cooking, stir all purpose flour into the mixture 2 teaspoons at a time until it becomes firm.)

Serve immediately with sour cream, green onions, and bacon.