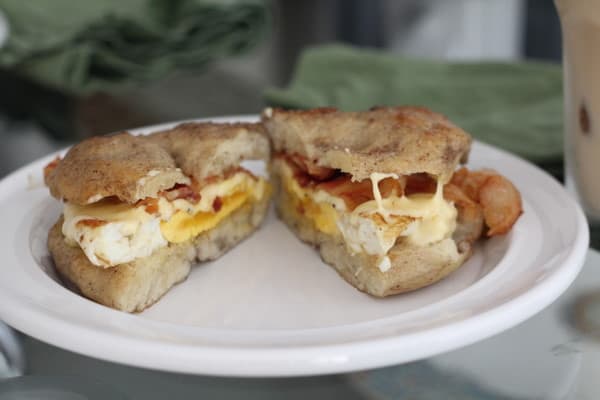 Monday mornings are for hitting snooze one too many times, rubbing your face to erase the fact that the weekend has somehow already disappeared, and reluctantly diving into a busy week. But I think, too, that Monday is the day that we should give ourselves a break and allow that lovely weekend feeling to linger, just a bit.
Because you probably had some sort of boring, on-the-run, barely-any-time-to-think-about-it breakfast this morning (as did I - yogurt and a banana over here), I'd like to instead bring you a weekend breakfast image.
Thanks to our frozen stash of these, on Sunday morning we lazed around the house with the smell of coffee and bacon filling the air, F reading outloud from his New York Times Ipad app, the washing machine buzzing up a storm in the background, and the brilliantly blue Bangkok morning pouring in through the windows. We feasted on toasted bagels topped with a fried egg, a slice of cheese, and crispy bacon.
Let's pretend it's still Sunday.