Ina Garten's Pecan Squares
Published Oct 29, 2013•Updated Apr 02, 2021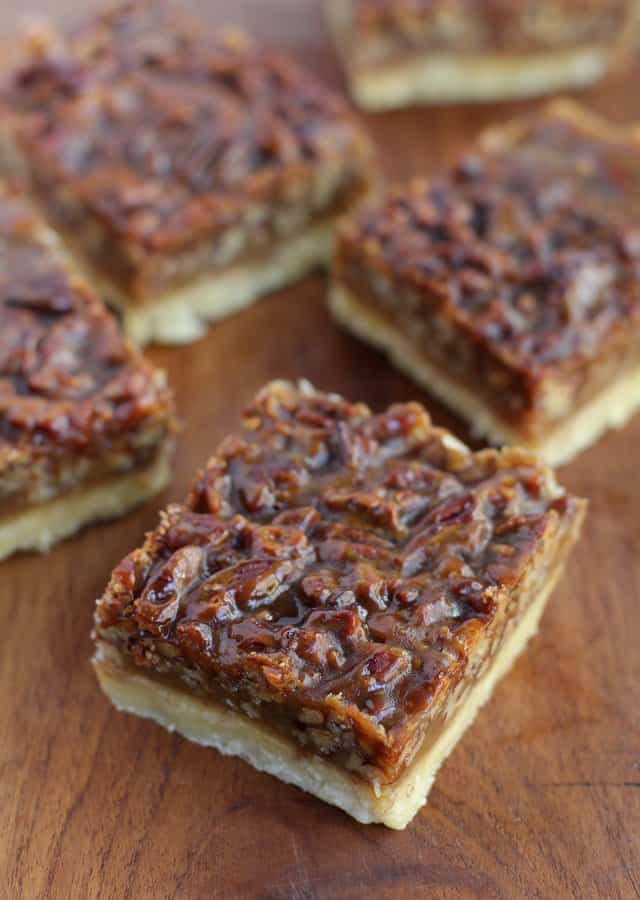 We don't get a lot of Halloween candy here in Bangkok. It's something I'm really okay with…especially if it gives me an excuse to make some other festive fall dessert.
For the first time ever, Frank and I had ourselves a faux Thanksgiving. It was really just an excuse to make some of our favorite turkey-day dishes without the pressure of the actual holiday. Minus the turkey (because roasting a full turkey scares me). I did a few pieces of lemon chicken a la the Silver Palate cookbook instead.
Frank made enough mashed potatoes for days.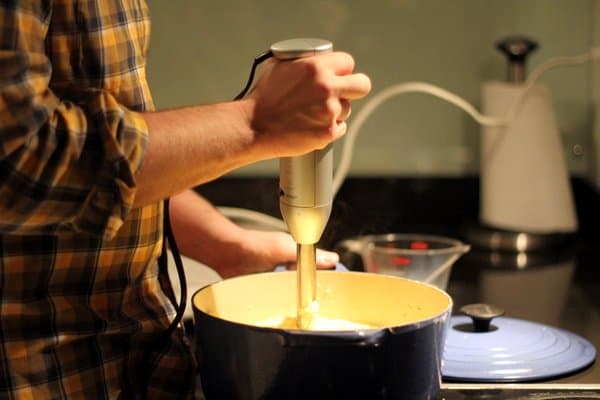 I made sweet potatoes, an impromptu stuffing, and my favorite squash and spinach gratin. The whole thing was so festive and fun that I'm thinking we may make it an annual tradition. It made for a fun date-night in and leftovers that we were happy to have all week.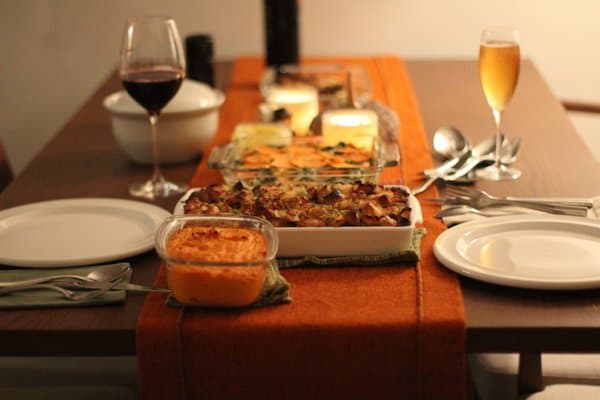 But about those Pecan Squares for dessert. Let me just tell you that they are every bit as good as one would expect from the queen of all things butter and baked goods. The crust is soft and buttery and the topping has the right amount of give while still being chewy and rich and chock full of pecans.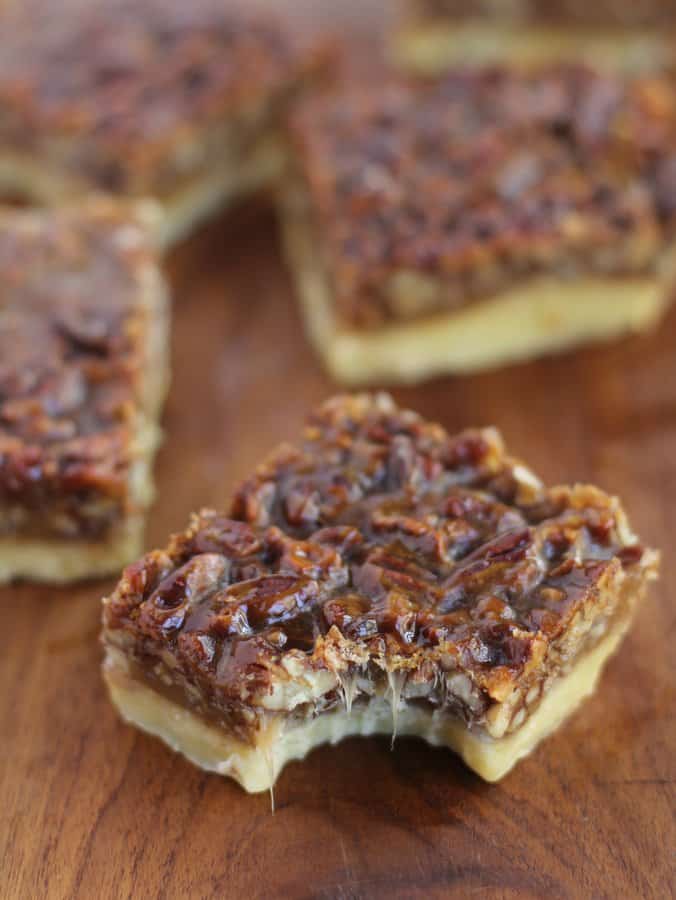 Sure there's little Halloween candy here, but I'll take one of Ina Garten's Pecan Squares over a Tootsie Roll any day.
More Dessert Bar Recipes
Favorite Tools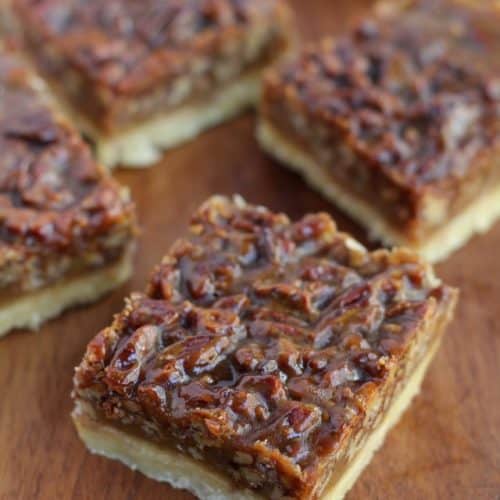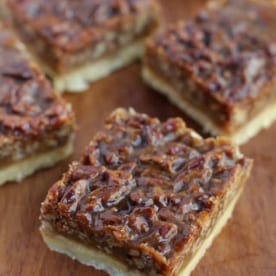 Ina Garten's Pecan Squares
Soft shortbread topped with rich caramel and pecans.
Ingredients
Crust:
2 1/2

cups

Unsalted Butter, room temperature

(this is 5 sticks of butter or 1.25 lbs)

3/4

cup

Granulated Sugar

3

Eggs, large

3/4

teaspoon

Pure Vanilla Extract

4 1/2

cups

All-Purpose Flour

1/2

teaspoon

Baking Powder

1/4

teaspoon

Salt
Topping:
2

cups

Unsalted Butter

(this is 4 sticks of butter or 1 lb)

1

cup

Honey

3

cups

Light Brown Sugar, packed

1

teaspoon

Grated Lemon Zest

1

teaspoon

Grated Orange Zest

1/4

cup

Heavy Cream

2

pounds

Chopped Pecans
Instructions
Preheat the oven to 350 degrees F.

Make the crust: Beat the butter and granulated sugar in the bowl of an electric mixer fitted with a paddle attachment, until light, approximately 3 minutes.

Add the eggs and the vanilla and mix well.

In a separate bowl, sift together the flour, baking powder, and salt.

Mix the dry ingredients into the batter with the mixer on low speed until just combined. Press the dough evenly into an ungreased 18 by 12 by 1-inch baking sheet, making an edge around the outside. (Note: The crust dough will be very sticky. To make it easier to work with, dust your hands and the dough with some flour as you work.)

Bake for 15 minutes, until the crust is set but not browned. Allow to cool.

Make the filling: Combine the butter, honey, brown sugar, and zests in a large, heavy-bottomed saucepan. Cook over low heat until the butter is melted, using a wooden spoon to stir. Raise the heat and boil for 3 minutes. Remove from the heat.

Stir in the heavy cream and pecans.

Pour the filling over the crust, trying not to get the filling between the crust and the pan.

Bake for 25 to 30 minutes, until the filling is set. Remove from the oven and allow to cool. Wrap in plastic wrap and refrigerate until cold.
Notes
Recipe adapted a bit from the original by Ina Garten, shared at FoodNetwork.com.
Nutrition information is automatically calculated, so should only be used as an approximation.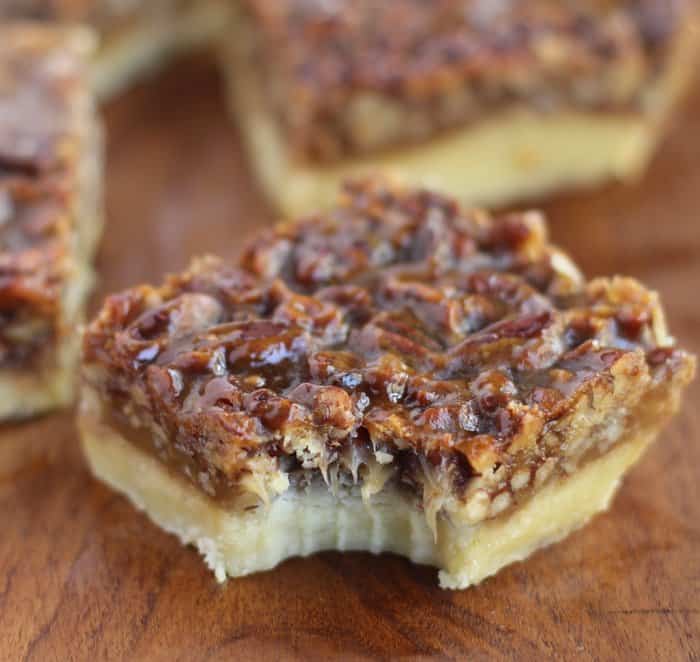 (I took that bite, and then I ate the whole. darn. thing.)
*This post contains affiliate links*