Roasted Vegetable Broth
Published Mar 23, 2012•Updated Nov 08, 2023
I am a sucker for homemade broth. I like my soups to be made from the chicken stock that I keep stashed in the freezer at all times. I've been looking for a vegetable broth to add to the mix, but hadn't come across one with enough flavor to give it a leg up on the chicken variety.
I started thinking about how delicious it might be if the vegetables were roasted, all their flavors developed and made rich and fragrant before simmering in water. It took only 5 second on Epicurious to find a recipe from Bon Appétit that did just that. The result rivals the best of the chicken stock.
Making broth is purely satisfying. A couple minutes of chopping, and the heat does all the work. It's great for weekends in which I'm running through a list that includes emptying and cleaning all the pantry shelves, writing a hundred emails, putting the final touches on travel plans for the coming months and squeezing in some good quality time with my husband who has thankfully returned home – no worse for the wear after 10 days in Bangladesh (although fairly tired of eating curry).
I have made this recipe twice and each time the broth came out deep, rich, and fragrant. Last week, when I was trying to cure myself of that mid-March cold, I added chopped sweet potatoes, spinach, onions, and herbs to this broth and had a satisfying and restorative soup.
Now, with a stash of this in the freezer, I'm already plotting the many ways in which to use it. Gourmet's mushroom risotto may be first in line.
______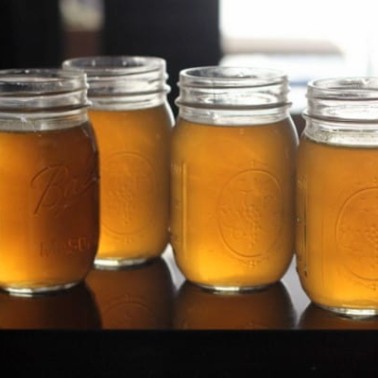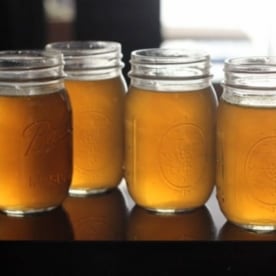 Ingredients
1

cup

chopped onion

1

cup

quartered crimini mushrooms

1

cup

sliced carrots

1/2

cup

chopped parsnips

1/2

cup

sliced celery

4

large garlic cloves, crushed and peeled

1

tablespoon

olive oil

8

cups

water

1

cup

coarsely chopped Swiss chard (including stems)

1/2

cup

thinly sliced leek (white and pale green parts only)

1/4

cup

chopped fresh parsley (including stems)

1

teaspoon

salt

1

bay leaf

1

sprig thyme
Instructions
Preheat oven to 400°F. Combine first 6 ingredients in a large, oven-safe, soup pot. Drizzle oil over; toss to coat. Sprinkle with salt. Roast vegetables until tender and golden, stirring occasionally, about 40 minutes. Remove from oven.

Add 2 cups water to the soup pot; stir vegetables, scraping up any browned bits from bottom. Add remaining 6 cups water and all remaining ingredients. Bring to boil. Reduce heat, cover and simmer 30 minutes. Strain broth through a sieve.

Use immediately, refrigerate for several days, or freeze.
Notes
Recipe adapted from Roasted Vegetable Broth, Bon Appétit, October 1998.
Nutrition information is automatically calculated, so should only be used as an approximation.