Sesame Peanut Noodles with Zucchini and Sweet Potato
Published Jun 15, 2016•Updated Apr 04, 2022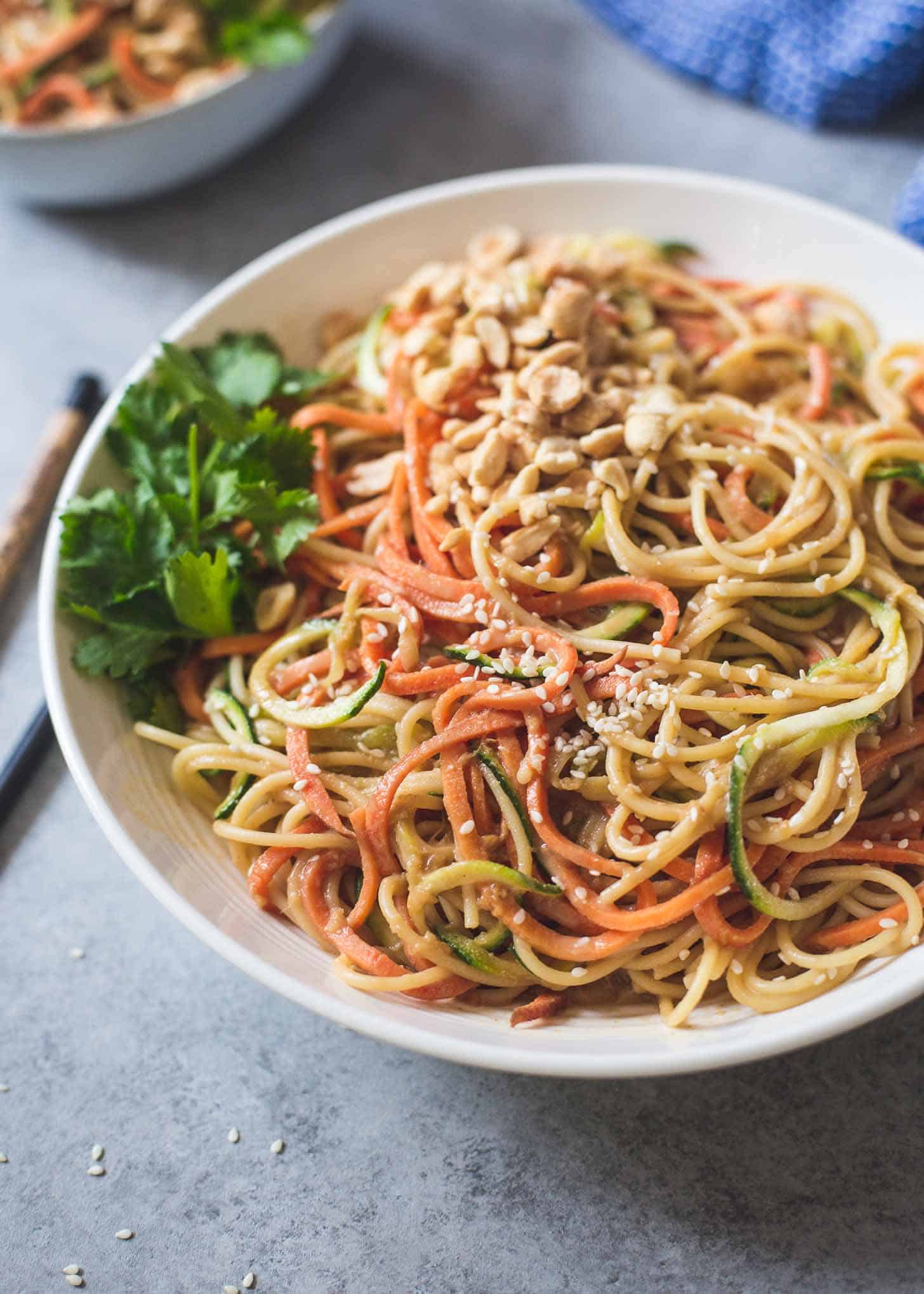 Savory, sweet, saucy peanut goodness. That's what we have here. Sesame Peanut Noodles with Zucchini and Sweet Potato are a lighter version of one of my favorite take-out dishes, but you'd never guess that these are only 250 calories per serving!
They are great warm or chilled – ideal as a make-ahead dish to take to your next potluck or BBQ. Just don't forget the finish of crunchy peanuts on top!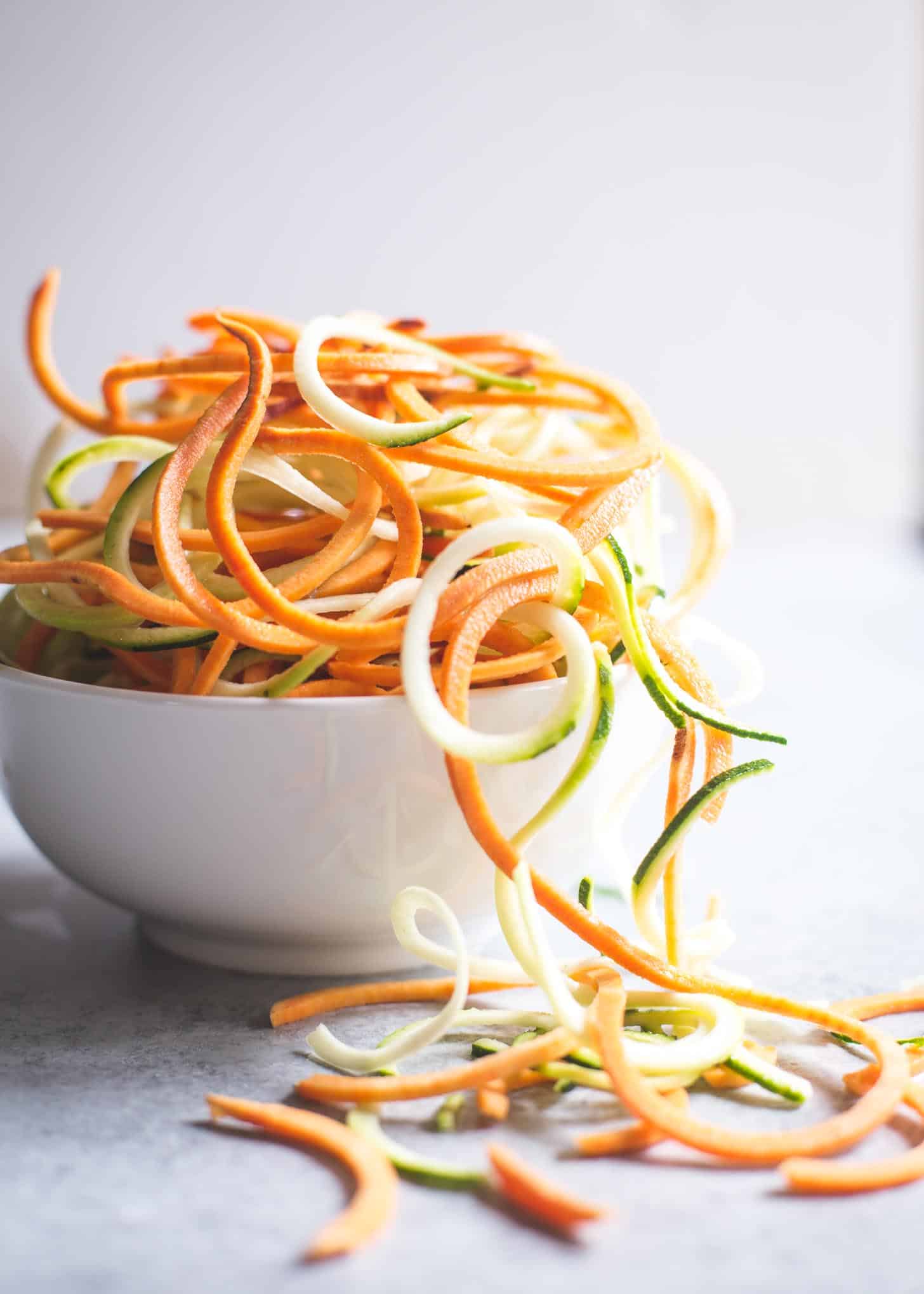 Greetings from the other side of the abyss known as a household move. In addition to learning all the creaks and quirks of a new home and asking one another 100 times a day "do you know where the ___ is?" we have been delighting in all the fun of playing house in a new place that's slowly starting to feel like ours.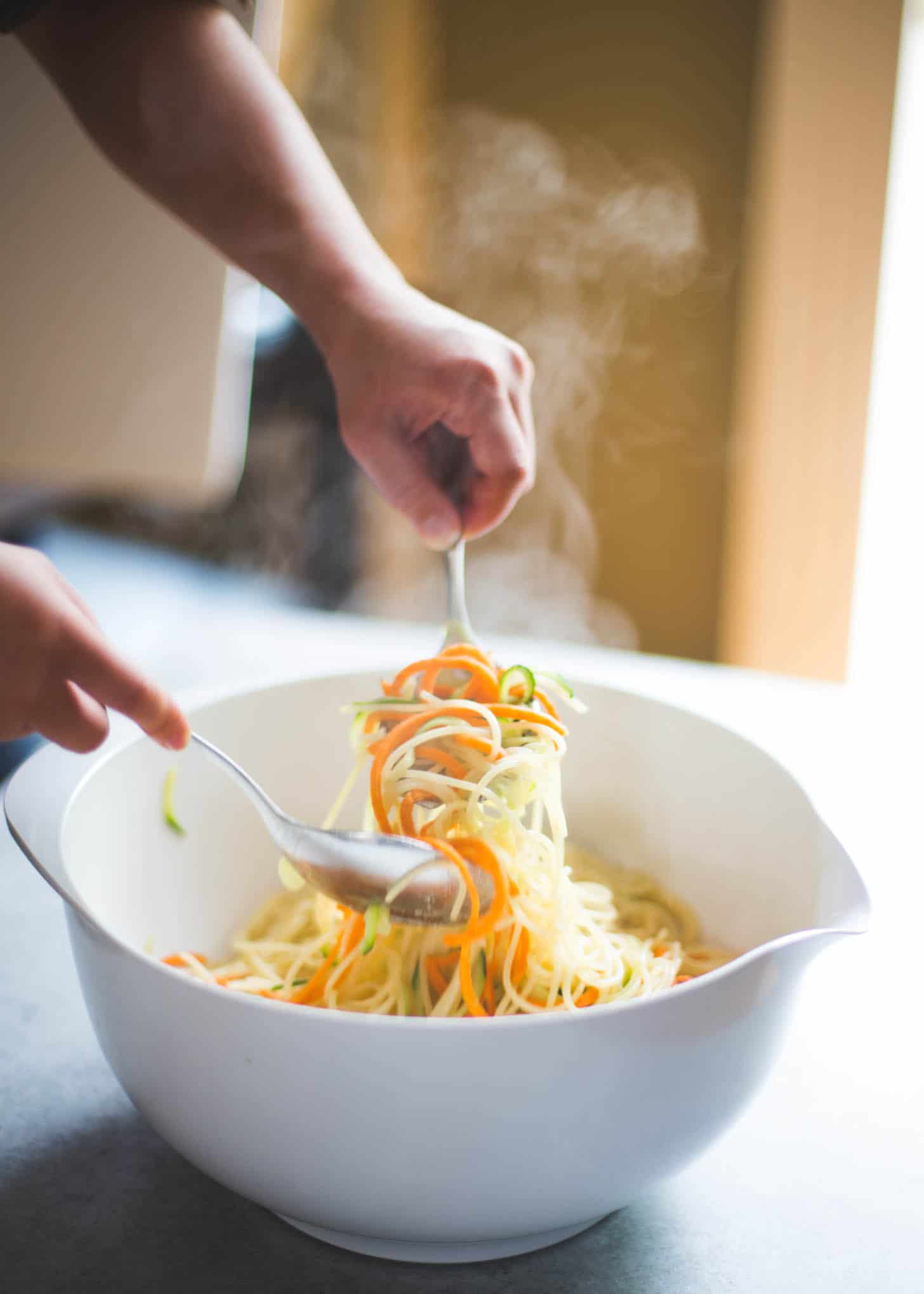 And, greatest of all, cooking in a kitchen that's starting to feel like ours. The transition weeks are hard, but there is something so satisfying about a clean kitchen slate. And finding the perfect cabinet for the coffee mugs that feels like they were destined to live there.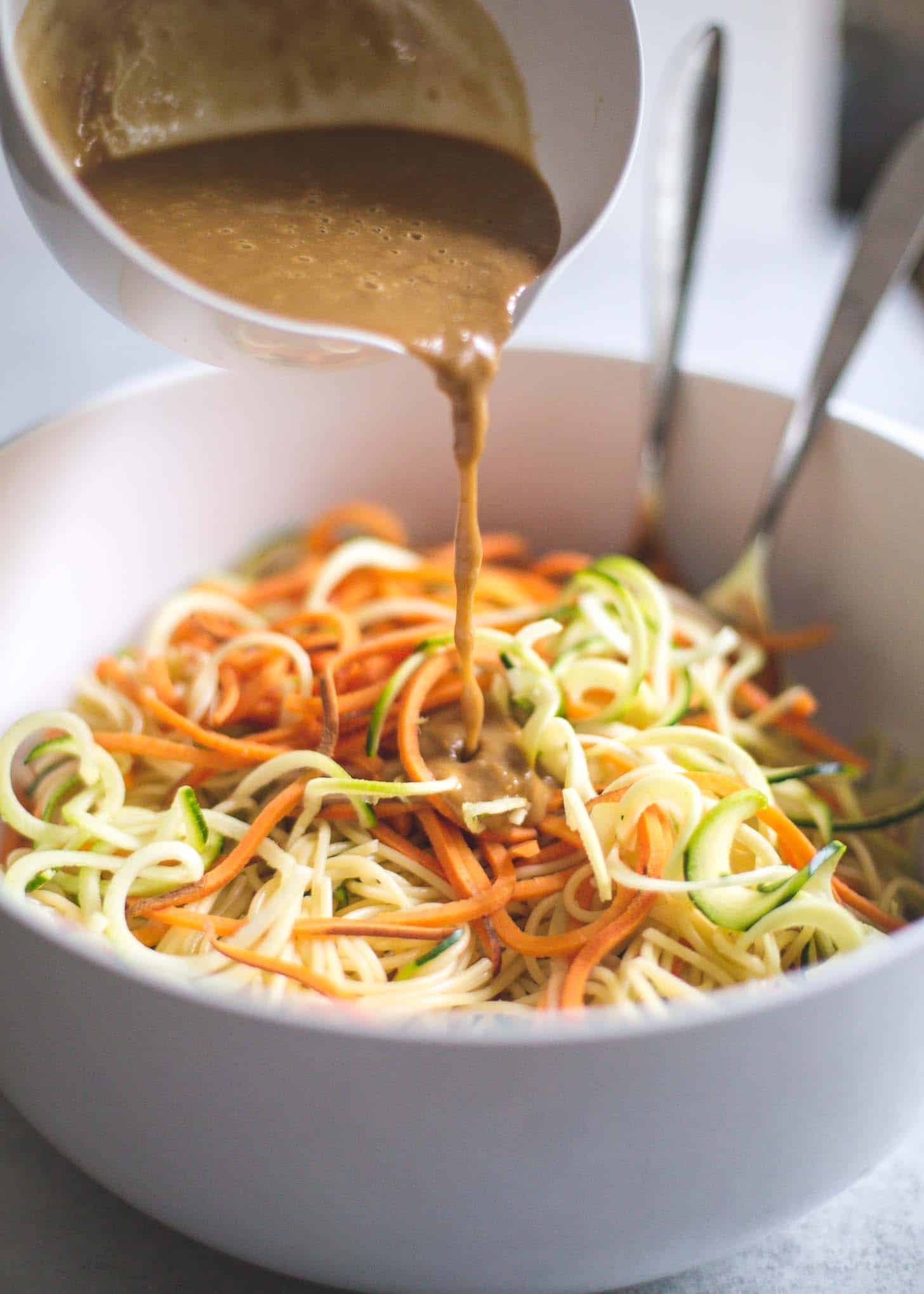 Cooking Zucchini and Sweet Potato Noodles
To keep this dish light, flavorful and extra colorful, zucchini and sweet potato noodles (or "zoodles" or ribbons or whatever you call them) make up half the base. For a delicious, vegetable-loaded version, you can use only veggie noodles and skip the traditional noodles altogether.
A quick note on cooking zucchini and sweet potato noodles. In testing, we found that we prefer the texture of the zucchini when it is left raw and tossed with hot pasta to steam a bit. It retains a bit of crunch which is great in the finished dish. The sweet potato noodles are more sturdy and therefore do best when boiled for a couple minutes.
As a result, that's how I've written the recipe you'll find below, but if you have a preferred method for cooking your veggie noodles, by all means, cook them that way and toss them in the sauce at the end!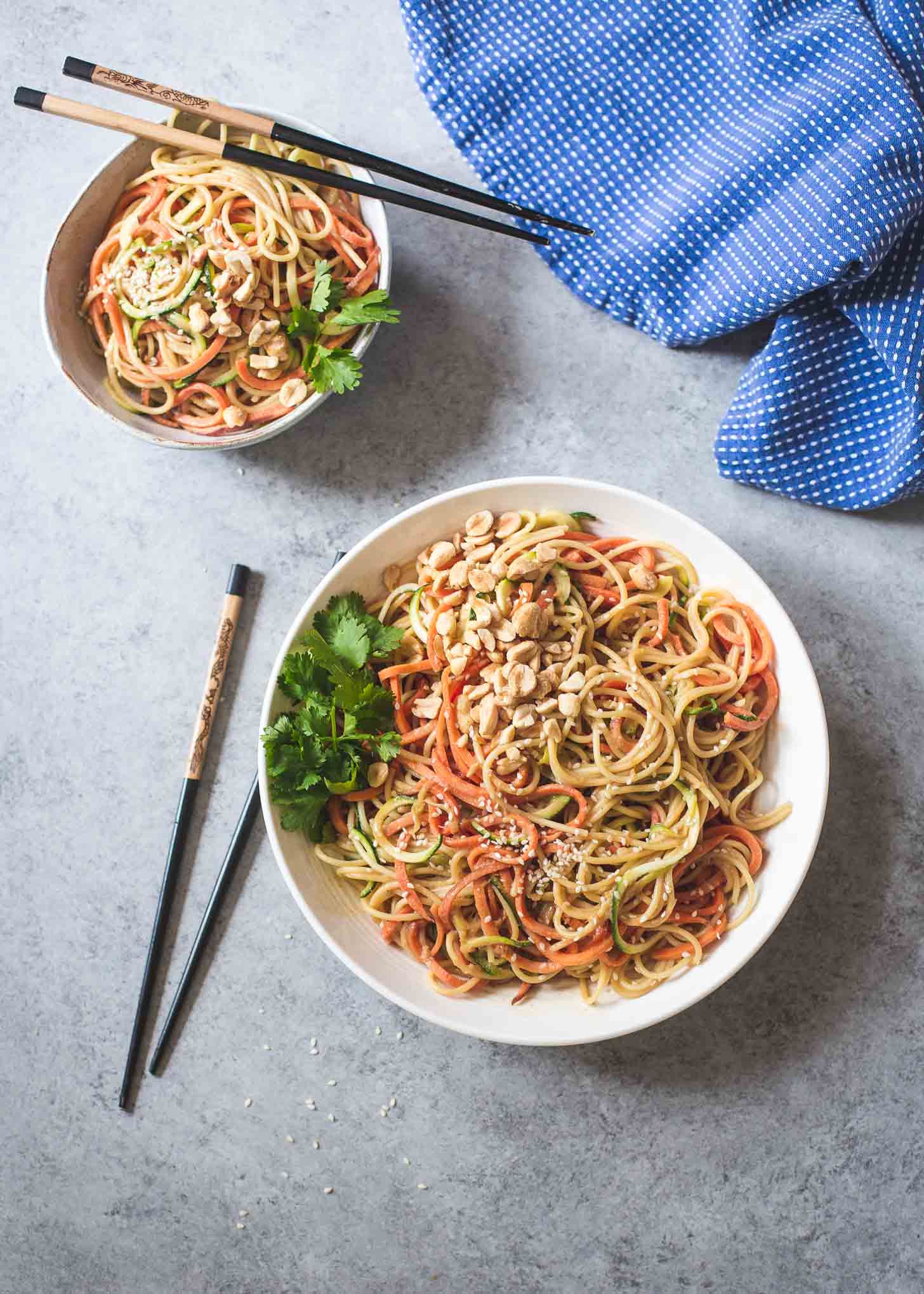 We'll share photos of the new set-up once we're not living among boxes. We'll definitely want to make sure you get to see this charming house – built in 1936 and with all the character that decades of love and life create.
Oh, and the green countertops that fill our kitchen, in all their un-photogenic glory.
More Take-out Fake-out Recipes
Favorite Tools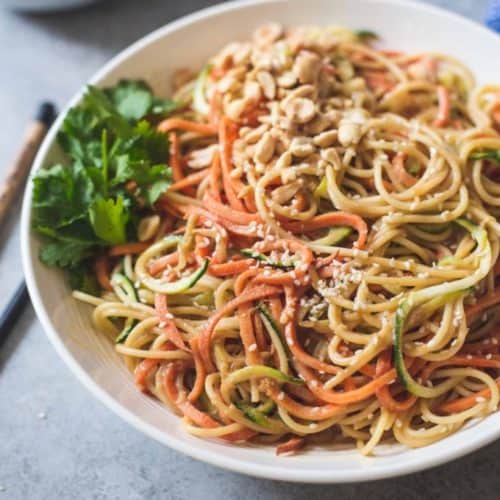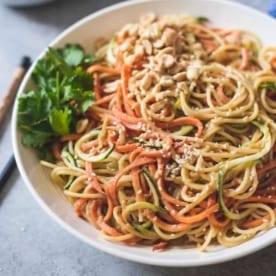 Sesame Peanut Noodles with Zucchini and Sweet Potato
I could eat peanut noodles every day of the week, so I love this version that offers extra vegetable goodness and far fewer calories than I'm sure are found in my favorite take-out. We keep it in the fridge and serve it chilled in the summer for quick lunches or a side for grilled meats or roasted salmon.
Ingredients
Sesame Peanut Sauce:
1

Tbsp

grated Fresh Ginger

1/4

cup

Sesame Oil

1/4

cup

Rice Vinegar

1/3

cup

Soy Sauce

3

Tbsp

Creamy Peanut Butter

2

Tbsp

White Miso Paste

1

Tbsp

Brown Sugar

1/2

cup

Reserved Pasta Water

(as noted in recipe)
Sesame Peanut Noodles:
8

oz

Spaghetti

4

oz

Sweet Potatoes

(spiralized or sliced into ribbons, see note)

4

oz

Zucchini

(spiralized or sliced into ribbons, see note)

1/4

cup

White Sesame Seeds

1/4

cup

Crushed Peanuts, roasted and unsalted

Cilantro sprigs, for garnish
Instructions
Bring a large pot of salted water to a boil.

While water boils, make sauce by whisking together ginger, sesame oil, rice vinegar, soy sauce, peanut butter, miso paste and brown sugar. Set aside.

Add pasta to boiling water and boil until tender. In the last minute of cooking, add sweet potato noodles so that both the pasta and sweet potatoes finish cooking together. (Sweet potato noodles only need to boil for 1 minute.)

When pasta is finished boiling, remove 1/2 cup of cooking water and add it to sauce.

Drain pasta and sweet potato noodles.

Toss pasta, sweet potato noodles and raw zucchini noodles in prepared sauce. At this point you can refrigerate the noodles for up to 3 days.

Serve noodles warm or chilled, sprinkled with sesame seeds and peanuts. Garnish with cilantro sprigs.
Notes
Use any combination of wheat noodles and / or veggie noodles in this recipe as long as the total adds up to 16 oz. It is super easy to spiralize your veggies at home using a spiralizer or slicing them into ribbons with a peeler. Many grocery stores now sell vegetables pre-cut into ribbons in the produce section. They are pricier to purchase this way, but worth doing if you just want to try out vegetables sliced in this way!
Nutrition
Calories:
291
kcal
|
Carbohydrates:
31
g
|
Protein:
9
g
|
Fat:
15
g
|
Saturated Fat:
2
g
|
Sodium:
738
mg
|
Potassium:
274
mg
|
Fiber:
3
g
|
Sugar:
4
g
|
Vitamin A:
2043
IU
|
Vitamin C:
3
mg
|
Calcium:
69
mg
|
Iron:
2
mg
Nutrition information is automatically calculated, so should only be used as an approximation.
Molly and Clara seem to love the new house, and especially the fact that yesterday we let them run around in the puddle-filled driveway in a warm summer rain storm. "Tut tut!" they shouted while splashing in muddy puddles. (Do you know that line?)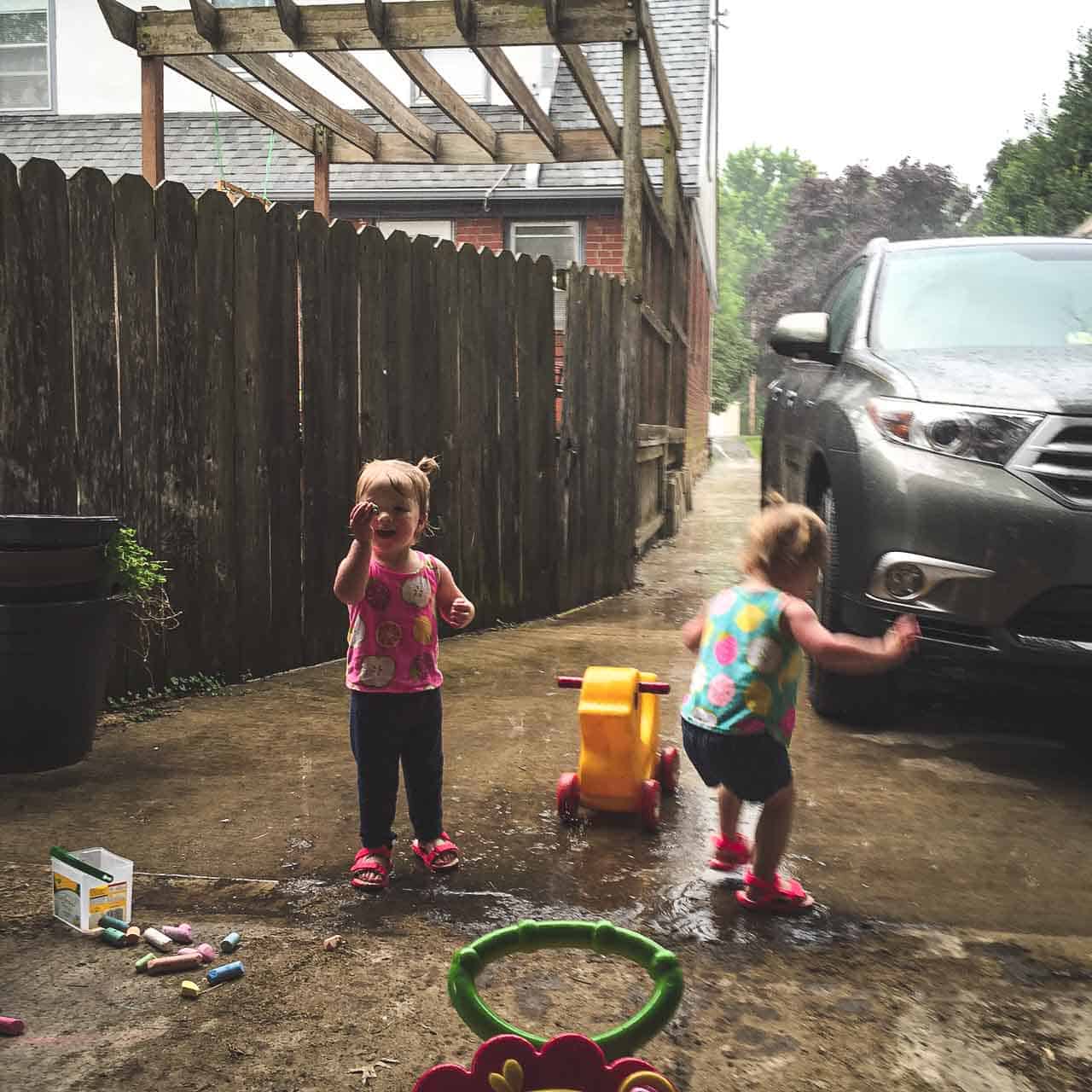 *This post contains affiliate links*