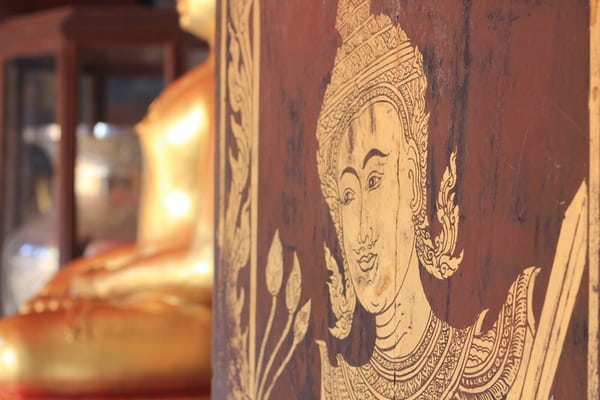 I am home in Bangkok and sad to see the weekend come to an end. Chiang Mai is a place I know that I will return to again and again. There is an endless list of things to do...and things to eat. There is also a distinct charm and lightheartedness to the city and its residents.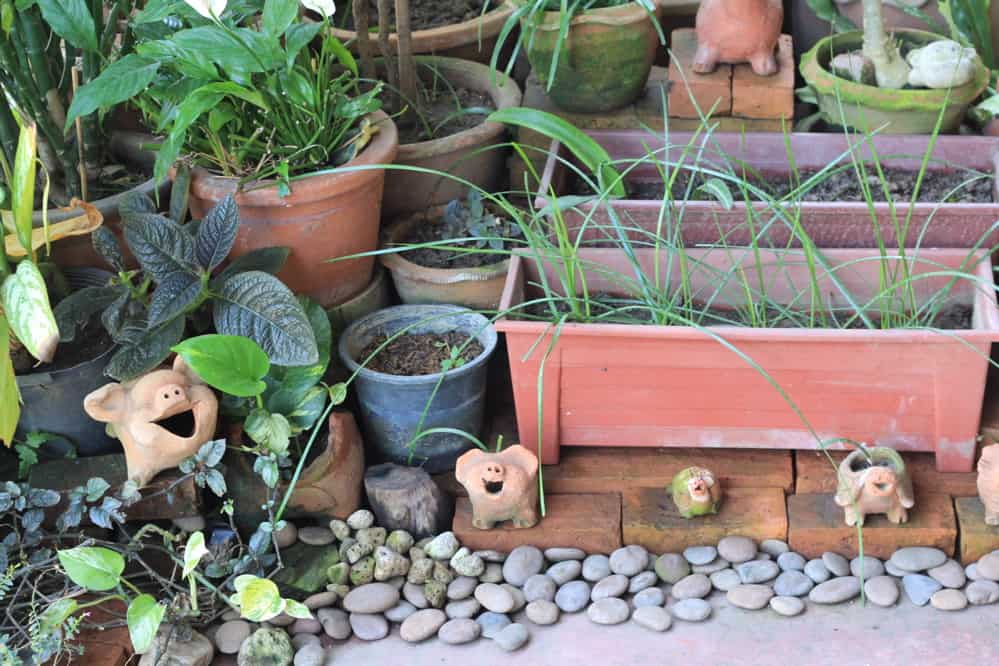 Chiang Mai has long ago been discovered by tourists (there are backpackers and luxury travelers everywhere you turn in the city), but something about it still gives off an air of mystery and remoteness. The lush tropical environment and its enclosure within ancient city walls is beautiful and perfect for exploring. I felt relaxed and pulled in by the slower pace of life from the moment our plane touched down. (The Thai massages on Day 1 of the trip certainly helped.)
Gorgeous temples are on every corner of the city, but the most impressive was Wat Doi Suthep, high on the top of a mountain.
The long weekend included a day of zip-lining in the jungle. If you've experienced it, you know how wild and thrilling and hysterical zip-lining is all at once. The views from the treetops were incredible, as was the sensation of speeding through the trees. One of the nearly 30 lines we rode down in our 2.5 hour trip included what, the site claims, is the longest zip-line in the world. The entire experience was a sort of superman-meets-Swiss family Robinson tree-top adventure that I would do again in a heartbeat.
Next on the agenda was the night market, which appeared to be "the" spot on a weekend night. The street was overflowing with locals and tourists, bargaining for deals on everything from scrunchies adorned with plastic pandas to original artwork and unique pottery. But the highlight....of course, was the food.
The night market, as with every great market I've visited in Thailand brought out some amazing food vendors. Here is a coffee stand shown early in the day and later, surrounded by other delicious offerings.
But that's only the beginning. There was the usual abundance of Thai jelly desserts. You select your own combination of these little gooey bites and they are topped with sweet syrup and coconut milk.
Irresistible, as always, there were Chinese-style steamed pork buns being made on the spot.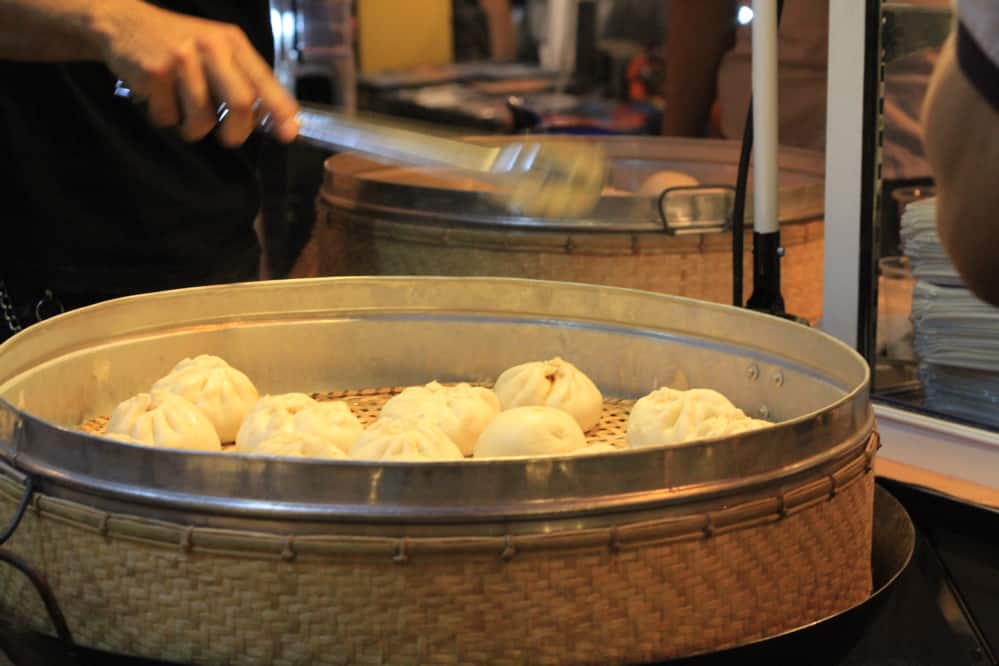 And assorted bugs for mixing up your own snack (I believe those are grasshoppers and silkworms right in the front).
And then there were these brilliant, filled waffles. This little fish-shaped one was full of sweet red bean paste. (I readily would have skipped dinner for a handful of these, warm off the grill.)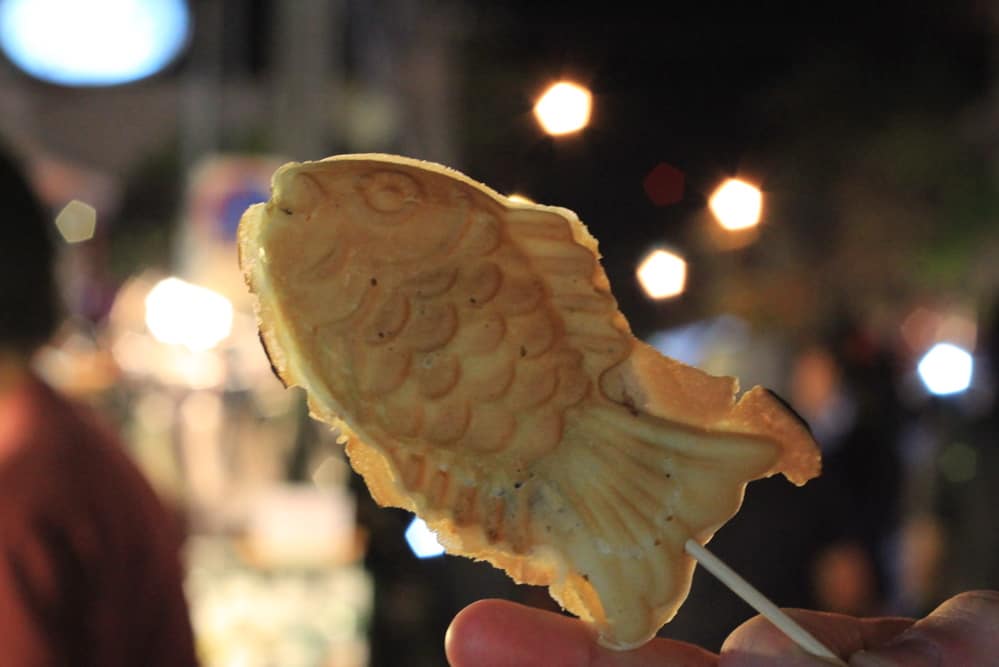 In addition to night-market fare, Chiang Mai proved itself to be a destination for great food. There was this fantastic bean sprout stir-fry with tofu.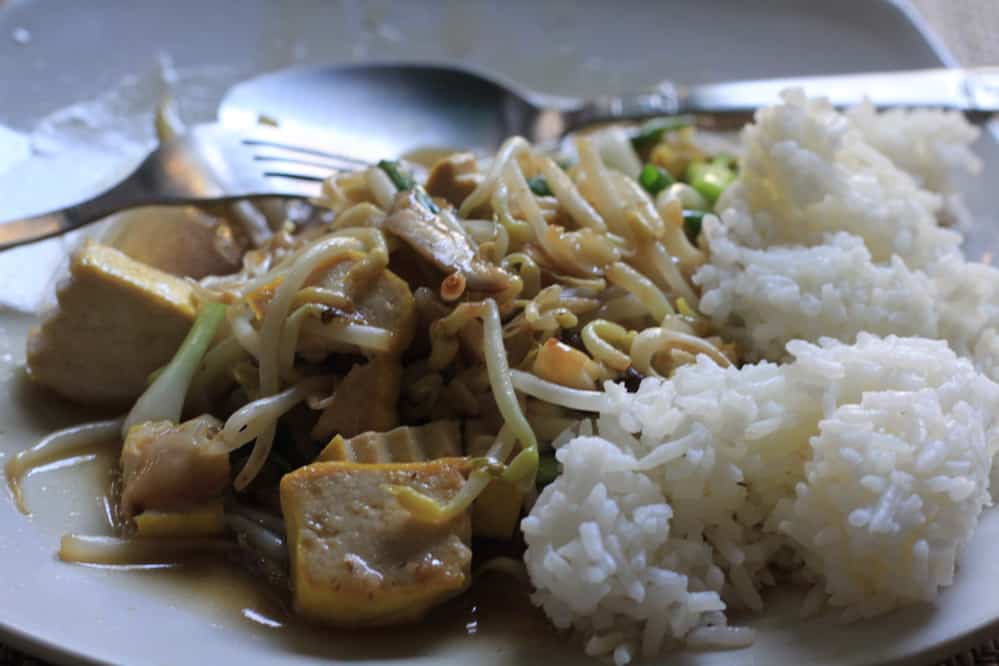 And Som Tum made with cabbage instead of the usual shredded papaya. (My husband and I may or may not have had Som Tum with every single meal while in Chiang Mai.)
Finally, the best for last. Khao Soi noodles (also called Chiang Mai Noodles), are the dish we were told we "had" to try while in Chiang Mai. In Thailand a food recommendation is not something to take lightly, and this noodle dish lived up to all the talk...actually, it surpassed my expectations. At first glance, I knew I was in for something wonderful. The combination of the crunchy noodles and tender pieces of pork with the soft egg noodles in the curry were wonderful together and on their own. The curry is rich with flavors of turmeric and cardamom and hints of sweetness and heat. When topped with a squeeze of fresh lime juice - it is one of the most unexpectedly fantastic things I've had since arriving in Thailand.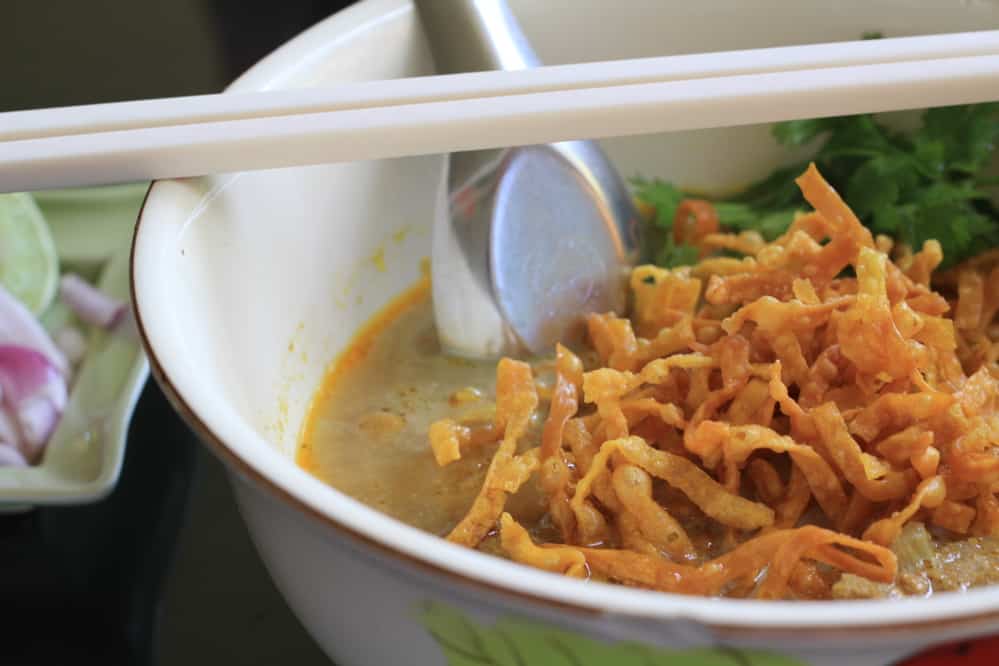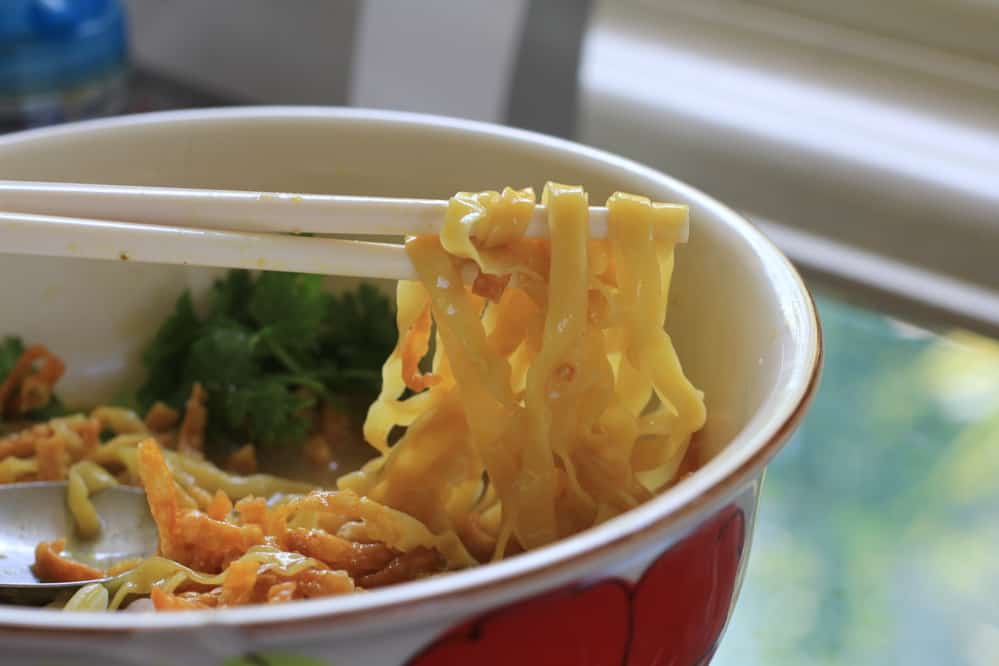 I am certain that future trips to Chiang Mai will feel just as full of surprises as this first visit. There is enough to see and do to fill 10 more long weekends...I may start planning the next one right now.
And now, I'm off to make something utterly healthy for dinner, but in the meantime will be thinking about the next bowl of khao soi in my future.
Here are some of the things we saw and did:
Chiang Mai Cotton (shopping)
www.chiangmaicotton.com
This great little shop on Rachadamnoen Road is owned by a group of local women who got their start by selling their own clothing designs at the night market. It is clear why they have been so successful as the clothing (all for women) is stylish and unique while also a bit rustic, made from a rough-textured cotton. Great prices on clothing and a beautiful selection of jewelry and other little items that would make great gifts.
Flight of the Gibbon (zip-lining and other outdoor activities)
www.treatopasia.com
This is just one of many groups in Chiang Mai offering day trips and adventure activities. Flight of the Gibbon was organized and reasonably priced, offering online booking. A driver will pick you up from any location in Chiang Mai and drive you up to the site in a pretty mountain village (about 1 hour outside of town). We spent 2.5 hours zipping down about 30 different lines high up in the trees. Guides were knowledgeable and took great care to insure that we were safe. Although the day concludes with lunch and a brief stop at a waterfall, the main attraction is the zip-lining.
Night Bazaar (shopping)
Saturday nights - along Wualai Street
Sunday nights - along Ratchadamonoen Road
There are plenty of deals on pottery, clothing and wooden items (also lots of the cheap knick-knacks available all over Thailand). The food offerings alone though, are worth braving the crowds.
San Kamphaeng Road (shopping)
About 20 minutes outside of Chiang Mai, this road holds nearly 10 kilometers of large shops and factories where you can shop for pottery, wood carvings, silk and cotton items, furniture, jewelry, and other crafts. If you are looking to pick up any of these while in Chiang Mai, this seems to be the place to do it. Many of these items are made on-site at the same location where they are sold. You'll need a car to get around on San Kamphaeng Road - the "shops" are huge and set far apart from one another.
Satesinlp Restaurant
San Kamphaeng Road, Chiang Mai
open daily from 9am-4pm
A bit outside of town, but a great place to stop for lunch if you are spending the day shopping on San Kamphaeng. Lovely garden setting and dishes are reasonably priced (ranging from 40-150 Bhat each). Try the Khao Soi, "Chiang Mai Noodles.
Wat Doi Suthep
This famous temple is located high on a mountain, overlooking Chiang Mai. It is about 15 kilometers outside of the city center. Once you reach the top of the mountain by car, it is a 300-step climb to the temple. The trip to the top is rewarded with great views of the city.