Drinks in a Bag
Published Aug 13, 2011•Updated Nov 08, 2023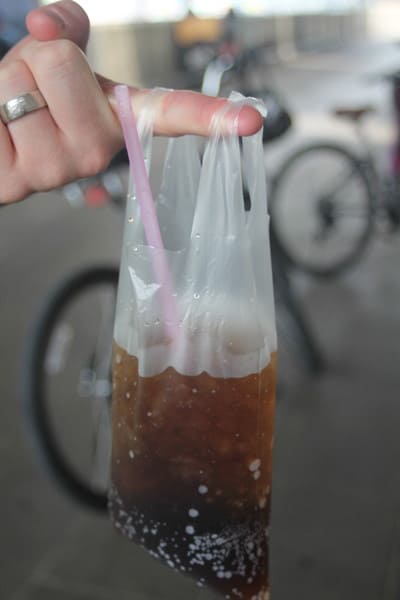 I tend to be easily drawn in by unusual marketing. Despite my best efforts, I am the first to turn and want to see what is on sale when I trigger the coupon-spitting, jingle-playing machines that line the grocery store aisles here in Bangkok.
When I ride public transportation, I get the tunes from the advertisements on the train car TV screens stuck in my head (though I can't understand them) and feel myself drawn to the items they hawk when I encounter them while paying my bills at the local 7-Eleven. (Did you know that there are 7-Elevens are on nearly every corner in Bangkok? It was news to me when I arrived.)
Don't even get me started on the odd-tasting seaweed or fish flavored crackers and chips I've bought on impulse because the brightly colored bags lured me in.
However, there is one impulse purchase in Bangkok that never leaves me with buyer's-remorse. A drink in a bag. To me, the drink in a bag, the most common way that one would consume a cold drink on the streets of Bangkok is brilliant (and logical) marketing.
Who wouldn't want to make their way in to work in the morning with an icy treat balanced on the tip of a finger, a clear straw sticking out the top. No sweaty plastic cup or cold palms here.
We can buy any type of soda, Thai iced tea, iced coffee, bubble tea…you name it, in individually-portioned plastic bags.
It's quick and economical, and seeing people carrying them makes me instantly want to join in.
Cheers.