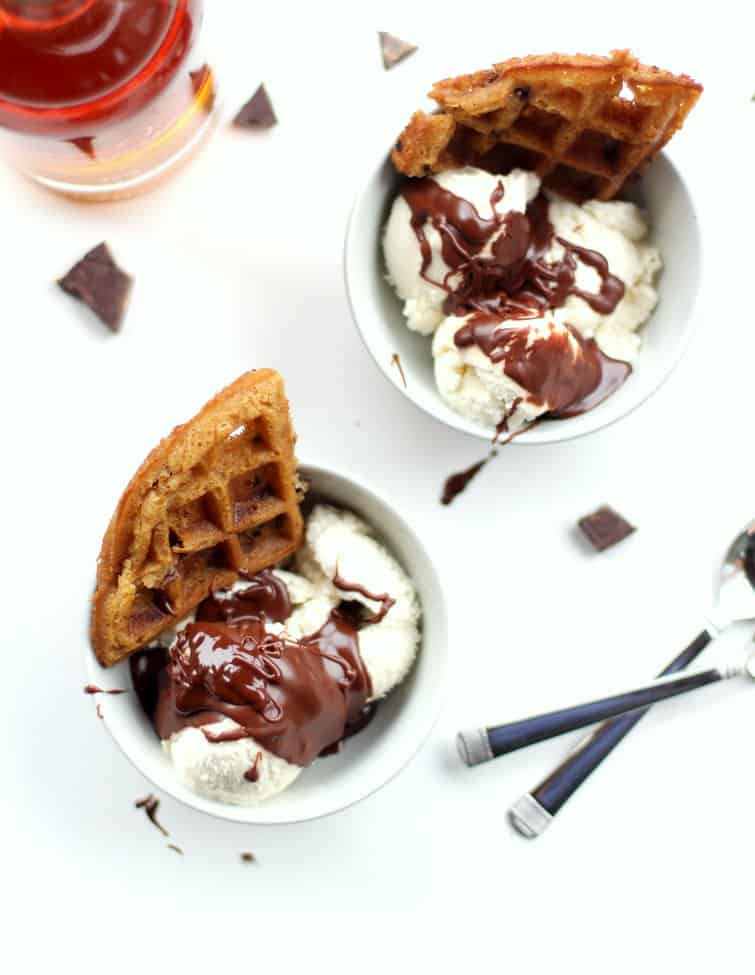 Crisp outside, gooey inside chocolate chip cookies come straight out of the waffle iron (no oven required) for these Chocolate Chip Cookie Waffle Sundaes with Bourbon Chocolate Sauce.
We joined a gym. The gym has childcare. This is great for the obvious reason that us parents get an hour of uninterrupted time to listen to podcasts (and lift a weight or two). But also great for Molly and Clara who now have a whole world all their own and look like Charlie in Willy Wonka's Factory when they see the playroom every morning. So. many. toys.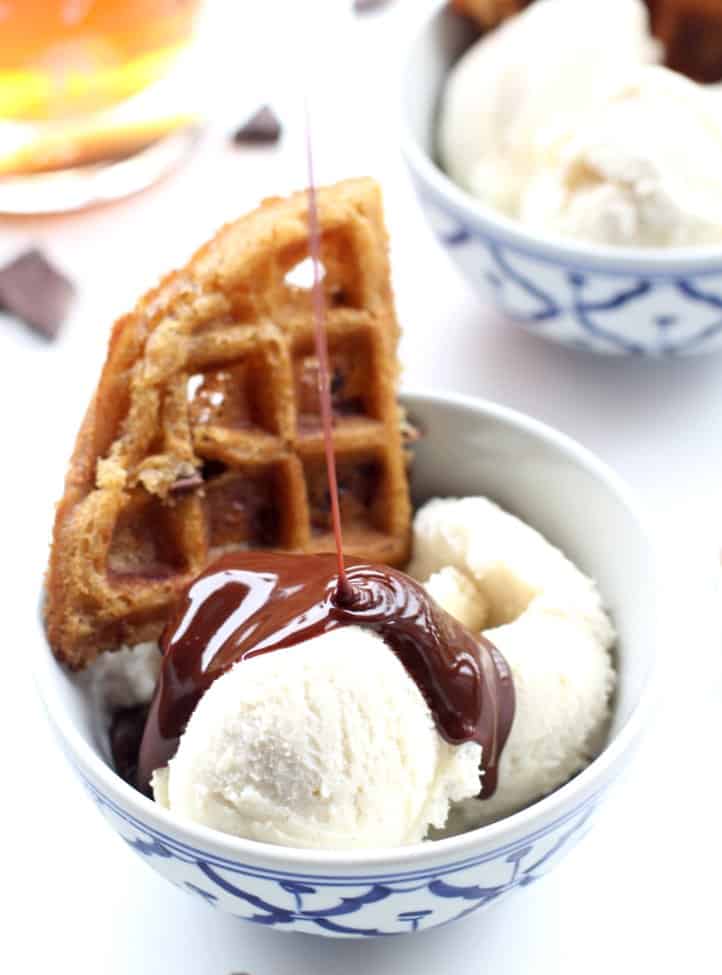 Maybe the gym is an odd way to start a post on an ice cream sundae, but the thing is…kids shouldn't have all the fun. Which is why we thought this kid-friendly, waffle dessert needed a shout-out to the grown-ups. In the form of chocolate sauce with all kinds of bourbon thrown in.
Or maybe just one special kind of bourbon. A bottle that even I (who sometimes fights the urge to pinch my nose before sipping grown-up drinks) had to admit was delicious. We picked it up in Breckenridge, Colorado a couple weeks ago. Frank's expert opinion speaks highly of the bourbon from Breckenridge Distillery, and the dessert expert in our family (that would be me) can guarantee it makes an awesome addition to chocolate sauce.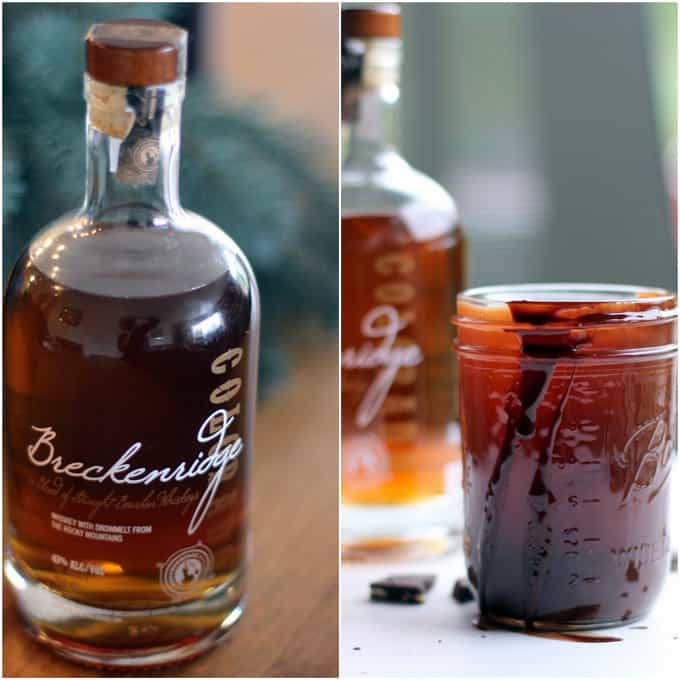 The cookie/waffle part of this pretty little sundae is a result of a waffle iron mission Frank and I have been on lately. I think I might have read half of what the internet has to say about the many things you can make in a waffle iron, including this amazing site (and book) which makes me want to press everything I eat into a waffle shape.
But we started here, with chocolate chip cookies. They're hardly a waffle at all, just a very basic cookie, made in one bowl and mixed by hand, with extra brown sugar to make sure they're full of that golden caramel flavor that makes a good chocolate chip cookie what it is.
The batter takes less than 10 minutes to mix up. Then just heat up the waffle iron, and press them on medium-high heat until cooked through. The only tip we really found we needed was to let the cookies (waffles? waffle cookies? wookies???) sit at room temp for about 10 minutes before serving. They are tender and soft right out of the waffle iron (just like cookies out of the oven), but as they cool, they get that crisp exterior and soft interior that every great chocolate chip cookie and every great waffle have in common.
More Cookie Recipes
Favorite Tools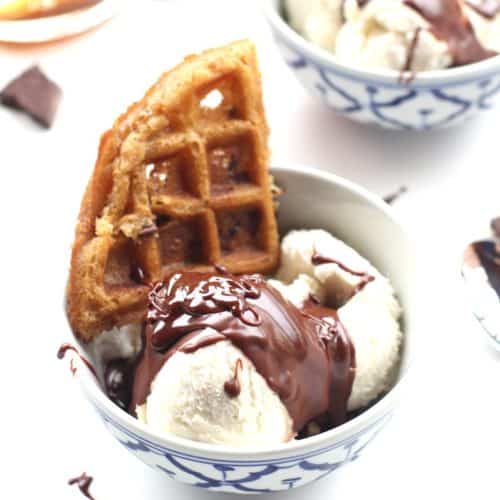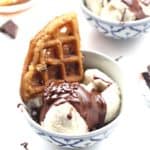 Print Recipe
Chocolate Chip Cookie Waffles
Crisp outside, gooey inside chocolate chip cookies come straight out of the waffle iron (no oven required). We think they're great on their own, but make a particularly nice addition to ice cream sundaes. Make the whole batch or refrigerate the dough and make the "cookies" one at a time whenever the mood strikes!
Equipment
waffle iron

Mixing Bowl

Cooling Rack
Ingredients
1

stick

Unsalted Butter, softened

2/3

cup

packed Light Brown Sugar

2

large

Eggs

1

tsp

Vanilla Extract

2/3

cup

All-Purpose Flour

1/2

tsp

Baking Soda

1/4

tsp

Salt

3/4

cup

Chocolate Chips
Instructions
Preheat a waffle iron to medium-high (it must be hot for the cookies to cook to crisp without sticking).

In a large bowl whisk together the butter and sugar until smooth. Add the eggs and vanilla and stir to combine. Add the flour, baking soda and salt all at once and stir until evenly combined. Add chocolate chips and stir just until they are evenly mixed in.

Spray the hot waffle iron with nonstick spray. Scoop a generous spoonful of cookie batter into the waffle iron and cook until the waffle iron opens easily without sticking (in our waffle iron, this takes 5 to 7 minutes). Carefully transfer the waffle to a cooling rack. (The waffles will be soft and tricky to handle straight out of the iron, but will crisp up as they cool.) Continue with the remaining batter.

Serve with ice cream and chocolate sauce (we recommend Bourbon Chocolate Sauce - recipe below)!
Nutrition
Calories:
417
kcal
|
Carbohydrates:
50
g
|
Protein:
5
g
|
Fat:
22
g
|
Saturated Fat:
13
g
|
Trans Fat:
1
g
|
Cholesterol:
106
mg
|
Sodium:
236
mg
|
Potassium:
76
mg
|
Fiber:
1
g
|
Sugar:
38
g
|
Vitamin A:
611
IU
|
Vitamin C:
1
mg
|
Calcium:
62
mg
|
Iron:
1
mg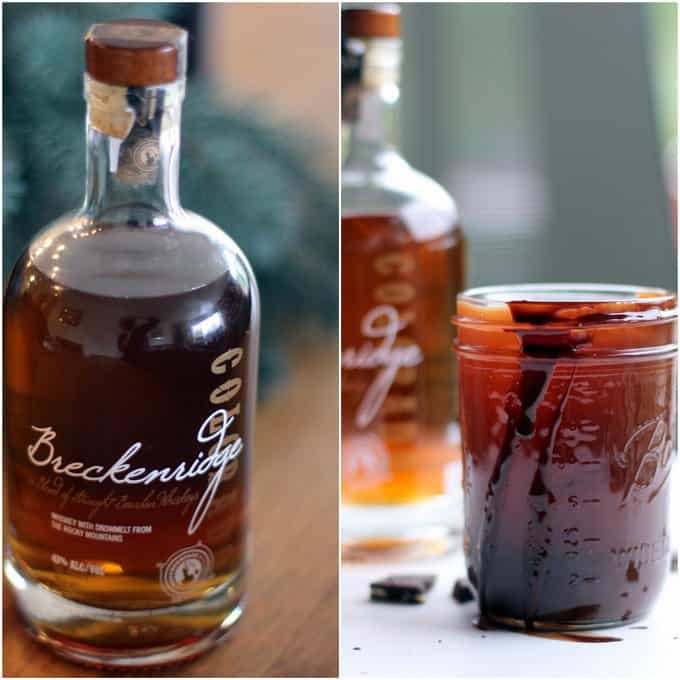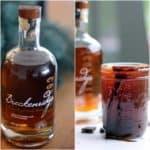 Print Recipe
Bourbon Chocolate Sauce
Oh-so-simple three ingredient Bourbon Chocolate Sauce. Pour it over ice cream or slices of chocolate cake...in fact, we think you'll find it hard to resist drinking it straight.
Ingredients
2/3

cup

Whipping Cream

8

oz

High-Quality Semisweet Chocolate, roughly chopped

(or Bittersweet)

3

Tbsp

Bourbon
Instructions
Heat the whipping cream and half the chocolate in a small saucepan over medium heat, stirring frequently. When the chocolate melts and the cream begins to simmer, remove from heat and add remaining chocolate and bourbon. Whisk until chocolate is fully melted and mixture is smooth.

Allow to cool slightly before serving.

(Will keep in the fridge for 5 days. Reheat before serving.)
Nutrition
Calories:
327
kcal
|
Carbohydrates:
21
g
|
Protein:
3
g
|
Fat:
24
g
|
Saturated Fat:
14
g
|
Trans Fat:
1
g
|
Cholesterol:
38
mg
|
Sodium:
14
mg
|
Potassium:
234
mg
|
Fiber:
3
g
|
Sugar:
14
g
|
Vitamin A:
408
IU
|
Vitamin C:
1
mg
|
Calcium:
41
mg
|
Iron:
2
mg
My favorite short-haired sidekicks can finally wear bows. If only they would leave them in for more than 5 minutes….
*This post contains affiliate links*