Chatuchak Market "Street" Food
Published Dec 06, 2010•Updated Feb 20, 2020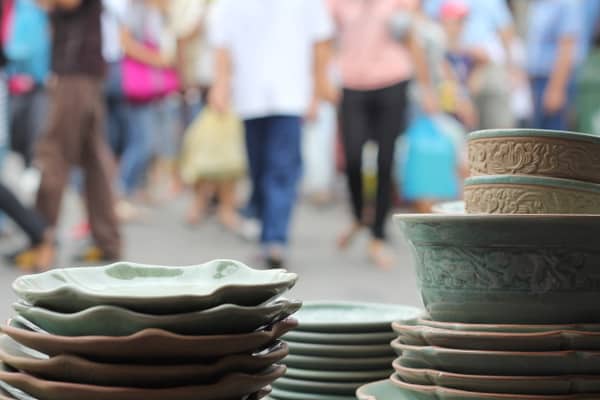 This weekend was a holiday weekend, as the King of Thailand celebrated his birthday this Sunday. As a result many businesses are closed today, and alcohol sales were banned in many public places on Saturday and Sunday. It seemed like a good weekend to explore Bangkok's largest weekend market, Chatuchak.
The only letdown here was that I had envisioned rows and rows of fresh produce and noodles, none of which I saw. This does not mean that it wasn't there somewhere – the market is far too large to ever see all of – but the Bangkok guidebooks do explain that this market is not known for produce. No, this market is a sea of every OTHER thing imaginable. In the few hours spent wandering the stalls, I saw, among many other things, gorgeous pottery…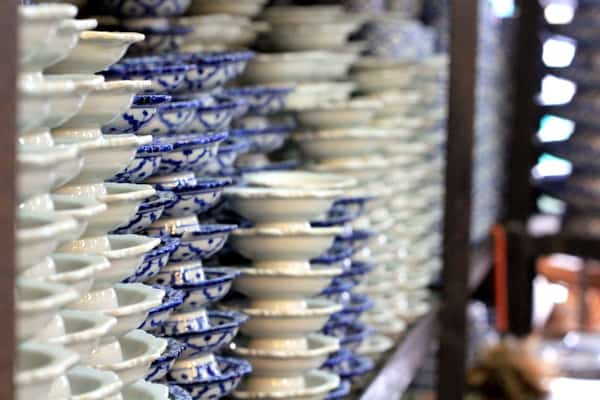 I bought a variety of dishes that you will likely be seeing in upcoming shots of dishes cooked here. In addition, the market featured an entire section of pets, including tiny bunnies in even tinier dresses…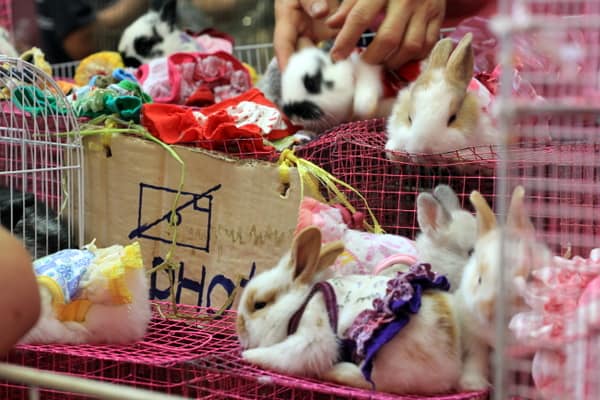 Of course, the real star was the food. As with everywhere in Bangkok, there was no shortage of street food in every corner and alley of the market, although lunch today fell into the category of "street" food since it was served at a lovely outdoor seating area on real dishes. For lunch there was pork fried rice.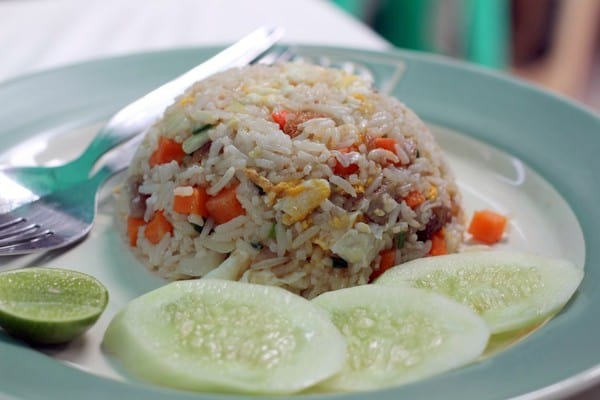 Papaya Salad. The papaya salad was spicy and sweet and had crunch from a whole list of ingredients including Asian green beans, shredded carrots, peanuts, and the papaya itself.
The unexpected addition was these fatty and incredibly flavorful thinly sliced pieces of pork resulting in an overwhelming mix of flavors textures and even colors – how beautiful is this?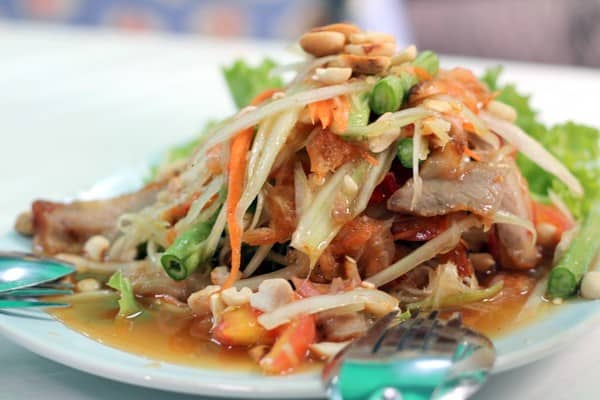 An order of papaya salad also gets you front row seats at the chef's table of papaya salad stands in which all of the ingredients were pounded and mixed and combined with speed and flare.
When these Thai language lessons I'm taking kick in, my plan is to join these other patrons in requesting the dish be made to my precise tastes. However…it would be difficult to improve upon the perfection that was inherent to the dish in the way it was served here.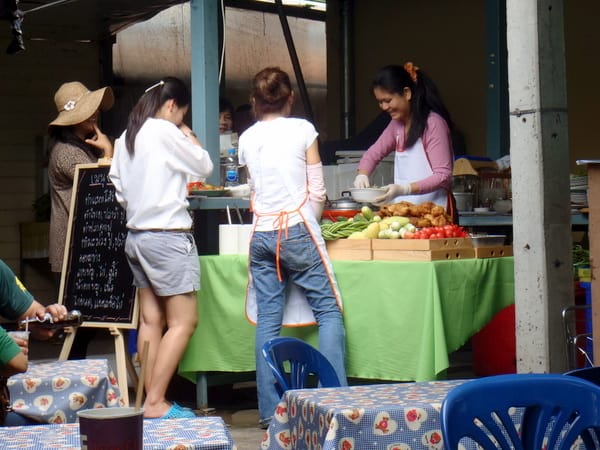 Finally, there was a vegetarian stirfry of mushrooms, cashews and other vegetables. Despite the lovely red peppers on the top, the dish itself had only a bit of spice, but was tossed in a brown sauce that had the perfect hint of sweetness to balance the papaya salad's kick.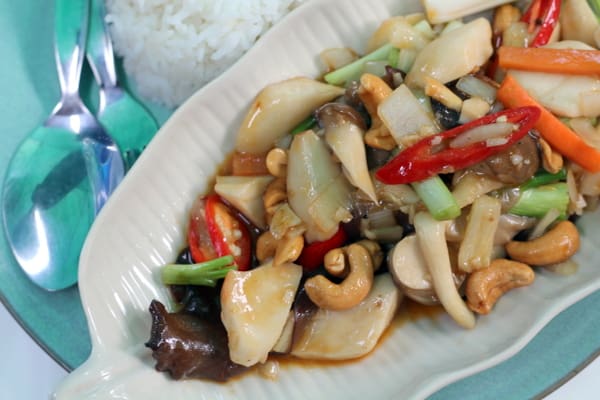 This last dish is definitely one to try to recreate at home so stay-tuned. Since it's technically still the weekend here (love those Monday holidays), we're off to do some more exploring…and, most likely, eating.