Where I usually find myself needing to edit my blog posts way down (to eliminate…err, minimize) the digressions, over the past week I've been feeling quiet. A mood came over me and things inside my mind have simmered down to a low hum instead of the buzzy chatter that so often goes on there. I have to tell you – it's bliss. Our little family has returned to our normal routine as of this weekend. We've left behind the holidays, a couple of very busy work weeks, plenty of travel, a batch of "winter" illness, and now things have finally settled into a comfortable calm. It's been a long time coming.
With the energetic boost of the new year, I finished up lots of projects in the past couple weeks, and more importantly, gave myself permission to drop a few things off my to-do list. I've given myself a clean slate. In the interest of keeping things simple and quiet for at least a few days more, I also spent my time in the kitchen this weekend making some easy favorites that I nearly know by heart. I stocked our pantry with my favorite granola.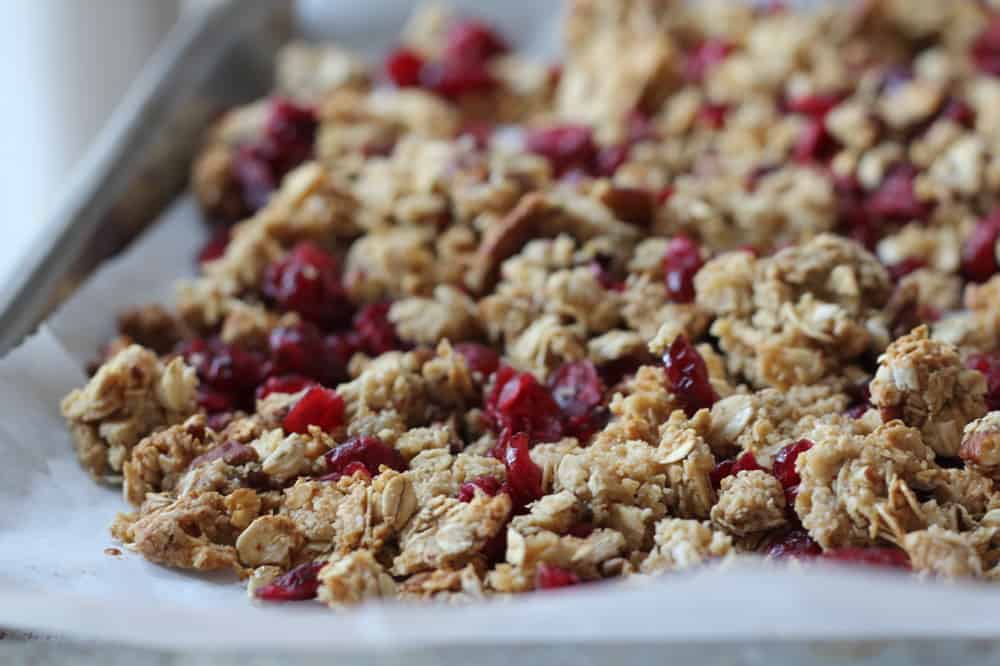 I made a big bowl of protien-rich Asian Chicken Salad with Edamame. This salad is one of my favorite lunches - I'm always glad to find it packed in my bag and even a small bowl holds me all the way through to dinner.
I also whipped up another batch of baked brown rice and my very favorite treat this time of year - Baked Crab Rangoon. Chinese New Year is just a week away, but we'll be starting a bit early around our house so that I can share a few more of my favorite Chinese-inspired foods in the next week!
This week I've been quiet, but I feel like I'm catching my breath. Both figuratively and literally. By the time this blog posts, I will be tucked into the restorative world of Yin Yoga. A new addition to my yoga studio, and a style that I am loving for its supported postures that are held for up to five minutes each.
I am remembering the commitment I made earlier this year to slowing down. I am breathing.