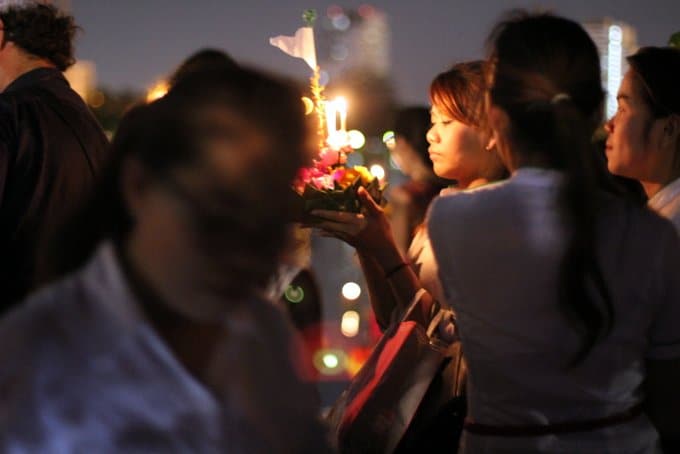 This year's Loi Krathong (Thailand's "festival of lights") seemed doomed for our expat family.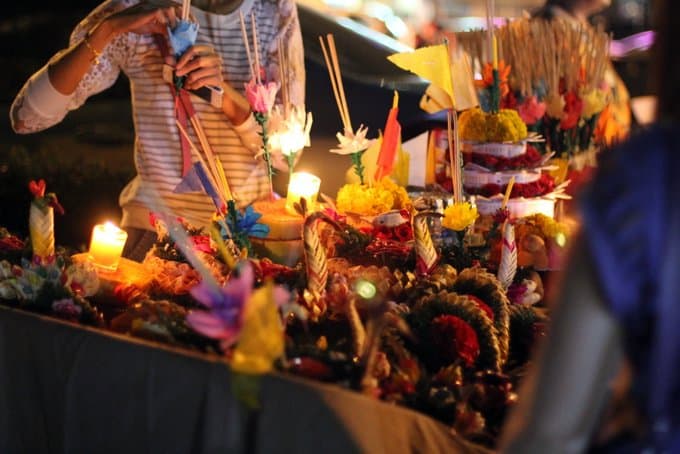 First, I had this great idea that we should rent a hotel room on the river. So I typed "Loi Krathong 2014" into the computer about a year ago and booked a room for the night that Google told me to. The key element to this festival is that people put candle-lit floats called "krathongs" in rivers and lakes and make wishes as they send them off. This would have been lovely to see at the river. It also would have been lovely if I had booked our hotel room on the right night. Imagine my surprise when I started seeing signs about the Loi Krathong celebration on November 6 and realized that I booked our hotel room for November 7.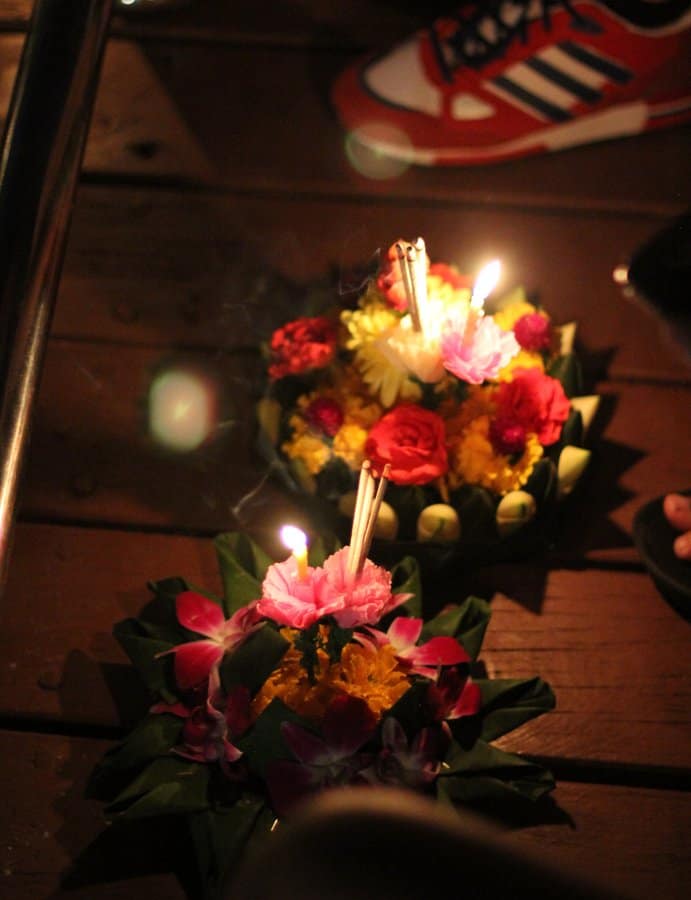 The second seeming blow to my hopes of taking part in what will be our last Loi Krathong in Thailand came when I was sitting in gridlock at 5:30 on the night of the festival. Not so wise to hop in a taxi to reach a public park by sunset, when everyone else in a city of 9 million are also trying to reach a public park by sunset.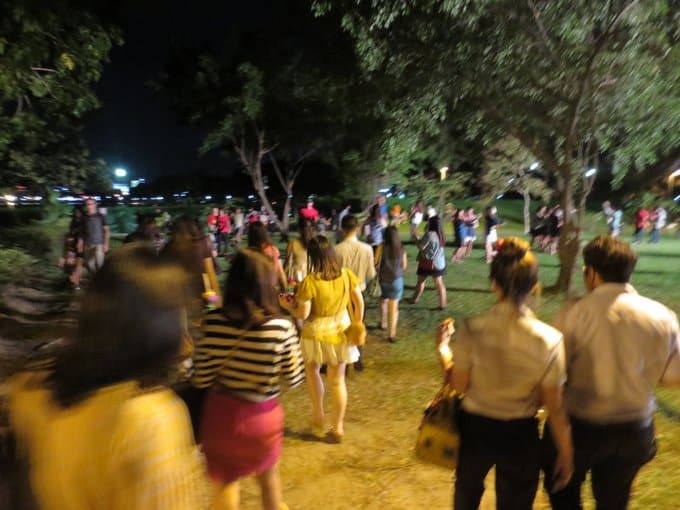 I almost gave up when I finally got home to find that our nanny (love her) had given the girls a bath and put them in cozy pjs since I, of course, had failed to tell her that we were planning take the girls out to toss some krathongs in the water. We subbed out the pjs for baby jeggings (kills me every time), strapped them in the Ergos and headed out.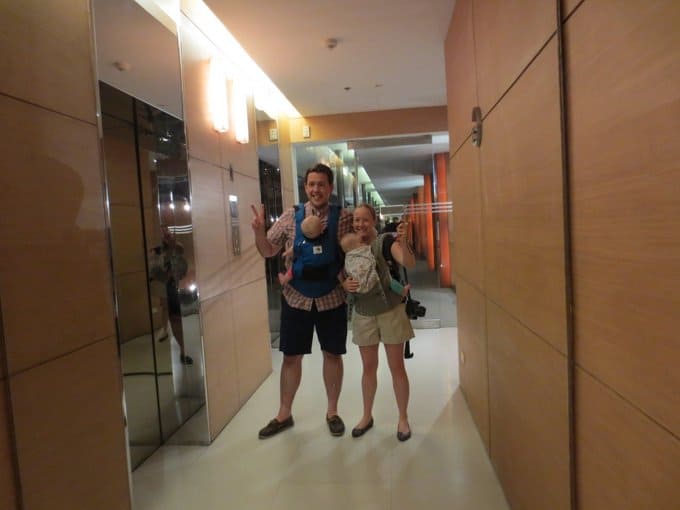 Hotel room cancelled, having missed sunset, we still walked to the public park near our apartment and had a great time.
The babies were thoroughly confused by the whole event, particularly since they're never out after dark. ("See that," Frank said to Molly, "that thing is the moon".)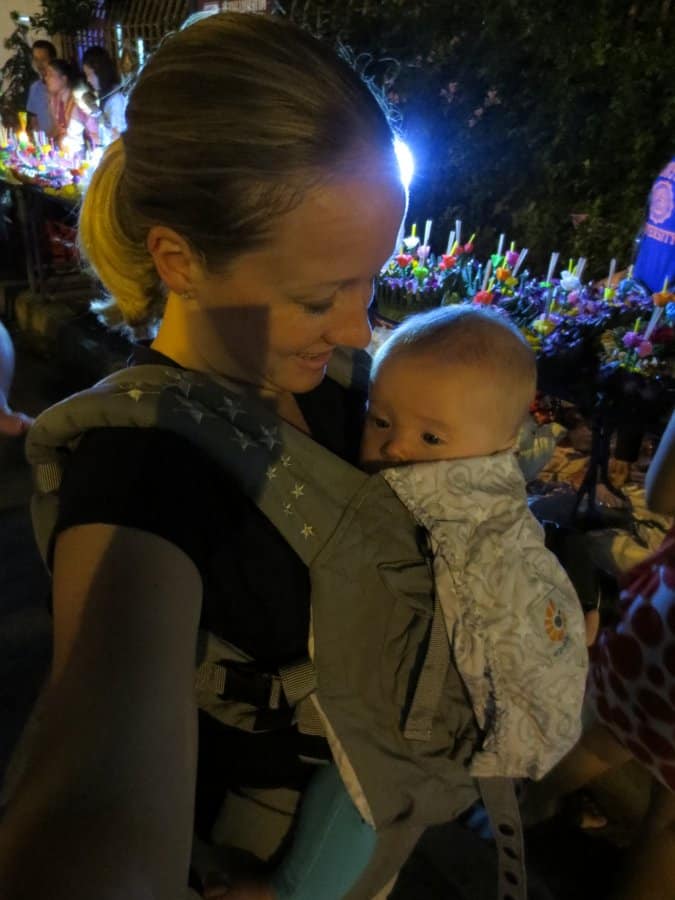 Frank bought us a great krathong from a sweet family. Blury photo is all we got...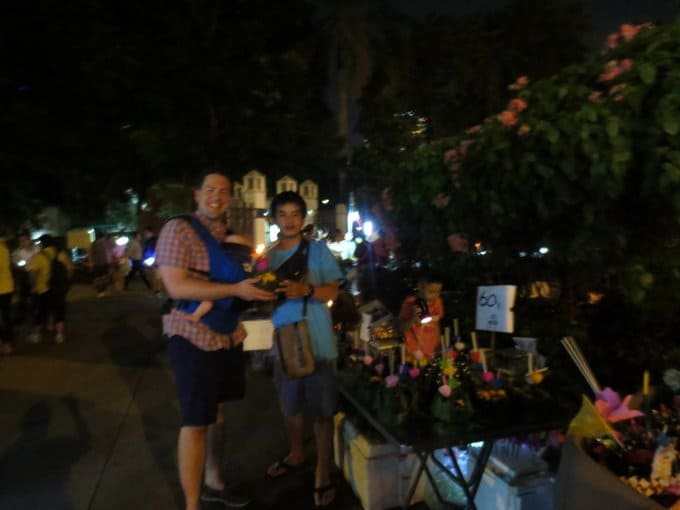 And I was photo-bombed by krathongs while Frank tried to get a shot of Clara and me.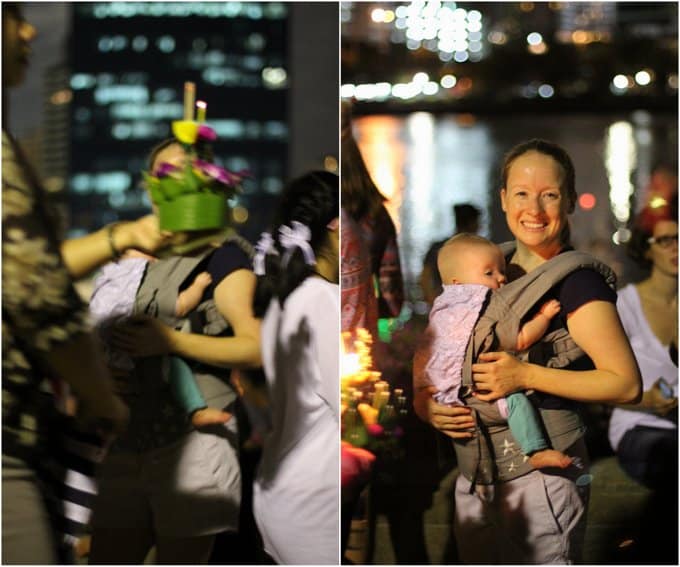 Frank and Molly dropped the krathong in the water and my heart only skipped 3249 beats when I briefly pictured them both falling in headfirst.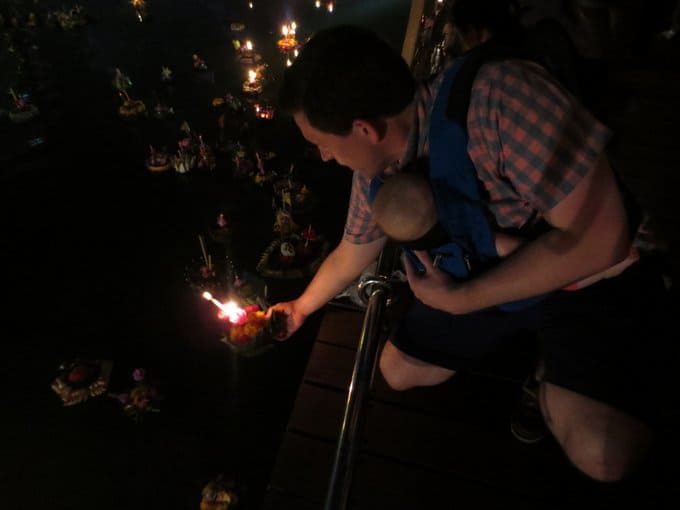 But we all stayed dry and only 26 people pointed to the girls and asked if they were twins.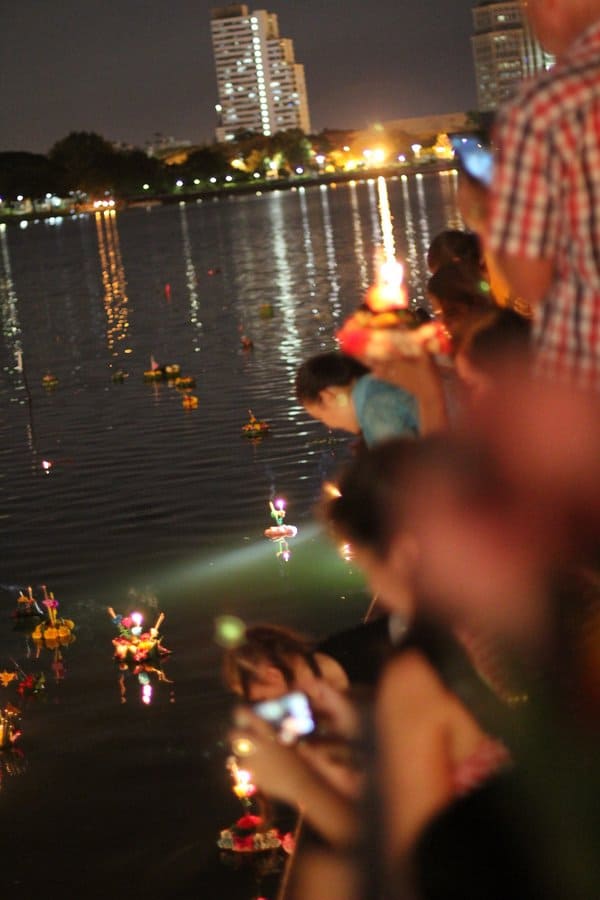 This was our fifth and final time to be in Bangkok for the Loi Krathong celebration. Ironically, we did have a hotel on the river for our first ever Loi Krathong, though we didn't really know what it was back then. We moved to Bangkok the night before and felt a little like the celebration was just for us. Sky lanterns and festive music. It was a fitting welcome to our new city all those years ago.
I felt a moment of nostalgia thinking about how much has changed since we arrived. We're counting down the months until we head back to the U.S. and, while I'm very ready to head home, I will leave with so much gratitude for all we've experienced - all the cross-cultural flubs and hours spent in traffic right alongside memories like the one of Loi Krathong.
Of holding Frank's hand with our sleepy girls on our chests in their tiny jeans while we wish for the best and send a candle-lit krathong off into the night.