This morning before the sun was even in the sky, our crew of visitors dropped from five to two. My two oldest sisters stayed behind while the rest of the family headed home. Our youngest sister, Banti, will be back in Kansas for the last few hours of Father's Day. Happy Father's Day, Dad!
Living overseas is an ever-humbling experience. (Just when you think you've got it all figured out, you think you tell a cab driver your address and end up on the opposite side of the river.) Never is that fact so poignant as when we are hosting a house full of people. Fortunately, this time around, that house full of people has been my family. And they are very forgiving.
I was constantly reminded this week of the simple fact that living in Thailand means things operate...well...differently than back home. For my family's second week in Thailand, we piled on a plane and headed South to the beach. It ended up being a week full of surprises and minor confusions, but every one resulted in stories we will surely be telling for years to come.
Last Saturday, after an hour flight on Nok Air, the seven of us were picked up by an enormous van and whisked away to the "fabulous beach villa" on a fabulous beach on Koh Lanta that I had carefully picked for us. I found the place after extensive Google searches and polling of anyone I could find who had rented a house outside of Bangkok. Months ago I had finally settled on a villa on the island of Koh Lanta which boasted long stretches of white sand beach and promised seclusion from crazy beach backpackers.
Secluded, it surely was.
Fortunately, I had planned ahead, and had our driver stop at a grocery store on the way, where we loaded up on everything that a group of seven (including three constantly hungry teenagers) might need in order to cook all our meals at a rented beach house. (There was "real" food, although the picture below makes it look a bit like we lived off of ramen and Pringles.)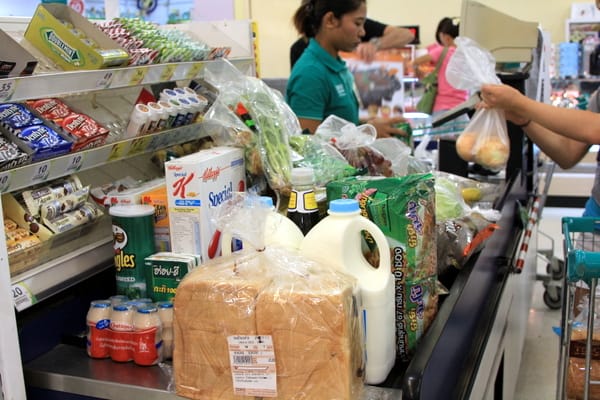 The only problem? We arrived to discover that the "well-equipped" kitchen that was advertised for the beach villa was over-stated. Considerably.
The beachfront view, was not.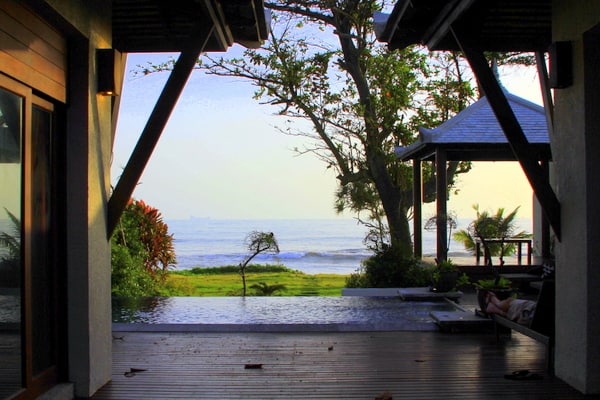 The beach house itself, was really fantastic. There was a big living space to the right and three large bedrooms each with their own bathrooms to the left. Everything was open to the breeze off the beach and the walkway between rooms ended in a bright blue infinity pool.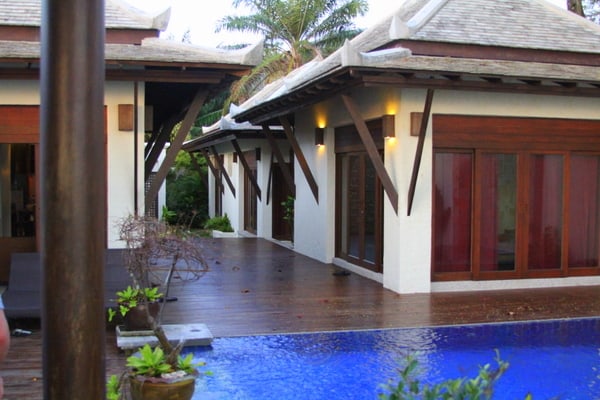 We loved the house. It was spacious and fun, even though the kitchen left a lot to be desired.
In that "well-equipped" kitchen, there was one bendy knife and a motley crew of bowls and plates.
The lone cutting board got lots of action. I sawed into rambutans while we played Bananagrams.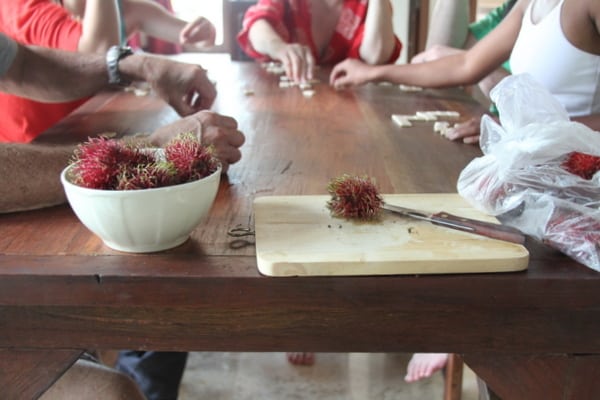 And slowly peeled lemongrass and makrut limes while sipping on merlot.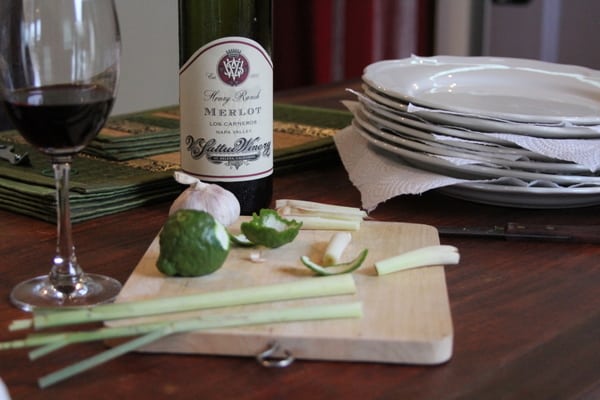 The lone mixing bowl was used for everything from panang curry to fruit salad to guacamole.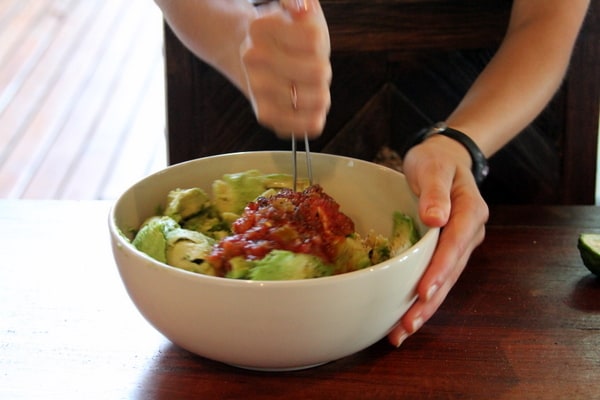 And we put to use a cheapo electric grill that we thought would cook shrimp but turned out to only be good for toasting tortillas.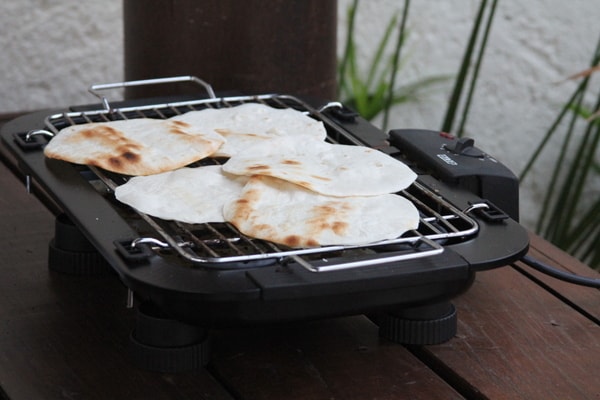 And making slightly warmed s'mores.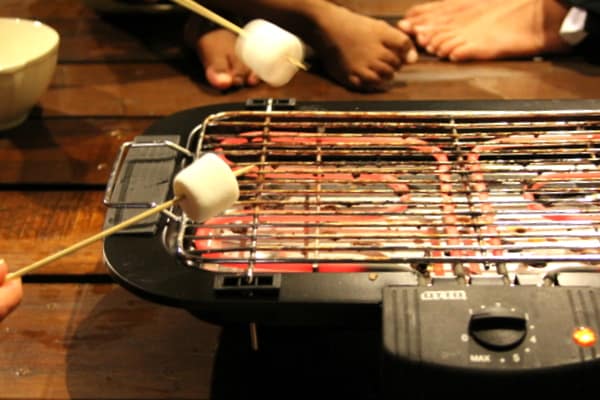 The house was so open and cooled by breeze off the water that we kept most of the doors open all day. In the few places that the windows remained closed, the outdoors still seemed determined to come in.
The house was not quite what I expected, but it was right on the beach, and offered us some really spectacular sunsets.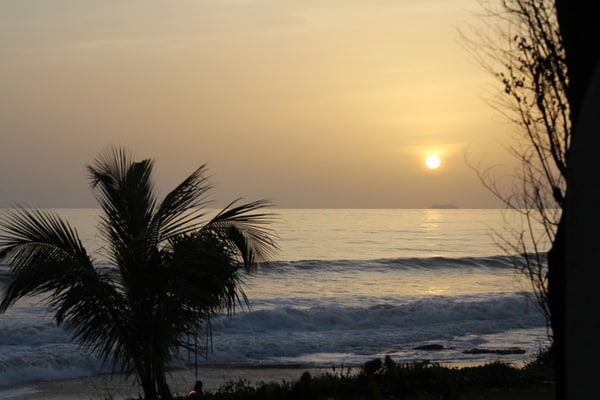 We had only one rainy day, but it instilled just enough boredom to demand an adventure the following day.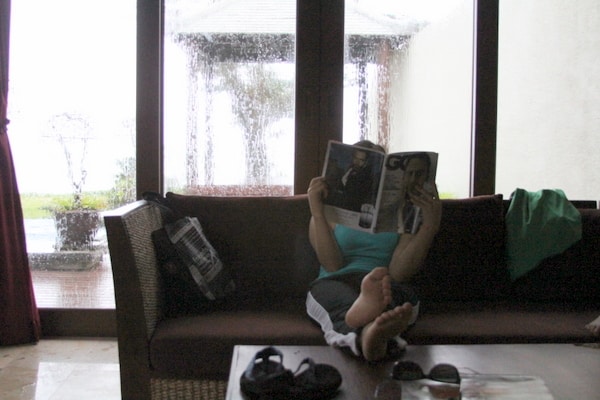 We deemed it "Rachel's Adventure" in honor of my 15-year-old sister who made it clear one morning that laying by the pool was not going to cut it. Off we went, to see "the" waterfall, advertised in the map of the island that Frank picked up at a local restaurant.
Once again, in true Thailand form, it was not quite what we expected. We put on flip-flops and packed a picnic, and set off in the back of an open-air truck that the management office of the rental house arranged for us.
The adventure started out great. The morning was bright and sunny. We even saw elephants on the side of the road.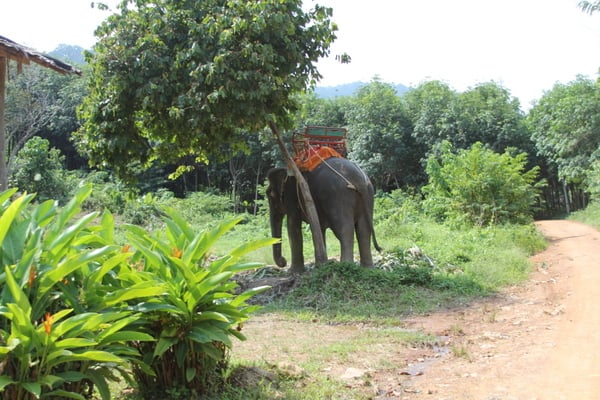 When we arrived at "the" waterfall and were pointed in the general direction we presumed it was, we all thought we were in for a 5 minute stroll...10 minute max.
30 minutes later, our guide told us "the" waterfall was 200 meters ahead.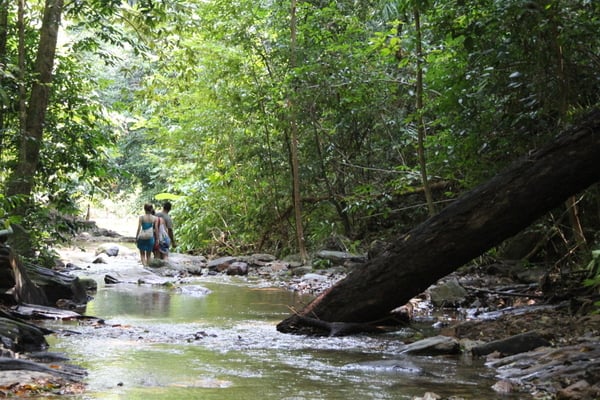 30 minutes after that, we finally arrived. At the waterfall.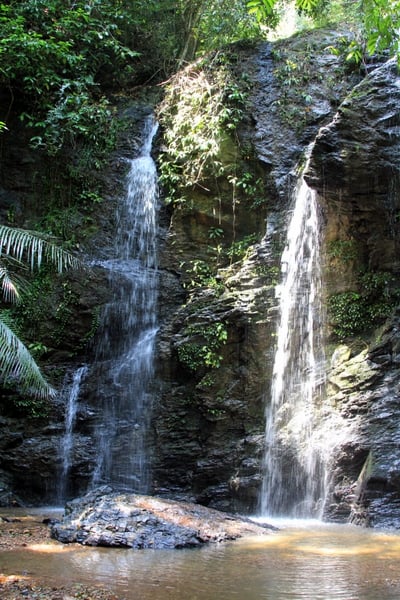 I'm still not sure if my expectation that the waterfall would be adjacent to the main road was the result of the language barrier with our guide or my misinterpretation of the map. Nevertheless, it actually was worth an hour's walk through the jungle. And the sight of it was all the more gratifying considering that we reached it in flip flops. (Hiking had not been part of the original plan.)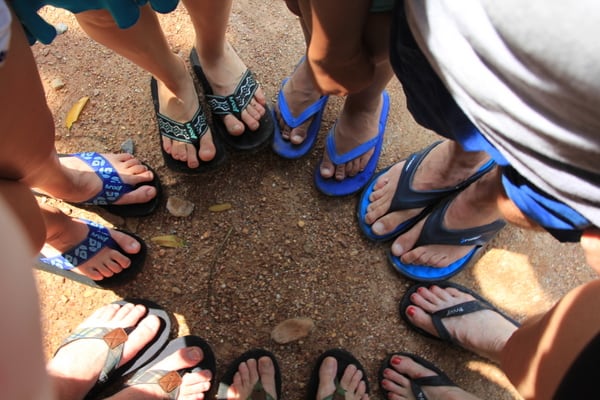 After the unexpectedly long flip flop hike, we were way overdue for lunch.
But lunch, too, was not meant to be free of adventure. We found ourselves in a national park, at a breathtaking beach.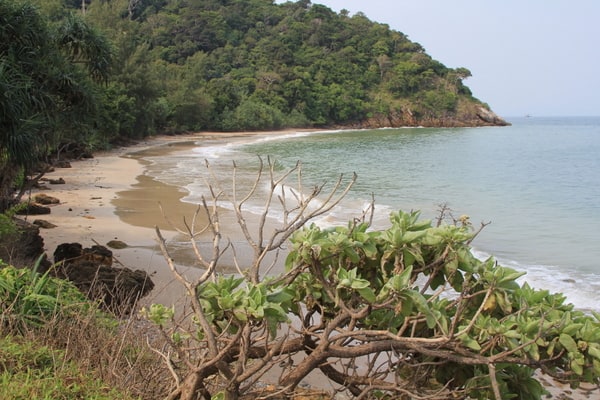 But we weren't alone.
We first giggled at the park's signs that warned not to feed the monkeys. Only minutes later, a particularly determined monkey chased us up and down the beach, angling to snatch sandwiches and chips.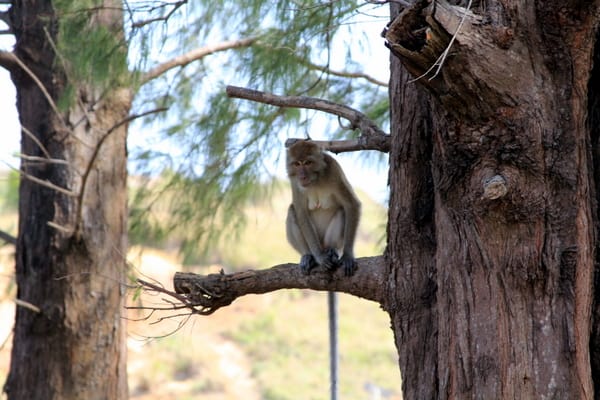 After all that adventure, and creative cooking in world's smallest kitchen, we spent the last day of our beach trip at the Anantara Si Kao where someone cooked all of our meals and all we had to do was lay by the pool.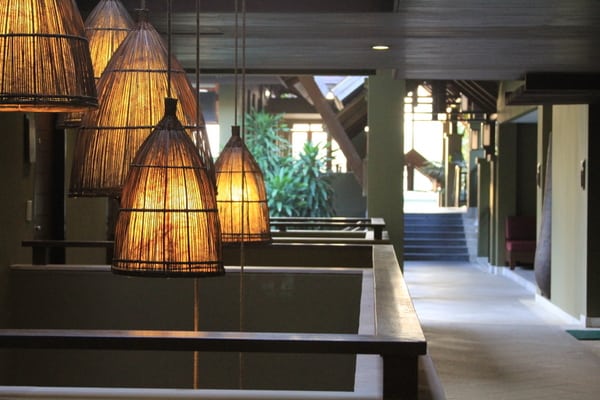 Frank and I stayed at the Anantara Si Kao a few months ago, and this time it was every bit as lovely as the last, made all the more fun by the fact that there was a whole group of us to enjoy the pool and the gorgeous views at dinner.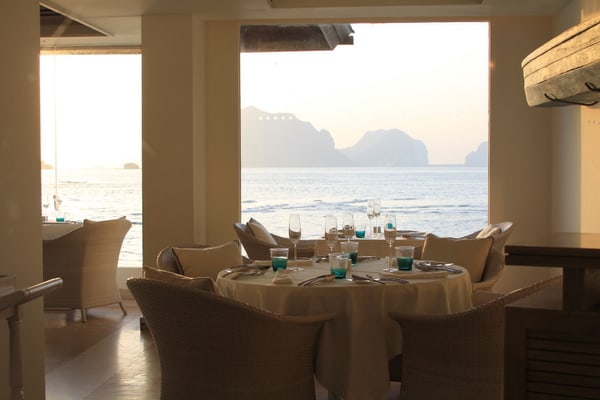 The happy hour 2-for-1 deal resulted in a double dose of pina coladas to drink while we watched yet another spectacular sunset.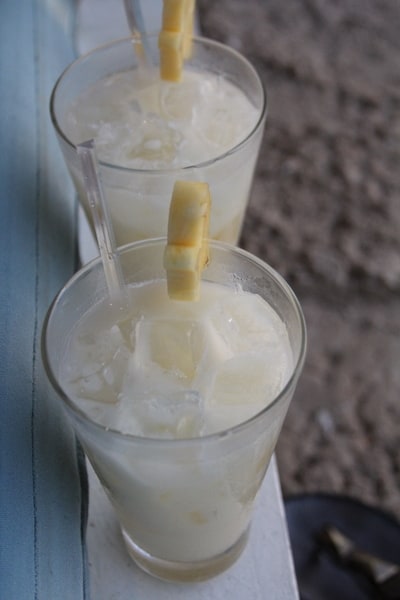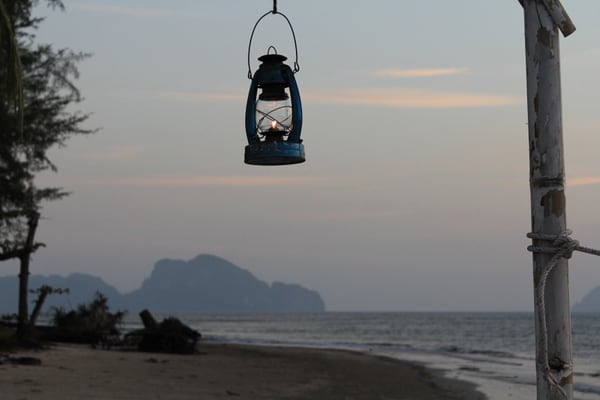 Gorgeous sunsets at the beach, surrounded by family.
Not a thing to complain about here.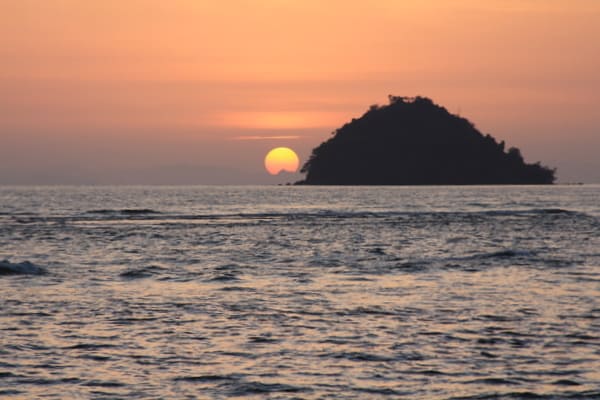 Okay, one complaint.
Both Frank and I are headed back to work tomorrow. How did that vacation go by so fast?