Healthy Blueberry Pancakes
Published Jan 28, 2016•Updated Jan 24, 2023
These healthy blueberry pancakes are stackable, snackable, and come together with just a few pantry staples. Whole wheat and real maple syrup replace all purpose flour and sugar for a totally nutritious breakfast or brunch.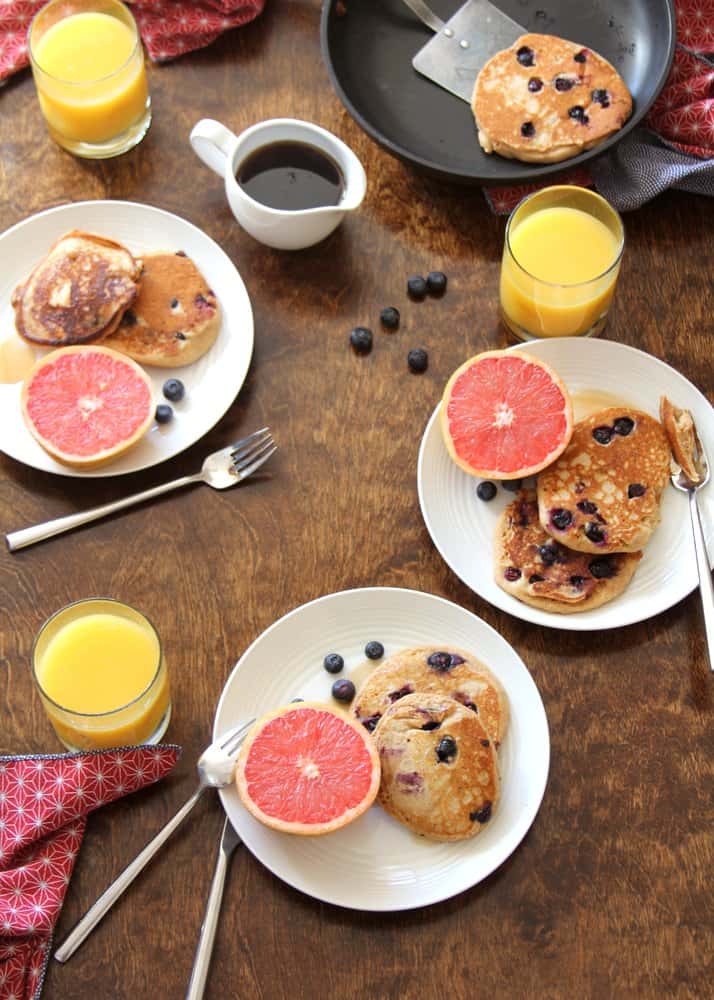 What the heck is it about blueberry pancakes that creates the most wonderfully relaxed weekend mornings? Is it the sizzle of the batter bubbling on the hot griddle? Or seeing those stacks piled high with a pad of butter and a drizzle of maple syrup? Blueberry pancakes just make mornings so cozy.
What makes this recipe so easy is that it comes together with just a few basic kitchen ingredients. Whole wheat flour replaces all purpose flour, and pure maple syrup replaces refined sugar to put a healthy twist on traditional blueberry pancakes. These light and fluffy pancakes have no trouble stacking up to your favorite local breakfast spot, and are ready before you've finished your first cup of coffee.
What Is Whole Wheat Flour?
Whole wheat flour is a type of flour that is produced by preserving the nutrient dense parts of the grain during the production process, unlike all-purpose flour which strips the bran and germ. The other key difference between the two is their color. All-purpose flour is bleached to a shade of chalky white, while whole wheat flour is unbleached, so it retains a natural light brown color.
How to Make
Make the batter – Beat eggs and maple syrup in a mixing bowl, then whisk in the oil and buttermilk. Add all of the dry ingredients and combine with a wooden spoon.
Cook the pancakes – Ladle batter onto a hot, oiled griddle or skillet, and sprinkle blueberries over the top. Flip and cook until both sides are golden brown.
Serve immediately, with butter and syrup, or a mix of your favorite toppings.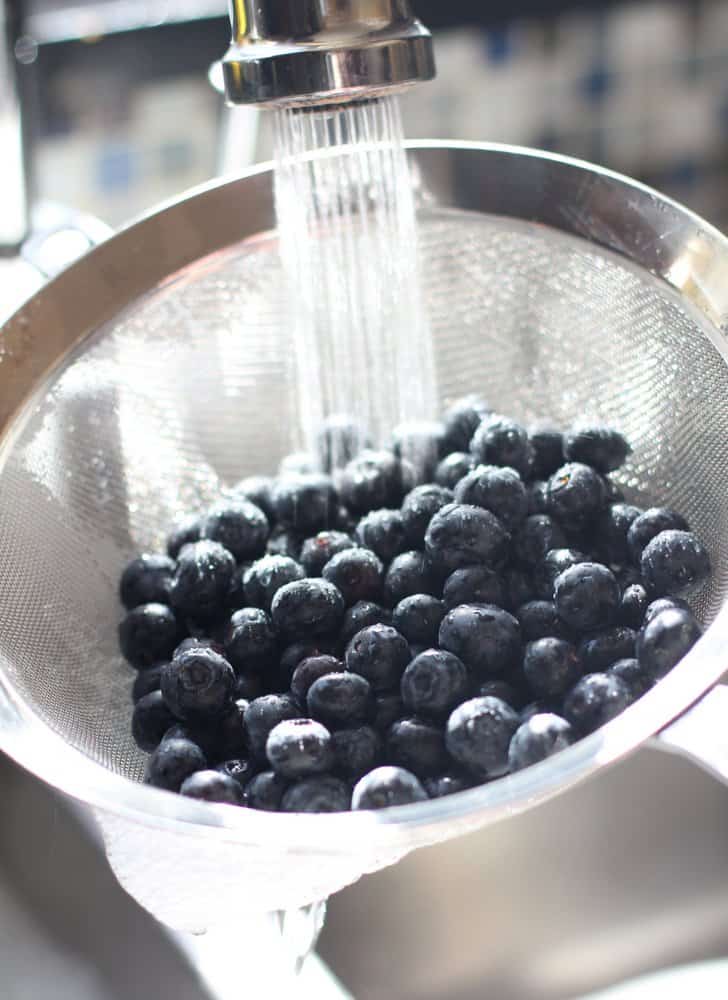 Ingredients
Eggs – Creamy eggs bind all of the ingredients together in the pancake batter.
Maple Syrup – Real maple syrup is used in the place of sugar in this recipe to give the blueberry pancakes a naturally sweetened flavor. An easy way to check if you're using authentic maple syrup, rather than an artificially sweetened pancake topper, is to look for the "pure maple syrup" label.
Neutral Cooking Oil – Using a neutral oil like avocado, grapeseed, or vegetable oil, rather than olive oil, will preserve all of that juicy blueberry flavor.
Low-fat Buttermilk – What are pancakes without the buttermilk? If you want to make this recipe on a whim and find you're out of buttermilk, have no fear. You can recreate that tangy buttermilk flavor with 1 1/2 cups skim milk, 1 Tablespoon white vinegar, and 1/2 cup plain yogurt.
Whole Wheat Flour – Super nutritious whole wheat flour is what gives these pancakes their extra vitamins and minerals, and their hearty texture. You can also use white whole wheat flour.
Baking Powder – Adding baking powder to pancake batter is the first step to giving pancakes their fluffiness.
Salt – A touch of salt brings all of your favorite breakfast flavors together.
Blueberries – Fresh or frozen blueberries work in these pancakes. If you're the kind of shopper who likes to stock up on fresh fruits when they are at peak ripeness, and then freeze for use later, this recipe is perfect for you.
Tips
Make sure your skillet or griddle is warmed-up and ready to go – If you've ever wondered why the first few pancakes you throw on the skillet are kind of, meh, the answer lies in how hot the cooking surface is. If you start adding the batter to the griddle before it's hot enough, your blueberry pancakes will be flat.
Smooth batter is happy batter – When it comes to pancakes, the smoother the batter the better the pancake. When you add the dry ingredients to the egg mixture, give a few extra stirs to make sure all of the ingredients are thoroughly combined and there are no air pockets with stray clumps of flour.
Variations
Use a different berry – Use strawberries, raspberries, blackberries, even lingonberries in place of blueberries. Most types of juicy berries will work in this recipe.
Try new toppings – Double-up on the blueberry flavor with a drizzle of blueberry syrup. Top these whole wheat pancakes with fresh fruit or whipped cream. Add a dusting of cinnamon for blueberry-cinnamon pancakes.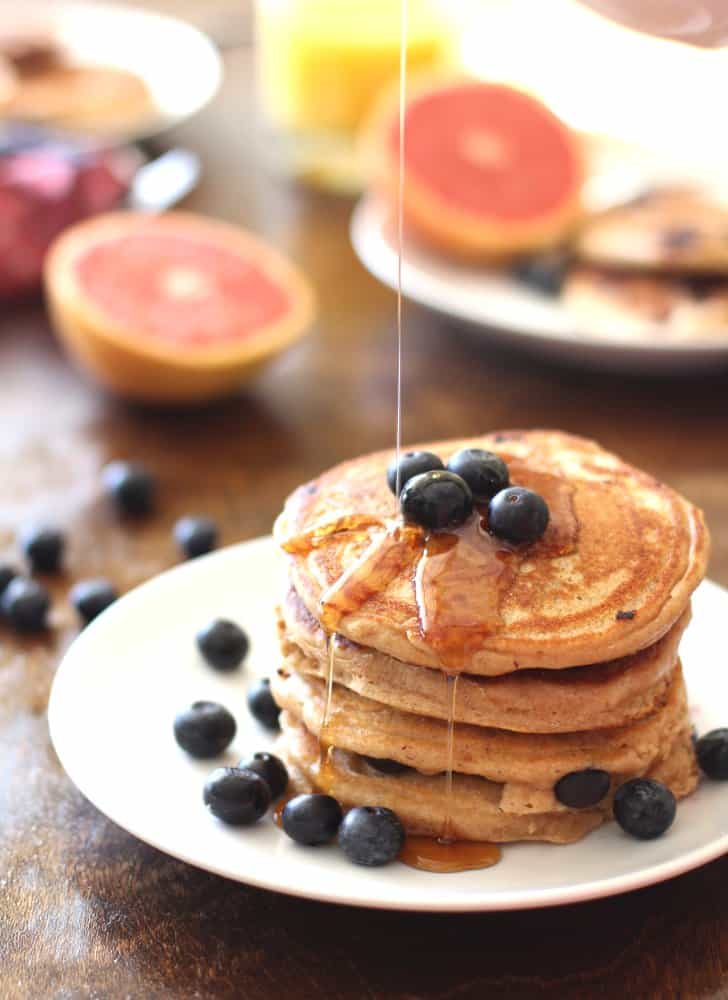 FAQs
Are whole wheat pancakes healthy?
Whole wheat (and whole grains) are an essential part of a nutritious diet. This high fiber, vitamin and mineral rich food may help lower cholesterol, blood pressure, and insulin levels. Eating whole wheat foods will also leave you with that satisfied "full feeling" longer than food made with refined grains.
How to freeze and reheat leftover pancakes
Whole wheat blueberry pancakes are a great make-ahead breakfast food that you can freeze and reheat in minutes. When you are ready to store and freeze the pancakes, make sure they are cool or room temperature. Stack with a piece of wax paper between each pancake to prevent sticking.
Place the pancakes in an airtight freezer bag, and store for up to one month.
Reheat this healthy breakfast treat in a microwave for 30 seconds at a time, until the pancakes are warmed all the way through. Due to their super light texture, pancakes will reheat quickly.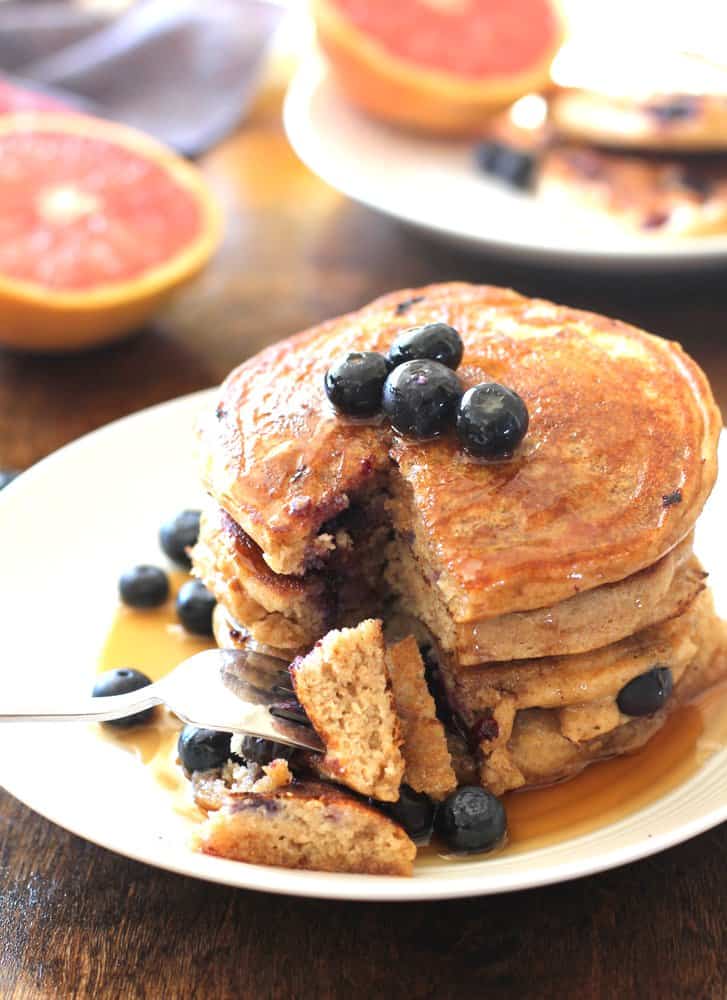 More Pancake and Waffle Recipes
Favorite Tools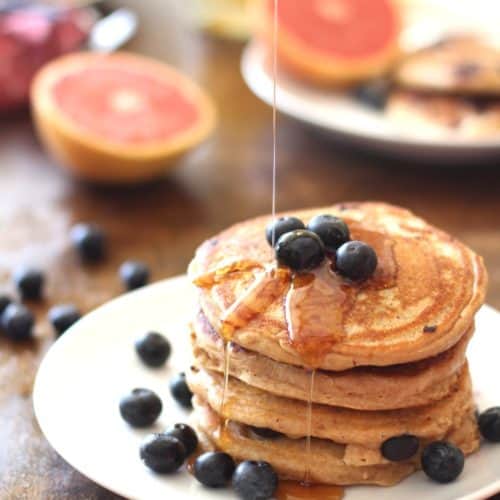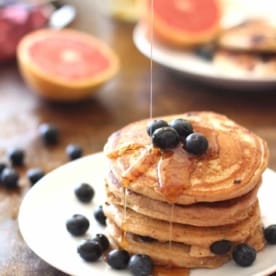 Healthy Blueberry Pancake Recipe
Whole wheat blueberry pancakes are light, fluffy and made in just one bowl. Packed with fresh or frozen blueberries, it's a healthy, delicious, fun breakfast you can feel good about.
Equipment
Mixing Bowl

Whisk

Wooden Spoon

Griddle or Skillet
Ingredients
2

Eggs

2

Tbsp

Maple Syrup

1/4

cup

Neutral Cooking Oil, like avocado, grapeseed, or vegetable

2

cups

Lowfat Buttermilk

(475 mL) (see note)

2

cups

Whole Wheat Flour

(or use white whole wheat flour)

2

Tbsp

Baking Powder

1/2

tsp

Salt

2

cups

Blueberries

(fresh or frozen)
Instructions
Beat eggs and maple syrup in a mixing bowl with a wire whisk. Beat in the oil and buttermilk until evenly combined. Add dry ingredients all at once and stir with a wooden spoon until smooth.

Ladle batter onto a hot, oiled griddle or skillet until bubbles form on the surface. Scatter blueberries over the top. Flip and cook until both sides are golden brown.

Serve immediately, with butter and syrup.
Notes
Don't have buttermilk? Replace the 2 cups buttermilk with 1.5 cups skim milk + 1 Tablespoon white vinegar + 1/2 cup plain yogurt. (The yogurt and the vinegar give the milk substance and mimic the sour flavor of the buttermilk – it works great!)
Nutrition
Serving:
4
g
|
Calories:
356
kcal
|
Carbohydrates:
51
g
|
Protein:
10
g
|
Fat:
15
g
|
Saturated Fat:
3
g
|
Trans Fat:
1
g
|
Cholesterol:
63
mg
|
Sodium:
306
mg
|
Potassium:
728
mg
|
Fiber:
6
g
|
Sugar:
18
g
|
Vitamin A:
241
IU
|
Vitamin C:
5
mg
|
Calcium:
298
mg
|
Iron:
2
mg
Nutrition information is automatically calculated, so should only be used as an approximation.