Tom Kha Gai
Published Feb 24, 2022•Updated Sep 30, 2022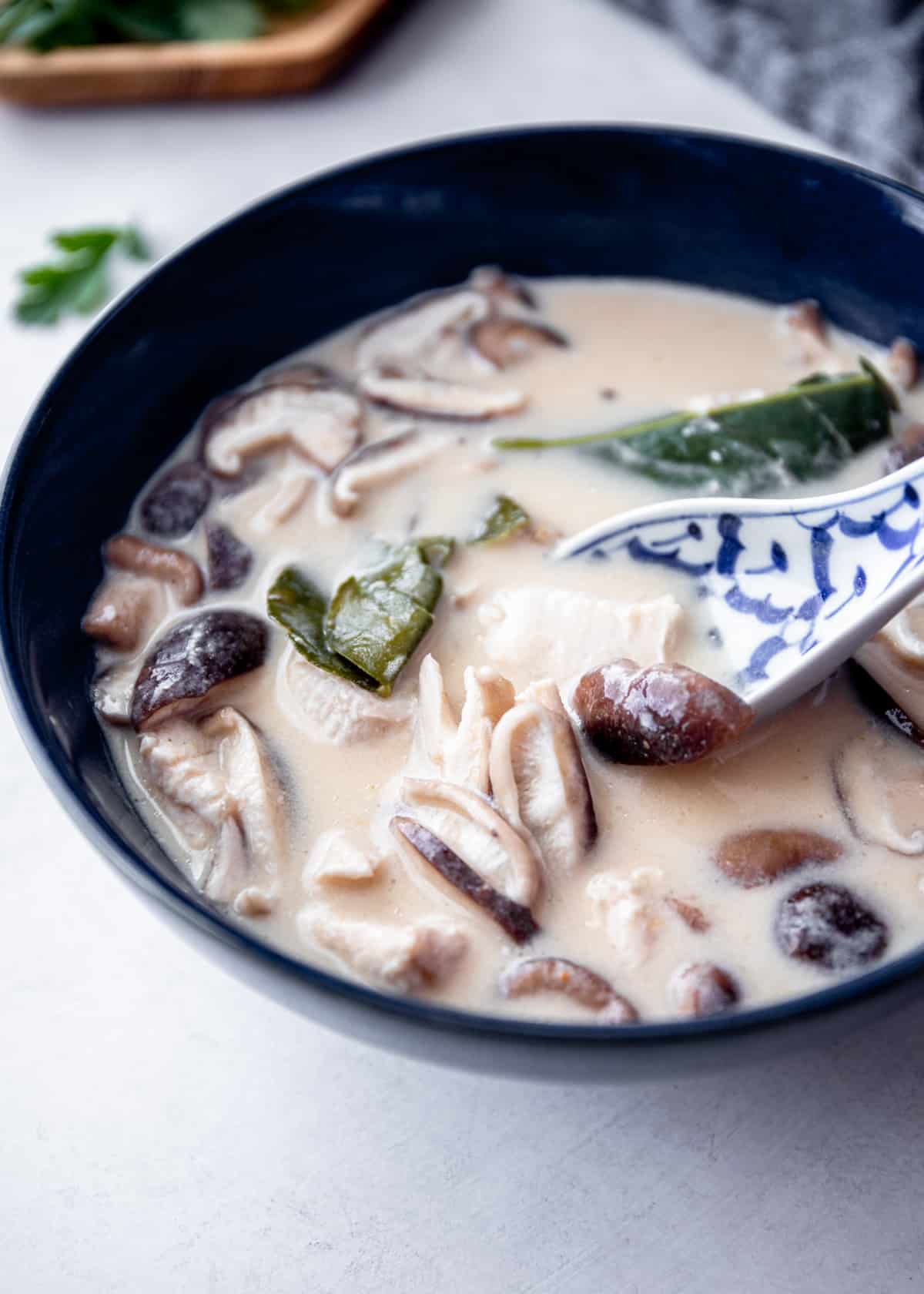 Tom Kha Gai is a surprisingly simple soup to make with all of the most delicious Thai flavors – a base of creamy coconut milk flavored with lime, savory fish sauce, and studded with bites of tender chicken.
I had to go back and check twice to be sure that I didn't already have a version of Tom Kha Gai on the blog somewhere. It's one of my favorites – I can't believe I overlooked it until now! It's also incredibly easy to make once you gather the ingredients. With a base of creamy coconut milk, this soup is incredibly comforting. You can add spice if you'd like or skip it altogether.
Tom Kha Gai Video Recipe
How is Tom Kha Gai Served?
Before we dive into the soup (figuratively speaking), a quick introduction to Thai-style meals. When we moved to Bangkok so many years ago, the first thing that made as feel at home was the sharing of meals. In Thailand most meals are served family style with a variety of dishes placed in the middle of the table. This includes soup which is ladled into small bowls and served alongside everything else. As a dinner at the table, you place a heaping spoonful of warm Jasmine rice on your plate and then serve yourself from the other dishes at the table. You hold a spoon in your right hand and a fork in your left and scoop some food and some rice onto the spoon before bringing it to your mouth. (Contrary to the message you get at many American Thai restaurants, chopsticks are reserved for noodle dishes.) Soup is often eaten in the same way. Scoop some rice into a spoon, dip it in the soup – eat it all together!
That said, Tom Kha Gai is perfectly delightful served as a meal all on its own. Rice on the side is great, but even that is optional.
Ingredient Notes
So, let's talk ingredients! There are a few unique ones here.
Galangal

– Galangal is a root that looks like ginger but has a very different, more floral, flavor. There's no need to peel it first. Just wash it well and slice it into coins.

Shallots

– Peel the shallot bulbs but leave them whole.

Lemongrass

– Lemongrass comes in long stalks that can be a couple of feet long. Use only the lower few inches of the plant. Discard the tough outer stalks before using it.

Makrut Lime Leaves

– There's just no replacing the rich, exotic lime flavor and aroma that comes from makrut lime leaves. These leaves are available at any international / Asian grocery store and are often frozen (they store very well in the freezer). I also frequently find them at Whole Foods. When I find them I buy extra, rinse and dry them, and freeze them. If you don't have them, be sure to squeeze a little extra lime juice into the soup for the lime flavor.
Before you add these aromatic ingredients to the soup, you'll want to break them up a bit so that they easily release their flavors into the soup.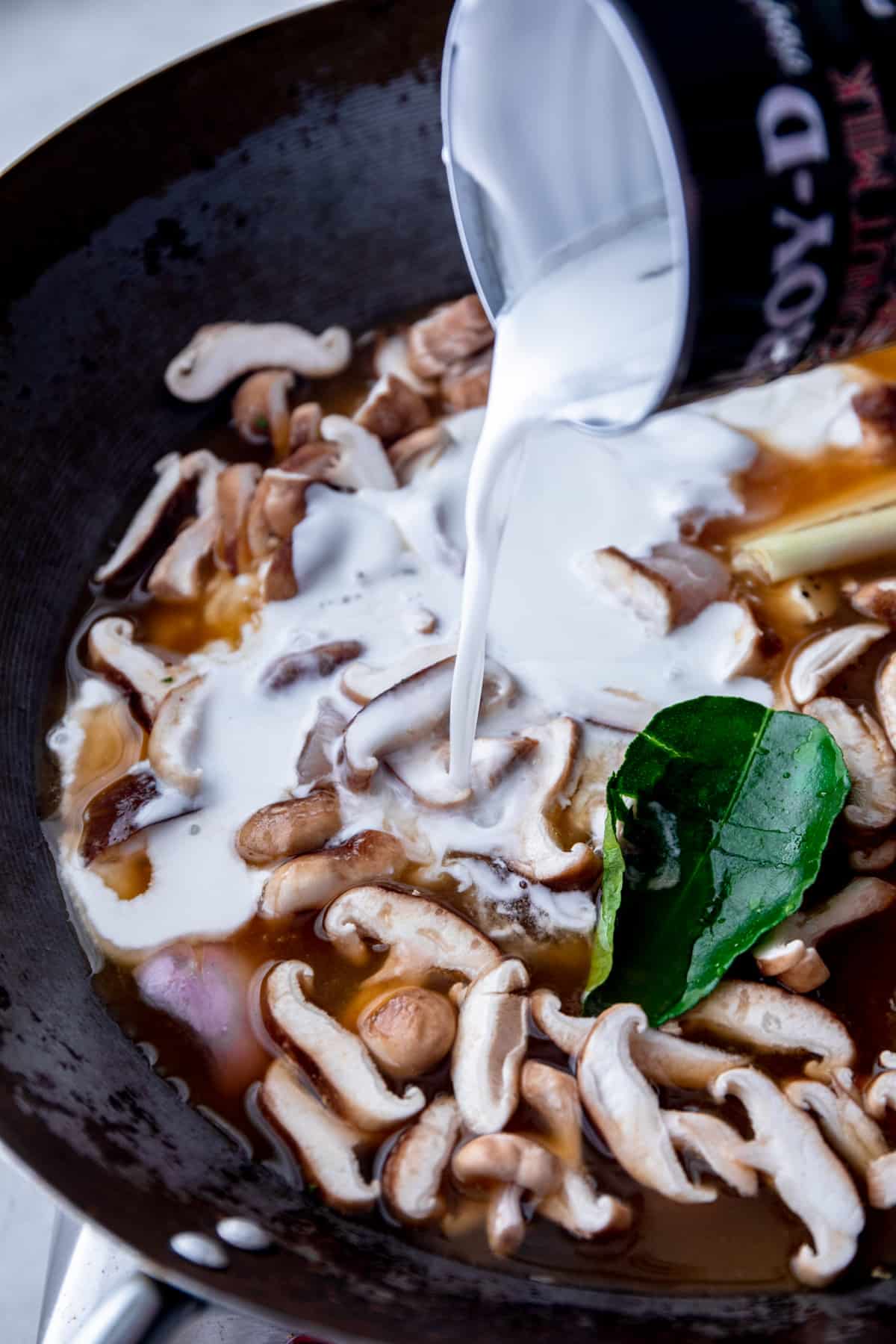 Serving Aromatics in Tom Kha Gai
One of the unique things about the way this soup is served is that all of the aromatics are still intact. The beauty of serving the soup with the pieces of galangal, shallots, lemongrass, and makrut lime leaves in it is that the bowls of soup are incredibly aromatic. The slight downside is that you have to look out for them as you eat – those ingredients are far too tough to chew and eat, so just set them aside as you spoon up the other ingredients.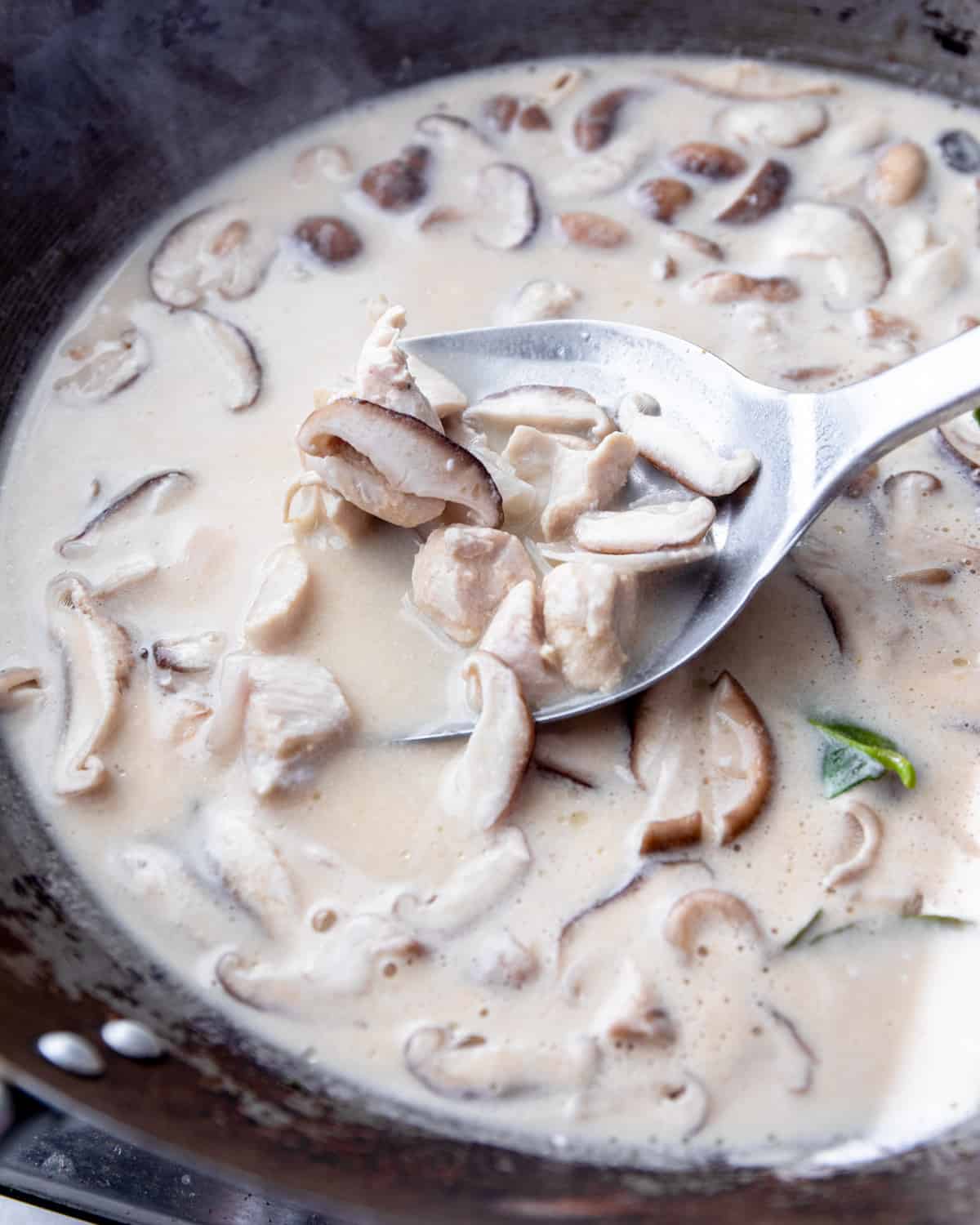 More Thai Soups
Favorite Tools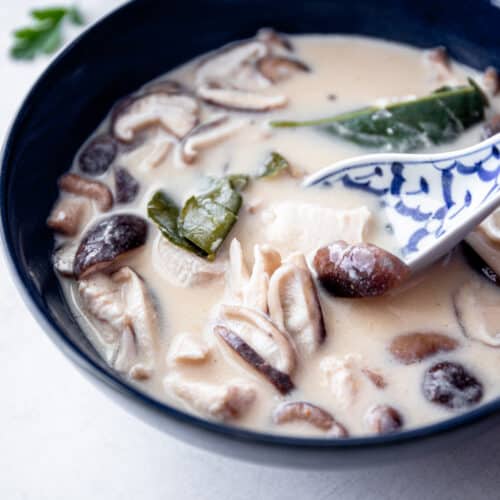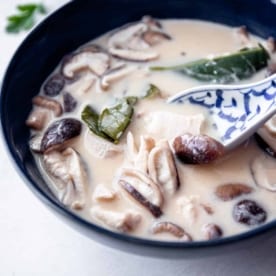 Tom Kha Gai
Tom Kha Gai is a surprisingly simple soup to make with all of the most delicious Thai flavors – a base of creamy coconut milk flavored with lime, savory fish sauce, and studded with bites of tender chicken.
Equipment
Dutch oven, wok or saute pan
Ingredients
1

2-inch piece

Galangal, sliced

(see note)

2

large

Shallots

2

Lemongrass Stalks

(just use the lower 6 inches of the stalk)

4

Makrut Lime Leaves

(see note)

8

ounces

Oyster or Shiitake Mushrooms, thinly sliced

(look for pre-sliced)

10

ounces

Boneless and Skinless Chicken Thighs or Breasts, cubed

(can use shrimp or cubed tofu)

4

cups

Chicken or Vegetable Stock / Broth

1

13.5 ounce can

Regular Coconut Milk

(not light)

2

Tablespoons

Fish Sauce

(substitute soy sauce if you'd like, but fish sauce will give you the most authentic flavor)

2

teaspoons

Brown Sugar

2

teaspoons

Lime Juice

Chili Oil or Sriracha, for serving

(optional)

Cilantro, for garnish

(optional)

Cooked Jasmine Rice, for serving

(optional)
Instructions
Using a rolling pin or meat tenderizer, smash the galangal, shallots, and lemongrass stalks just to open them up. Gently crush the lime leaves with your hands. (You want these aromatics to stay intact so that you can easily remove them or avoid them when enjoying the soup, but smashing them open will help them to release their flavors.)

Heat a Dutch oven, wok, or saute pan over medium heat. Add the smashed aromatics and saute in the dry pan to get them started cooking, about 2 minutes.

Add in mushrooms, chicken, and stock and bring to a simmer.

Simmer until the mushrooms are tender and chicken is cooked through, about 15 minutes. (Reduce heat if the liquids start to bubble vigorously. If the mixture boils it can cause the chicken to get tough.)

Stir in coconut milk, fish sauce, and brown sugar. Bring back to a simmer.

Remove soup from heat and stir in lime juice. Taste and add more lime juice for more tart flavor, more fish sauce for more salty flavor, or more sugar for more sweetness.

Serve soup with chili oil or Sriracha stirred in if you'd like some spice. Garnish it with cilantro and serve with some rice on the side.
Notes
Galangal and Makrut Lime Leaves
– These ingredients are the key to giving the soup a unique, authentic flavor. You can substitute ginger for the galangal which produces a still delicious, though slightly different result. You can use the peel of a regular lime in place of the Makrut lime leaves which similarly will still give you a delicious soup, though just not a totally authentic flavor.
Nutrition
Calories:
139
kcal
|
Carbohydrates:
12
g
|
Protein:
16
g
|
Fat:
3
g
|
Saturated Fat:
1
g
|
Polyunsaturated Fat:
1
g
|
Monounsaturated Fat:
1
g
|
Trans Fat:
1
g
|
Cholesterol:
67
mg
|
Sodium:
1717
mg
|
Potassium:
438
mg
|
Fiber:
2
g
|
Sugar:
7
g
|
Vitamin A:
521
IU
|
Vitamin C:
2
mg
|
Calcium:
20
mg
|
Iron:
1
mg
Nutrition information is automatically calculated, so should only be used as an approximation.