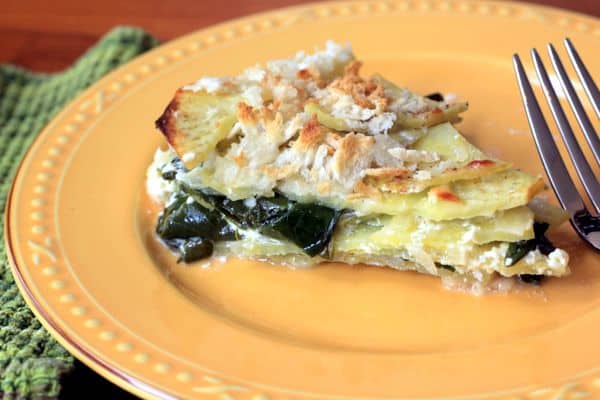 Although very few people in Thailand celebrate Christmas, the streets of Bangkok are filled with signs of the season. Christmas lights and some of the biggest decorated trees I've ever seen started showing up everywhere shortly after we arrived in the country back in November.
In our apartment, it truly feels like Christmas for the first time because our first shipment of moving boxes made it through customs and to our new home last week. I had been anxiously patiently awaiting the 450 pounds worth of boxes that contained, primarily, tools for our kitchen (and a few Christmas decorations for our apartment). Although we've been doing quite well with only the small saucepan and what my husband calls the "emergency" tart pan that we brought in our checked luggage (along with the newly purchased wok), opening our air shipment started me thinking about all kinds of dishes to get us in the Christmas spirit this week.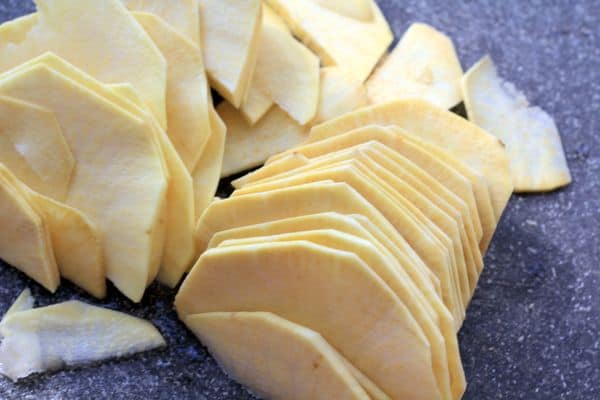 Although we are far from home, we are determined to have our own, semi-authentic Christmas dinner together. I'm also looking for any excuse to play in my now fully stocked kitchen. Because our little oven will hold only one baking dish at a time, the Christmas Eve baking and cooking had to get started a bit early. First up in the kitchen today – sweet potato and kale gratin. I've had a number of variations on these winter vegetable gratins and the layers, colors, and irresistible richness of the cream makes me think of the holidays. This gave me an excuse to try another use for the white sweet potatoes that I absolutely love, but I envisioned this recipe to be made with the orange sweet potatoes that are much easier to find outside of Thailand.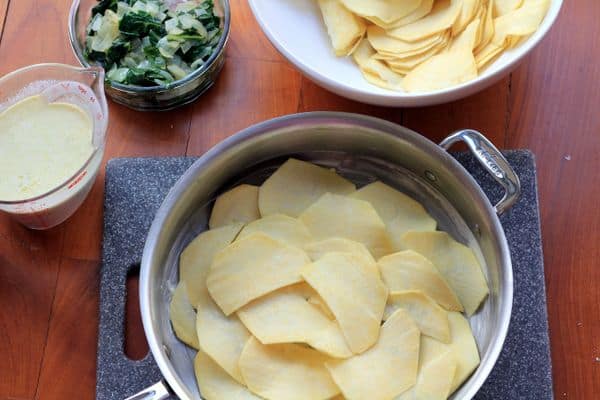 I hope that you are enjoying your holiday week. Send some snowy thoughts our way! Although I am loving the swimming pool perfect weather we're having this week, it feels a bit ridiculous to be listening to "White Christmas" on the ipod.
Note: This recipe has you assemble the gratin in a 13×9 inch glass baking dish, which is how I usually make gratins. However, glass baking dishes did not make the first cut of items shipped from our apartment in DC, so I used the 4 quart oven-safe pan shown in the pictures above. It would also be great in a cast iron skillet, cut into pie-shaped slices after baking.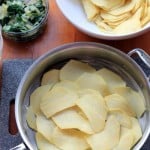 Print Recipe
Sweet Potato and Kale Gratin
Ingredients
2

tbsp.

butter

1

large onion, chopped

6

cups

raw kale, rinsed and roughly chopped

2

cups

milk (2% or whole)

1

cup

heavy cream

½

tsp.

nutmeg

½

cup

blue cheese, crumbled

5

large sweet potatoes, peeled and very thinly sliced

½

cup

parmesan cheese

1

cup

panko (or other breadcrumbs)
Instructions
Preheat oven to 400 degrees.

Heat butter in large sauté pan over medium-high heat. Add onion and cook until soft and translucent. Reduce heat and pour kale over onions. Cover pan with lid and cook until kale is reduced and wilted, stirring occasionally. This process should take about 10 minutes, and kale should reduce to about 2 cups. Pour contents of pan into a strainer and allow to drain well while preparing other ingredients. (Kale must be very well drained – squeeze as much liquid out of it as possible while it is in the strainer.)

In the same pan used for the onions and kale (no need to wash it), heat milk and cream over medium heat until they begin to boil. Remove from heat and add nutmeg and blue cheese, whisking to combine.

In a well greased 13×9-inch baking dish, assemble the gratin. First, line the bottom with ¼ of the sweet potatoes. Top with ⅓ of the kale, followed by ⅓ of the milk. Repeat layers, ending with a layer of sweet potatoes.

Cover gratin tightly with foil and bake until liquid is bubbling and potatoes are tender, 45-50 minutes. Remove foil and sprinkle parmesan cheese and panko evenly over gratin. Return to oven, uncovered, and bake another 10-12 minutes, until topping begins to brown. Allow dish to cool at room temperature for 10 minutes before slicing and serving warm.
Notes
It is important to slice the sweet potatoes very thin to get all of the layers that give this gratin its nice texture and to insure that the cooking time noted above is correct. If you have a mandolin, it would be best to use that for slicing, but carefully slicing it as thinly and evenly as possible with a knife will work as well. You can substitute parmesan for the blue cheese in this recipe if you prefer.