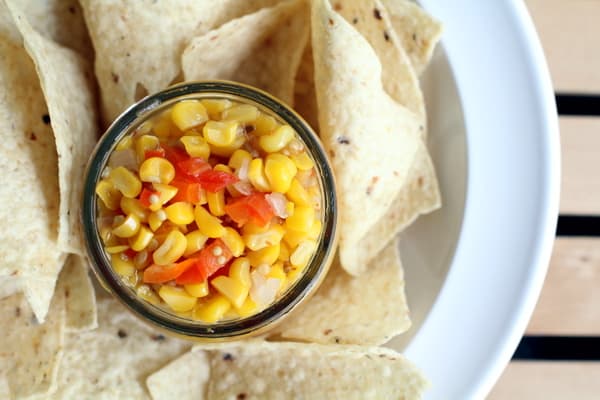 Just like Trader Joe's corn and chile salsa, this sweet and spicy corn salsa captures the flavor of summer. It's great with chips, on tacos or salads, or stirred into guacamole.
A few years ago I spent the summer working in New York City where I had, like many New Yorkers, a kitchen so small that it could barely be called a kitchen. More accurately, it was a hallway that happened to house a stove, sink, and refrigerator. My roommate and I kept the pots and pans on top of and inside of the stove. Heating anything required that we relocate all of the cookware to the floor.
Part of my job in NYC involved visiting kindergarten-3rd grade classes in schools in all five boroughs. I loved it, but I quickly learned that few things in this world tire a person out like a room full of 6-year-olds. My mid-summer days in New York City were long and hot. At the end of them I often wanted to go home to my non-existent kitchen...and make dinner in 6-year-old-free silence.
It was during that hot summer that I discovered Trader Joe's Corn and Chile Salsa. This stuff was my NYC summer dinner secret. I experimented with all sorts of other locally produced salsas and chutneys that I picked up at farmer's markets or shops around the city that summer, but my standby was always this inexpensive bottle from TJoe's.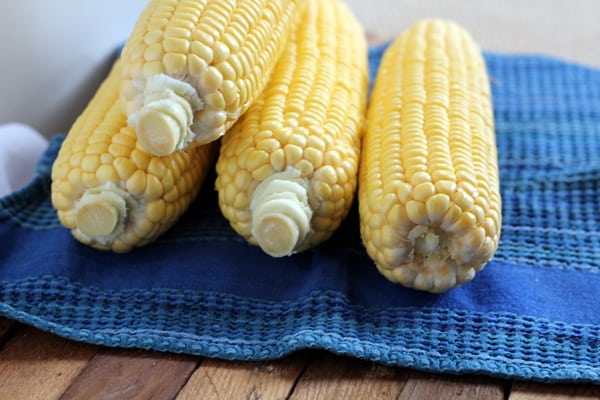 After a long day, I would stop at a specialty grocer near my apartment on the lower east side and grab roasted salmon, a bunch of raw vegetables, or baguette and a few slices of good cheddar. I'd douse any of the above (and countless other things) in this corn and chile salsa and would have dinner in 5 minutes or less. Virtually no dishes to wash, and no re-arranging of cookware on the "kitchen" floor.
While I can almost guarantee that you will invent things to do with this corn salsa once it is in your fridge, it is addictive simply served with chips for dipping (and out of this world when stirred into mashed avocado).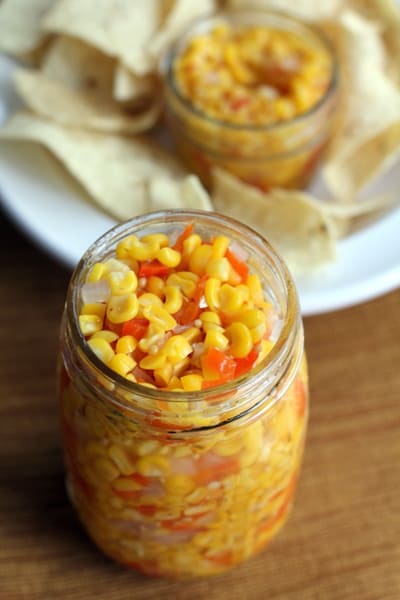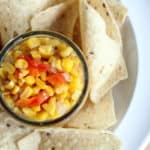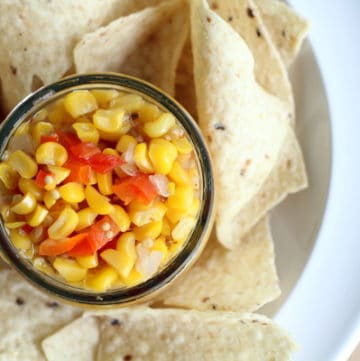 Print Recipe
Sweet and Spicy Corn Salsa
Capture the flavor of summer in this sweet and spicy salsa - great with chips, on tacos or salads, or stirred into guacamole.
Ingredients
4

ears of sweet corn (kernels removed and reserved, husks discarded)

1

red pepper, finely chopped

1

cup

distilled white vinegar

¾

cup

sugar

¼

cup

water

1

and ½ teaspoon mustard seeds

¼

tsp.

cumin seeds

1

red onion, minced

1

and ½ tsp. ground red pepper (add an extra tsp. ground red pepper if you like your salsa more spicy)
Instructions
Toss the sweet corn kernels and chopped red pepper together in a mixing bowl. Set aside.

In a large saucepan, combine the vinegar, sugar, water, mustard seeds, and cumin seeds. Pace the pan over medium-high heat until it begins to boil. Reduce the liquid to a simmer. Add the chopped onion and ground red pepper. Simmer until the onion becomes translucent, about 10 minutes. To the simmering liquid, add the sweet corn and chopped red pepper. Simmer for 5 minutes. Remove from heat.

Using a slotted spoon, transfer the corn salsa to a non-reactive container, pressing down lightly to pack the corn. Gently pour the remaining cooking liquid from the saucepan over the packed salsa just until it is covered. Refrigerate for a day before serving (to allow the flavors to develop).

Serve with chips for dipping.