I'm home in Kansas, and the trip thus far has been so full of pure and simple goodness that I wish I could wrap it up and tuck it in my pocket. But I can't, so instead, I'm stuffing myself silly with giant salads, inventing reasons to run to Target, and grabbing every single opportunity to sit at the kitchen counter with my sisters and hash out the difficulties of high school and first jobs.
My heart is very full.
Next up, I head to Virginia for even more family fun, good food, and sunsets over the water with Frank's family before heading to the beach for a week. I've spent some quality time these past few weeks pinning recipes for the beach vacation (baked tacos for a crowd? genius).
But let's be honest, I'll probably do little more than slice up some stuff for the grill or make a giant bowl of salsa so that we have an excuse to eat tortilla chips for dinner. This one's a favorite – creamy avocados were made for sweet mangos, and any sort of salsa is made for sweet, sweet beach vacations on U.S. soil.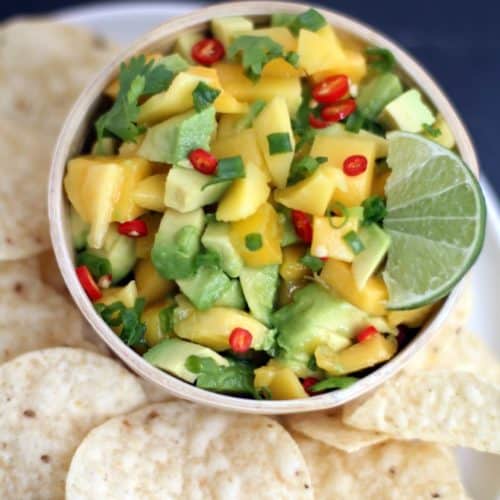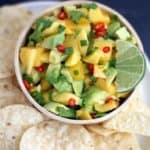 Print Recipe
Sweet and Spicy Mango-Avocado Salsa
The combination of sweet mangos and creamy avocados with a bit of spice and lime is perfect for dipping tortilla chips.
Ingredients
2

mangos, peeled and chopped

2

avocados, peeled and chopped

1

scallion (green onion), thinly sliced

juice squeezed from 1 lime

1

Thai bird's eye chili, thinly sliced (or substitute jalapeno pepper - adjust this to your preferred spice - bird's eye chilis are very spicy)

salt and pepper, to taste
Instructions
Combine all ingredients in a small bowl. Toss to combine. Refrigerate for at least 30 minutes to allow the flavors to come together. Serve with tortilla chips.