Slow Cooker Taco Meat
Published Oct 30, 2019•Updated Aug 29, 2023
Slow Cooker Taco Meat is made using lean beef and, thanks to cooking low and slow, comes out super tender with rich flavor. In this super simple recipe that uses only two ingredients, it's the method that matters.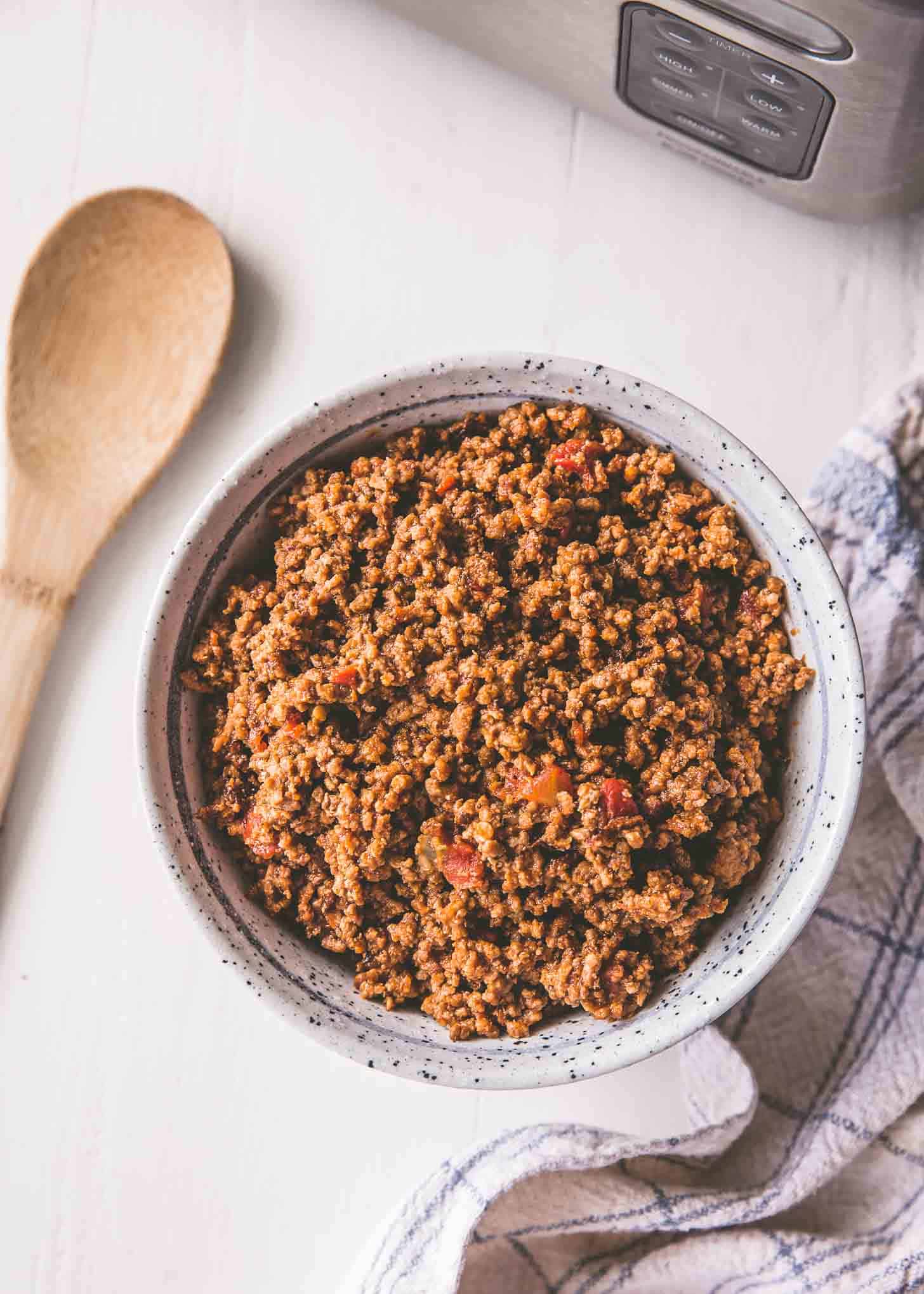 Seriously, friends. Stop what you're doing and make this taco meat. It has totally changed our taco night game. My friend Laura (hi Neuf!) told me about this method for making taco meat that she picked up via Gina of the wonderful Skinnytaste.
My version is simplified even further and uses just store-bought salsa to flavor the meat. Even after testing taco meat in the slow cooker with other spices and aromatics, I found that there was no need to complicate this recipe. Store-bought salsa already has all the flavors you need built in – spices, onions, bell peppers, garlic. Just add the salsa to the meat, put it all in the slow cooker, and come home to the best tacos of your life. Or use this to make my Taco Soup with ground beef.
P.S. Do you love freezer meals as much as I do? Check out all of our freezer-friendly meals which each include printable labels with reheating instructions to attach to the meal.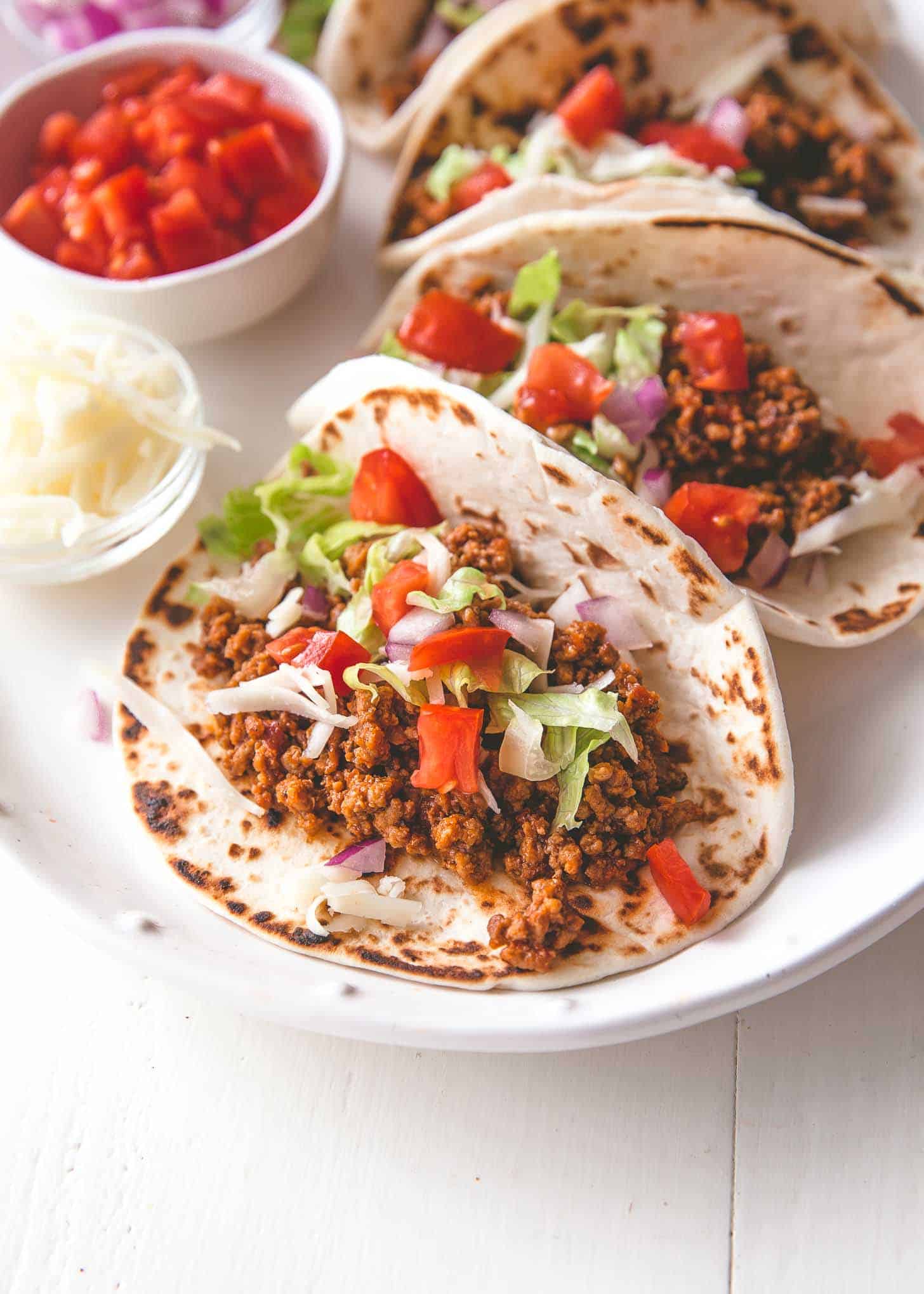 How to Make Slow Cooker Taco Meat
Saute beef. Saute the beef in oil until cooked through and lightly browned. Drain excess fat out of the pan.
Combine beef, salsa, and water in the slow cooker.
Cover and cook. Cook for 7 to 8 hours on low or cook on high for 4 to 5 hours.
Stir and serve!
Why Make Taco Meat In the Slow Cooker
Taco meat (as is true for beef in many recipes) gets more flavorful and tender if cooked very low and slow. It's the same phenomenon that makes chili taste even better after simmering for hours. Those flavors benefit from some extra time to develop.
Ground beef cooked just in a skillet with some spices and aromatics has a tendency to come out dry. But simmered for a few hours in the slow cooker / crockpot, even the leanest ground beef comes out super tender and flavorful.
Store-bought salsa gives the slow cooker taco meat even more of a flavor boost. The ingredients in salsa have already been simmered and had time to develop, so they give you a head start on getting flavor out of the taco meat.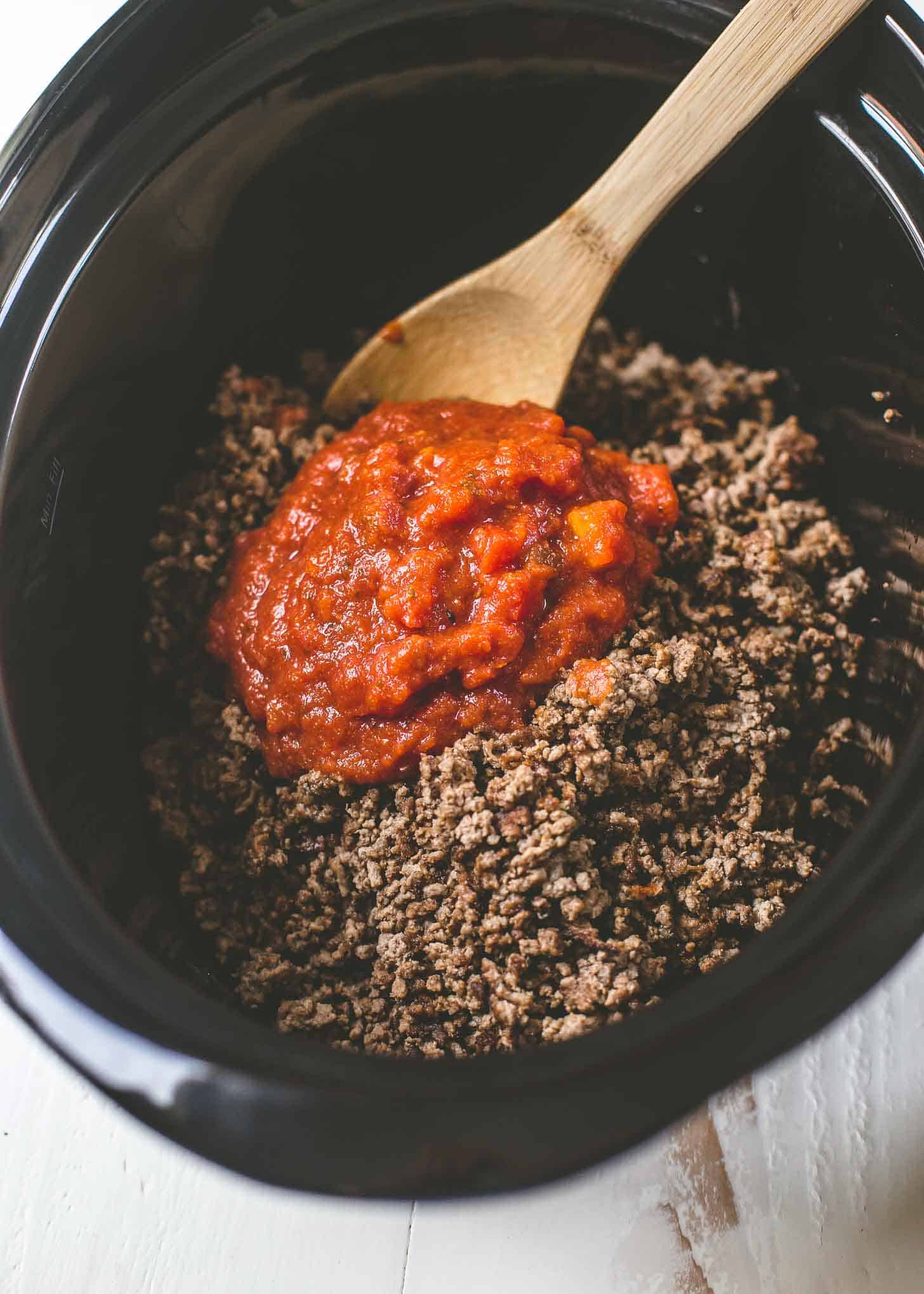 Slow Cooker Taco Meat Ingredients
As promised, just two ingredients are needed for this easy, delicious taco meat!
Ground Beef

– Use a lean ground beef which will come out tender and not as greasy as a beef with a higher fat content. Bonus that it's healthier and also tastes great! I prefer to use a 93% lean beef for this.

Salsa

– Add 1 (16-oz) jar of salsa to the meat as it cooks. Any variety works. I've used everything from Mild Pace salsa to a Aldi brand salsa to a boutique fire-roasted local salsa and the results always came out great. Just be sure to get a spice level that works with your spice preference. We almost always use a mild version since I know the kids will eat it.
Do I have to saute ground beef before slow cooking?
Yes. It is absolutely necessary to brown ground beef in a skillet before adding it to the slow cooker / crockpot. It just takes a few minutes and pays off big time in producing a texture that is tender while still holding its shape.
I tested this recipe by skipping the saute step and the results were not great. If you add the ground beef to the slow cooker without browning it in a skillet first, the texture of the resulting taco meat has a soggy quality that reminds me of elementary school sloppy joe's.
Come to think of it, that's probably how cafeterias prepare sloppy joe's for hundreds of kids – just add the raw meat to a big pot with some sauce and cook it.
In short – don't skip the step to brown the meat in a skillet.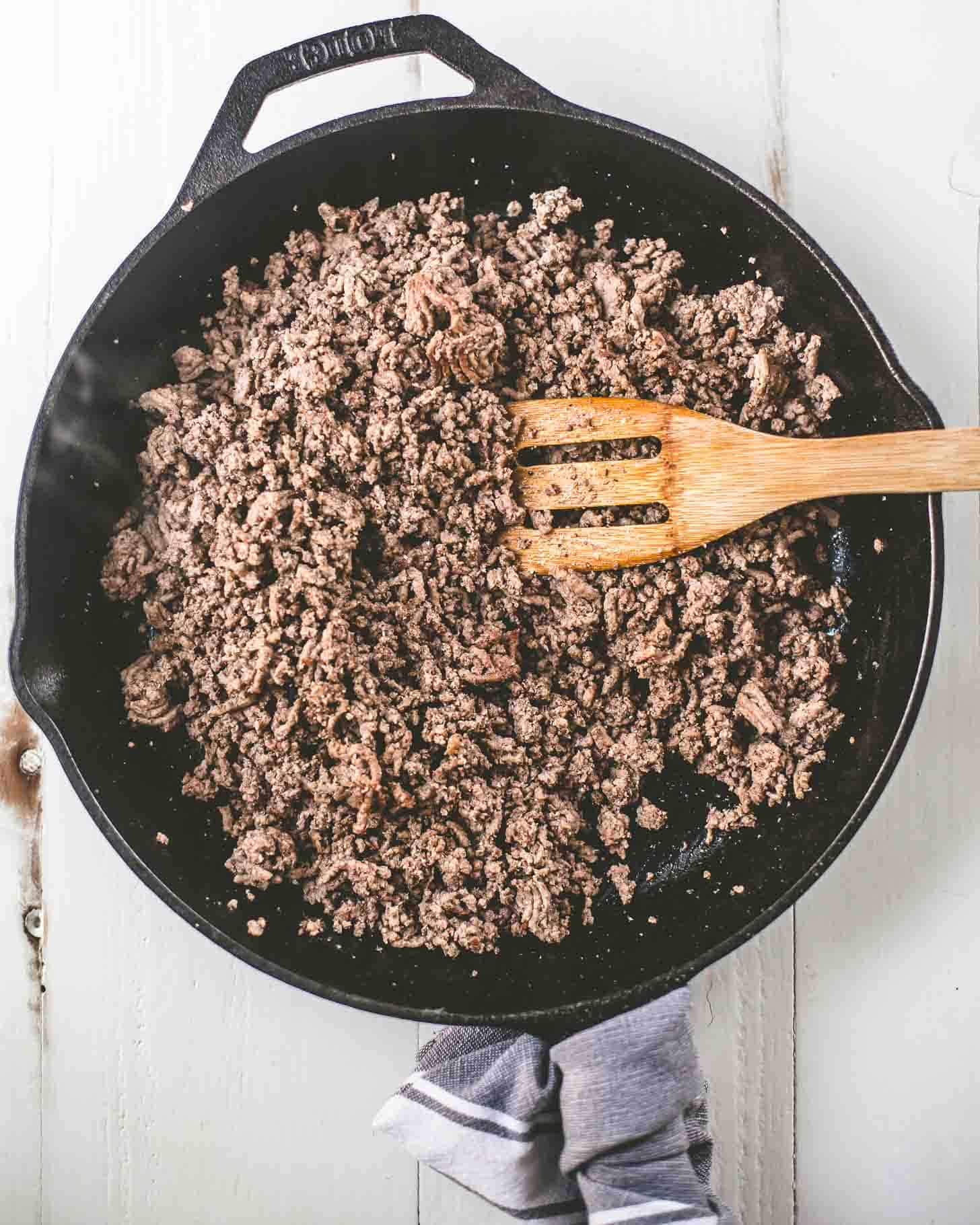 FAQs
Can I make this with a different meat?
Yes and yes! Thanks to the slow cooker's ability to tenderize and flavor the meat, any lean ground meat will work well. This is great with ground turkey or ground chicken.
Can I make this vegetarian?
It is great vegetarian! Use meatless ground crumbles from the freezer section as a great 1:1 substitute. Finely chopped seitan would also work well and would give you something close to Chipotle's vegetarian sofritas.
Can I add vegetables?
This is great with some extra vegetables added. Make sure to finely chop them so that they have a similar texture as the meat after cooked. Riced cauliflower, broccoli, or carrots would be an easy addition (or any of these vegetables very finely chopped). Just add about 1 cup riced vegetables for 2 cups of ground meat to the slow cooker / crockpot. These vegetables will release water while they cook, so reduce the water added by half.
Can I use homemade taco seasoning instead of salsa?
Yes. Add the taco seasoning as you saute the beef and double the amount of water added in the slow cooker. I recommend this Tex Mex blend which is my favorite homemade taco seasoning.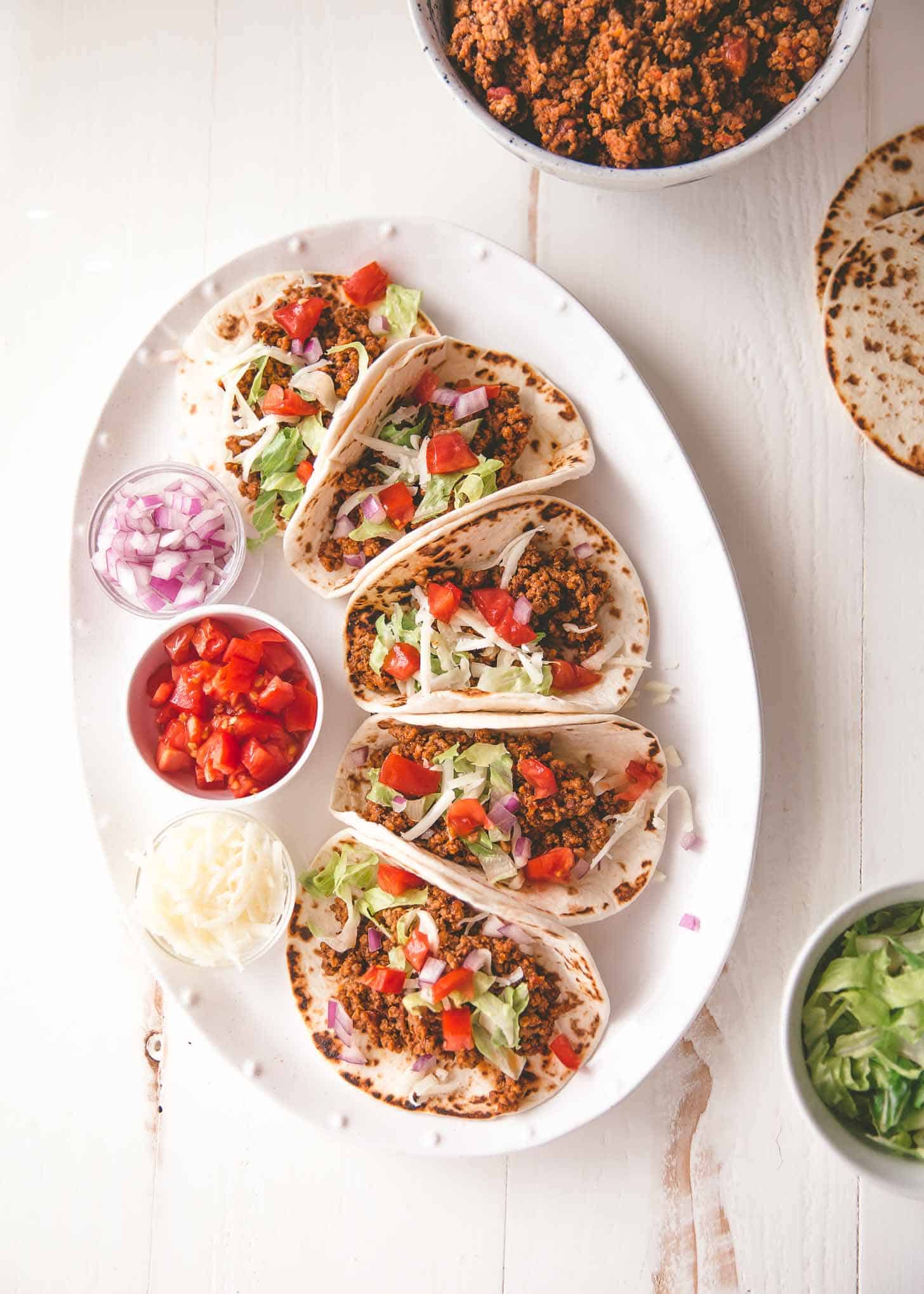 Freeze This Meal
To Freeze Slow Cooker Taco Meat: To freeze this meal, combine the cooked ground beef, salsa, and water in a freezer-safe bag or container. Freeze for 4 to 6 months.
To Cook the Meat: Defrost the frozen ground meat in the refrigerator for 24 to 48 hours. Transfer to a slow cooker / crockpot. Cook on low for 7 to 8 hours / high for 4 to 5 hours. (After cooking time is finished, the taco meat can hold on the warming function for up to 2 hours.)
Print the recipe below for a printable label you can attach to the top of the freezer meal.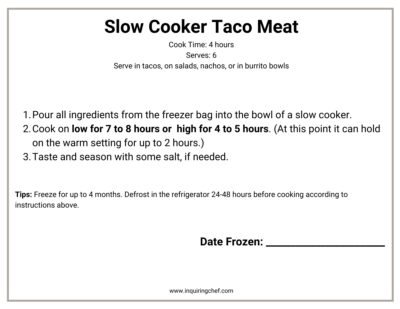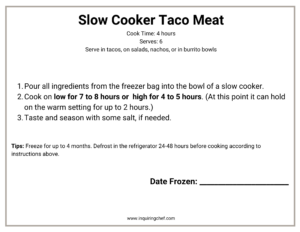 Printable Freezer Label
Print and attach the label below so cooking instructions are ready when you are!
Print Freezer Label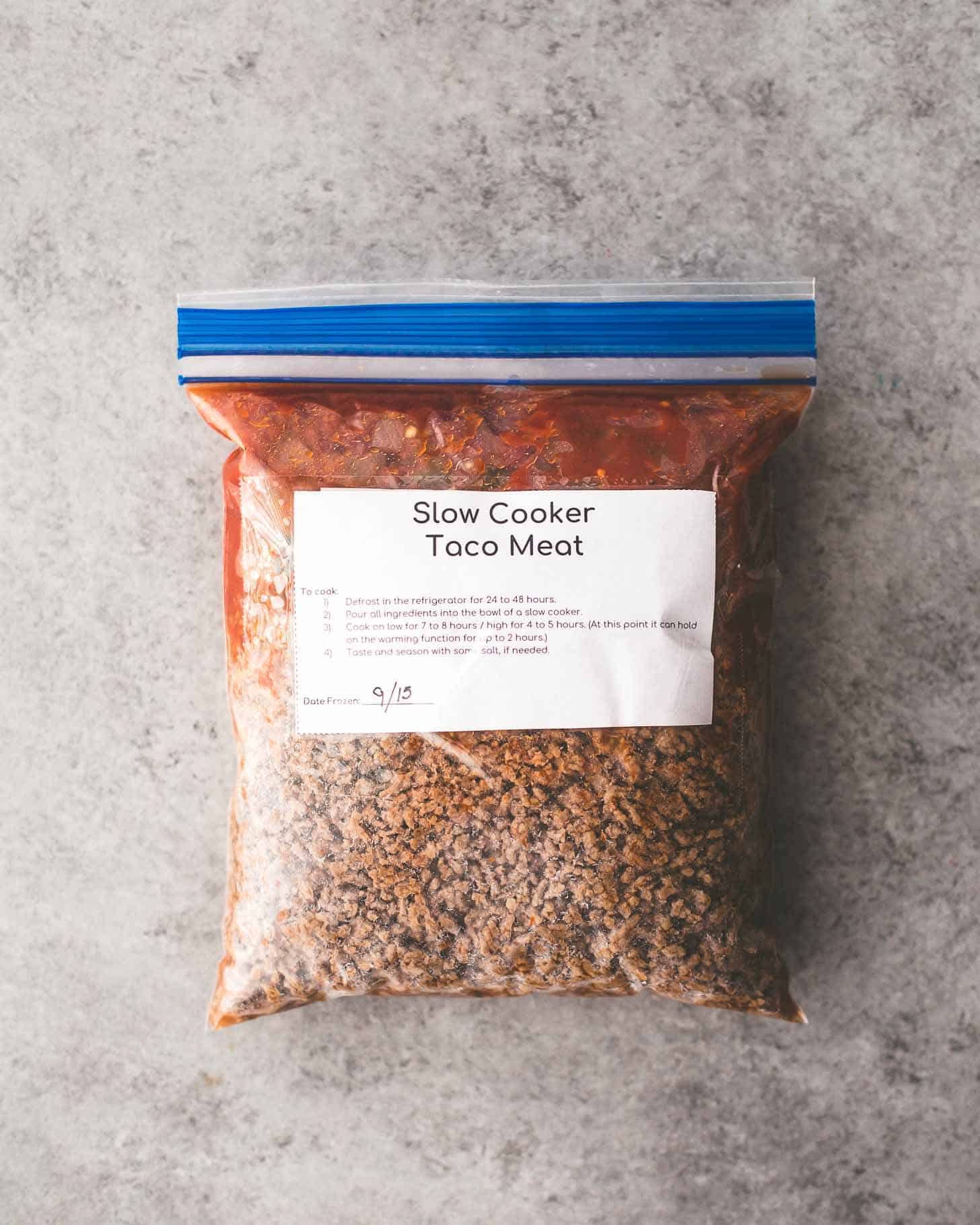 How to Use Leftover Taco Meat
Put them in Taco Casserole
Serve with tortilla chips for scooping or make them into nachos
Make Seven-Layer Dip
Add it to Taco Soup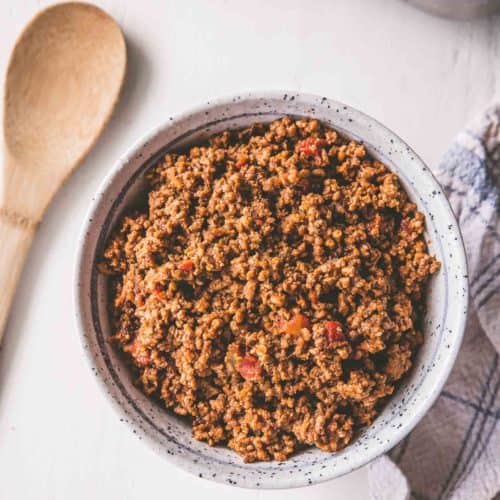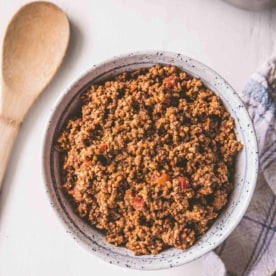 Slow Cooker Taco Meat Recipe
In this super simple recipe that uses only two ingredients, it's the method that matters. Slow Cooker Taco Meat is made using lean beef and, thanks to cooking low and slow, comes out super tender with absolutely incredible flavor. Use it in tacos, on nachos, in burrito bowls, or to make taco salads.
This recipe can be made in a 4-quart or 6-quart slow cooker.
Equipment
Large Skillet

4 or 6 quart Slow-Cooker
Ingredients
2

tablespoons

cooking oil

(I use avocado or grape seed oil for most things)

2

pounds

ground beef, 90% lean

1

16-ounce jar

salsa

(use any type – mild, medium, or hot)

1/2

cup

water
Instructions
Heat a large skillet over medium-high heat.

Add the oil and, when it begins to shimmer, add the ground beef.

Saute the beef, breaking it apart as it cooks, until cooked through, 8 to 10 minutes.

Drain off any excess fat or liquid from the pan. (Note: Resist the urge to season the meat with salt or pepper at this stage. Depending on how salty your salsa is, you may or may not need additional salt.)

Transfer the beef to the bowl of a slow cooker and stir in salsa and water. (See note below for freezing instructions.)

Cook for 7 to 8 hours on low or 4 to 5 hours on high. (After cooking is complete, you can leave the meat on the "warm" setting for up to 2 hours.)

Give the meat a stir. Taste and season with some salt and pepper, if needed.
Nutrition
Calories:
266
kcal
|
Carbohydrates:
0.01
g
|
Protein:
30
g
|
Fat:
15
g
|
Saturated Fat:
6
g
|
Polyunsaturated Fat:
1
g
|
Monounsaturated Fat:
7
g
|
Trans Fat:
1
g
|
Cholesterol:
98
mg
|
Sodium:
102
mg
|
Potassium:
486
mg
|
Fiber:
0.003
g
|
Sugar:
0.01
g
|
Vitamin A:
1
IU
|
Vitamin C:
0.003
mg
|
Calcium:
19
mg
|
Iron:
3
mg
Nutrition information is automatically calculated, so should only be used as an approximation.