Slow Cooker Black Bean Soup
Published Nov 21, 2019•Updated Sep 09, 2022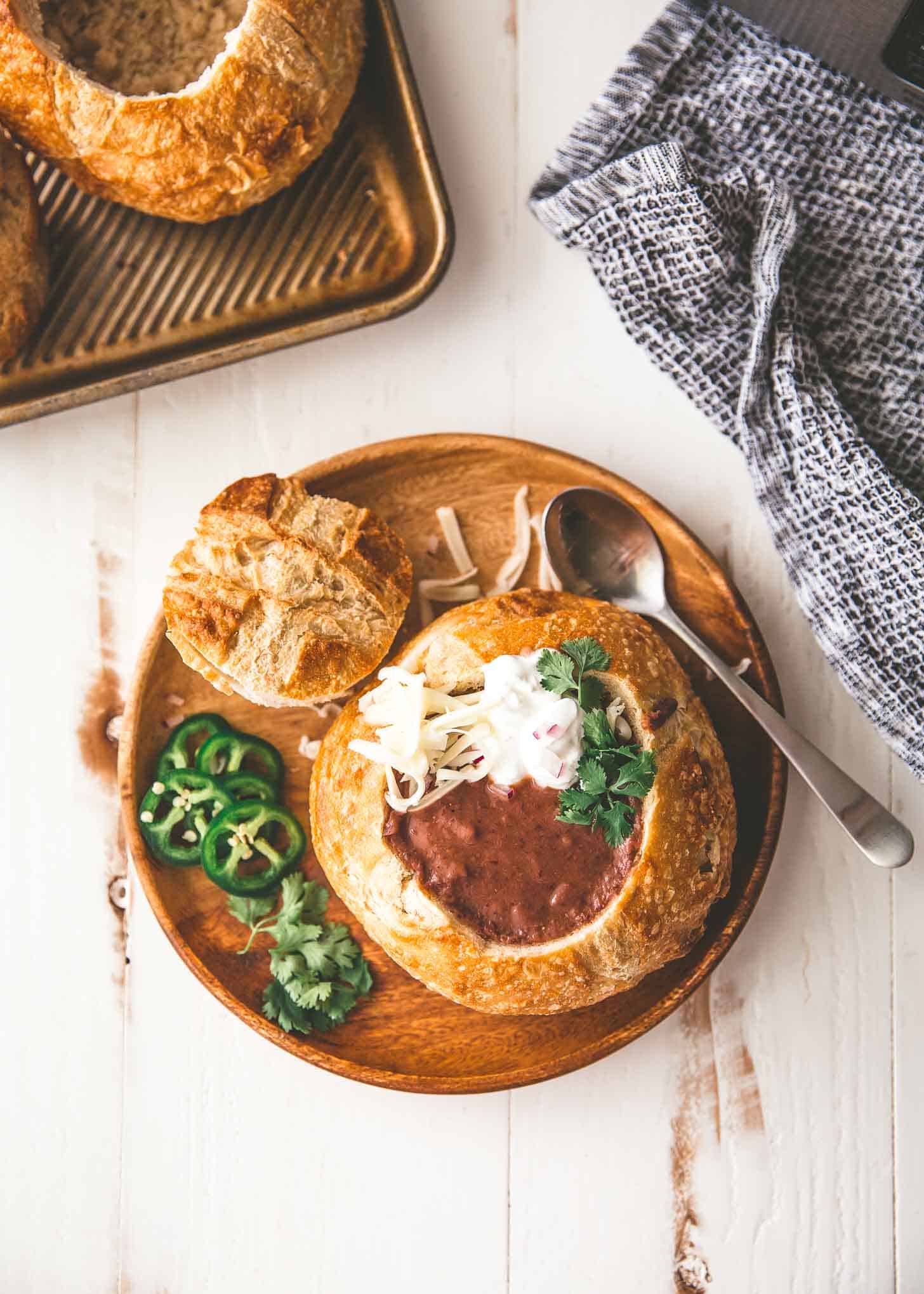 Slow Cooker Black Bean Soup has a small list of ingredients and can simmer all day. It is smooth and creamy (without the addition of any cream), vegetarian, and gluten-free. Serve this light but satisfying soup in bread bowls and load it up with your favorite taco toppings.
Frank and I have been home from Paris for all of 5 days, and I still feel like I'm made 90% of brie and red wine. The slow cooker has been our friend this week, delivering whole food meals that are warm, satisfying, and (best of all) sooo easy. Black Bean Soup is a latin favorite that is naturally vegan / vegetarian, gluten-free, and totally customizable. We love this easy soup for loading up with toppings and for serving with tortilla chips OR in homemade bread bowls. It's also a budget-friendly soup, using ingredients you can store in your pantry and have on hand for quick slow cooker prep on a busy weekday morning.
By the way, have you missed any of the recent slow cooker series? Click here to see all of the great Slow Cooker Meals that our household has been loving this fall, especially Slow Cooker Turkey, Quinoa and Sweet Potato Chili (which also happens to be one of my most popular slow cooker meals).
Why Make Black Bean Soup In the Slow Cooker
This soup is made using dried black beans that will cook through to tender in the low and slow temperatures of the slow cooker. This is a great set it and forget it meal – it can cook all day long while you're out and an extra hour or two won't hurt it a bit.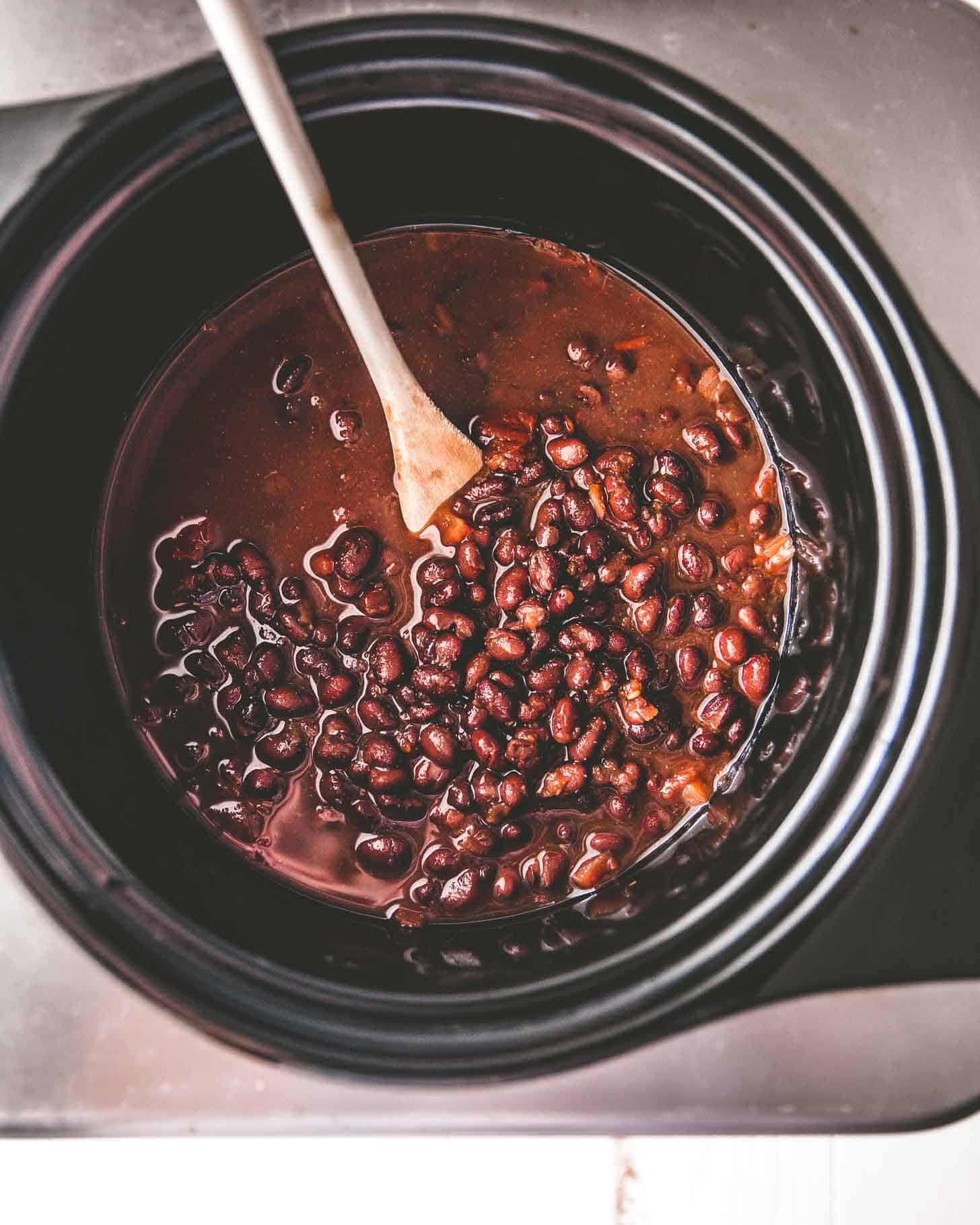 Ingredients
Dried Black Beans – Use a 1 lb bag of dried black beans for this soup. Make sure to rinse the beans before using them and quickly pick through them to be sure there aren't any small pebbles (this is rare but sometimes happens with dried beans). There's no need to pre-soak the beans for this soup since they will be cooking for so long at such a low temperature – the soaking step is built into the cooking process.
Vegetable Stock – Use store-bought or homemade vegetable stock or broth to build a base of flavor in this soup. If you don't need the soup to be vegetarian, chicken stock / broth will work as well.
Salsa – Just like my slow cooker taco meat, a jar of salsa is the key to building lots of flavor in this soup. The salsa already has aromatics like peppers and onions in it as well as dried spices. To get the most flavor out of this soup, I recommend buying a fire-roasted salsa which has that flavor from grilling / searing the vegetables. Be sure to get a salsa at the spice level that you prefer – mild, medium, or hot (you'll be using the whole 16-oz jar of salsa here, so if you buy hot, the soup will definitely be hot!).
Chili Powder – Chili powder is a mix of dried chilis and other spices. Most versions are moderately spicy. Make sure you get chili powder and not cayenne pepper (which is super spicy).
Ground Cumin and Dried Oregano – Just extra dried spices to build additional flavor.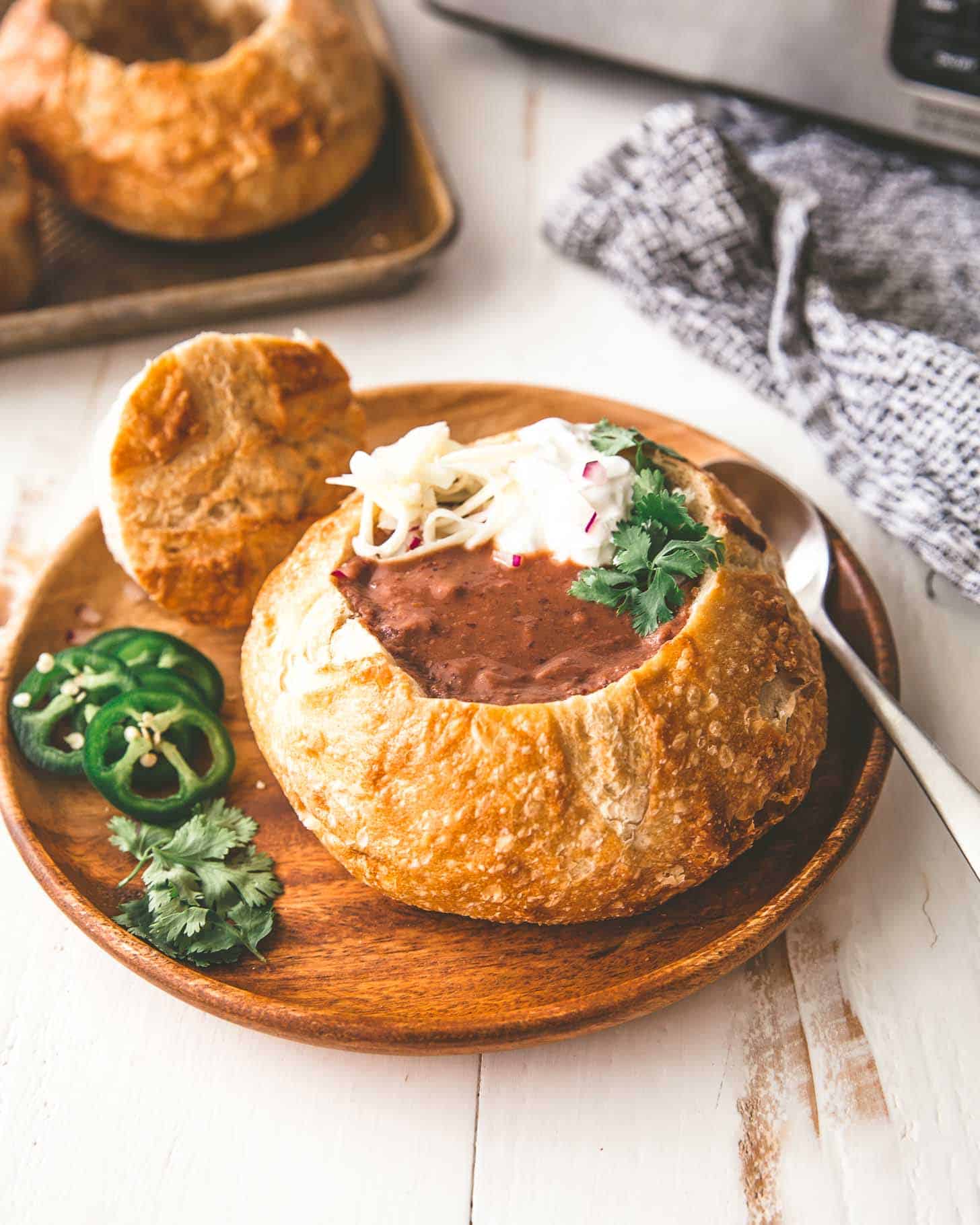 How to Make Bread Bowls for Soup
Years ago my good friend (hi Audra) served me homemade black bean soup in bread bowls and my mind was blown. I thought this was a treat just reserved for soups from Panera. 😉 Turns out, if you can track down the right size of bread rounds (usually called "boules") you can make your own bread bowls. Simply use a serrated knife to slice a circle in the top of the bowl. Pull out the circle and use your hands to remove some (but not all) of the soft bread center. You can find small bread boules at many grocery stores (I've found them at Sprouts and Whole Foods). Panera will let you buy them without the soup too!
Before filling the bread bowls with soup, bake them in the oven for 10 minutes at 350 F. This will warm them all the way through and leave the outside crisp.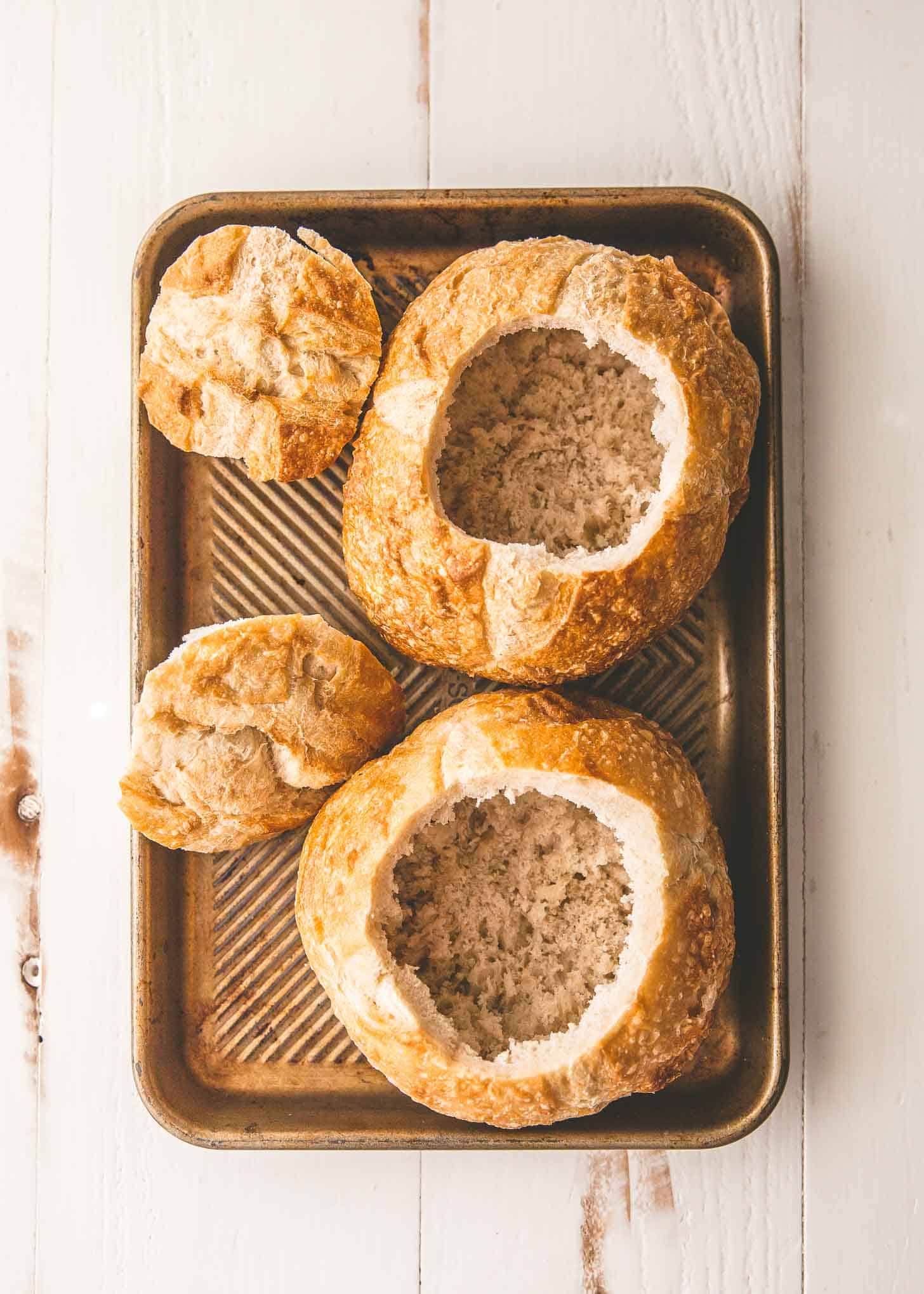 Freeze Black Bean Soup
To freeze the soup, combine beans, stock, water, salsa, chili powder, ground cumin, dried oregano in a freezer-safe container or bag. Freeze for 4 to 6 months.
Print the recipe below for a label with reheating instructions.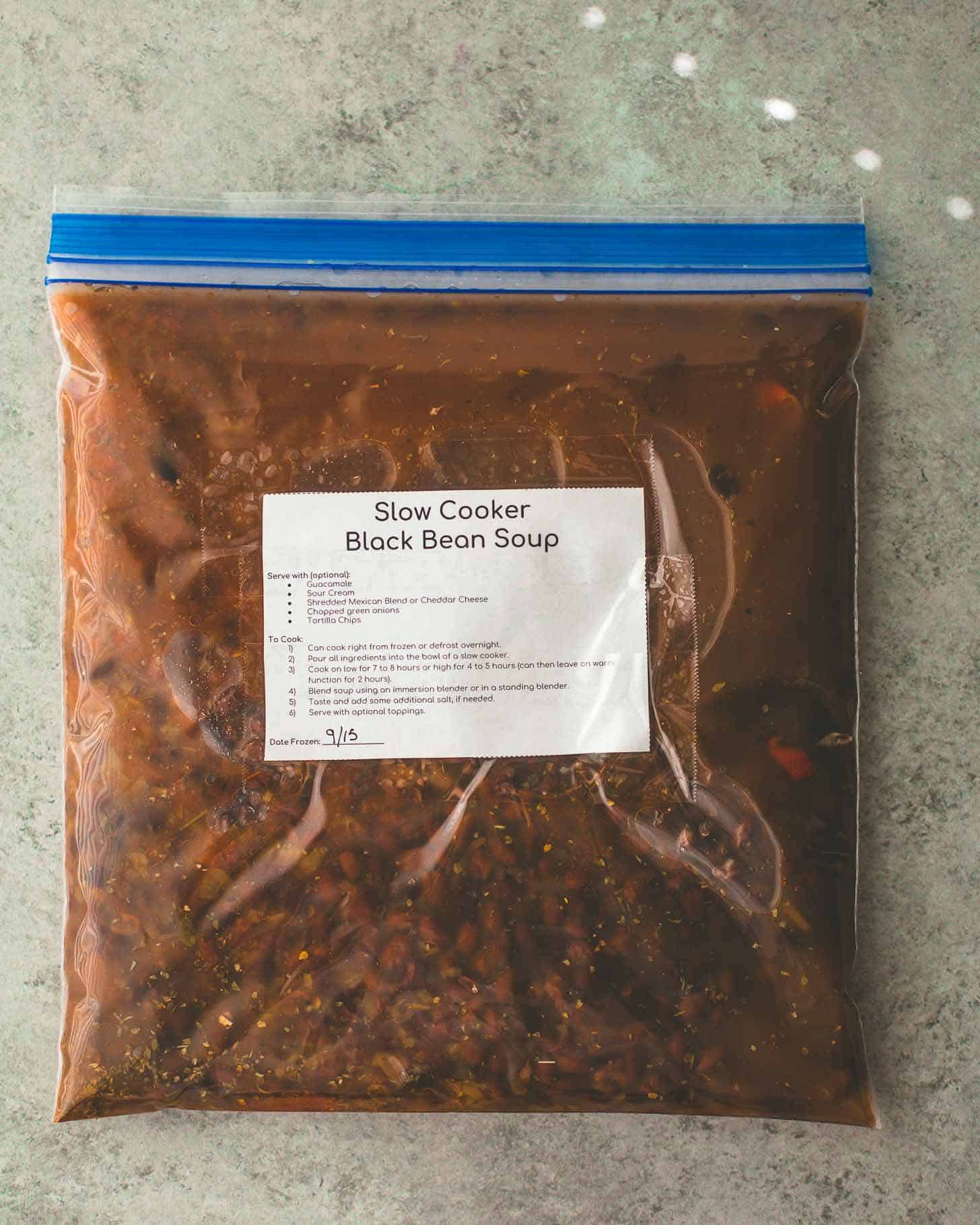 Toppings for Black Bean Soup
Crumbled Tortilla Chips (great for texture if you're not serving this in bread bowls)
Shredded Cheese (I like white cheddar)
Sour Cream
Extra Salsa
Diced Red Onions
Sliced Jalapeños
Cilantro
Other Cozy Soups
Favorite Tools
Immersion Blender

– I love this little tool for making pureed soups and sauces. It's so much easier to clean than using my standard blender.

Slow Cooker – This recipe will work in a

4-quart Slow Cooker

(I use the Cuisinart version linked here) or a

6-quart Slow Cooker

(this is a link to the KitchenAid version I have and love).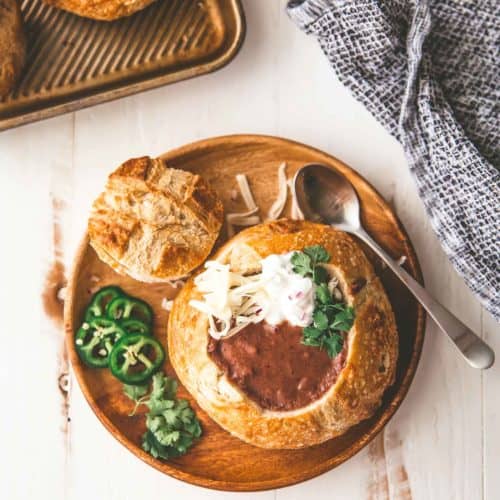 Slow Cooker Black Bean Soup
Slow Cooker Black Bean Soup has a small list of ingredients and can simmer in the slow cooker all day. It is smooth and creamy (without the addition of any cream). Serve this light but satisfying soup in bread bowls and load it up with your favorite taco toppings.
This recipe can be made in a 4-quart or 6-quart slow cooker.
Equipment
4 or 6 quart Slow-Cooker

Immersion Blender
Ingredients
Slow Cooker Black Bean Soup
1

pound

Dried Black Beans

(rinse and pick them over first)

4

cups

Vegetable Stock

(sub chicken stock)

1

cup

Water

1

16-ounce jar

Salsa

(preferably a fire-roasted version)

2

teaspoon

Chili Powder

2

teaspoon

Ground Cumin

2

teaspoon

Dried Oregano
For Serving (optional)
4

small

Sourdough Boules

(if you want to make bread bowls)

Shredded White Cheddar Cheese

Sour Cream

Diced Red Onions

Sliced Jalapeños

Cilantro

Tortilla Chips
Instructions
Combine beans, stock, water, salsa, chili powder, ground cumin, dried oregano in the bowl of a slow cooker. (See below for freezer tips.)

Slow cook on low for 9 to 11 hours. (The beans cook most evenly if cooked on low, so I don't recommend using the high setting.) The beans should be very tender when done.

Use an immersion blender to blend the soup. You can blend all of it until very creamy or just a portion of it if you'd like some whole beans to remain. (I like mine fully smooth, but this is personal preferance.)

Taste the soup and season with some salt and pepper, if needed.

If serving in bread bowls, use a knife to slice a circle in the top of each boule. Remove the circle and then use your hands to pull out the center soft part of the bread, leaving the crust intact. Warm in a 350 F oven for 10 minutes. Spoon soup into bowls.

Top soup with any of the additional toppings.
Notes
Nutrition info is for soup. It does not include bread bowls or optional toppings.
To freeze: If you are making this meal ahead for yourself or someone else, combine all ingredients in a freezer safe bag but do not cook. Refrigerate for up to 3 days. Freeze for up to 4 months. Print and attach the label below so cooking instructions are ready when you are!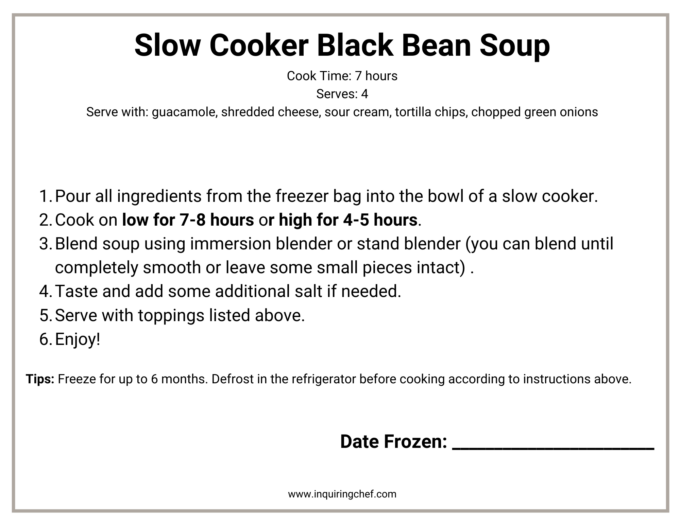 Nutrition
Calories:
408
kcal
|
Carbohydrates:
75
g
|
Protein:
25
g
|
Fat:
2
g
|
Saturated Fat:
1
g
|
Sodium:
969
mg
|
Potassium:
1732
mg
|
Fiber:
18
g
|
Sugar:
5
g
|
Vitamin A:
846
IU
|
Calcium:
168
mg
|
Iron:
7
mg
Nutrition information is automatically calculated, so should only be used as an approximation.
Photo credit for this one goes to my mom who snapped this picture of post-nap June and her fabulous hair while we were out of town. Good morning June!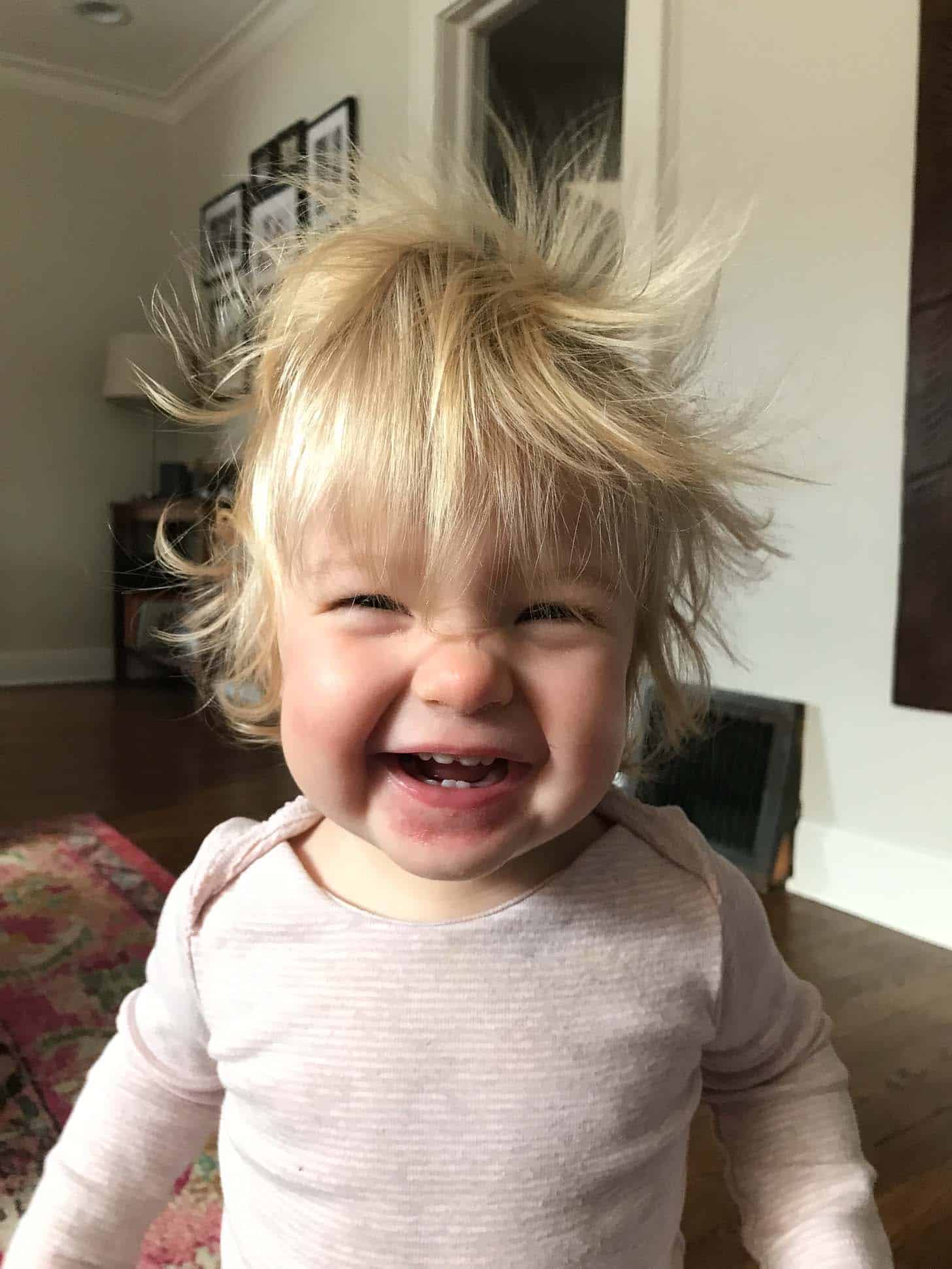 *This post contains affiliate links*