Panko Shrimp Skewers with Orange Couscous
Published Dec 28, 2010•Updated Apr 19, 2022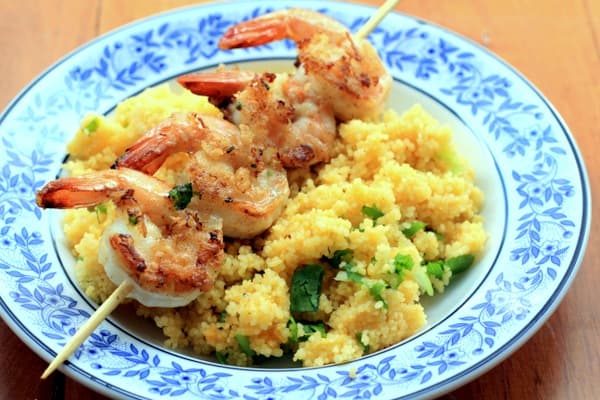 There is so much buzz today on the web about the snowstorm that hit the Northeast this week, which makes me miss the winter weather (but just for a moment). Last winter in DC we were snowed in so many times that I feel fairly certain that I got enough of my fill to last me well through this April.
Here in Bangkok all signs are pointing to the fact that people are getting ready to ring in the New Year in a big way. Earlier today there was a loud popping sound in front of my building which turned out to be some children celebrating a bit early by testing (?) a string of firecrackers. The grocery store was full of people buying wine and beer in large quantities, which is a fairly rare sight (particularly in the middle of the day because it is against the law for stores to sell alcohol between 2 and 5pm).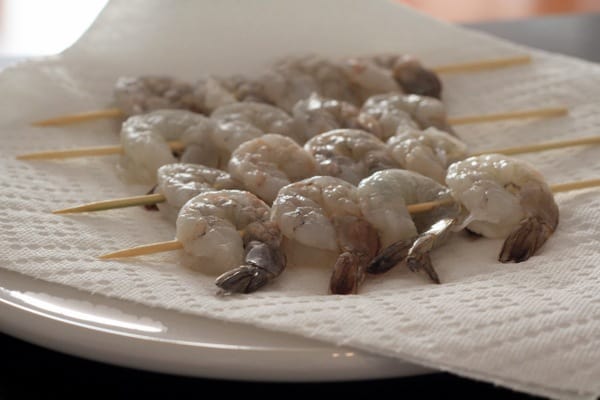 I need some time (a few days at least) before any more tempting pie creations are sitting on our kitchen counter and this is one of my favorites from Cooking Light over the years. I have to admit that I planned this for dinner tonight fully intending to buy some of the whole prawns that are sold at all of our grocery stores and markets. It is nearly impossible to find fresh prawns that don't come in their shell with their heads still intact. In fact, many Thai dishes are served with whole cooked prawns rather than the neat, peeled and de-veined ones I'm used to getting in the US. However, I am sad to report that, at the very last minute, standing at the fish counter, I bailed. I panicked (how do I get the heads off of those things?) and bought a bag of frozen peeled and de-veined shrimp. I will tackle the whole prawns…but not today.
The sauce below the recipe for the shrimp is a real winner, but not at all necessary if you are running short on time.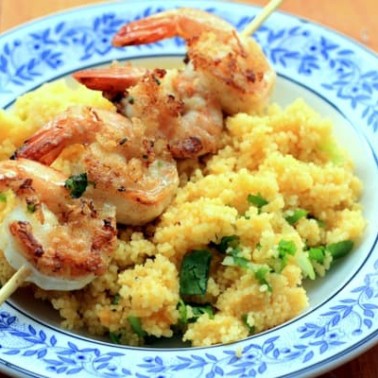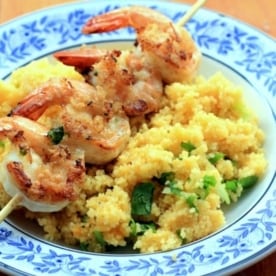 Panko Shrimp Skewers with Orange Couscous
Crispy, citrusy shrimp is served over orange couscous in this guest-worthy meal that feels like something special.
Ingredients
Ginger Orange Sauce:
1

cup

low-pulp orange juice

1

tbsp.

chopped fresh cilantro

2

tbsp.

mayonnaise

1 1/2

tbsp.

fat-free, less-sodium chicken broth

1

tsp.

grated peeled fresh ginger

1

tsp.

fresh lime juice

1/2

tsp.

ground cumin
Shrimp and Couscous:
1

cup

low-pulp orange juice

1/2

tsp.

grated fresh ginger

1

tsp.

cumin

1/2

tsp.

salt

20

jumbo shrimp, peeled and deveined

1 1/2

cups

fat-free, less-sodium chicken broth

1

cup

uncooked couscous

1/4

cup

chopped green onions

1/4

cup

slivered almonds, toasted

1

tbsp.

unsalted butter

1

cup

panko breadcrumbs

1

tbsp.

cilantro, finely chopped

1

tbsp.

olive oil
Instructions
For the sauce, heat orange juice in a small saucepan over medium-high heat until reduced to about 1/2 cup. Remove from heat and stir in remaining ingredients until evenly combined. Store in the refrigerator up to 3 days.

To prepare and marinate the shrimp, add 5 shrimp to each skewer, feeding skewer through the shrimp in two places to secure. In glass baking dish, combine 1 cup orange juice, ginger, cumin and salt. Place shrimp in marinade and turn to coat well. Cover dish and refrigerate for at least 3 hours (these can be marinated overnight if preferred).

About 15 minutes before serving, pour couscous into a small, dry saucepan on medium heat. Stir couscous constantly just until it begins to toast and turn a light golden brown, about 2 minutes. Add broth and remaining 1/2 cup orange juice and bring to a boil. Remove from heat, and let stand, covered, for 5 minutes. Add green onions, almonds and butter and stir to combine. Keep covered until ready to serve.

To prepare the shrimp, heat olive oil at medium-high heat in a pan large enough to accommodate all 4 shrimp skewers without any overlapping. Combine the panko breadcrumbs and cilantro and pour on a dinner plate or flat-bottomed dish. Dip each skewer of shrimp in the panko, turning to fully coat before placing in hot pan. Cook shrimp until pink, about 2-3 minutes on each side.

Serve shrimp on skewers over couscous and drizzle with Ginger Orange Sauce.
Nutrition information is automatically calculated, so should only be used as an approximation.