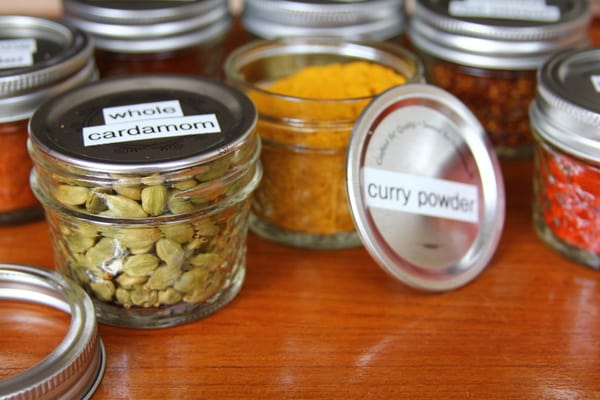 I reached a tipping point with my spices a couple weeks ago. One day all of my spices were neatly packed into a high-walled drawer organizer in the kitchen and the next they had crept out and started encroaching upon every available corner of the kitchen.
I had sesame seeds tucked behind the tea bags and cinnamon sticks next to the chickpeas. I knew it was bad when I was flipping through recipes online and realized I was skipping right on over those that would require I forage for unusual spices hidden in my kitchen.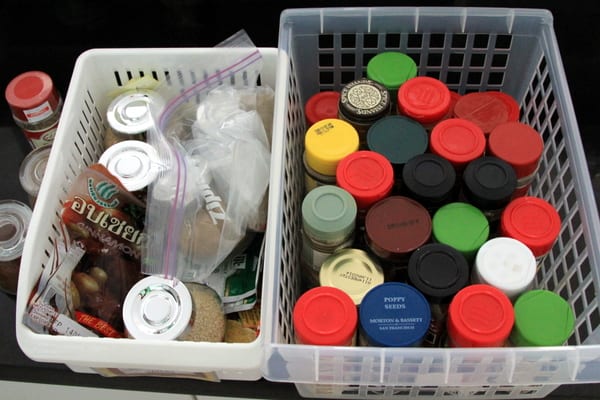 I realized I had to find a solution. I eyed these little beauties Libbey 4-½-Ounce Spice Jars
on Amazon and ordered a couple. They are every bit as cute as they are online, but they turn out to be fairly useless fo most spice storage. They are too small to hold the contents of a normal jar of spice and they don't stack. I'll find another use for them, but for spices they weren't the answer.
Then Bangkok got an Ikea (!!!) and I came across these Rajtan jars which I've seen others use around the web. I bought a pack of 4 and brought them home, but they just weren't quite right. The lids are challenging to screw on and don't form a seal tight enough that I trust it not to fall open if I knock the jar over. They also stack rather precariously and take up lots of space. They weren't a total loss, because they turned out to be perfect for a select few items for which I need a bit more space like sesame seeds (I use tons of these) and bay leaves (which I appear to have purchased many times despite having jars at home - evidence below).
I was starting to think that I was going to have to drop a bunch of cash and invest in something fancy like these magnetized containers or cave to keeping my spices out on the counter. (I've stayed away from this, since keeping them in a cool, dark space helps most spices to hold their flavor longer.)
But then I had an a-ha moment about the excessive number of 4 oz. Ball canning jars I have in storage for canning projects. (Canning projects which have been living in a fantasy part of my brain since we moved to Bangkok. No one wants to hover over a bubbling caldron when it's 100 degrees out.)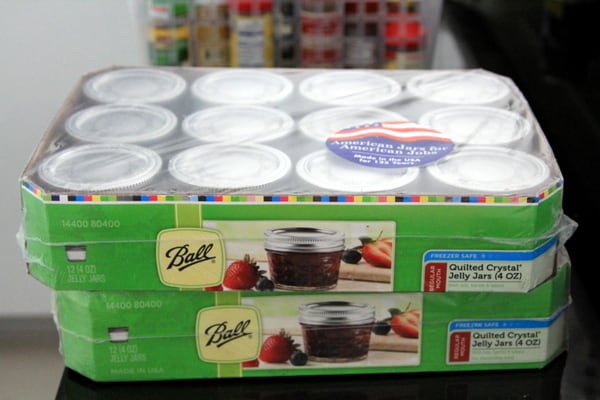 So far, these canning jars are a dream. They're sturdy, stackable, and seal nice and tight. When I opened them to take the pictures up top, the aroma of the spices inside filled the entire apartment, but I can't smell a hint of spice in the drawer where they are stored and sealed up tight.
The cost for any of the options that I was considering would have been pretty reasonable, even if I had to purchase all of the canning jars.
Libbey 4-½-Ounce Jars
(12 jars for 20.99) - $1.75/jar
4oz. Ball canning jars (12 jars for 15.64) - $1.30/jar
5 oz. Rajtan Ikea Spice Jar (4 jars for 3.99) - $1.00/jar
(Note: The measurements listed above are mis-leading. The Ball jars actually hold much more than the Libbey jars.)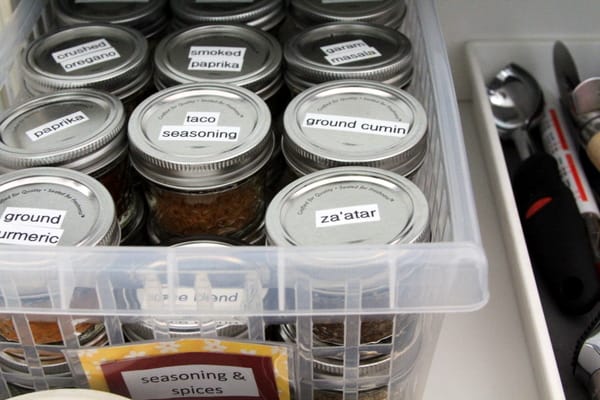 But at the end of the day, the convenience and fit of the ball canning jars made them worth a bit more per jar. Not to mention that they are easy to find, so it won't be hard to expand the collection later. Some day I do actually hope to have a larger kitchen with, say, an actual pantry.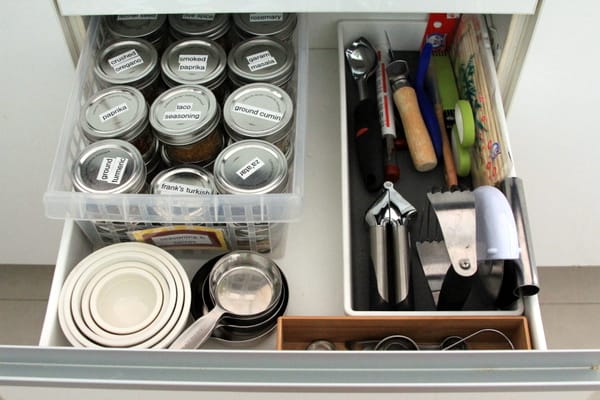 I have a feeling this will be my spice solution for a long time to come.