Homemade Strawberry Syrup
Published Jun 15, 2020•Updated Mar 13, 2022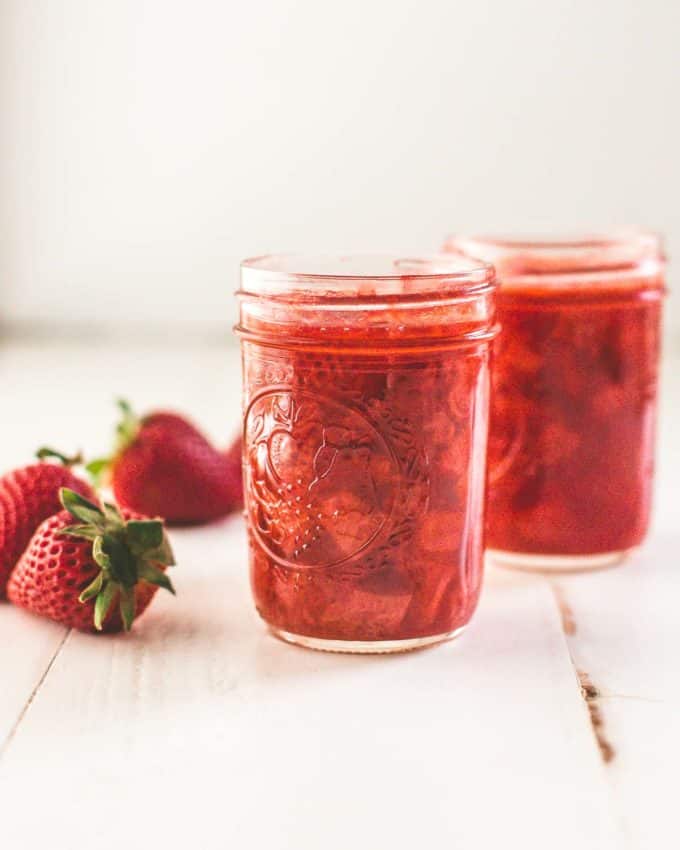 Homemade Strawberry Syrup is a three ingredient recipe made in 20 minutes. A bit of cornstarch helps the syrup to thicken quickly, preserving the flavor of the strawberries. Use it on pancakes and waffles, in drinks, drizzled on yogurt or on desserts like angel food cake, ice cream, or strawberry shortcake.
Happy Monday sweet friends! We are returning to some food content today, but that does not mean that our focus has shifted from the much larger, and much needed, call for justice happening here in the virtual space and out in the real world. We are continuing to learn and listen. We will, in any way we can and whenever possible, use our platform to support causes that matter.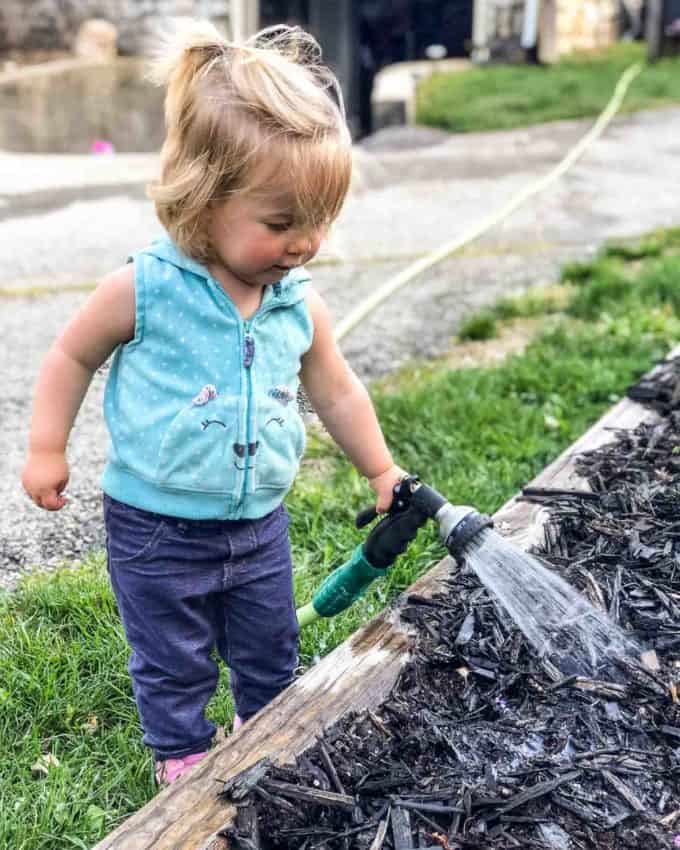 When we first moved into our current house there was a little strawberry patch in the backyard. Over the past couple of years the patch slowly dwindled until I decided to pull it out last year and plant blueberries in its place. The plants. will take a few years to start producing, but will give us fresh berries for years to come. But I'd be lying if I said I wasn't missing those sweet, ripe red berries we ate straight off the vine our first summer here. (Above is a picture of June watering the blueberry plants earlier this summer in a very fashionable outfit she picked out herself.)
Even with our own little strawberry patch, my taste for fresh berries far exceeds what I can grow. We buy pounds and pounds of berries at the grocery store and at our favorite local berry patch this time of year.
I've often made jam with any berries we don't eat or freeze, but this year I've also been making fruit syrup. You can strain the berries out for a smooth syrup or leave them in for a version that is great as a topping on breakfast or dessert. It's easy, delicious, and doesn't need nearly as much sugar as you'll find in the store-bought stuff.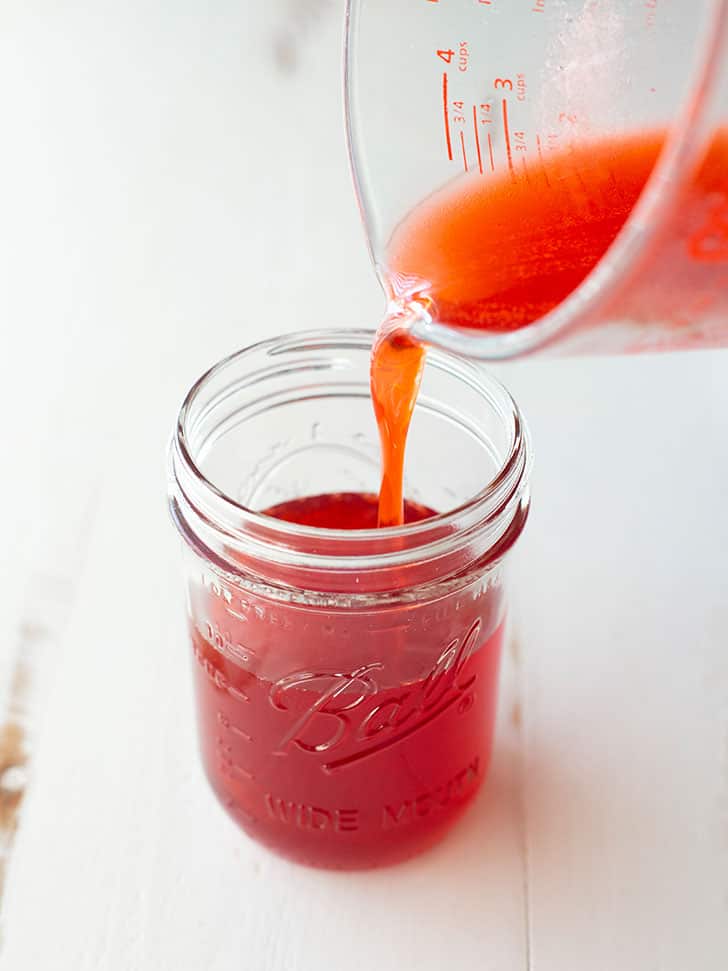 Ingredients for Strawberry Syrup
Fresh Strawberries

– Remove the stems and chop them. Frozen berries work too.

Sugar

– White sugar will sweeten the syrup. Since cornstarch is used to thicken the syrup, feel free to reduce the amount of sugar or use an alternative sweetener.

Cornstarch

– This will give it a thick, pourable texture. See below for more details on why I prefer this method.

Lemon Juice – This is optional, but a bit of fresh lemon juice will help the syrup to retain its bright color and fresh berry flavor.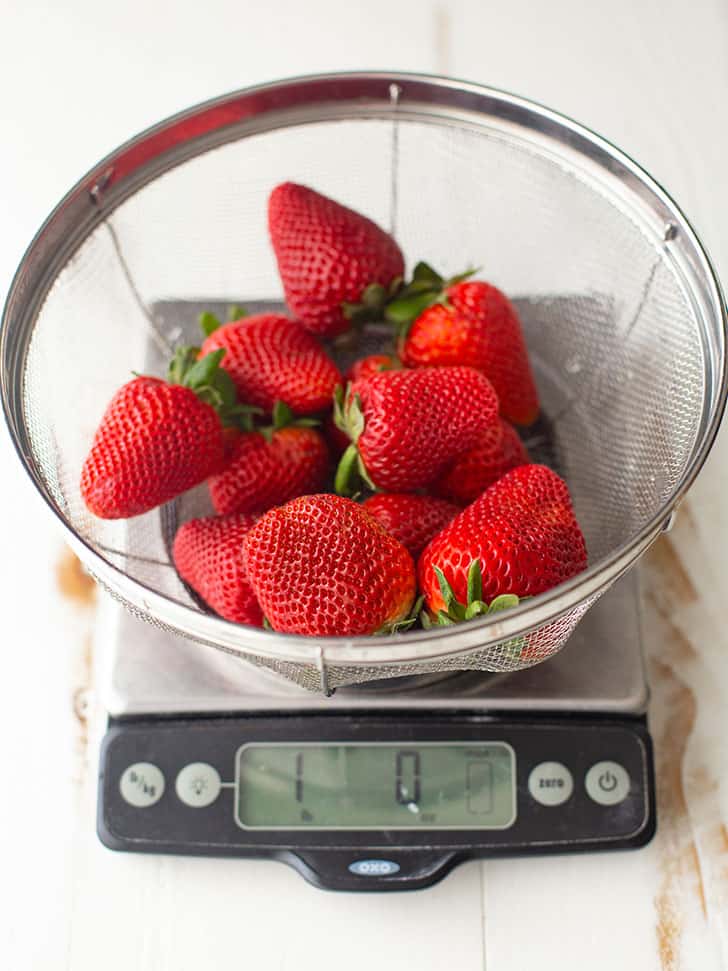 Why use Cornstarch in Strawberry Syrup
There are two camps when it comes to making any fresh berry syrup – the cornstarch camp and the non-cornstarch camp. Cornstarch serves as a thickener and thickens the syrup in just a couple minutes. You can also make a version of strawberry syrup that is just strawberries and sugar, simmered until it thickens naturally. A syrup made from just strawberries and sugar requires more sugar (about 2x more) than listed in this recipe and has to cook down for much longer.
When I tested this recipe, I preferred the syrup made with some cornstarch because 1) it requires less sugar and 2) it only has to simmer for a few minutes, which helps the strawberries to retain their fresh flavor.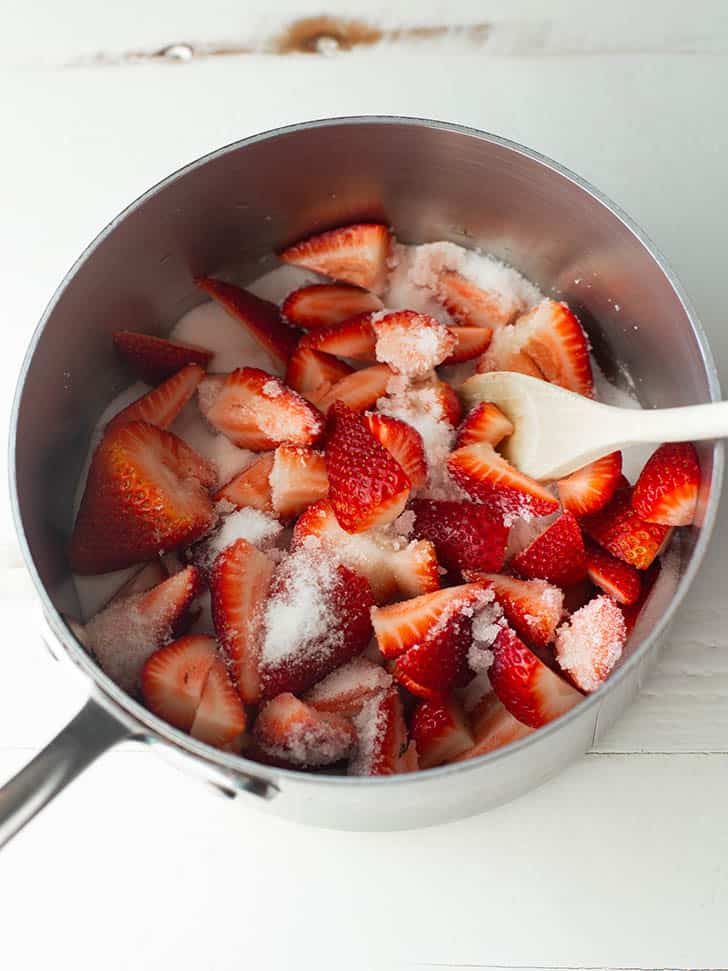 Strawberry Syrup – to Strain or Not to Strain
To strain or not to strain your strawberry syrup is completely personal preference. I like the chopped pieces of strawberries in my syrup and think that makes it a better consistency for using on yogurt or desserts. If you ask my kids, they are firmly in the strained syrup camp.
Important: If you strain your syrup, do NOT press down on the strawberries. Simply pour the syrup through a sieve and discard the solids. Pressing down on the strawberries will make your finished syrup cloudy.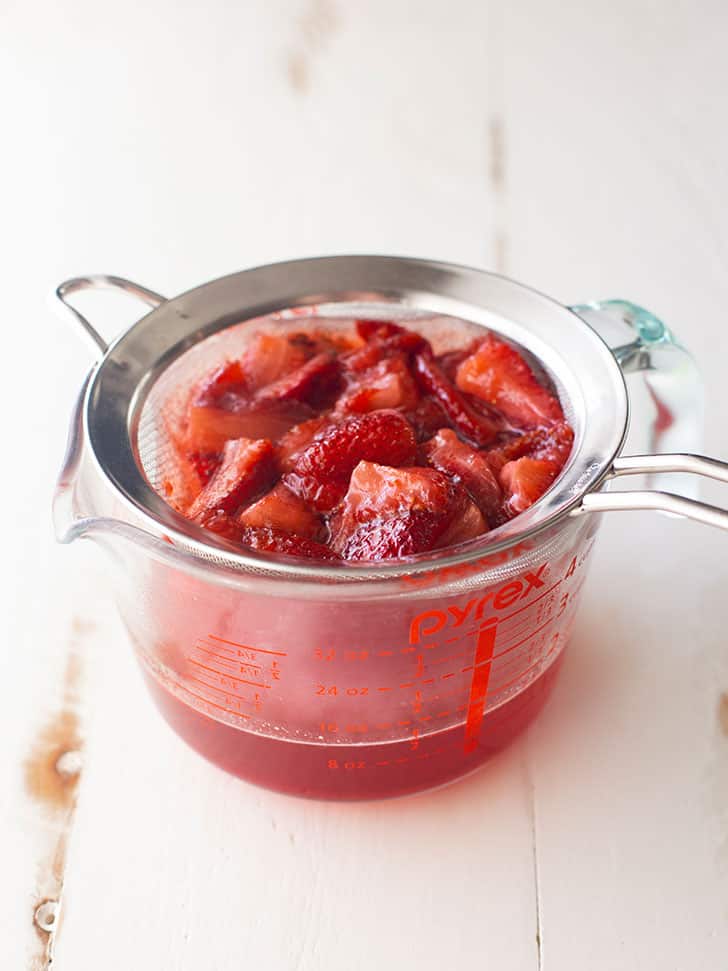 How Long with Strawberry Syrup Keep?
Fresh strawberry syrup can be stored in a sealed jar in the refrigerator for up to 3 weeks. Give it a stir before using it. (It will thicken slightly when cold.)
What to Serve with Strawberry Syrup
Favorite Tools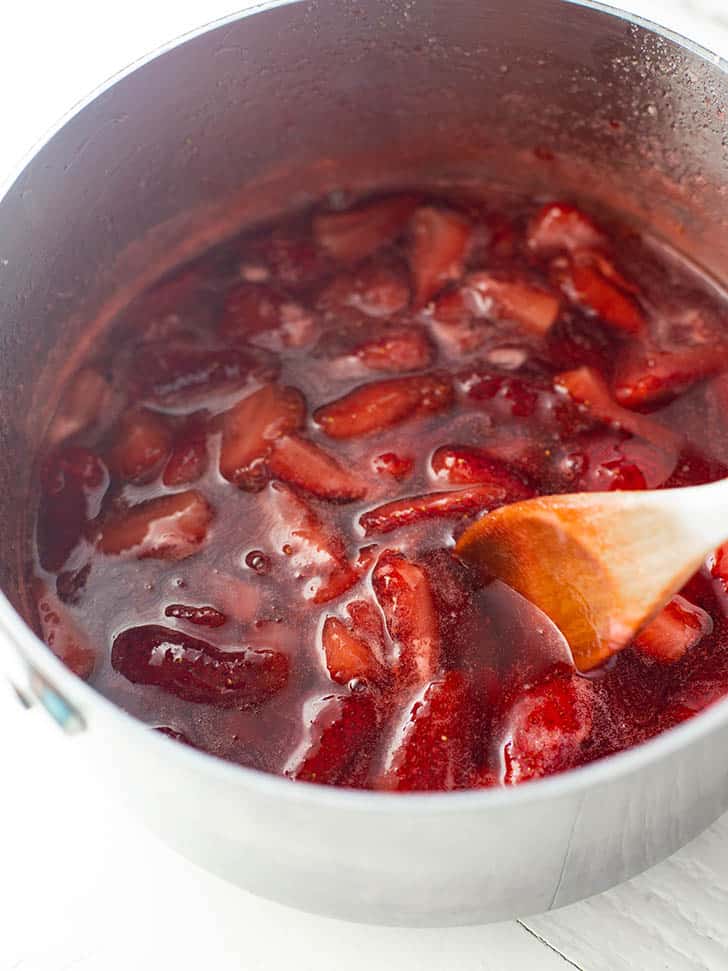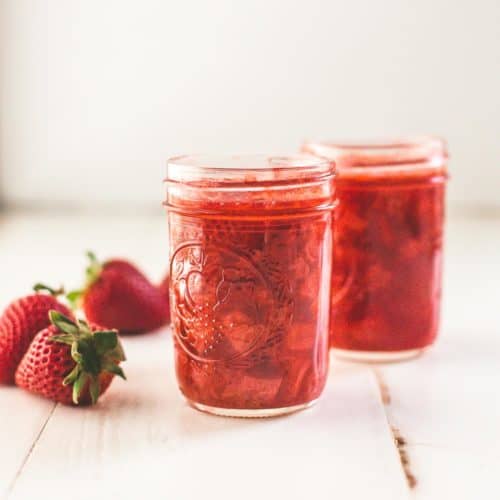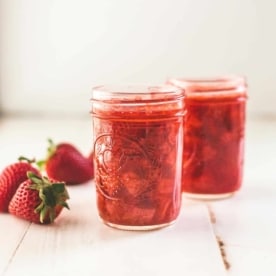 Homemade Strawberry Syrup
Homemade Strawberry Syrup is a three ingredient recipe made in 20 minutes. A little bit of cornstarch helps the syrup to cook and thicken quickly, preserving the natural flavor of the strawberries. Use it on pancakes and waffles, in drinks, or on desserts like angel food cake, ice cream, and strawberry shortcake.
Makes about 2 cups of syrup (less if you strain out the strawberry pieces).
Want to adjust the servings in this recipe to make more or less? Just click on the number next to "servings" and you can easily scale the recipe.
Ingredients
1

lb

Fresh strawberries, stems removed, chopped

(see note)

3/4

cup

White Sugar

1 1/4

cups + 2 Tbsp

Water, divided

1

Tbsp

Cornstarch
Instructions
In a saucepan over medium-high heat, stir together strawberries, sugar, and 1 1/4 cups water.

Let the mixture come to a boil.

Boil, stirring every couple minutes, for 10 minutes. (Be sure to reduce the heat if the syrup looks like it will boil over.)

Stir together 2 Tbsp water and 1 Tbsp cornstarch and pour it into the boiling syrup. Continue cooking, stirring frequently, until the syrup thickens. (This should take 2 to 4 minutes more. If you're going to leave the strawberry pieces in the syrup, you can choose to continue cooking the syrup for a few minutes longer to let the strawberry pieces reach a softer texture.)

Optional: If you want to strain out the strawberries, pour the syrup through a sieve. Do not press on the strawberries (this will cause your syrup to be cloudy).

Let the syrup cool completely.

Refrigerate for up to 3 weeks.
Notes
Strawberries
- Chop the strawberries as large or small, depending on how you plan to use them. If you plan to strain the finished syrup or want to use the syrup over desserts, you can leave the strawberries in quarters. If you want to keep the strawberries in the syrup in pieces, you chop them fairly small.
The syrup will thicken in the refrigerator, so leave it at room temperature for a few minutes and stir well before serving.
Nutrition
Calories:
38
kcal
|
Carbohydrates:
10
g
|
Protein:
1
g
|
Fat:
1
g
|
Saturated Fat:
1
g
|
Sodium:
1
mg
|
Potassium:
35
mg
|
Fiber:
1
g
|
Sugar:
9
g
|
Vitamin A:
3
IU
|
Vitamin C:
13
mg
|
Calcium:
4
mg
|
Iron:
1
mg
Nutrition information is automatically calculated, so should only be used as an approximation.
*This post contains affiliate links*