One of the best, and easiest desserts! Filled with tender, caramelized apples and topped with a sweet oat topping, this easy apple crumble is always a crowd-pleaser. Even better topped with a scoop of vanilla ice cream!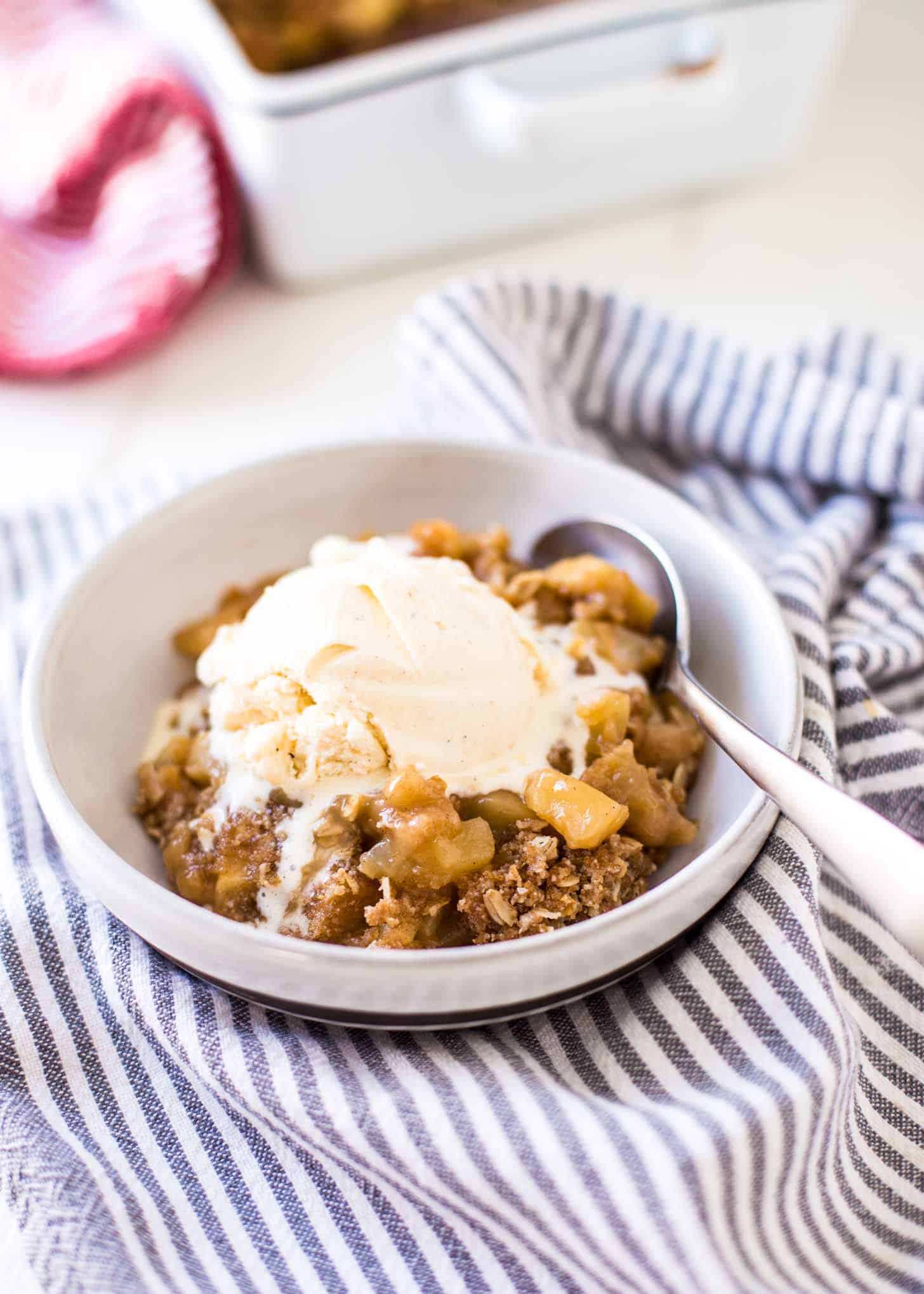 It doesn't get more classic than an apple crumble (we sometimes call it apple crisp around here) for dessert. This is one of those recipes that is so incredibly adaptable that you can pull it off easily on a weeknight. And since it uses ingredients that you most likely already have in your kitchen, it's a great dessert to make at the last minute when you don't have time (or just don't want) to run out to get ingredients. This is a particularly kid-friendly dessert to make if you, like, us have little hands that always want to help. The measurements don't have to be exact and everything gets mixed together with your hands.
Apple crumble is the stuff that weeknight dessert dreams are made of. The bonus is that your house will smell like a bakery even long after the 40 minutes required to bake this beauty.
Easy Apple Crisp Ingredients
Apples – See below for some great options, but most varieties will work.
Lemon juice – This keeps the apples from turning brown before they are transferred to the oven but also gives the dish a subtle tart flavor. Bottled lemon juice or fresh-squeezed will work.
Rolled / Old-Fashioned Oats – For that satisfying oat texture, look for rolled or old-fashioned oats instead of quick cook or instant oats. You can make a crumble without oats, but I love the extra texture and toasty flavor they offer.
Unsalted Butter – Use unsalted butter to avoid the dish getting too salty. You have more control over the amount of salt in the dish if you use unsalted butter and just add the measured amounts listed in the recipe. (If using salted butter, don't add any extra salt to the dish.)
Brown sugar – Light or dark will work. I love the extra caramel flavor that comes from dark brown sugar.
Cinnamon – Cinnamon and apples are a classic pairing, so don't miss adding a bit of cinnamon to the top. For even more flavor, try Saigon Cinnamon – it's my favorite for cinnamon rolls and is great in apple crumble!
Other standard baking things like flour, baking powder, and salt.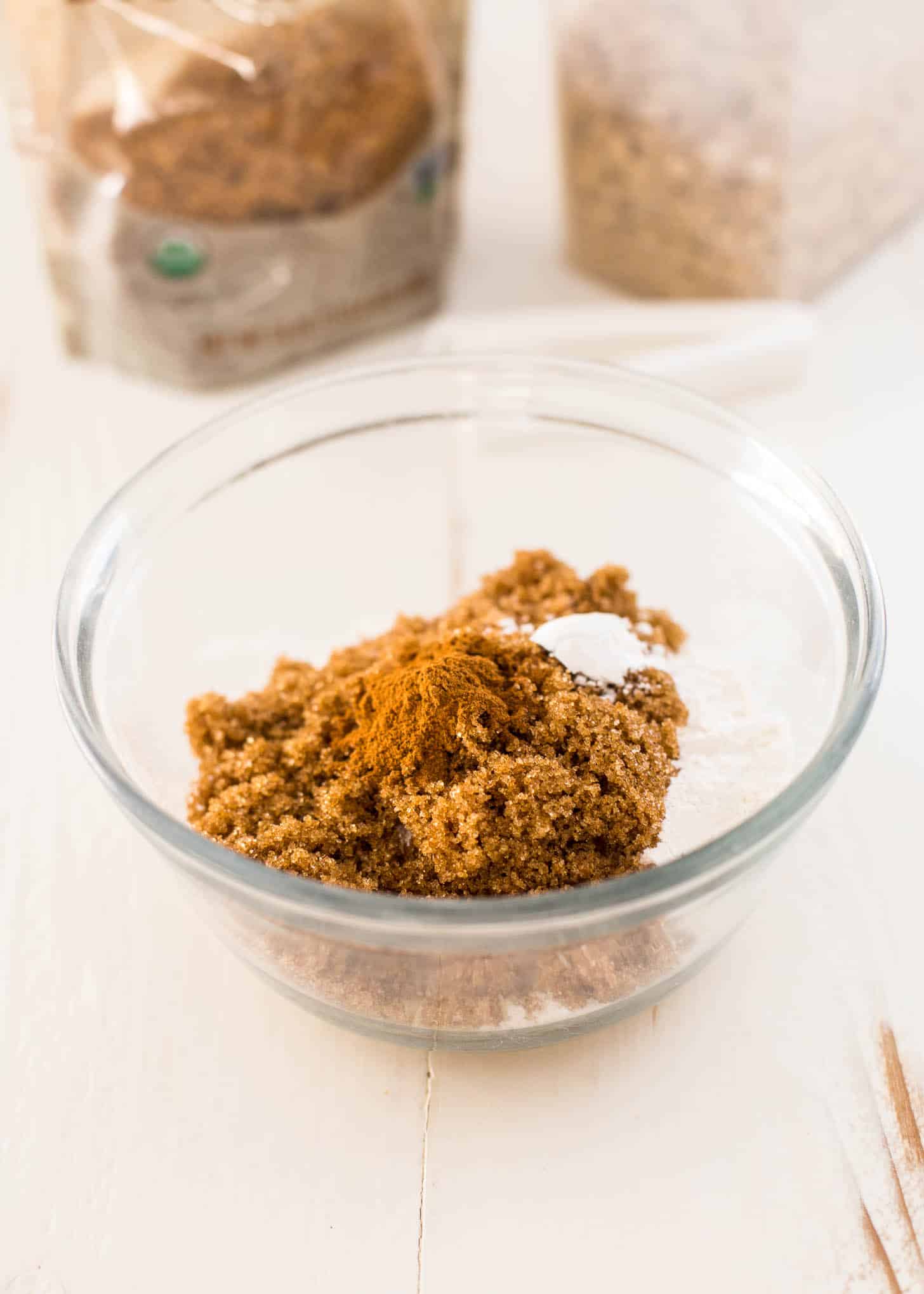 What Type of Apples to use in Apple Crumble
The best apples for baking are those that have a balance of tart and sweet and will hold their shape while baking. Honeycrisp, Fuji, and Pink Lady all strike that balance. Golden Delicious is another common favorite that is often extra tart and works well in combination with other apples. Avoid the common lunchbox favorite Red Delicious which will can turn spongy / mealy when baked.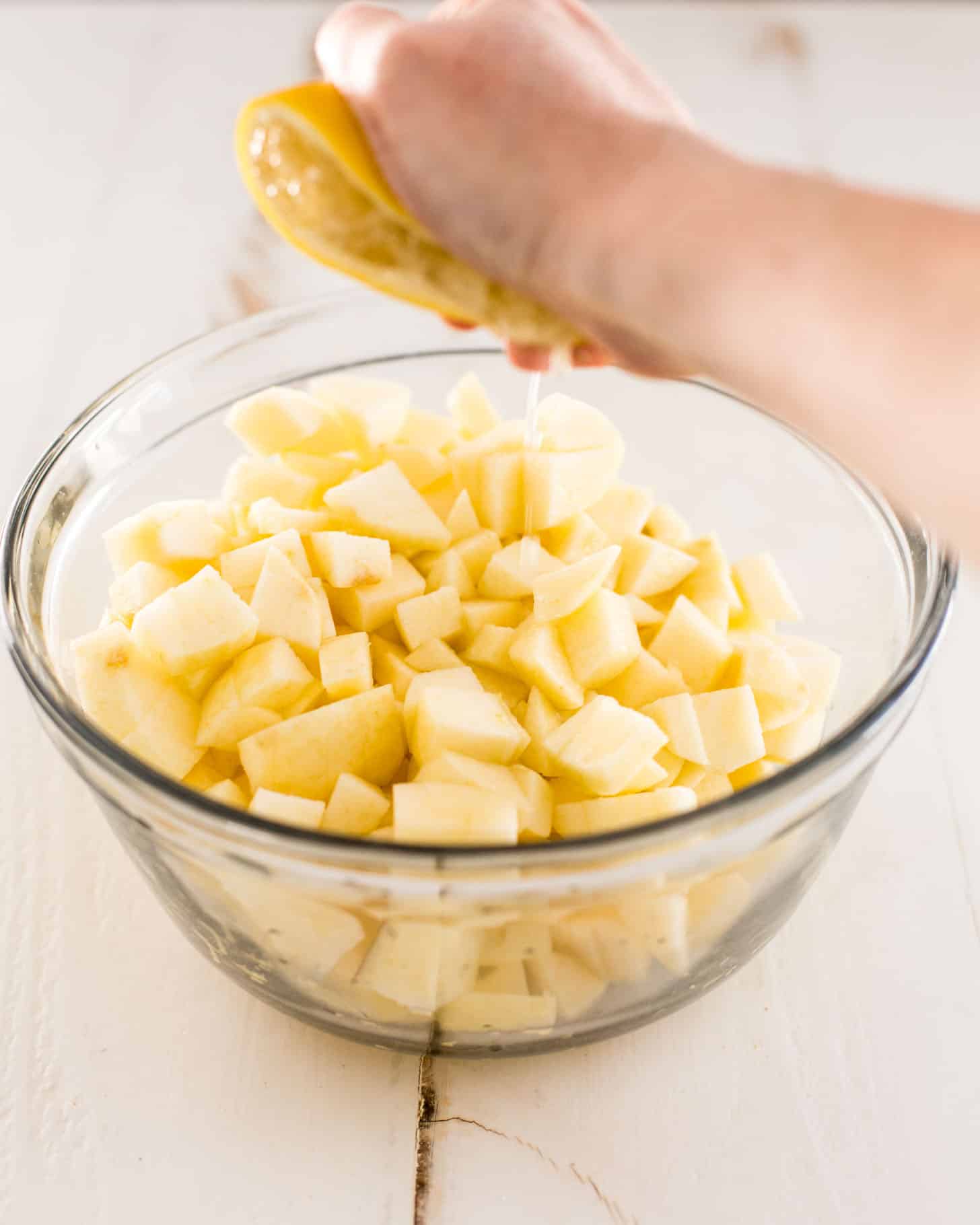 Variations on Apple Crumble
Try different fruits – Try any fruit that is in season in place of the apples. Peaches, plums, or a mix of the two are always great. Berries work well too. Or use any combination of fruits!
Change the topping – Skip the oats in the topping for a finer crust. Or add some nuts – chopped walnuts, chopped pecans, or sliced almonds.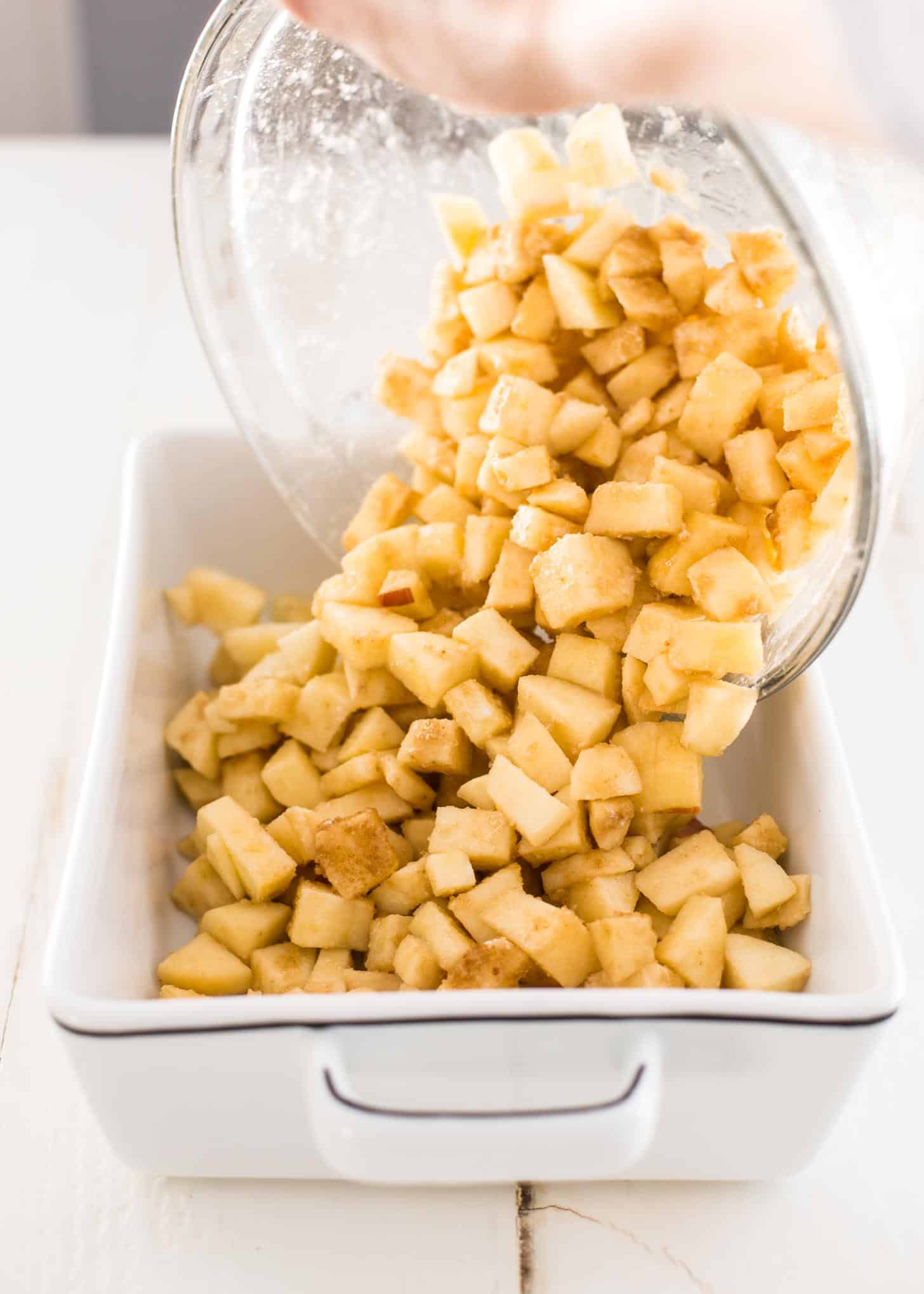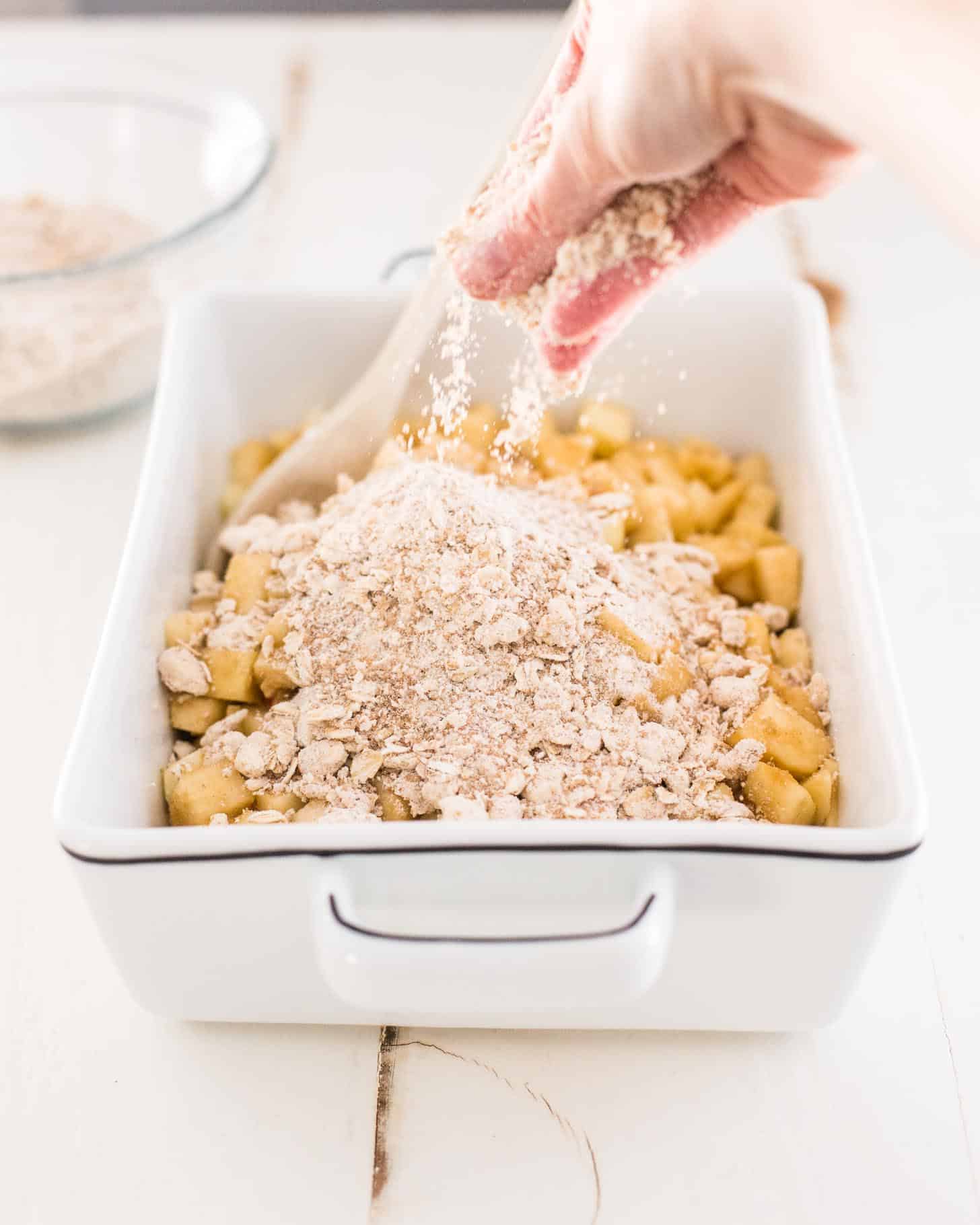 Favorite Tools
8×8 Baking Dish by Emile Henry – I love baking dishes with a little pop of color. We've had a variety of Emile Henry dishes since we got married 9 years ago (!) and they've stood the test of time.
Anchor 3-Piece Glass Mixing Bowls – I've had these even longer than the Emile Henry baking dishes and use them daily. Three sizes of glass bowls that are great for mixing ingredients, marinating meats, and work in the Instant Pot (the smallest size is what I use to cook the rice in this recipe.)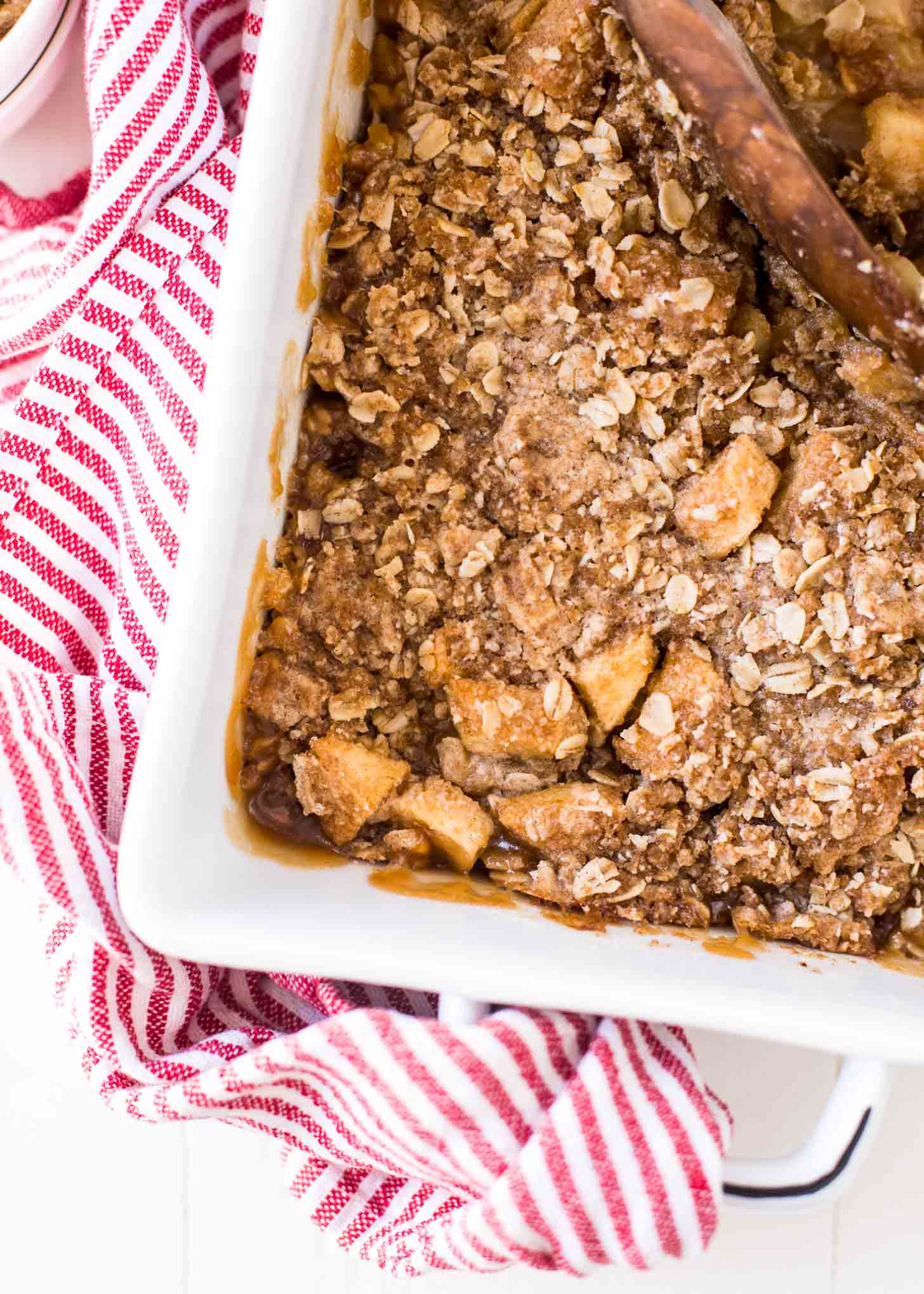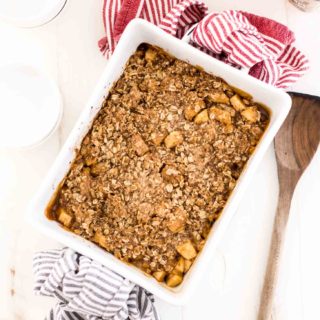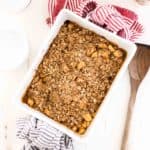 Print Recipe
Easy Apple Crumble
Ingredients
Crumble Topping:
½

cup

All-Purpose Flour

½

cup

Brown Sugar (light or dark)

½

cup

Rolled / Old-Fashioned Oats

½

tsp

Cinnamon

½

tsp

Baking Powder

¼

tsp

Salt

⅓

cup

Unsalted Butter, chilled and cubed

2

tsp

Olive Oil (opt)
Apple Layer:
2

lbs

Apples (any firm, crisp variety), peeled, cored, and chopped

1

Tbsp

Lemon Juice

2

Tbsp

All-Purpose Flour

1/4

cup

Brown Sugar (light or dark)

Pinch

of Salt
Instructions
Preheat oven to 375° F.

Grease an 8x8 baking dish (or any similarly-sized dish) with butter or nonstick cooking spray.

In one bowl, make the topping by combining 1/2 cup all-purpose flour, 1/2 cup brown sugar, oats, cinnamon, baking powder, and 1/4 tsp salt. Stir to combine.

Use your hands to rub butter into dry ingredients until the mixture resembles dry sand. Store in the refrigerator.

In another bowl, stir together apples and lemon juice. Add 2 Tbsp all-purpose flour, 1/4 cup brown sugar, and a pinch of salt. Stir to fully coat the apples.

Transfer apple layer to prepared baking dish.

Spoon crumble topping evenly over apples.

Bake for 45 to 50 minutes, until the apples are soft and bubbly and the top is golden brown. (Note: If using a dish that is smaller than 8x8 you will have a deeper layer of apples, so add 5 to 10 minutes to the bake time.)

Let cool for 5 minutes before spooning into bowls.

Serve crumble on its own or top with vanilla ice cream!
Notes
Use rolled / old-fashioned oats. Quick-cook or instant oats will work, but won't give the topping the same texture as rolled oats.
The olive oil in the topping is optional but I find that a little added oil helps the entire crust to get an even golden brown color while baking.
Use firm, crisp apples with a balance of tart and sweet like Honeycrisp, Fuji, or Pink Lady. Golden Delicious are also great - their extra tart flavor also works well in combination with other apples. Avoid the common lunchbox favorite Red Delicious which will can turn spongy / mealy when baked.
This week is spirit week at Molly and Clara's preschool so they dressed up in costumes of their own making. Wonder Woman insisted on having her hair dyed blue (#willneverwashout) and Cat Girl isn't quite sure what her superpowers are but really wanted the ears.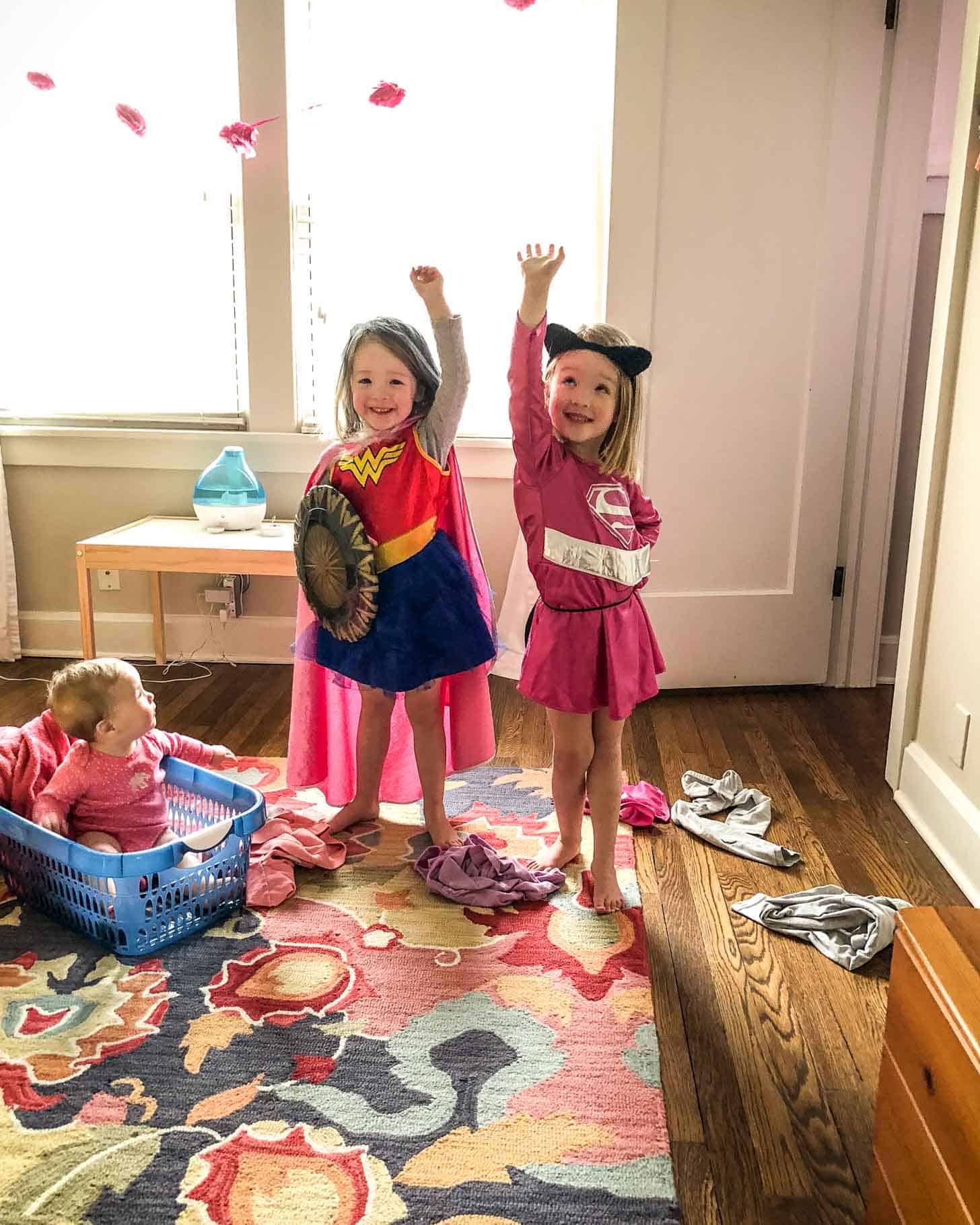 This post is not sponsored, but it does contain affiliate links. There is no extra cost to you, but we may earn a small commission. Thank you for your support!