Crispy Skillet Hash Browns with Fried Eggs and Arugula
Published Jun 10, 2013•Updated Apr 19, 2022
These Crispy Skillet Hash Browns with Fried Eggs and Arugula start on the stove and end in the oven so that both the top and bottom get extra crispy.
Yesterday I told my husband that I "pinned" a recipe from a magazine. What I really meant was that I tore the page out and stuck it on the fridge. Is that a sign of too much Pinterest-ing?
Wait – don't answer that.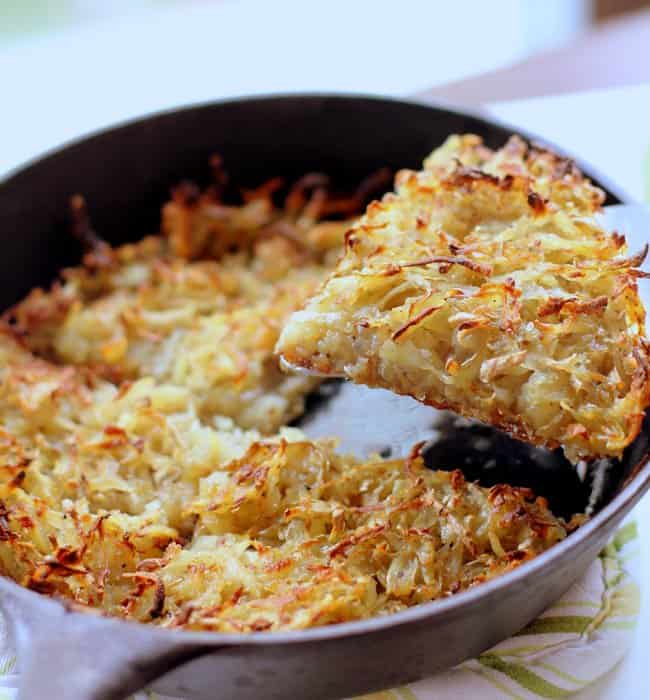 I have been seriously excited to share this recipe with you. There's nothing complicated or "new" about great hash browns that are tender inside and perfectly crisp on the outside, but I've thought about this dish more times in the past couple weeks than any other. It seemed particularly appropriate for the week leading up to Father's Day. We always seem to think of brunch as a Mother's Day thing, but shouldn't fathers get brunches too?
Maybe it's my husband's love of anything that involves crispy potatoes or the nod to campfire cooking that comes from making these crispy potatoes in a cast iron skillet, but this dish jumped out at me as Father's Day worthy.
It's worthy of just about any other day as well.
The secret to getting these potatoes extra crisp is 1) to squeeze as much liquid out of the grated potatoes as you can manage before you begin and 2) to start the potatoes on the stove to crisp the bottom and end in the oven to crisp the top. The dish serves four cooked in an 8-inch skillet, but you can easily adjust up to serve more people by using a bigger pan and cooking it for a few minutes longer in the oven.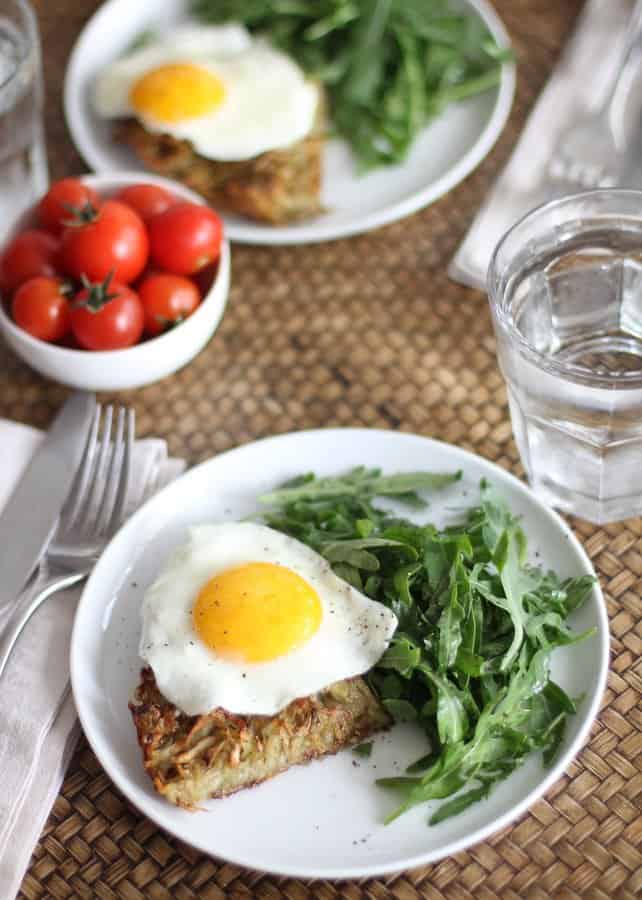 Although I won't be making him breakfast this year, I will be seeing my dad for dinner on Sunday! I'll be jet-lagged and bleary-eyed, but I'll be back in Kansas.
Anyone else planning to cook something for Father's Day??
More Brunch Recipes
Favorite Tools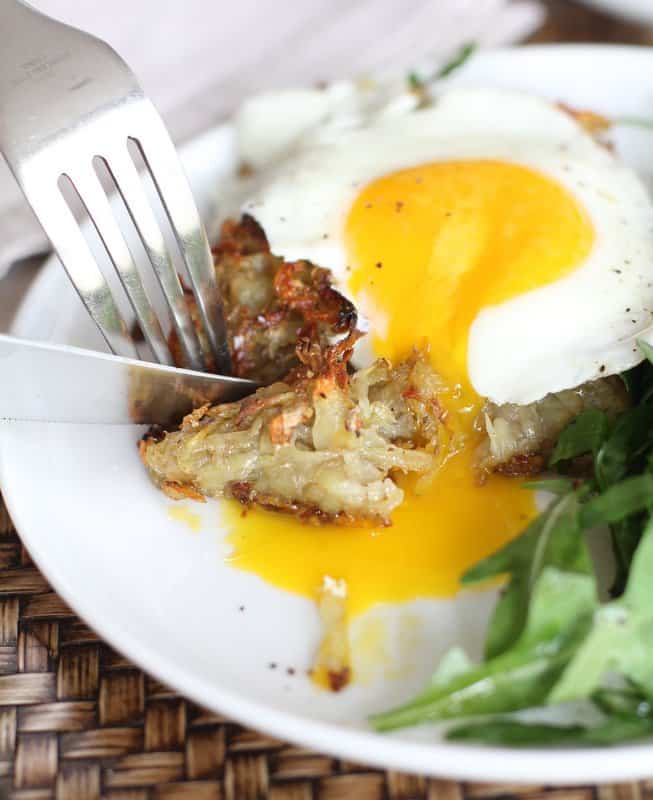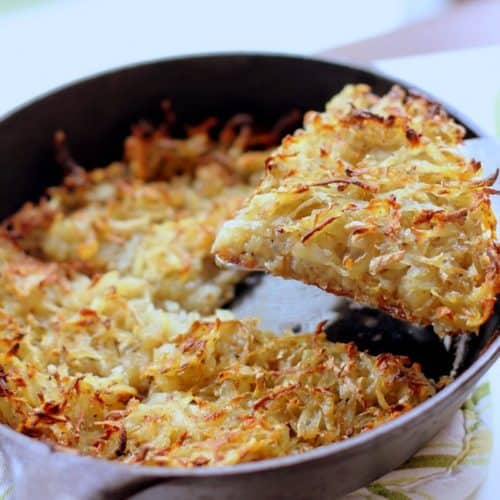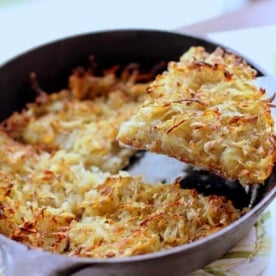 Crispy Skillet Hash Browns
This crispy potato hash "pie" is cooked first on the stove to crisp the bottom and then in the oven to cook it through and crisp the top. Slice in wedges and serve with fried eggs and arugula salad.
Equipment
Box Grater

Mixing Bowls

oven-safe skillet
Ingredients
2

large

Russet potatoes

(about 1 pound total)

1/2

tsp

Salt

1/2

tsp

fresh cracked Black Pepper

1

Tbsp

Unsalted Butter
Instructions
Preheat the oven to 350 degrees F.

Using a box grater, grate the potatoes onto a large kitchen towel. When finished, spread the grated potatoes out on the kitchen town and roll it tightly. Over the sink, squeeze as much liquid out of the potatoes as possible. (Note: This is the most critical step to crispy potatoes. Squeeze the heck out of those potatoes and don't stop until they are super dry.)

Transfer the potatoes to a mixing bowl and toss with salt and pepper.

Heat an 8-inch oven-safe skillet over medium-high heat. When hot, add the butter, and swirl to coat the bottom of the skillet. Add the grated potatoes to the hot pan, gently spreading them out to evenly cover the bottom of pan. (Note: Resist the urge to press the potatoes into the pan. Leave them light and textured - this will make for more surface area to crisp up in the oven). Cook until you can lift the potatoes gently with a spatula and see that the bottom of the potatoes are golden brown and crisp, about 5-8 minutes.

Carefully transfer the hot pan to the oven and cook until the potatoes are cooked through, 10-15 minutes. Finally, turn on the broiler, and blast the surface of the potatoes until golden brown and crisp, about 2 minutes more.

Slice into wedges and serve.
Notes
Serve, as shown, topped with fried eggs and with an arugula salad lightly tossed in olive oil, salt and pepper on the side. This is great for breakfast or brunch, but is simple enough for a weeknight dinner.
Nutrition information is automatically calculated, so should only be used as an approximation.
*This post contains affiliate links*