Clătite (Romanian Crepes)
Published Mar 28, 2012•Updated Aug 05, 2022
When I lived in Romania after college, I spent every day for a year in a house full of children. There were always three adults as well – two to look after the kids; one to cook.
Cooking was a full-time job, and it was rotated among all the ladies in the house. Except for me. I was considered only capable of eating what was cooked in that kitchen (and it suited me just fine). Though I spent my days singing songs, playing games, running in the park, and carrying any number of kids on my back, when they were napping and the house was quiet, I camped out in the kitchen.
From the kitchen table, I watched four seasons of recipes pass through sun-filled space. In the summer we feasted on deep red tomatoes, and red peppers still warm from the garden. In the fall, there was canning to be done – everything imaginable became pickles or jams or savory spreads. The winter was all about soup from jars that had been put away and potatoes cooked, or fried, or baked. Though most every recipe prepared in that kitchen corresponded with a season, one recipe made a year-round showing. Clătite.
Clătite are crepes – cooked fast in a hot pan and filled with something sweet or savory. In Romania, we always ate them sweet. They got a sprinkle of crunchy sugar or a sweep of house-made jam. The women in charge of cooking for all of those kids cranked out clătite as if they were serving an army (which, of course, they were). And by the time those kids came down from nap, rubbing the sleep from their eyes, there would be a pyramid of clătite waiting.
I used to practice making these in the Romanian winter when my radiators were insufficient and a working kitchen was the only warm spot. One week in particular, a snow drift positioned itself outside the door to our apartment building and I and my neighbors were trapped inside until someone made it by to dig us out. I made clătite.
The recipe has been hiding in the back of my brain for years, and it took a couple of attempts to get back into the swing of it. Fortunately, the one thing I learned from watching hundreds (probably thousands) of clătite cooked, is that there are always a few that don't look quite perfect. The first one, in particular, is never pretty (that's it on the right down below).
The less-than-perfect clătite are for snacking while you make the rest.
Oh, and should you be so inclined, let me put in a plug for the sheer goodness of clătite topped with nutella and bananas.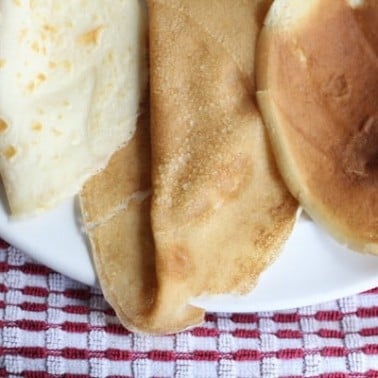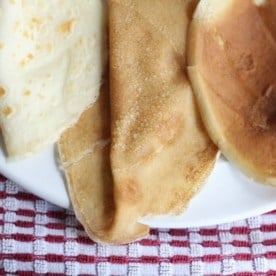 Clătite Recipe (Romanian Crepes)
Equipment
8 inch Skillet

Mixing Bowls

Whisk
Ingredients
2

large

Eggs

1 1/4

cup

Milk

3

Tablespoons

Butter, melted

1

cup

All-Purpose Flour

2

Tablespoons

Sparkling Water, plus more if needed

Extra Melted Butter, for brushing over the pan
Topping ideas:
Fruit Spread, Jam or Jelly

Fruit, fresh or frozen

Cinnamon Sugar

Lemon Zest

Nutella
Instructions
Place an 8-inch skillet over medium heat. Meanwhile, whisk together the eggs, milk, and butter. Gradually add the flour, whisking vigorously until it is smooth and free of lumps. Add the water and whisk to incorporate it evenly into the batter. (The batter may need the addition of a bit more water if it proves to be too thick once you start cooking the clătite.)

Brush the pan with melted butter and immediately pour enough batter into the pan to very thinly coat the bottom and reach the sides. You may need to swirl the pan a bit to move the batter around, but it should spread easily. (Add water to the batter if it does not spread easily.) Cook the clătita until the edges begin to crisp and curl and the bottom is golden, 1-2 minutes. Using a spatula, flip the clătita over and cook the other side until just golden, another 1-2 minutes. (Don't be worried if the first one browns quickly – the first one is never perfect.)

Continue cooking the remaining batter in this way, brushing the pan lightly with butter before each, and stacking the clătite on a plate when finished. (After these start cooking, you may need to turn the heat up to medium-high to keep the pan hot.)

Spread the clătite with your topping of choice, roll, and serve immediately.
Notes
This recipe is quite forgiving, but it may require a few adjustments to get the consistency right. You want the batter be a flowing liquid and to spread quickly out to the edges of the pan once poured (if it is too thick, it will pool in one spot like a pancake). If the batter doesn't spread quickly to the edges of the pan, simply add a bit more water. In my town in Romania, everyone swore by using sparkling water in their clătite, but it works perfectly fine with water straight from the tap.
Nutrition information is automatically calculated, so should only be used as an approximation.