Mississippi pancakes are tender in the center with light, feathery edges. They are slightly sweet and great with or without syrup.
Pancakes get no love in my kitchen. I can't explain why, except for the fact that I am really an egg kind of girl. I love eggs so much that I can hardly ever pass up eggs and toast for something bready and sweet. In fact, as you may have noticed, I need no excuse to eat eggs with any meal. I like eggs on toast, and eggs with white beans, eggs on ramen and eggs on hash.
But I digress...this is not about eggs. This is about pancakes.
Although baking for breakfast is something reserved, almost exclusively, for Saturdays around here, I woke up this morning feeling like memories of last weekend's morning treat was exactly what I needed on this run-of-the-mill mid-week morning.
Last week, after focussing most of my efforts not on cooking things, but on growing things and yoga-style headstand things, I woke up wanting to start my day in the kitchen.
And, in a rare moment (for me), I thought immediately of pancakes. I wanted that golden smell of batter on a buttered pan, and the luxury of popping frozen blueberries into my mouth while the cakes cooked.
In my mind I wanted pancakes that were of the light and fluffy, slightly sweet, and not requiring a sugary coat of syrup sort. (This last stipulation was largely out of necessity since we didn't have syrup...not sure where you find that in Bangkok.)
Inspiration for Mississippi Pancakes
As it has many times of late, the red tome of New York Times' recipes provided inspiration with a recipe called "Mississippi Cakes". I knew these would speak to my husband's love for anything that even hints at being Southern (he was sold the minute I said "Mississippi"), and also boasted "light, feathery edges".
Out of some fear that the original recipe might still not produce the fluffy cakes I desired, I whipped the egg whites into a foamy frenzy before mixing them into the rest of the batter. It was the only change I made to the original recipe, (below) which as promised, produced lovely, light, crisp on the outside, tender on the inside cakes.
The eggs might have breakfast competition.
📖 Recipe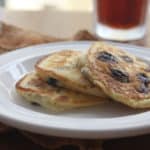 Print Recipe
Mississippi Pancake Recipe
Mississippi pancakes are tender in the center with light, feathery edges. They are slightly sweet and great with or without syrup.
Equipment
Mixing Bowls

Griddle or Skillet

Electric Mixer
Ingredients
2

eggs

1

cup

milk

2

tablespoons

vegetable oil

3

tablespoons

butter, melted, (plus an additional tablespoon of melted butter for the pan)

1 ¼

cup

all-purpose flour

3

teaspoons

baking powder

3

teaspoons

sugar

½

teaspoon

salt

2

cups

frozen or fresh blueberries (optional)
Instructions
Place a nonstick griddle or a skillet over medium heat.

Separate eggs yolks and whites, transferring whites to a medium mixing bowl. Whisk yolks well with milk, oil and butter. In another bowl, sift together dry ingredients. Gently fold dry ingredients into liquid with a wooden spoon. Using an electric beater, whip egg whites until frothy. Fold egg whites into batter until just combined (small lumps of egg white are okay).

When skillet is hot, brush the skillet with melted butter. Pour ¼ cup batter onto the skillet for each pancake, leaving space between. Top each pancake with 5-6 blueberries, if using. When bubbles form in the batter, flip the pancake. Continue cooking until golden on the bottom, about 2 minutes. Serve immediately.
Nutrition
Calories:
331
kcal
|
Carbohydrates:
48
g
|
Protein:
9
g
|
Fat:
12
g
|
Saturated Fat:
7
g
|
Polyunsaturated Fat:
1
g
|
Monounsaturated Fat:
3
g
|
Trans Fat:
1
g
|
Cholesterol:
107
mg
|
Sodium:
417
mg
|
Potassium:
529
mg
|
Fiber:
3
g
|
Sugar:
13
g
|
Vitamin A:
537
IU
|
Vitamin C:
7
mg
|
Calcium:
230
mg
|
Iron:
3
mg