Creamy, tangy, Avocado Crema can be made in just a few minutes in a food processor or blender. While it's great in Mexican meals like tacos or enchiladas, try it as a topping for burgers, dip for vegetables, or dressing for salads!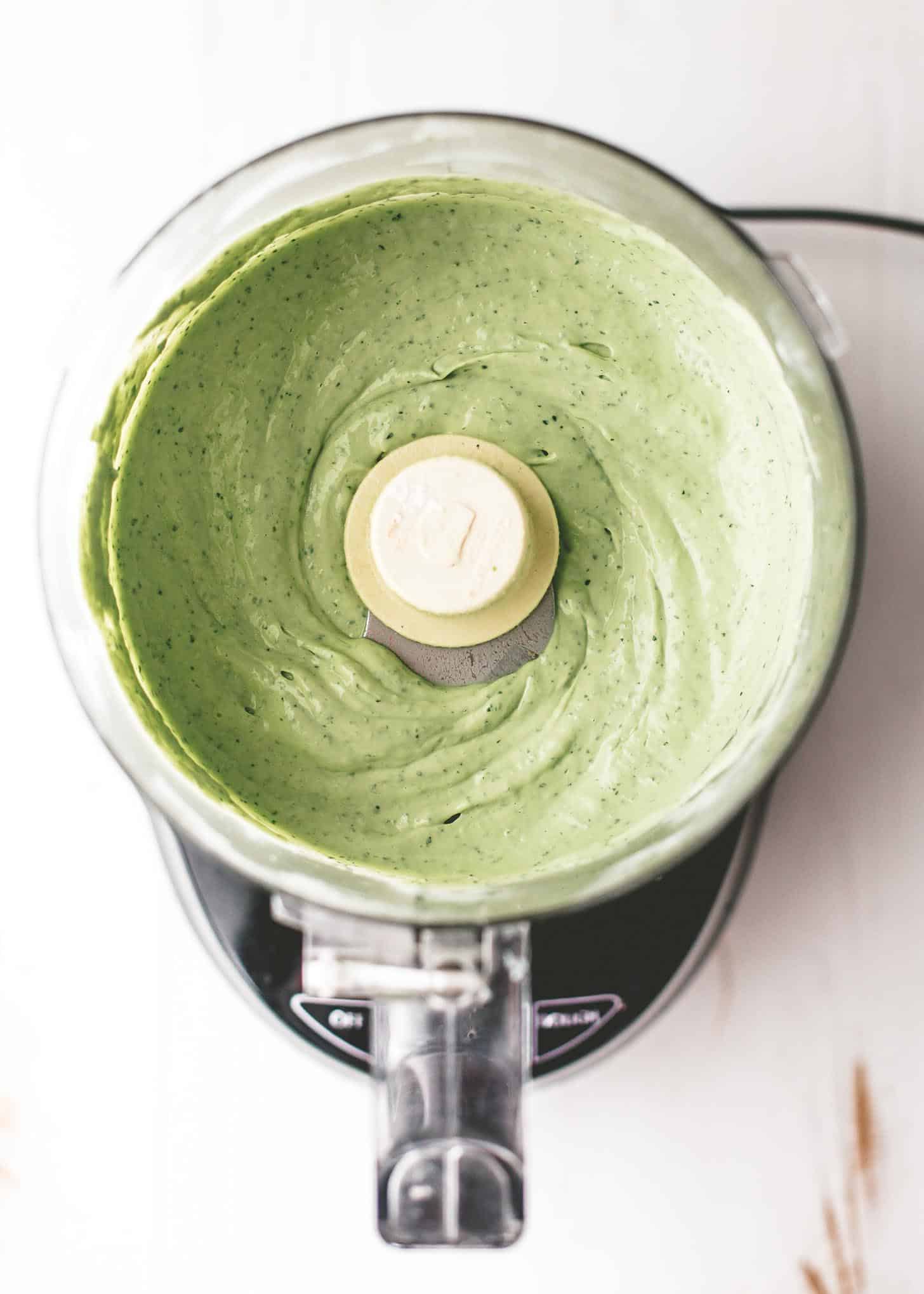 Good morning sweet friends. Hope all is well in your neck of the woods and you are hunkered down and ready for the weeks ahead. Here in Kansas City, everything is calm and people seem to have cranked up the Midwesternness. Lots of waving as we pass each other in cars, extraordinary kindness in those rare instances we have to be in the grocery store, neighbors still shouting greetings and chatting about the weather, albeit from opposite sides of the street. Our family of five is doing just fine at home, focussing on being cozy and thankful for the many things there are to be thankful for. (If you're looking for more social media entertainment, we're sharing all sorts of clips and kid shenanigans from our life at home, plus what we're cooking and baking, over on Instagram stories.)
But today here in food-land, I'm sharing one of my favorite, super versatile sauces. Avocado crema! Once we get on an avocado crema kick at our house, it starts showing up everywhere. Virtually every meal at our house lately seems like it would be improved with a drizzle of avocado crema. Veggie burgers? Yes! Grilled salmon? Yes! Turkey sandwiches? Obviously yes!
Once you add this easy, creamy, addictive sauce to your kitchen rotation, you'll find endless uses for it as well. It takes just a few ingredients and virtually no time at all.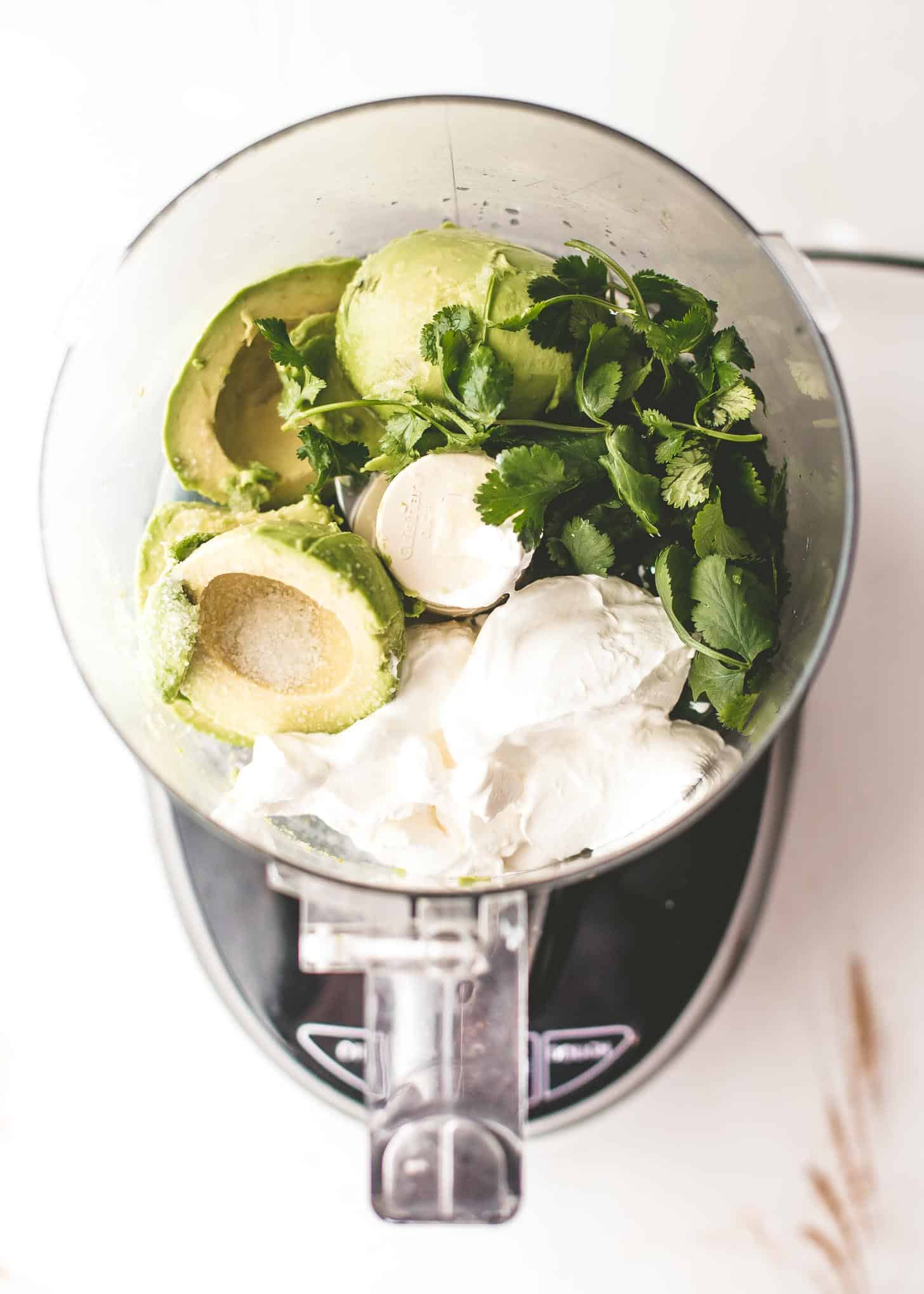 Ingredients for Avocado Crema
Avocados - Look for avocados for this that are just the right amount of ripe - not super soft, but not super firm either. Those will have the best flavor. Remove the seeds and peels of the avocado before using them.
Cilantro - The measurement provided in the recipe is for "sprigs" of cilantro which can feel a bit inexact, but there's no need to be super precise with the cilantro measurement here. You'll want a good dose of cilantro and you can include both the stems and leaves in the recipe. If you prefer a more exact measurement, you can also tear the leaves off the stems and use about 1 cup of lightly packed cilantro leaves.
Sour Cream - For rich, creamy flavor, sour cream is great here. See below for my favorite, lighter substitute.
Lime Juice - Start the crema with the juice from 1 lime, but it's a good idea to grab a couple extra limes so that you can add more lime juice after tasting it.
Salt and Water - To flavor and thin out the sauce.
Making Avocado Crema Ahead
Avocado crema can be made a few hours ahead. Just cover it tightly with plastic wrap to minimize contact with air. It won't change the flavor, but the crema will lose its bright green color and turn slightly brown in places where it is in contact with air. Just give it a good stir before serving.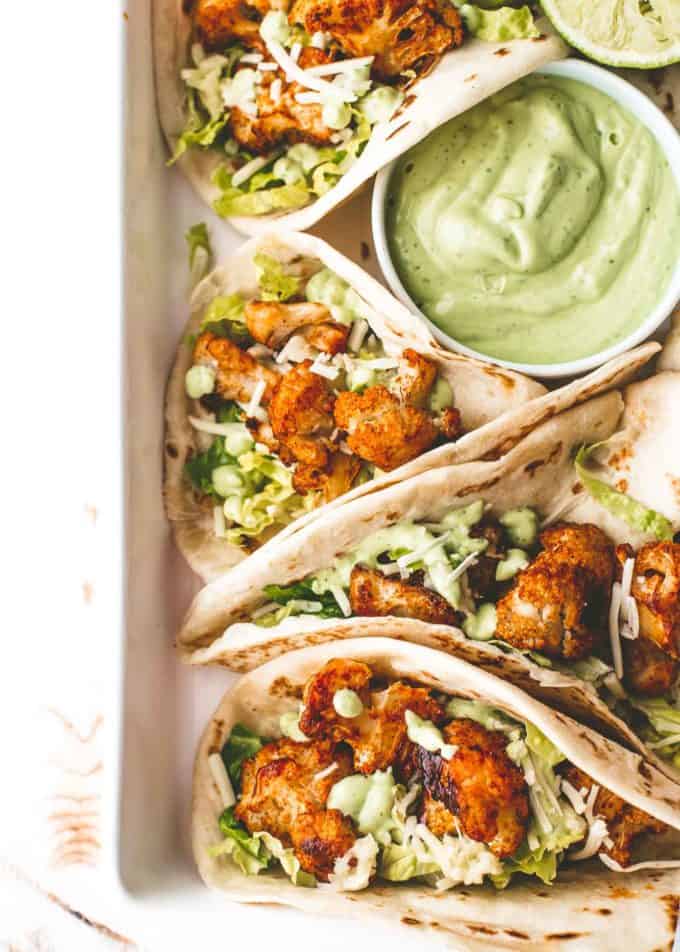 Sour Cream vs. Greek Yogurt
Sour cream is usually the creamy element for most classic versions of avocado crema, but for a lighter version, it's also great with plain Greek yogurt. I frequently make my crema with nonfat Greek yogurt (love this Kirkland brand from Costco!).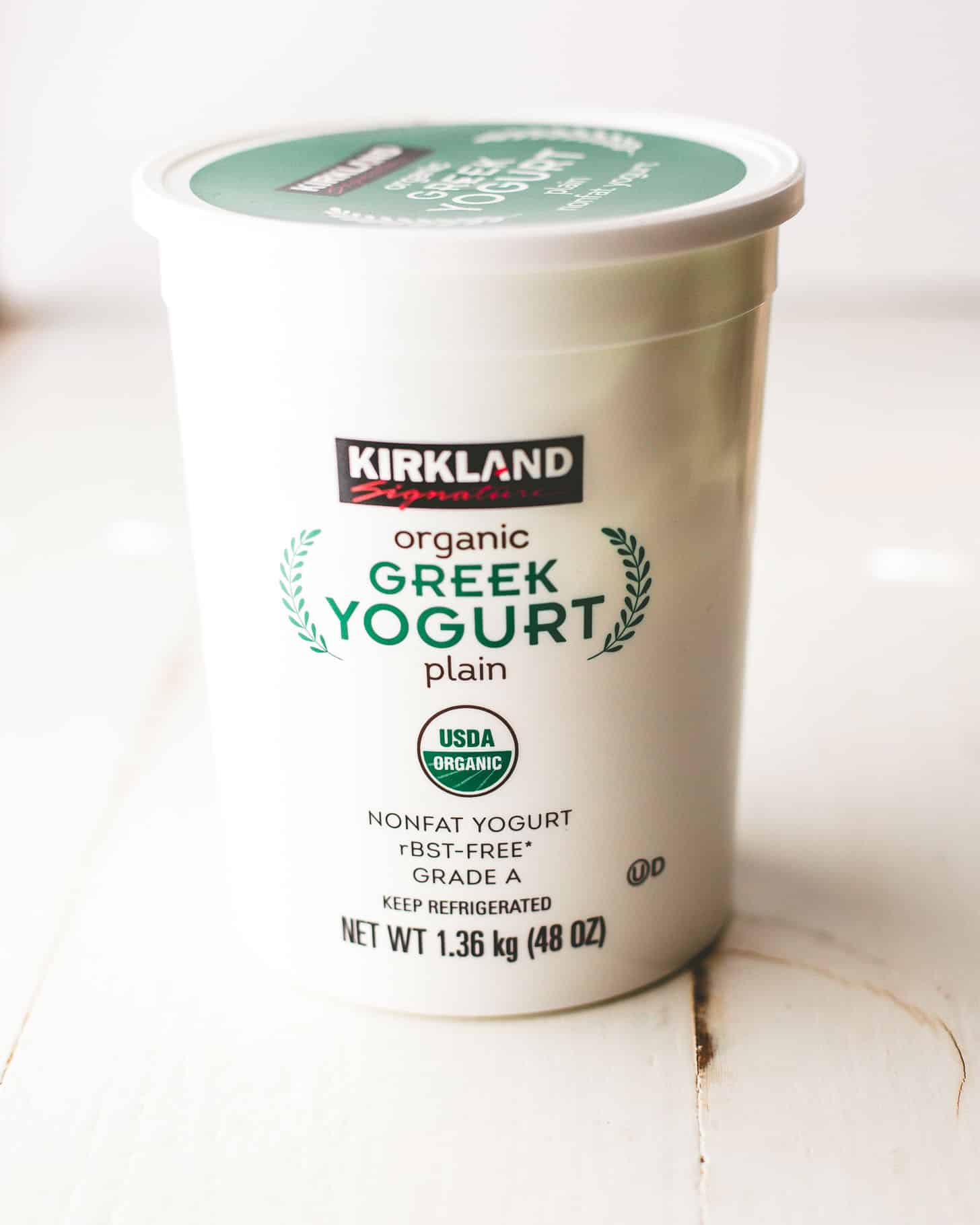 Favorite Tools
Food Processor - I've had this tool for 10+ years and it's still going strong. Perfect for chopping and creating smooth sauces.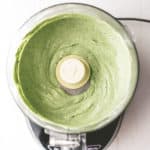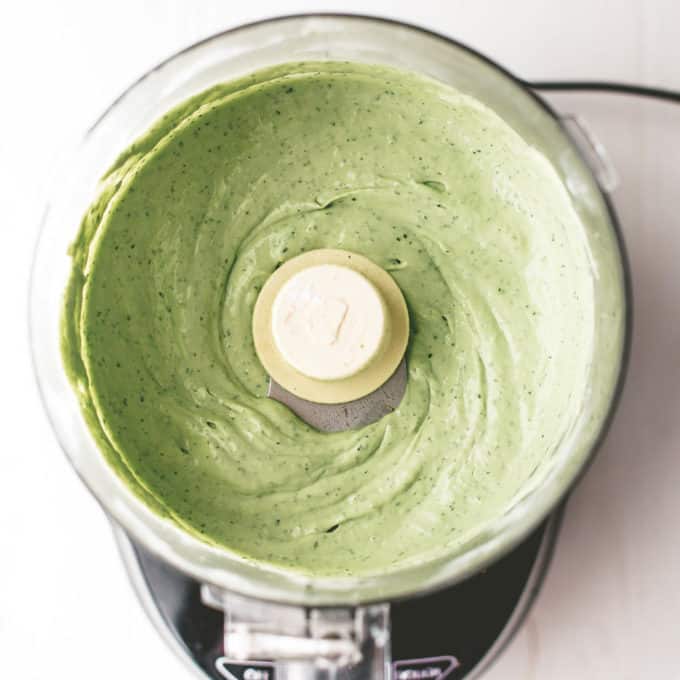 Print Recipe
Avocado Crema Recipe
This creamy, tart, avocado-based sauce can be made in just a few minutes in a food processor. While it's great in Mexican meals like on tacos or enchiladas, try it as a topping for burgers, dip for vegetables, or dressing for salads!
Want to adjust the servings in this recipe to make more or less? Just click on the number next to "servings" and you can easily scale the recipe.
Ingredients
2

Avocados, peels and seeds removed

6

sprigs

Fresh Cilantro

(you can include the stems; if you just want to use cilantro leaves, you'll need about 1 cup of lightly packed leaves)

½

cup

Sour Cream

(see note)

½

teaspoon

Salt

¼

cup

Water

Juice from 1 Lime

Cayenne Pepper or Hot Sauce

(optional, only if you want this to be spicy)
Instructions
Combine avocados, cilantro, sour cream, salt, water, and lime juice in a food processor.

Blend until smooth. Add more water, if needed, until the crema is still thick but pours easily off a spoon.

Taste the crema and add some more lime juice or salt, if needed. If you'd like some spice add a pinch of cayenne pepper or some hot sauce.
Notes
Sour cream is classic, but for a lighter version, try this with nonfat Greek yogurt. The flavor is slightly more tart and less rich, but still great.
Avocado crema can be made a few hours ahead. Place it in a bowl or jar and cover tightly with plastic wrap, pressing down to form a tight seal over the crema. (The crema may turn brown anywhere that it comes in contact with air as it sits. Just stir it well before serving.)
Nutrition
Calories:
87
kcal
|
Carbohydrates:
4
g
|
Protein:
1
g
|
Fat:
8
g
|
Saturated Fat:
2
g
|
Cholesterol:
6
mg
|
Sodium:
129
mg
|
Potassium:
218
mg
|
Fiber:
3
g
|
Sugar:
1
g
|
Vitamin A:
220
IU
|
Vitamin C:
4
mg
|
Calcium:
17
mg
|
Iron:
1
mg