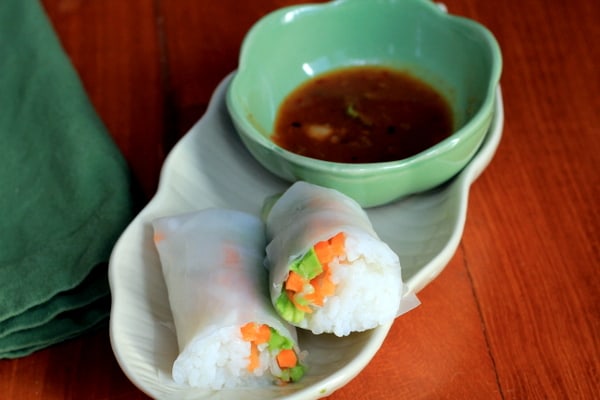 Since we are only about a week into the New Year, I wanted to keep this dinner to something light and easy. Although I have had summer rolls many times in the US and in Thailand, I don't recall ever trying to make them myself. I love the simple contents of these little summer rolls. I like to have both a peanut sauce and a spicy/sweet sauce on the side. So many recipes out there seem to use peanut butter in the peanut dipping sauce, but although it takes a few extra minutes to chop or pulse roasted peanuts, it pays off big time in the taste of the final sauce. Peanut butter seems to throw the texture and taste of the sauce, so that when I made this with actual peanuts, the end result was nothing like its peanut butter relation.
Rolling these little guys is really the only tricky thing about making summer rolls. The pictures below show the process I recommend for wrapping, although I'm certainly not an expert. My rolls came out in a variety of different sizes and shapes, some wrapped more tightly than others. Not to worry – they all still tasted great.
Dip the rice paper in water and place on a cutting board. Add the contents of your choosing (shown on the left), turn the left and right sides into the middle (shown on the right), and roll up tightly from the bottom.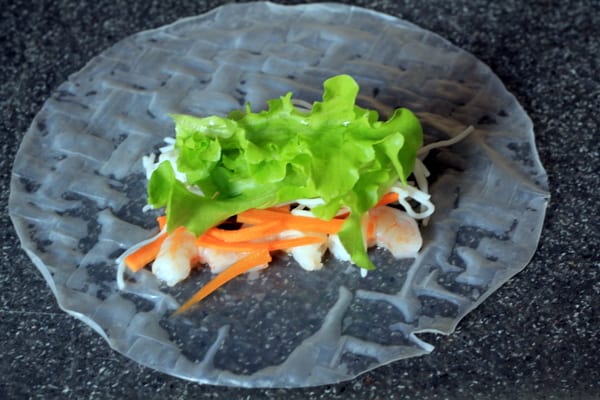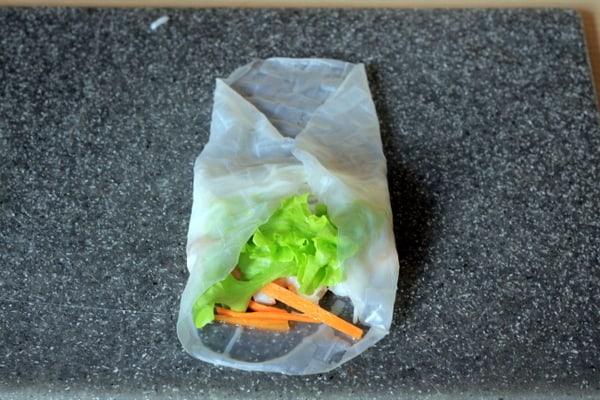 Fortunately, with some advance preparation, you can get all of the components ready and have dinner guests (or your spouse) roll their own at the dinner table. I prepared a few – one with shrimp, carrots and lettuce, and another as a veggie take on a California Roll with rice, carrots and avocado (both shown above), however for dinner tonight, we just set the ingredients n the table and made them ourselves.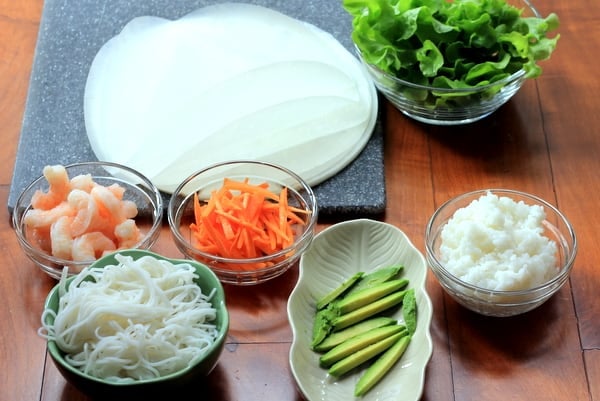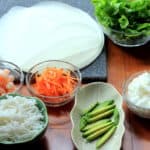 Print Recipe
Vietnamese Summer Rolls with Shrimp and Avocado
Ingredients
1

package (about 20) round rice papers

2

cups

cooked rice, cooled

2

cups

cooked rice vermicelli, cooled

1

carrot, cut into thin 1-inch long matchsticks

1

avocado, cut into thin slices (squeeze a little lemon over this if you won't serve it right away)

1

head romaine lettuce, shredded

15-20

small cooked shrimp, peeled and deveined

Peanut Dipping Sauce (recipe here) or Sweet and/or Sweet and Spicy Thai Dipping Sauce (recipe here)
Other optional ingredients to set out for filling rolls:

1

cup

bean sprouts, rinsed and drained

20

small fresh mint leaves (these are a common addition to authentic vietnamese summer rolls)

1

cucumber, cut into 1-inch long matchsticks

1

cup

jicama, cut into 1-inch long matchsticks
Instructions
Set out all ingredients listed above. Just before serving, dip 1 rice paper at a time in water and shake to drain. Lay rice paper out on a large plate or cutting board. Add ingredients of choice in a line across the lower quarter of the paper in the following order – 1) shrimp and/or avocado 2) carrots 3) rice and/or noodles 4) lettuce.

Close the rolls by folding the left and right sides of the paper towards the middle and rolling up tightly from the bottom of the roll. Serve immediately with dipping sauces.
Notes
Note: As indicated above, you can prepare these in advance or set out the components and make your own at the table. If making them in advance, set the finished rolls on a platter, leaving space between them so they are not touching (they'll stick together). Lay damp paper towels or a dishtowel over the rolls as you are preparing the others so that the rice paper does not dry out.
Love yourself a summer roll? Check out my other vegetarian summer roll recipe with hoisin peanut dipping sauce here.