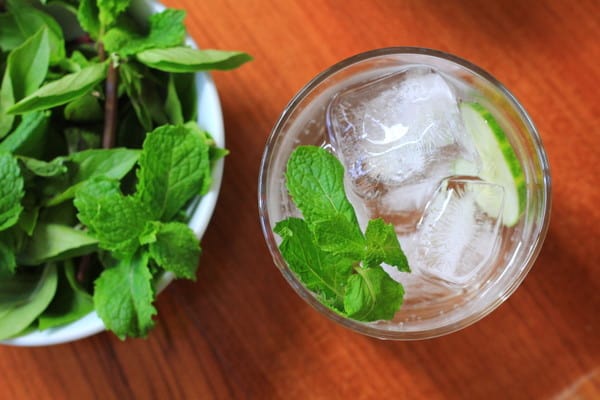 I am declaring the summer of 2011 to be the summer of DIY sodas. Seems like it's a long time coming, since I feel fairly certain that high fructose corn syrup has been out of style for some time now. I hadn't really given sodas much thought until yesterday, when on a thirst-inducing, caffeine-craving, hot-Bangkok-afternoon whim I bought a Coke and tossed it after one sip.
Those things don't taste good to me (although I pretty sure I'm in the minority there).
It reminded me, though, of an article in a recent Bon Appetit on making your own sodas. And they aren't the only ones talking about it. Andrew Schloss, author of a book on homemade soda, was recently a guest on The Splendid Table, discussing the simplicity and benefits of making bubbly drinks at home. As you may have noticed, anything mentioned by Lynne Rossetto Kasper is taken as gospel in this house.
As much as I rarely crave the taste of the big-name sodas, I do love bubbles.
I love the soapy kind that are blown from plastic sticks on grassy front lawns.
I love the kind that show up in the bottom of the bubble teas we buy in Bangkok.
I love the kind that you learn to blow at the pool at swimming lessons as a kid.
Prosecco and sparkling wine are welcome contenders in the bubbly category, although unfortunately, inappropriate for weekday afternoons.
Creative sodas made with fresh ingredients struck me as something worth adding to the list.
And my was I glad I gave it a whirl.
I have a bit of experience in this area, thanks to the limeade craze of March, but I have to say that this combination of mint, basil and cucumber may give the limeade a run for its money. And, since as it turns out, "soda" is really just a fancy term for flavored simple syrup with seltzer mixed in, this was a 20 minute project that left me sipping on a sweet, herby treat this afternoon.
At only 61 calories a glass, I'll take this any day over high-fructose corn syrup.
📖 Recipe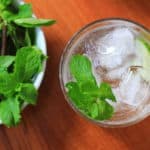 Print Recipe
Cucumber, Mint, and Basil Soda
Ingredients
1

cup

sugar

1

cup

water

½

large cucumber (about 8 oz.), thinly sliced crosswise,

24

fresh mint leaves

12

fresh basil leaves

6

cups

soda water

extra mint leaves and cucumber slices, for garnish (optional)
Instructions
Make the syrup. Heat sugar and water in a small saucepan over medium heat, stirring occasionally, until sugar is dissolved and mixture is boiling. Remove pan from heat and add cucumber slices, mint leaves and basil leaves. Cover and let steep for 30 minutes. Strain syrup into a jar, pressing solids into strainer to release all of their flavor. Discard solids. Store syrup in the refrigerator for up to a month.

Mix the drink. For each serving, mix 2 Tbsp. syrup with ½ cup soda water in a glass filled with ice, stirring to combine. Garnish with mint leaves and cucumber slices.
Notes
Original recipe by Spur in Seattle, WA and available on bonappetit.com.
The syrup can be stored in the refrigerator up to a month to be mixed with seltzer right before serving.