There's something extra fun about using the spaghetti squash shell as a bowl for serving this saucy, cheesy weeknight meal.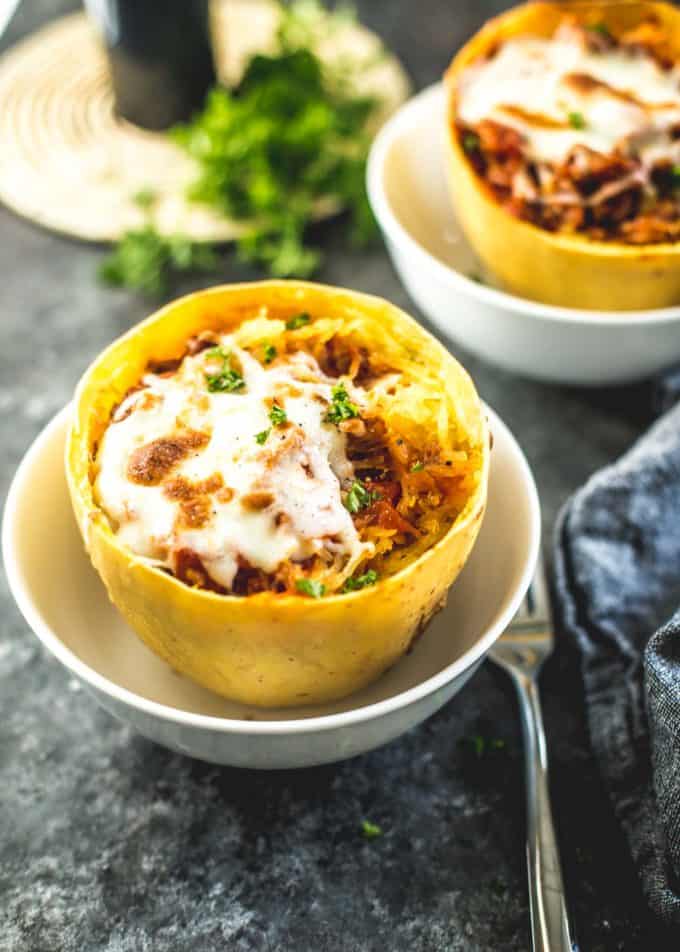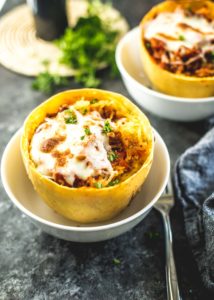 This week has been all about spaghetti squash here on the blog, and it's a pretty accurate reflection of what's actually happening in our kitchen. So much squash!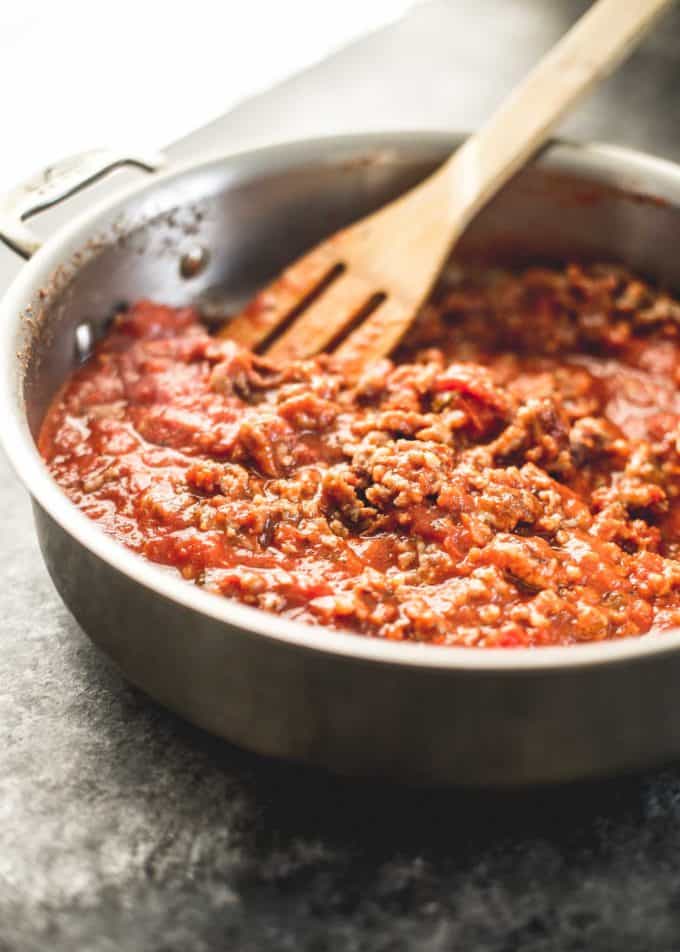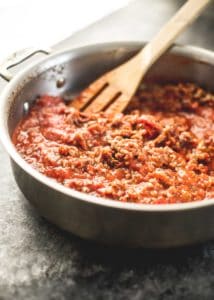 This "recipe" can barely even be called a recipe. It's a complete shortcut to a dinner that we all love and that has the vegetables built right in. When I've been making this, I use Italian sausage and a good quality store-bought marinara to make the sauce. I mix the sauce with spaghetti squash right inside those "bowls" and top the whole thing with melty cheese.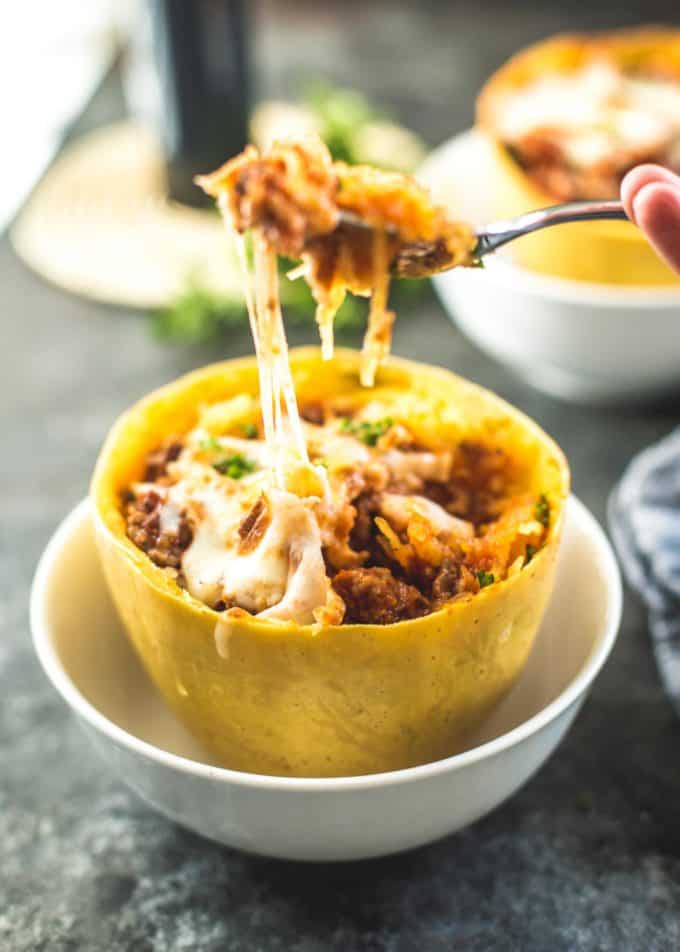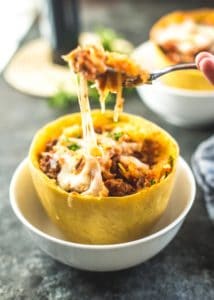 If the spaghetti squash has been cooked ahead of time (in the Instant Pot, slow cooker, oven, or microwave) the whole thing comes together in less than 30 minutes and is a healthy-ish comfort food perfect for cool fall and winter nights.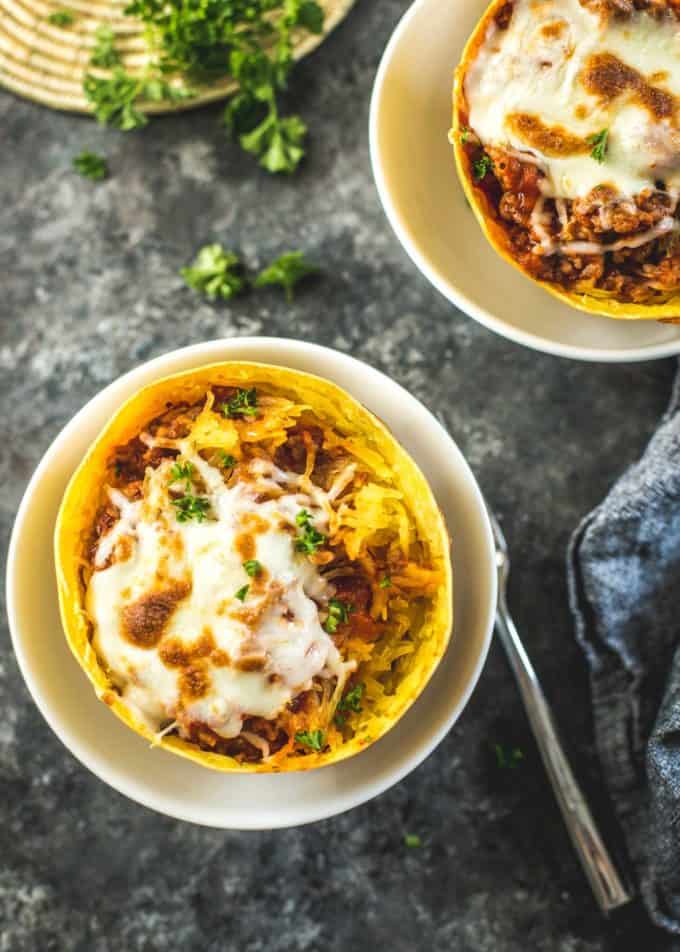 How to Make Individual Spaghetti Squash "Bowls"
Even my choosy 4-year-olds are charmed by the idea of eating out of the actual squash halves. The key to making individual sized "bowls" is to look for spaghetti squash that are on the smaller side – 3 lbs each, at the most. Slice them in half (I prefer to slice them through the narrowest center and then cut off the stem so they will sit upright) and pre-cook them until the spaghetti squash strands are tender.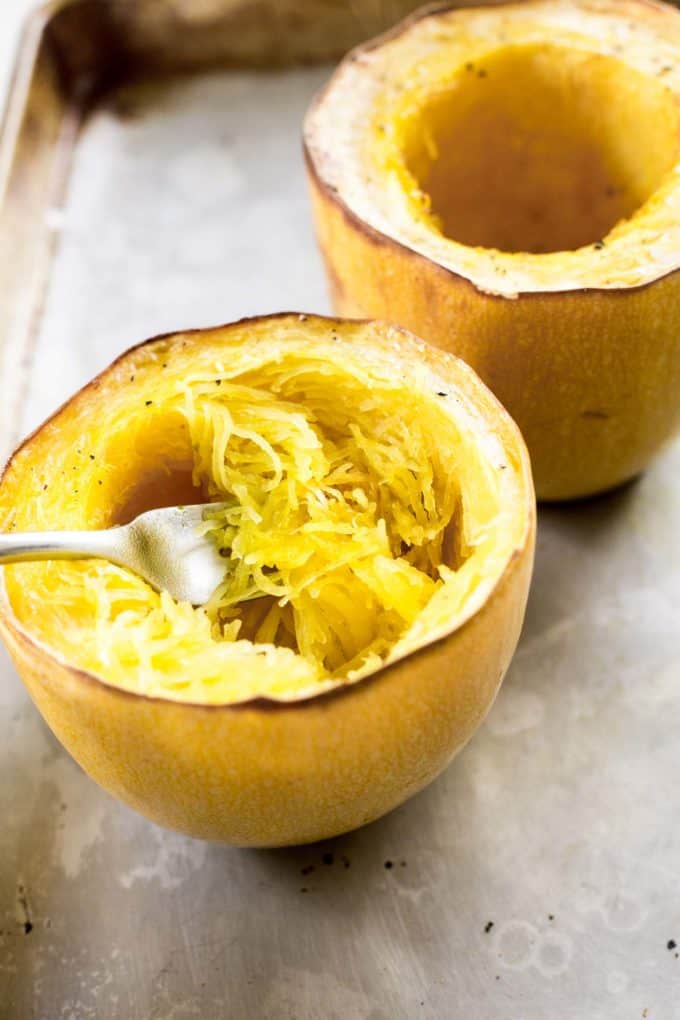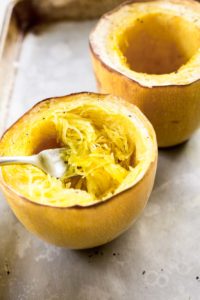 We'll be making this one again and again all winter long.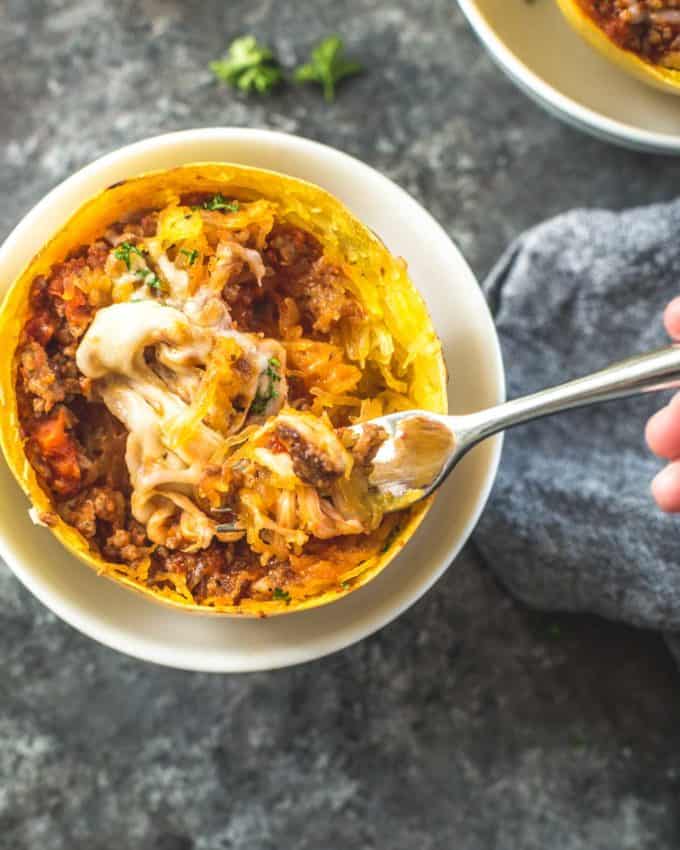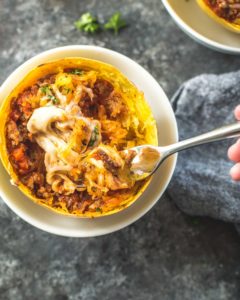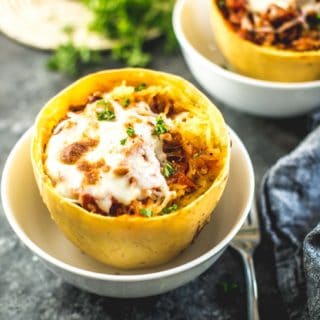 Print Recipe
Spaghetti Squash Bowls with Marinara and Italian Sausage
There's something extra fun about using the spaghetti squash shell as a bowl for serving this saucy, cheesy weeknight meal.
Ingredients
2

small Spaghetti Squash (look for squash that are between 2.5 and 3 lbs)

1

lb

Italian Sausage

1

(24 oz) jar Marinara Sauce (I use a good quality store-bought version)

6

oz

Shredded Mozzarella

Chopped fresh herbs, for serving (optional)
Instructions
Slice spaghetti squash in half and cook until the strands are tender (leave the strands in the squash halves). See note below for tips on cooking methods. (Note: This can be done up to 3 days ahead. Store cooked squash in the refrigerator.)

Turn on the oven's broiler.

Heat a large skillet with cooking oil over medium heat. Add sausage and cook, breaking it apart as it cooks, until lightly browned, 5 to 6 minutes.

Pour marinara sauce over sausage and stir to combine.

Place the spaghetti squash halves cut-side up on a sheet pan. Use a fork to pull the spaghetti squash strands from the sides of the squash bowls so they resemble noodles inside each bowl.

Divide marinara sauce between the squash bowls and gently stir to combine squash strands and sauce.

Top with cheese.

Place sheet pan under the broiler until cheese is melted (watch it closely to prevent burning), 2 to 3 minutes.

Top with fresh herbs and serve.
Notes
For this recipe, the squash can be cooked up to 2 days ahead of time. For instructions on cooking the squash in the Instant Pot, slow cooker, oven, or microwave check out this post.
Nutrition
Serving:
1
g
|
Calories:
453
kcal
|
Carbohydrates:
14
g
|
Protein:
24
g
|
Fat:
34
g
|
Saturated Fat:
11
g
|
Polyunsaturated Fat:
18
g
|
Cholesterol:
65
mg
|
Sodium:
1372
mg
|
Fiber:
2
g
|
Sugar:
1
g
Thanks to my mom saving every Halloween costume from when I was a kid, Molly and Clara have been faux trick-or-treating around the house all week. Fortunately, I don't think anything will detract from the excitement of the real thing.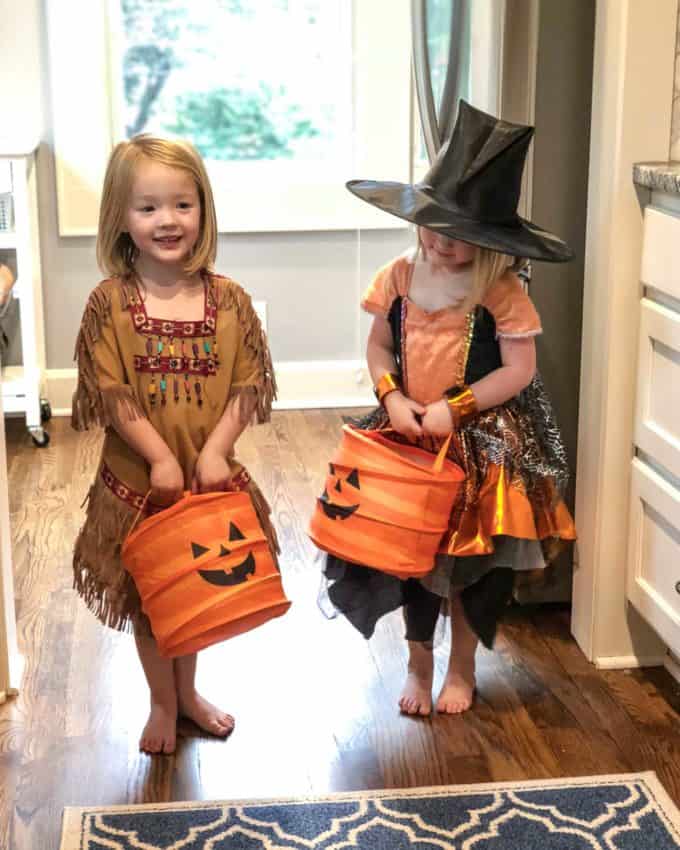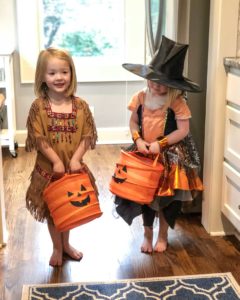 This post is not sponsored, but it may contain affiliate links. There is no extra cost to you, but we may earn a small commission which helps keep the site running. Thank you for your support!
SaveSave