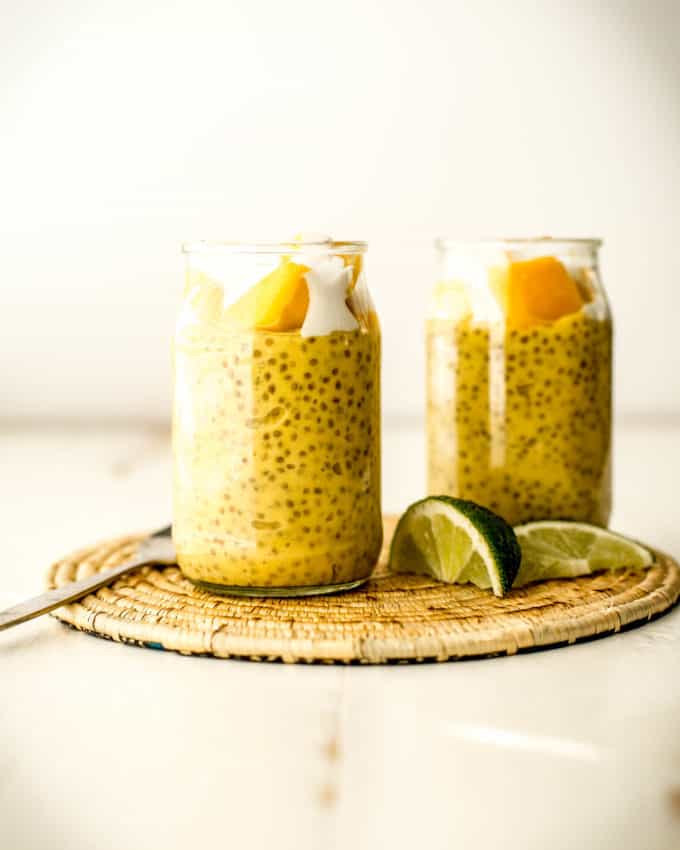 Creamy, naturally sweet, and thickened with chia seeds, Mango Chia Seed Pudding is great served for breakfast or dessert.
Frozen mango is a staple in our house. Isn't there something so sunny and cheerful about mango in any form?
If you've been reading for awhile, you've surely seen the 5 lb bags of organic cubed mango from Costco popping up here on the blog. (Here it is again in my favorite Green Smoothie.) We keep these giant bags of mango in the freezer and always find new ways to use them. Mango is naturally sweet, packed with Vitamin C (which I can never get enough of in winter / cold season), and best of all, my kids love it.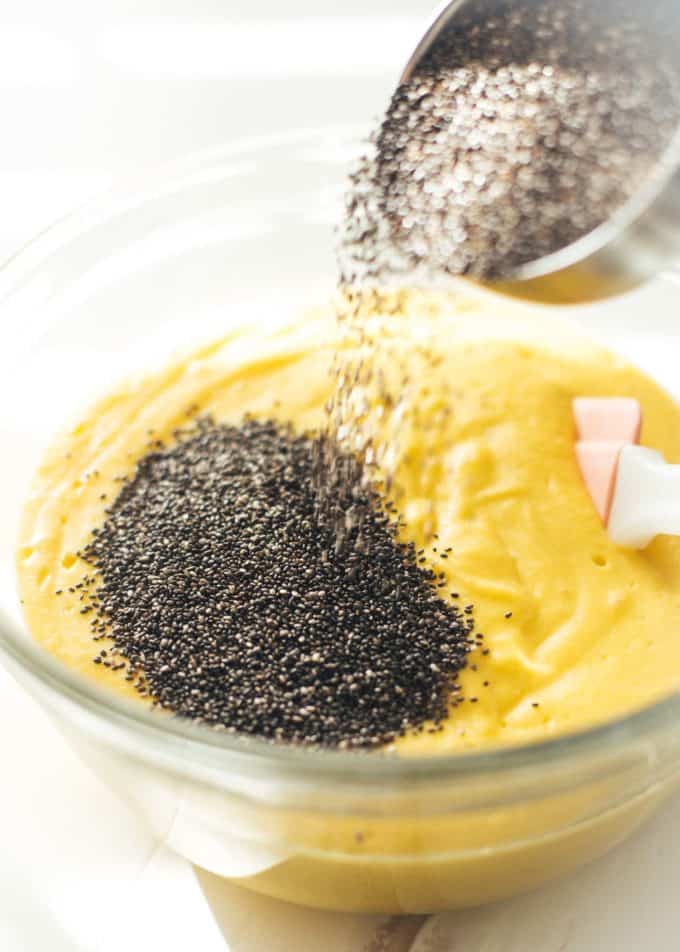 This Mango Chia Seed Pudding is not technically a Thai dish, but I couldn't help but include it in Thai Food Month because it bears the faintest resemblance to the most famous of all Thai desserts - Mango Sticky Rice. Chia seeds naturally thicken this pudding and give it a hint of a chewy, bouncy texture.
There's so much to love about this easy pudding. It's:
Naturally sweet

Creamy

Vegan

Gluten-free

Loaded with Vitamin C

Make-ahead friendly

4-Ingredients

Great for breakfast, snacks, or dessert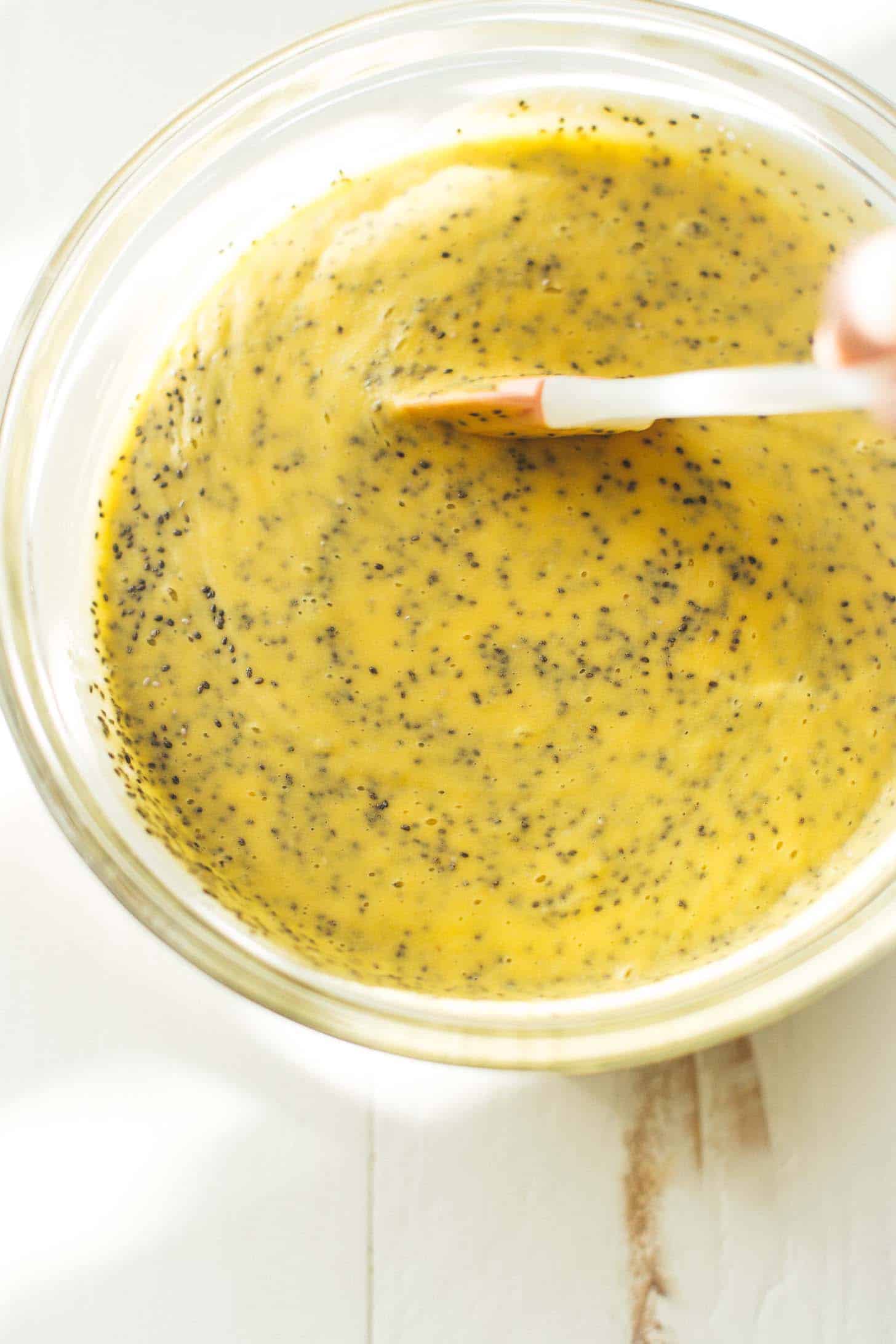 Ingredients
Mango

- Frozen mango cubes are easy to use and available year round. Look for these in 1 lb bags at most grocery stores or get the 5 lb bags from Costco and just use a bit at a time. Fresh mango will also work here, but be sure you have 1 lb of cubes after you've discarded the peel and pits.

Coconut Milk

- Be sure to use the canned variety of coconut milk. I prefer regular (not "light") in this dish because it gives the pudding a super rich, creamy texture. Light coconut milk will work just fine if you want to reduce the calories.

Pineapple Juice

- Any type of juice will work here, but be sure you get something without any added sugar if you want to keep the sugar amounts down. Pineapple juice works well since it has similar tropical flavors that blend well with mango.

Chia Seeds - Chia seeds are key here. These little nutrient-packed seeds are widely available now at most grocery stores near other natural, health products or in the baking section. Natural and health food stores often sell these in bulk bins so you only need to buy as much as you need.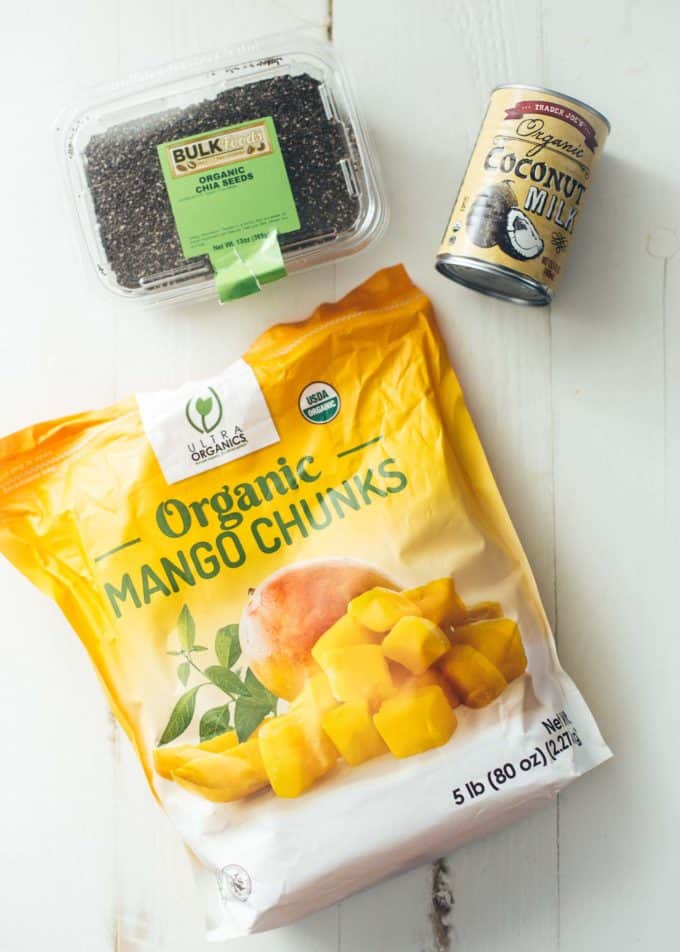 How to Make Chia Seed Pudding
Combine liquid ingredients and chia seeds.

Refrigerate pudding. The chia seeds need to soak in the liquid to thicken. This time in liquid transforms them from hard seeds to a springy, gel-like mixture. At least 30 minutes total is needed to soften the seeds, but the pudding will get creamier and smoother the longer it sits (up to 3 days).

Serve. Add some extra garnishes on top if you'd like.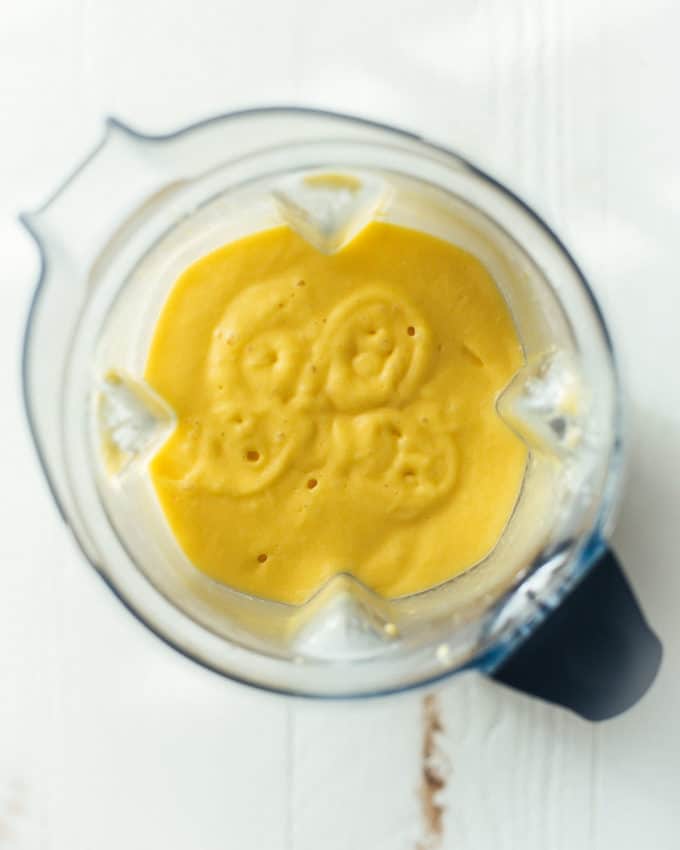 Possible Variations
Change fruit

- This pudding will work with almost any fruit you'd like. Try it with other tropical fruit or even with strawberries for a pudding that resembles strawberries and cream.

Add sweetener - Mango is usually fairly sweet and, combined with pineapple juice, it makes this pudding lightly sweet without added sugar. However, mangos can vary in the amount of sweetness they have. You can add a bit of sweetener if you want to insure that the finished pudding is more sweet. Any sweetener will work - honey, sugar, agave, or maple syrup are great options.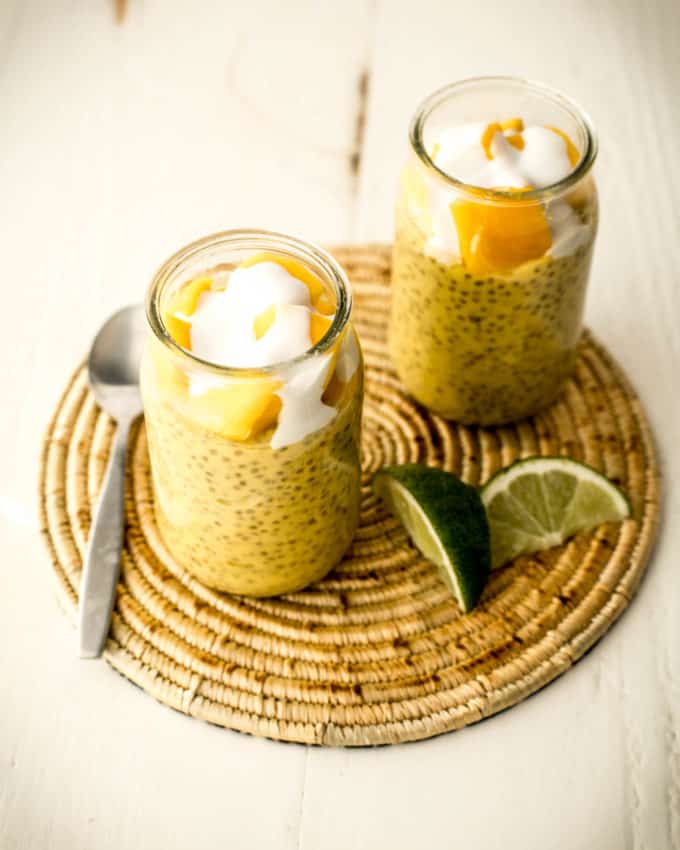 More Ways to Use Mango
Mango, Pitaya, and Turmeric Smoothie - This bright smoothie is made with mango, pitaya (dragon fruit), citrus, and turmeric. Naturally sweet, it's packed with Vitamin C and all the inflammation-fighting goodness of turmeric. It's a great smoothie for cold season.
Mango Chia Breakfast Bowls - These breakfast bowls are full of bright, tropical flavors with a base of creamy mango, chia and coconut milk.
Slow-Cooker Mango Sriracha Pulled Chicken - Simple pulled chicken in the slow-cooker made with sweet and spicy flavors of mango and Sriracha.
Favorite Tools
8-oz Mason Jars - These are easy to fill and a great size for individual chia seed pudding.

Vitamix Blender

- A Vitamix is an investment, but I absolutely love mine for making the creamiest smoothies around. Any standing blender will work just fine for making this recipe.
📖 Recipe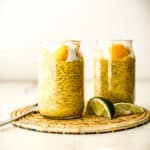 Print Recipe
Mango Chia Seed Pudding
Creamy, naturally sweet, and thickened just with chia seeds, Mango Chia Seed Pudding is great served for breakfast or dessert.
As noted below, you can combine all of the ingredients into the pudding or you can reserve a small amount of the mangos and coconut milk and use them to top the individual puddings.
Want to adjust the servings in this recipe to make more or less? Just click on the number next to "servings" and you can easily scale the recipe.
Ingredients
1

lb

Frozen Mango Cubes

1

14oz can

Coconut Milk

(I prefer the thick, creamy flavor of regular coconut milk over "light" coconut milk here, but either will work)

6

oz

Pineapple Juice

(look for juice with no added sugar; substitute any other tropical fruit juice like orange)

½

cup

Chia Seeds
Instructions
Note: For presentation, if you'd like, reserve a few cubes of mango and 2 tablespoon of coconut milk to top the finished pudding. If you don't want to add those finished elements, just add all of the mango cubes and coconut milk to the blender in step #2.

Combine mango cubes, coconut milk, and pineapple juice in a blender and blend until smooth.

Stir chia seeds into mango mixture. Refrigerate for 15 minutes to let the pudding start to set.

Transfer pudding to individual serving bowls or jars (I like 8-oz mason jars for this).

Return pudding to the refrigerator for at least 30 minutes more and up to 3 days.

If you reserved mango cubes and coconut milk, add these to the top of the individual pudding portions just before serving.
Notes
Frozen mangos vary in sweetness. The pineapple juice will add some extra sweetness just in case the mangos you use aren't naturally super sweet. If you are worried that your mangos may still not be sweet enough or if you want to serve this for dessert and want to be sure it will have enough sweetness, feel free to stir in 3 tablespoon of sweetener of choice (honey, granulated sugar, agave, or maple syrup).
This recipe can be made up to 3 days ahead and stored in the refrigerator.
Nutrition
Calories:
130
kcal
|
Carbohydrates:
21
g
|
Protein:
3
g
|
Fat:
5
g
|
Saturated Fat:
1
g
|
Sodium:
4
mg
|
Potassium:
222
mg
|
Fiber:
6
g
|
Sugar:
13
g
|
Vitamin A:
818
IU
|
Vitamin C:
31
mg
|
Calcium:
101
mg
|
Iron:
1
mg
*This post contains affiliate links*