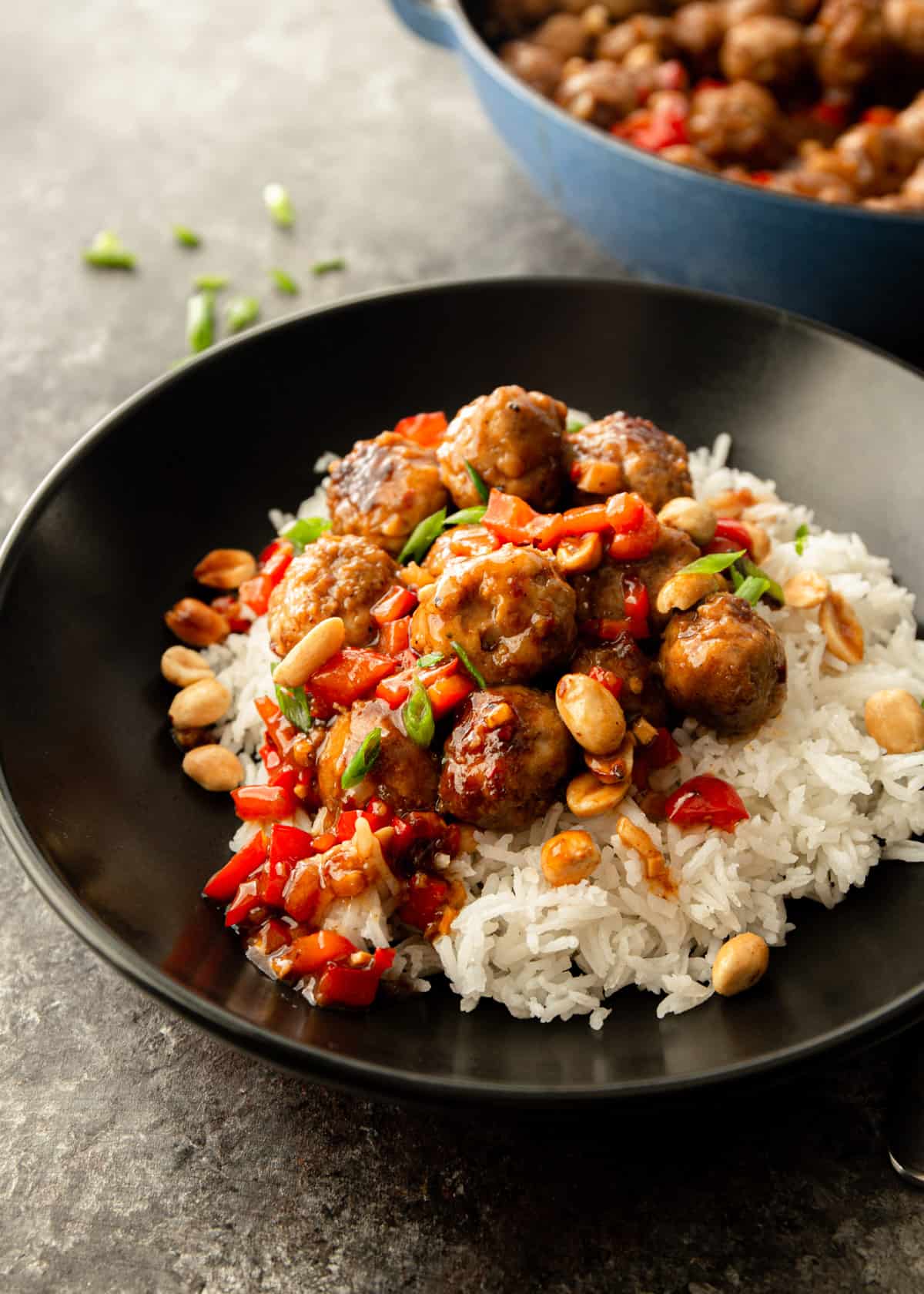 This delicious Kung Pao Chicken Meatballs recipe is sweet, savory, (a little spicy - if you want), and ready in under an hour. In less time than it takes to order takeout from your favorite local Chinese restaurant and have it delivered, you can have a healthy, flavorful meal the whole family will love.
KUNG PAO MEATBALLS VIDEO TUTORIAL
LOVE FOR KUNG PAO MEATBALLS
When I look at my list of favorite chicken recipes, this one is decidedly at the top. And you all seemed to feel the same way. When I shared a preview of this recipe on Instagram a few weeks ago, I heard from so many of you that were eager to try it. And today is the day!
The flavors of Kung Pao sauce are always irresistible - the sweet and savory rich brown sauce just brings everything together. But it's the crunch of peanuts on top that make this dish stand out. And flavorful meatballs are even more fun to eat in this dish than the classic cubes of chicken.
FIVE SPICE POWDER - SO MUCH FLAVOR
I make these meatballs with five spice powder, which is one of the most dynamic spices you can have in your home-cooking Asian pantry. Five spice powder is basically a combination of all five tastes (sweet, salty, sour, bitter, and umami) in one; it's a firework of flavor. It's worth grabbing this if you think you might find other Chinese-inspired recipes in which to use it. But don't let this be the ingredient that holds you back. Even without the five spice, I know you'll love this dish.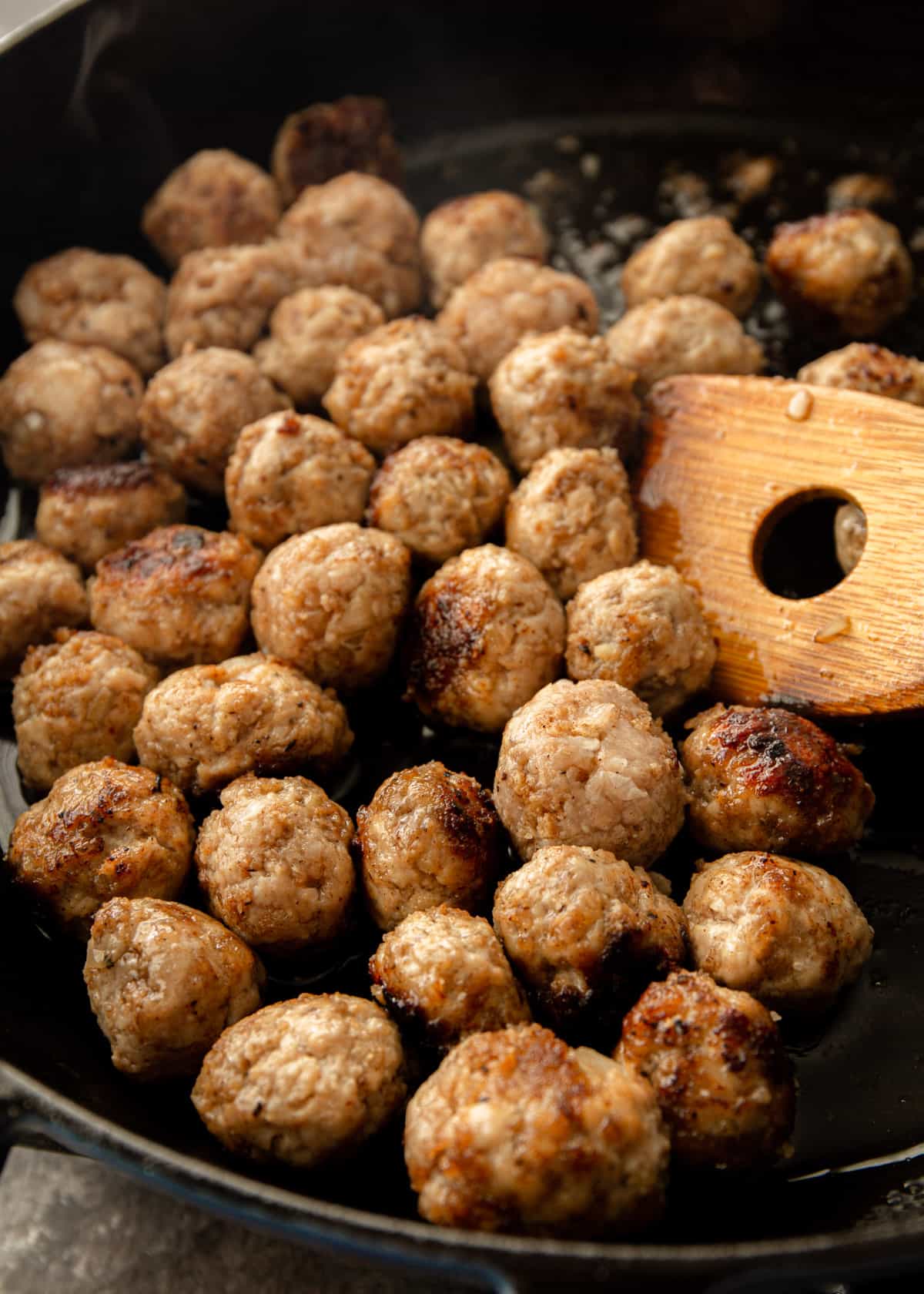 THE SECRET TO TENDER MEATBALLS
The secret to making these Kung Pao Meatballs extra juicy is a light touch. Ground chicken is very lean and prone to forming tougher meatballs, but you can solve that by using your hands to combine the dry ingredients with the chicken meat. This not only helps prevent overworking the meat but also ensures that all of the fragrant spices, onion, and seasonings come together without air pockets for a deliciously juicy meatball.
Browning the meatballs until they're a nice golden brown on the outside (before braising them) brings out the vibrant flavors that Kung Pao Chicken is known for. Top this dish with toasted peanuts and fresh green onions and you have a Chinese takeout favorite that's easy to make home, and family friendly.
HOW TO FREEZE MEATBALLS
Making meatballs ahead of time is a great way to kickstart a weeknight meal. You can choose to pre-cook your meatballs or freeze the formed but uncooked meatballs to cook later. In either case, place the formed meatballs in a single layer on a baking sheet, making sure there's enough space between each meatball so they don't stick together.
Place the tray in the freezer and freeze the meatballs until solid. Once the meatballs are completely frozen, place in an air-tight container or a large freezer bag. Use within 3 months for best results.
When you're ready to use your meatballs, place them in the fridge to thaw overnight, then continue to follow the recipe, beginning at step 7.
HOW TO SERVE KUNG PAO MEATBALLS
Traditionally, Kung Pao Meatballs, and Kung Pao Chicken, are served with white or brown rice. If eating rice isn't an option for you or someone in your family, try serving the Kung Pao Chicken Meatballs with healthy cauliflower rice, broccoli rice, or even zoodles. Serve with Spicy Szechuan-Style Green Beans or Roasted Broccoli on the side.
INGREDIENTS
Chicken Meatballs:
Panko Breadcrumbs

- Just like Italian meatballs, breadcrumbs are a filler ingredient that helps Kung Pao Meatballs retain their moisture while the meat cooks.

Milk

- Helps bind the meat and breadcrumbs together.

White Onion

- Gives another layer of savoriness to the chicken meatballs.

Kosher Salt, Black Pepper

- Basic seasonings.

Five Spice Powder

- Five Spice Powder is used in Chinese, Taiwanese, and Hawaiian cooking. The powder is made with equal parts star anise, cloves, Chinese cinnamon, Szechuan peppercorns, and fennel seeds. These five spices represent the five tastes: sweet, sour, bitter, salty, and umami.

Ground Chicken

- You have some flexibility with the type of ground chicken you choose. Ground chicken that's a mix of light and dark meat typically produces a juicer meatball because it has a slightly higher fat content. But, if that isn't available at your local store, lean ground chicken works too.

Roasted, Salted Peanuts

- Roasting peanuts gives them a nice toasty flavor. That extra little crunch the peanuts give the meatballs and rice can't be beat.

Red Bell Pepper

- Between green, yellow, and red peppers, it's the red bell pepper that's the sweetest. This mild pepper flavor plays beautifully with the sweet and tangy sauce and savory meatballs.
Kung Pao Sauce:
Garlic, Ginger

- Classic aromatics for the Kung Pao sauce. Don't skip these.

Low-Sodium Soy Sauce (see note)

- I use low-sodium soy sauce to control the salt content of the sauce. If you use regular soy sauce, check out the note below for modification tips.

Hoisin Sauce

- A thick, slightly sweet, fragrant sauce used in Cantonese cooking. Hoisin sauce is readily available in most grocery stores.

Ketchup

- For a little sweetness and a little tang.

Rice Vinegar

- The acidity in rice vinegar provides a balance to the sweetness in the sauce.

Cornstarch

- Cornstarch is used to thicken the sauce.

Brown Sugar

- For just a touch of sweetness.

Toasted Sesame Oil

- Be sure to grab toasted sesame oil, and not regular sesame oil. The toasted oil has a deeper flavor because, you guessed it! The seeds are toasted prior to processing them into an oil.

Red Pepper Flakes (optional) -

Red pepper flakes are completely optional for this dish. Adjust the amount depending on your spice preference.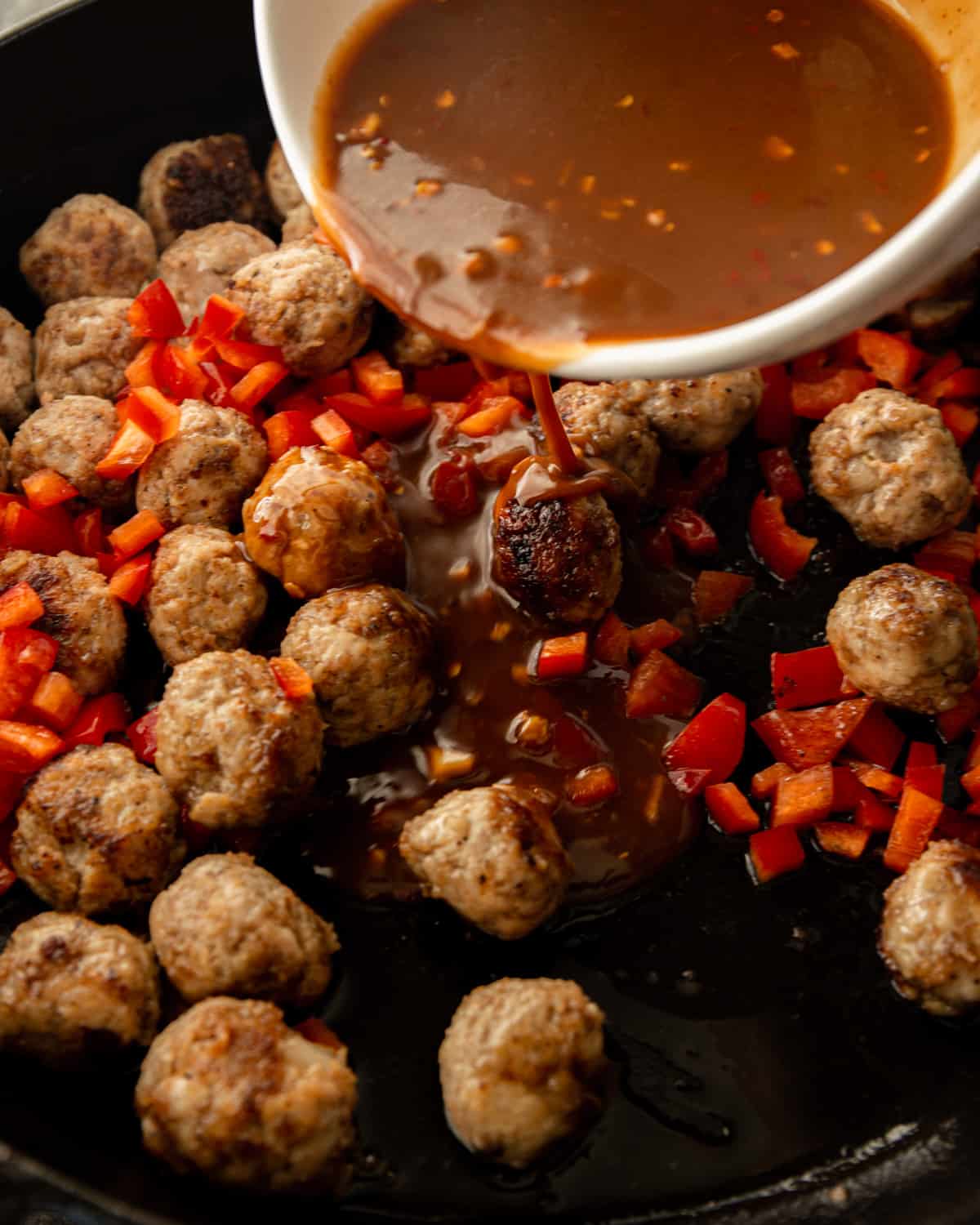 POSSIBLE VARIATIONS
Use a different protein -

Replace ground chicken with ground turkey.

Try different nuts

- Use roasted cashews in place of peanuts. They have the same toasty nut crunch, but with a slightly different flavor.

Add more veggies -

For a veggie-filled Kung Pao meatball dish, add yellow or orange bell peppers, green beans, or shiitake mushrooms.
More Weeknight Asian-Inspired Favorites
FAVORITE TOOLS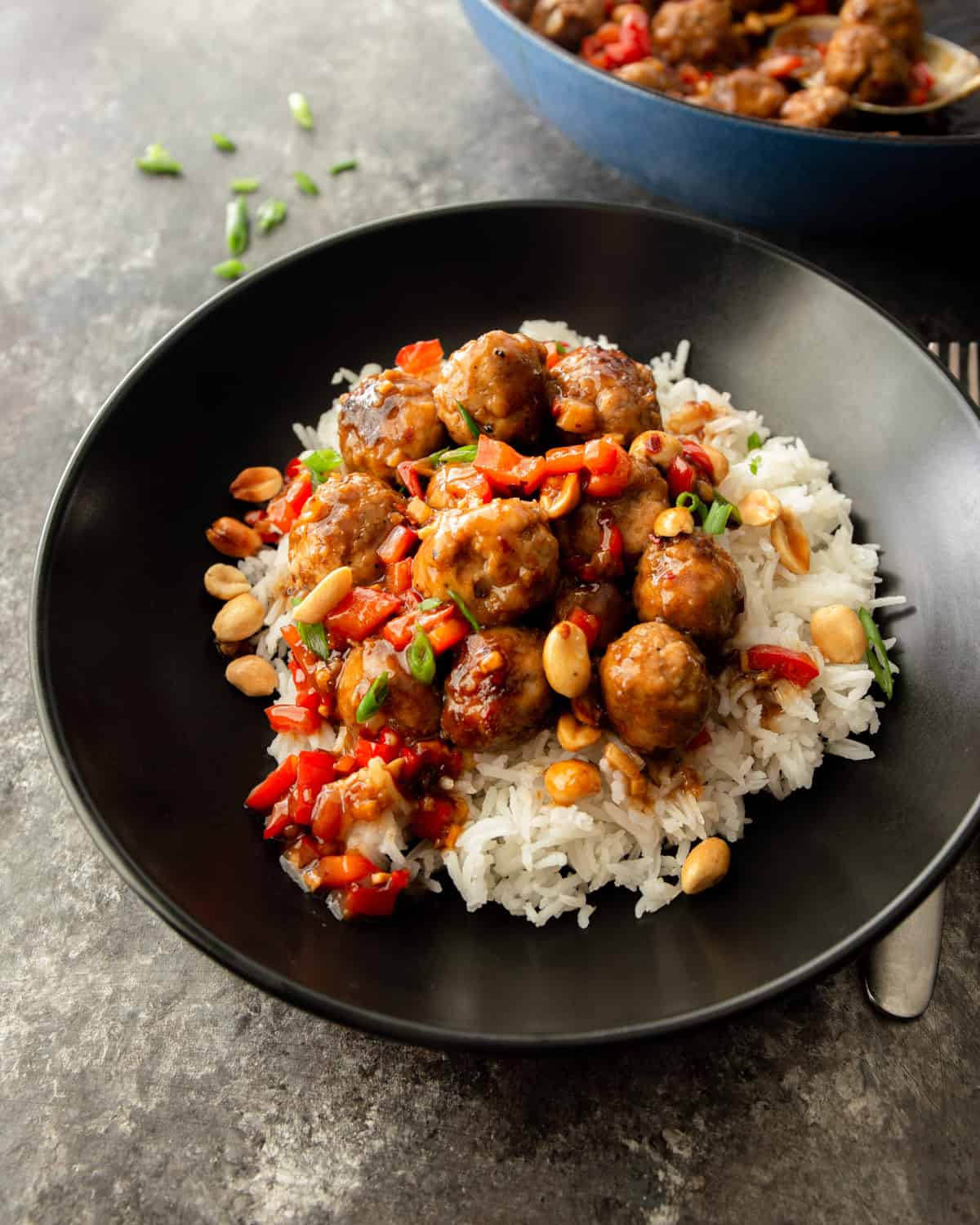 📖 Recipe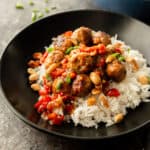 Print Recipe
Kung Pao Chicken Meatballs
Absolutely packed with flavor, Kung Pao Chicken Meatballs are a fun variation on the Chinese takeout favorite. With peanuts for crunch, it's all tossed in a rich spicy (or not) sweet and savory sauce.
To adjust the servings in this recipe, click on the number next to servings.
Equipment
Mixing Bowl

Skillet

Slotted Spoon
Ingredients
Chicken Meatballs:
½

cup

Panko Breadcrumbs

2

Tablespoons

Milk

2

Tablespoons

minced White Onion

½

teaspoon

Kosher Salt

½

teaspoon

Five Spice Powder

(this adds extra flavor to the meatballs, but feel free to skip it)

¼

teaspoon

Black Pepper

1

pound

Ground Chicken

3

Tablespoons

Cooking Oil

½

cup

Roasted, Salted Peanuts

1

Red Bell Pepper, finely diced

4

Green Onions, thinly sliced

Rice, for serving
Kung Pao Sauce:
½

cup

Water

2

cloves

Garlic, minced

2

teaspoons

grated Fresh Ginger

3

Tablespoons

Low-Sodium Soy Sauce

(see note)

3

Tablespoons

Hoisin Sauce

2

Tablespoons

Ketchup

2

Tablespoons

Rice Vinegar

1

Tablespoon

Cornstarch

2

teaspoons

Brown Sugar

2

teaspoons

Toasted Sesame Oil

½

teaspoon

Red Pepper Flakes

(optional)
Instructions
Combine panko breadcrumbs, milk, onion, salt, five spice powder, and black pepper in a large mixing bowl until even. Add chicken,. Use your hands to gently combine all of the ingredients. Form into meatballs that are about 1.5-inches in diameter (these should be fairly small; if the mixture sticks to your hands, wet your hands with a small amount of oil or water).

Whisk together all of the sauce ingredients until smooth. (You may need to whisk a few extra times to get rid of any dried cornstarch lumps.) Set aside.

Set a paper towel-lined plate near the stove.

Heat a large saute pan or skillet over medium heat. Add cooking oil. When cooking oil is hot, add peanuts and saute just until fragrant and toasted, 1 to 2 minutes (keep a close eye on them - they can burn quickly if they get too hot).

Use a slotted spoon to transfer the peanuts to the paper towel-lined plate. Leave the oil in the pan.

Add meatballs to remaining oil in the pan, Let meatballs cook on one side until golden brown, then gently turn meatballs until evenly golden brown on all sides, 6 to 8 minutes total. (Note: If the pan starts to look dry or the meatballs start to stick at any point during cooking, add some extra oil.

Add diced red bell peppers to meatballs. Pour sauce over top. Simmer sauce until it thickens slightly, turning meatballs to coat in sauce.

Remove pan from heat and top meatballs with peanuts and green onions.

Serve meatballs over rice.
Notes
Breadcrumbs
- Find Japanese-style panko breadcrumbs in the international aisle or near the Italian-style breadcrumbs. You can substitute Italian-style breadcrumbs, but be sure to use unseasoned (the flavors in the seasoned variety will compete with the flavors in the sauce).
Cooking Oil
- Use any high-heat cooking oil with a neutral flavor. My favorites are avocado, grapeseed, or vegetable oil.
Soy Sauce
- I test my recipes with low-sodium soy sauce. If using regular soy sauce, use 2 Tablespoons soy sauce mixed with 1 Tablespoon water to avoid the sauce being overly salty.
Nutrition
Calories:
457
kcal
|
Carbohydrates:
25
g
|
Protein:
32
g
|
Fat:
26
g
|
Saturated Fat:
3
g
|
Polyunsaturated Fat:
8
g
|
Monounsaturated Fat:
13
g
|
Trans Fat:
1
g
|
Cholesterol:
73
mg
|
Sodium:
1232
mg
|
Potassium:
777
mg
|
Fiber:
4
g
|
Sugar:
10
g
|
Vitamin A:
1216
IU
|
Vitamin C:
43
mg
|
Calcium:
77
mg
|
Iron:
2
mg